Sweet cherry frozen yogurt is swirled with rich dark chocolate in this easy recipe for homemade Cherry Garcia frozen yogurt that tastes just like the one from Ben & Jerry's!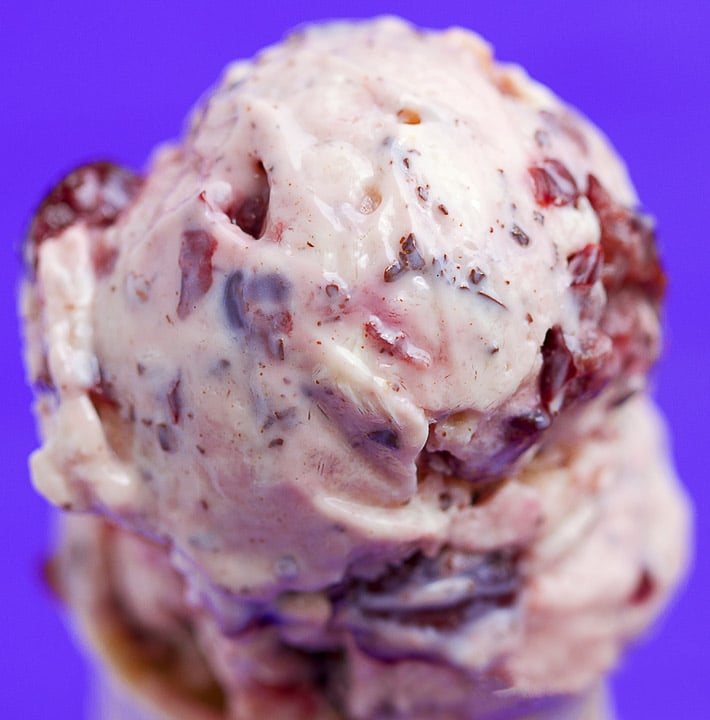 If you're looking for a super healthy dessert, with NO coconut milk and no heavy cream, be sure to try this Cherry Garcia frozen yogurt.
The recipe is packed with protein and calcium, can be made with fresh or frozen cherries, and it's an absolutely delicious summer treat!
Also try these Black Bean Brownies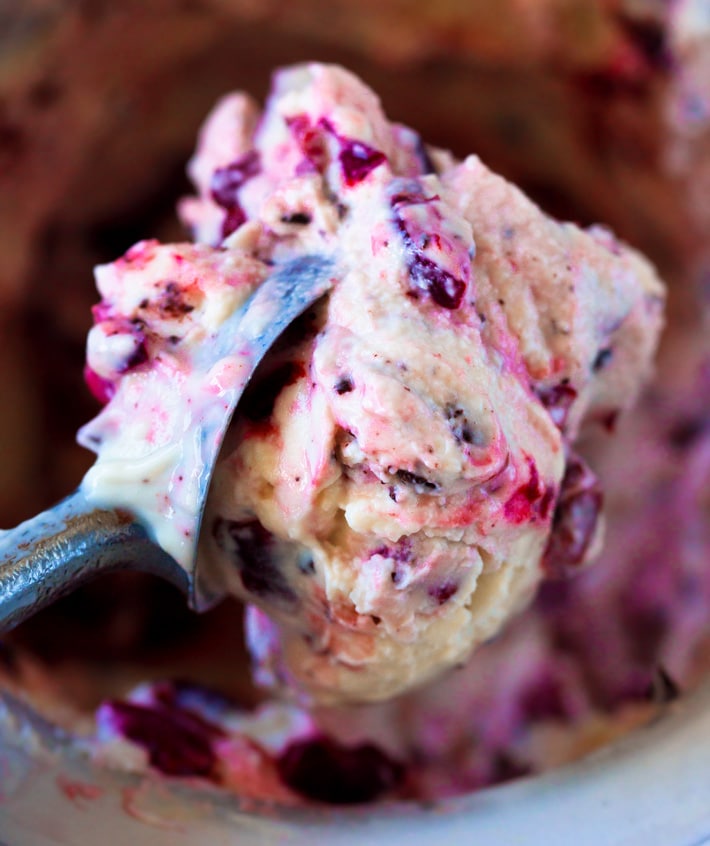 Cherry Garcia Frozen Yogurt
When I lived in Philadelphia as a child, my family would often take summer road trips to Long Island, New York.
Driving past the bustling NYC and into the Hamptons, our eyes would be glued out the window in the hopes of spotting a celebrity. We'd keep driving until the road would collide with the ocean at the easternmost tip of Long Island: Montauk Point.
There, we would set up a tent right next to the beach.
It was during one such camping vacation at Montauk that I first encountered Ben & Jerry's Cherry Garcia frozen yogurt.
Watch the step-by-step cherry frozen yogurt video, above
I didn't actually order the flavor for myself.
No self-respecting chocoholic would ever go for cherry froyo with Chocolate Fudge Brownie also on the menu.
Thankfully, my sister is not a chocoholic. And thankfully, she is willing to share her ice cream. It might be a younger sister thing… she got so used to me taking her candy, chocolate, and cookies that she gave up any protective instincts.
Either that or she's just super nice.
In any case, as we sat on the dock eating our ice cream, I decided her Cherry Garcia cone might be better than my Chocolate Fudge Brownie one.
The next day when we went for ice cream (of course we went for ice cream every day) I eschewed the chocolate and ordered Cherry Garcia instead.
And no, I didn't share.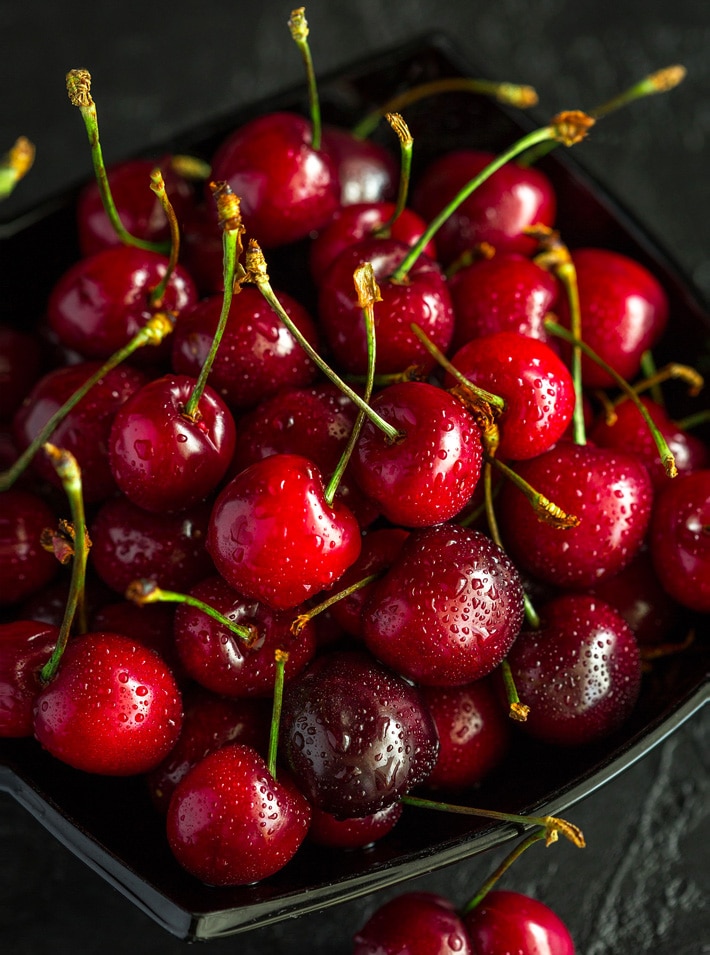 Cherry frozen yogurt ingredient list
You will need cherries, plain yogurt or nondairy yogurt, vanilla extract, sweetener of choice, and optional shaved chocolate or mini chocolate chips.
Regular or Greek yogurt both work. And if you prefer to use vanilla yogurt, simply omit the pure vanilla extract in the recipe.
Pretty much any all purpose granulated or liquid sweetener is fine, including white or unrefined sugar, coconut sugar or date sugar, pure maple syrup, honey, agave, or granulated erythritol for added sugar free cherry frozen yogurt.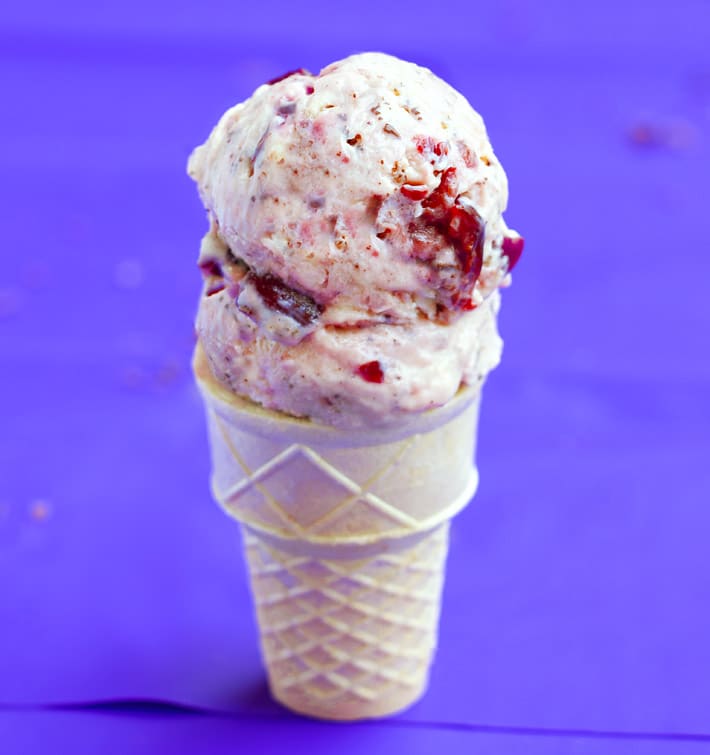 Can you use frozen cherries?
You absolutely can. In fact, I prefer to use frozen cherries because they are usually already pitted.
This allows you to skip the pitting step, so the frozen yogurt is even quicker and easier to make.
Look for packages of dark sweet cherries in the frozen fruit aisle of most regular grocery stores or health food stores, as well as in Trader Joes, Walmart, Target, Costco, or Whole Foods.
If using fresh cherries, I like black cherries, such as Bing, Lambert, Chelan, or Sweetheart, because they tend to be softer and sweeter than red cherries.
I have not tried the recipe with wild cherries or sour cherries. If you experiment, be sure to report back with results!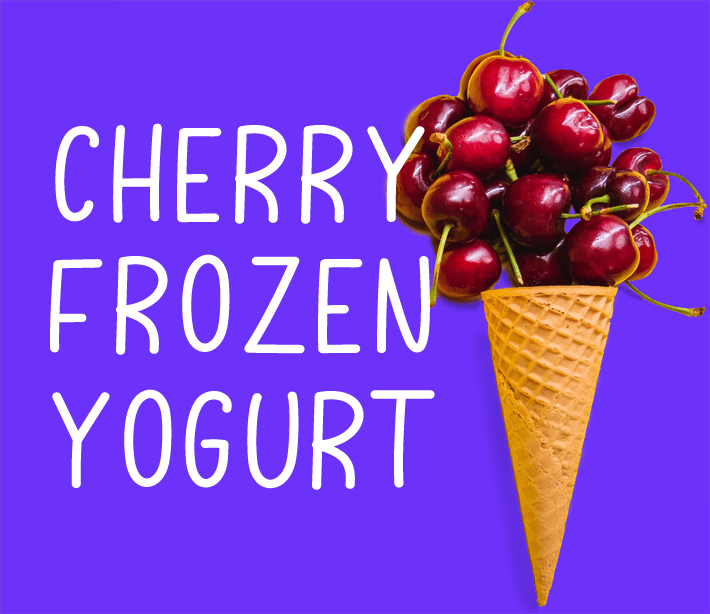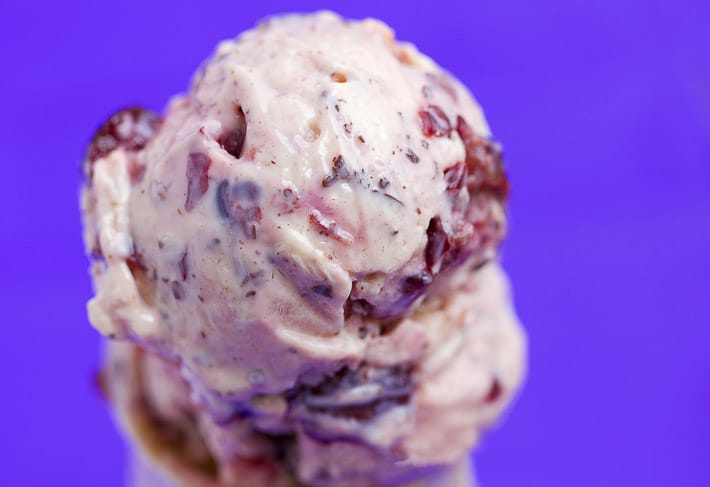 How to make cherry frozen yogurt
Combine the yogurt, pure vanilla extract, sweetener, and a pinch of salt in either an ice cream machine or an airtight container.
(Both versions are delicious; an ice cream maker will just yield a creamier texture.)
Churn according to the instruction manual for your machine until thick, then turn off the machine. Or simply stir the ingredients in the container. Then stir in the chopped cherries and the shaved chocolate pieces.
The ice cream maker version is ready to eat at this time. Or you can transfer the thick froyo mixture to a container and freeze for about a half hour then scoop out with an ice cream scoop for a firmer texture.
If you are using the no ice cream maker method, freeze the container and stir every half hour for up to three hours.
Store leftover frozen yogurt in an airtight container for up to a month. Thaw for fifteen to thirty minutes before eating.
Readers also love this Healthy Banana Bread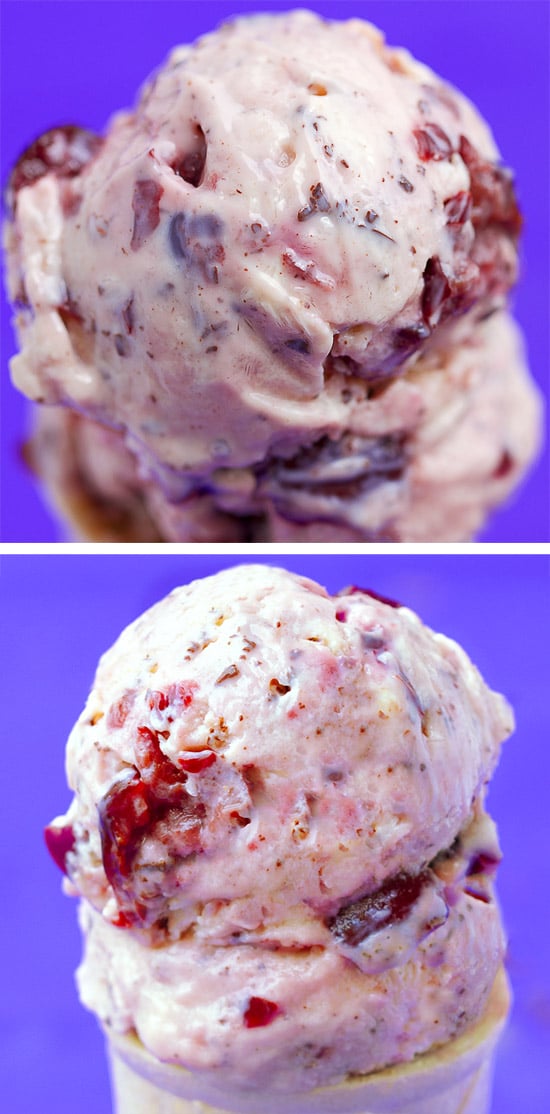 The recipe was adapted from my Homemade Frozen Yogurt Recipe.
Cherry Garcia Frozen Yogurt
Homemade frozen yogurt is swirled with sweet cherries in this super healthy and easy cherry frozen yogurt recipe.
Ingredients
2

cups

plain yogurt, nondairy if desired

1/4

tsp

pure vanilla extract

(omit if using vanilla yogurt)

2

– 6 tbsp

sweetener of choice, to taste (some yogurts are sweeter than others)

1

cup

fresh or frozen pitted cherries, diced

3

– 5 tbsp

shaved chocolate or mini chocolate chips,

optional
Instructions
In an ice cream machine or a large airtight container, combine the first 5 ingredients. (An ice cream machine yields a creamier texture, but both ways taste delicious.) Once stirred in the container or churned in the machine, add the cherries and chocolate. Stir. Transfer to an airtight container if it's not already in one. Seal the lid and freeze. If not using an ice cream machine, stir the contents every hour for up to three hours. Otherwise, eat immediately or freeze up to an hour for a firmer texture. Store leftovers, in the airtight container, for up to a month, and thaw 15-30 minutes before eating.

View Nutrition Facts
Easy healthy ice cream ideas