A soft, gooey, and secretly healthy deep dish cookie pie for dessert – with melted chocolate chips in each unbelievable bite!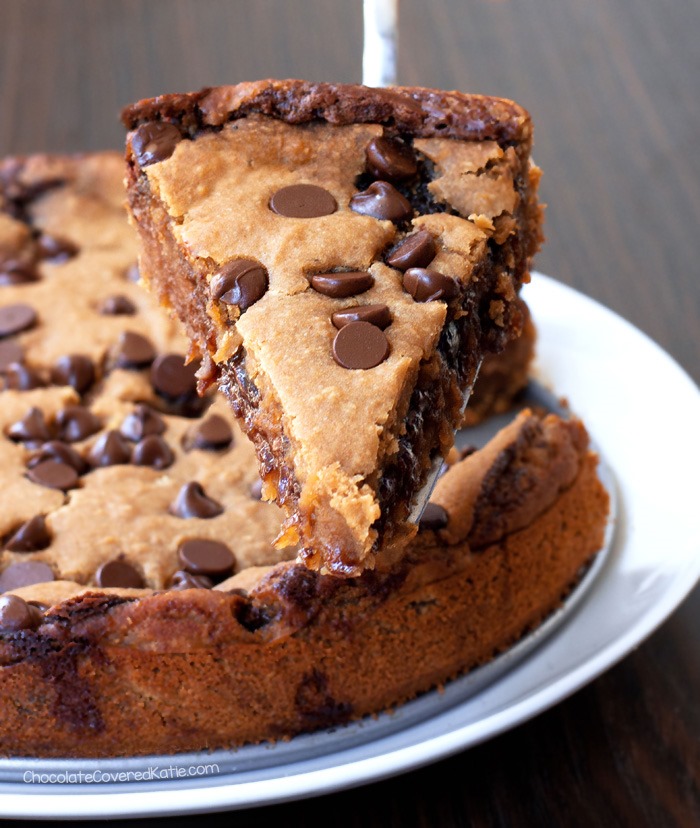 What is even better than a warm chocolate chip cookie?
If you answered, "Katie, nothing is better than a warm chocolate chip cookie," you've obviously never met a chocolate chip cookie pie…
Especially not when it's topped with Almond Milk Ice Cream or Keto Ice Cream, or my personal favorite dairy free Coconut Ice Cream Recipe.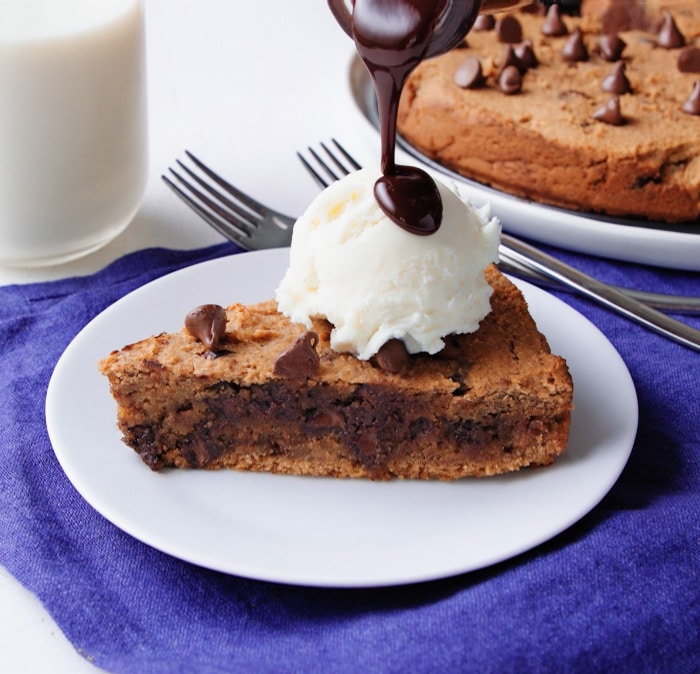 I could sit here and tell you about how I was in charge of dessert for our neighborhood summer party.
I could tell you about my desire to impress the neighbors with a sinful tasting finale and then shock them by revealing said sinful dessert was really not so sinful after all.
And I could tell you how this desire became reality when my dessert was the single biggest hit of the party, with everyone raving about it.
One neighbor even hired me to make a pie for her husband's birthday in June.
But really, you don't want to know all of this, do you? You just want the recipe!
You may also like these Healthy Chocolate Chip Cookies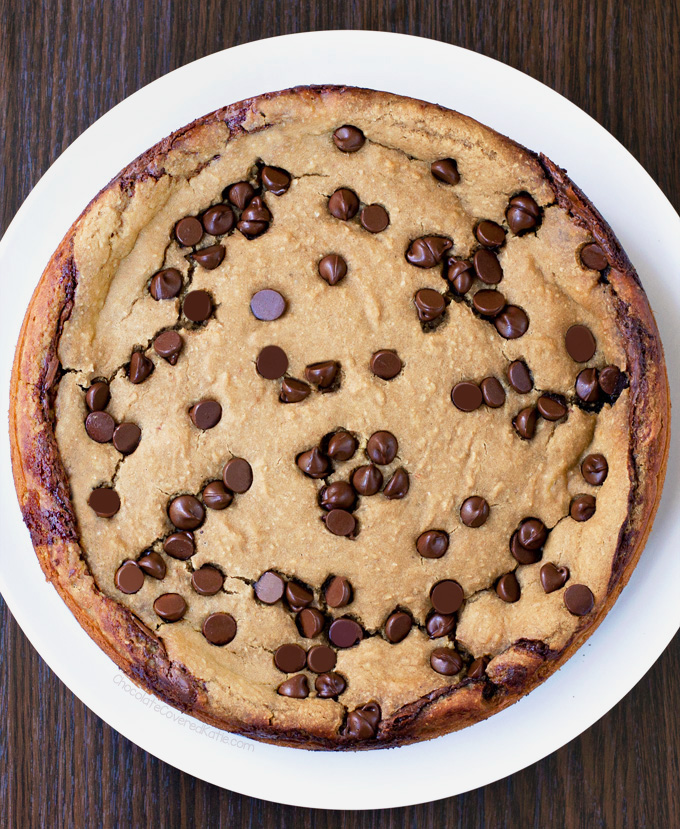 Healthy dessert deep dish cookie pie
In comparison to your standard cookie pie, with its plethora of butter, eggs, and white flour, the above version is a much healthier alternative, while still tasting just as temptingly decadent and delicious.
Plus, you get a full five grams each of fiber and protein per slice, thanks to the whole grain oats and chickpeas.
And I promise no one can tell that these ingredients are in there.
(Need proof? Just read the thousands of comments on this post!)
Also try these Overnight Oats – 15 NEW Recipes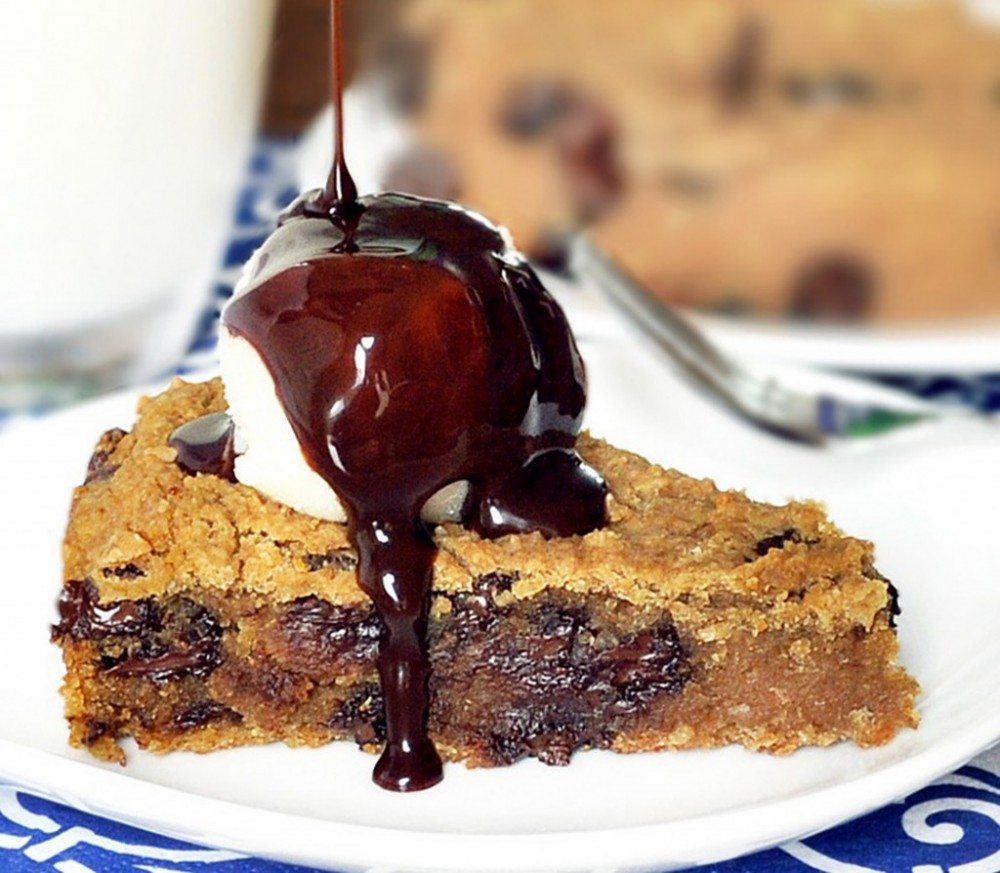 This chocolate pie is a real crowd pleaser, even with people who aren't used to eating healthy desserts.
Imagine chocolate chip cookie dough in the form of a pie.
Side note: If you make a half recipe in an eight inch baking pan, you can have a healthy cookie cake like the ones at the Great American Cookie Co in the mall!
And if you make one fourth of the recipe, you can even put it in a mini springform pan for a baby chocolate chip cookie pie.
Extra chocolate chips? Add them to this Healthy Banana Bread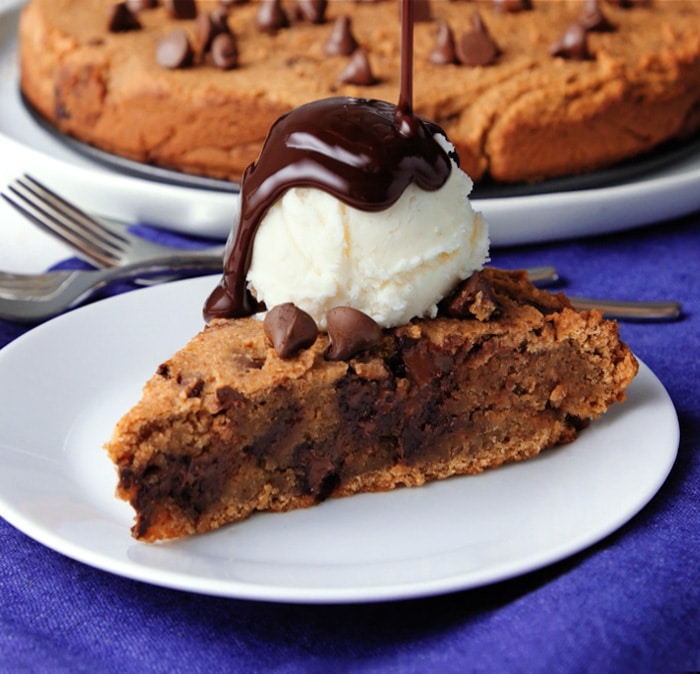 Chocolate chip cookie pie ingredients
The recipe calls for chickpeas, quick oats or almond flour, pure vanilla extract, baking soda, salt, applesauce or yogurt, nut butter or oil, sweetener of choice, and of course chocolate chips.
You can use white beans, such as cannellini or great northern beans, instead of the chickpeas. Garbanzo beans are just another name for chickpeas, so they are also fine.
Two standard size cans (15 ounces each) can be substituted with about 500 grams total of cooked garbanzo beans if you want to use dried garbanzos instead of canned.
An equal amount of canned pumpkin, roasted sweet potato puree, or even mashed banana can be substituted for the applesauce or yogurt.
For a neutral flavor, go with either almond butter or cashew butter or the oil option (vegetable, sunflower, or coconut oil). Or use peanut butter if you want a chocolate chip peanut butter cookie pie.
Above, watch the step by step deep dish cookie pie recipe video

Deep Dish Cookie Pie
This gooey deep dish cookie pie is a huge hit at parties, and people always ask for the recipe!
Ingredients
2

cans

white beans or garbanzo beans

(500g total, once drained)

1

cup

quick oats

or almond flour

1/4

cup

applesauce

or yogurt

3

tbsp

oil

or 1/4 cup nut butter

2

tsp

pure vanilla extract

2

tsp

baking powder

1/2

tsp

baking soda

1/2

tsp

salt

1 1/2

cup

brown sugar or unrefined sugar

(click for a Sugar Free Cookie Pie)

1

cup

chocolate chips
Instructions
Drain and rinse beans very well. Blend everything except the chips very well in a food processor. Mix in chips, and pour into a greased pan. I normally use either a 10 or 9-inch springform pan. Cook at 350F for around 35-40 minutes. Let stand at least 10 minutes before removing from the pan. Some commenters have had success with a blender, but try that at your own risk and know the taste/texture will be better in a high-quality food processor.View Nutrition Facts
More Popular Party Recipes