Katie is thankful for…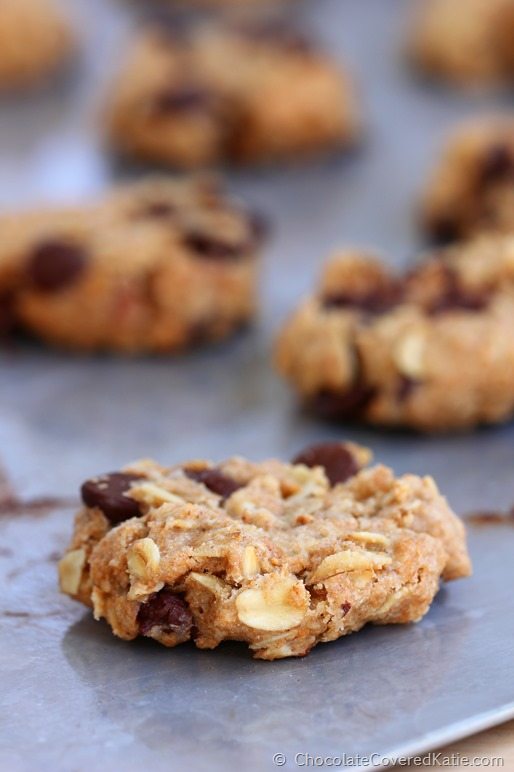 Chocolate Chip Cookies.
Yes, very thankful for chocolate chip cookies.
And thankful for this face: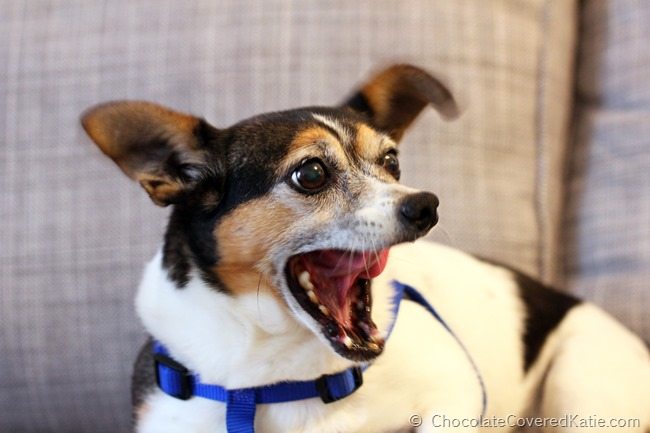 I can't even.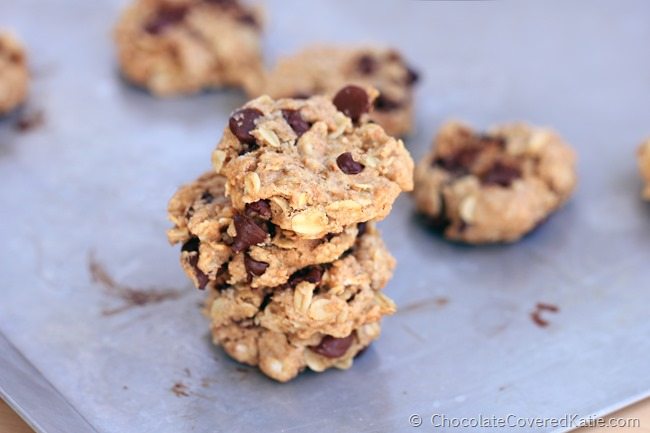 And for chocolate chip cookies a few more times.
Especially homemade chocolate chip cowboy cookies, eaten straight out of the oven, that are filled with crushed salted pretzel pieces, chewy rolled oats, and extra gooey chocolate chips.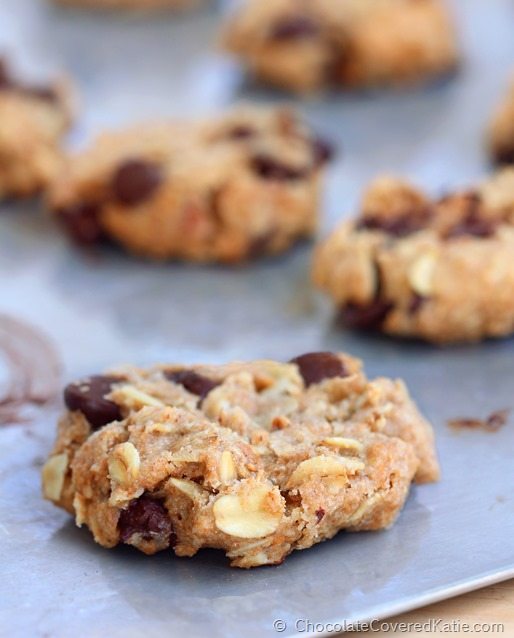 Today, you get TWO chocolate chip cookie recipes!
My first batch of cowboy cookies calls for maple syrup instead of any granulated sugar, and I really loved the raw cookie dough. In fact, I could not stop eating it!
But I wasn't thrilled with the texture of the healthy cookies once baked, and therefore I deemed them a no-bake recipe and tried again, this time adapting a recipe I already knew was a winner: my Healthy Chocolate Chip Cookies.
The second version is posted below, and the maple syrup version can be found on a separate page to avoid confusion.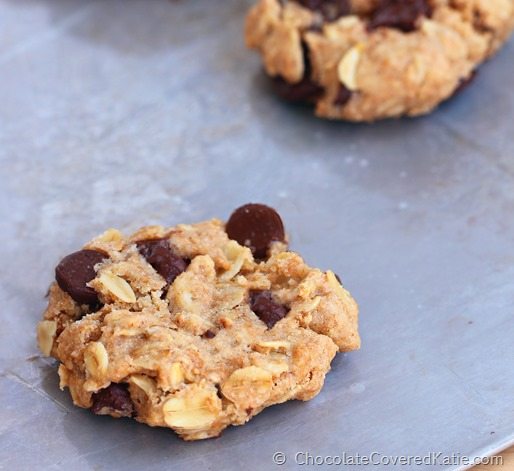 Now you can be thankful for chocolate chip cookies, too!
Chocolate Chip Cowboy Cookies
Chocolate Chip Cowboy Cookies
Yield:
Makes 15-20 cowboy cookies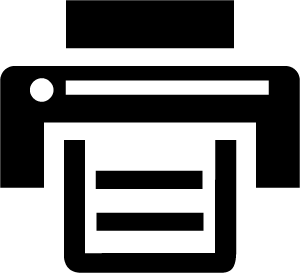 Print This Recipe
[mrp_rating_result show_count="false" show_rich_snippets="false"]
Ingredients
2/3 cup plus 1/2 cup oat flour (To make oat flour, you can simply grind up rolled oats in a food processor)
1/4 tsp salt
1/2 tsp baking soda
1/4 cup brown sugar or coconut sugar
1/4 cup granulated sugar of choice or xylitol
1/4 cup thinly-crushed pretzels
2 tbsp shredded coconut OR rolled oats
1/2 cup chocolate chips
1 1/4 tsp pure vanilla extract
2 tbsp vegetable oil or melted coconut oil
2-5 tbsp milk of choice, only as needed
Instructions
Cowboy Cookies Recipe: Preheat your oven to 380 degrees and grease a cookie tray. In a large bowl, combine first 8 ingredients and mix very well. Add wet ingredients, and form into one big ball. Now make little balls from the big one. For softer cookies, refrigerate or freeze the dough until cold (for crispy cookies, just bake right away). You can also freeze the dough balls for up to a month before baking.  For soft cookies, bake 7 minutes, then remove from oven when they still look quite undercooked. It's important to let the cookies cool at least 10 minutes before touching them, as they'll firm up considerably while cooling. (For crispier cookies, bake until they are only slightly undercooked.) For soft and chewy cookies, store in a lidded plastic container. For crispy cookies, store in a lidded glass container for up to 4 days.
Link Of The Day: