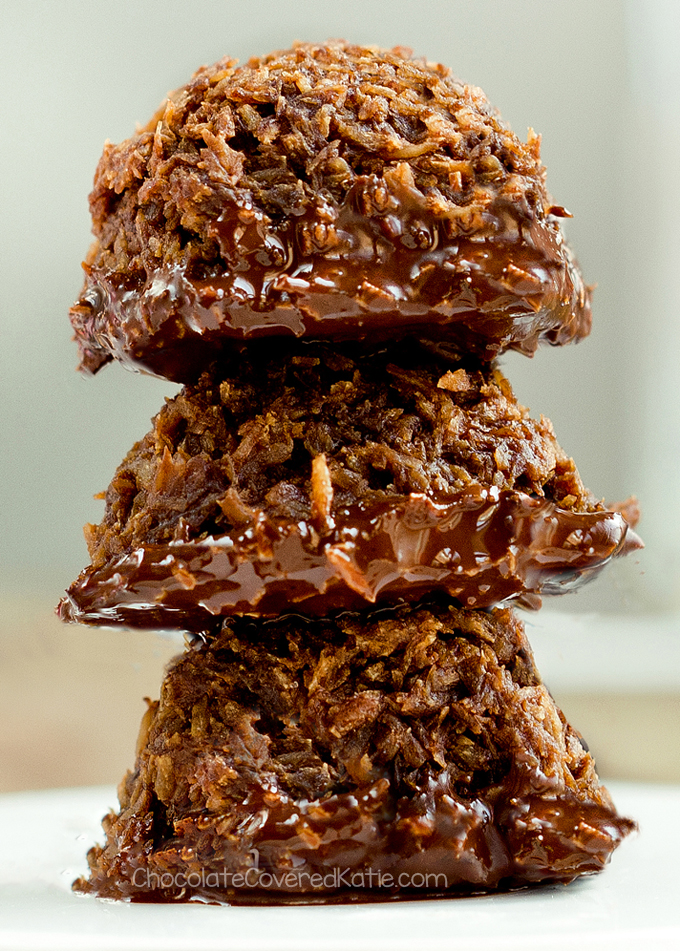 If you couldn't tell, I kind of really love coconut
Just kind of.
Coconut: the other white meat
In my world, coconut could be its own food group; I love it almost as much as I love chocolate. Please note, I did say almost.
Let's not take things too far.
(View The Step-By-Step Video Above)
Anyway it's not like I must choose between the two.
Today's chocolate macaroon recipe incorporates both of my favorites into one seriously good cookie.
If Starbucks were to turn their famous Mocha Coconut Frappuccinos into a macaroon, it might look and taste something like this: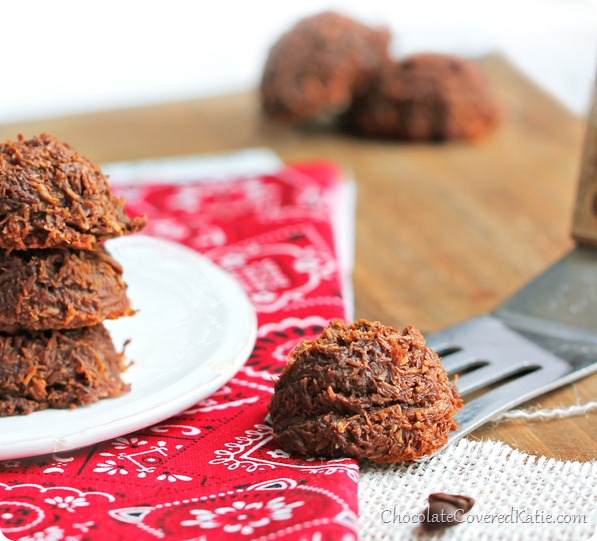 What are some of your favorite food pairs?
PB&J? Spaghetti and tomato sauce? Strawberries and cream? Biscuits and gravy?
Along with chocolate coconut, chocolate peanut butter and chocolate mint are right up there for me.
But let's be honest, almost anything with chocolate will rank pretty favorably among my favorites.

Mocha Macaroons
1 tbsp flour of choice or almond meal, or protein powder
1 tbsp cocoa powder
1 tsp instant coffee powder, decaf or regular
1 cup shredded, unsweetened coconut (not low-fat)
1/2 cup plus 2 tbsp milk of choice or canned coconut milk
3 tbsp agave or pure maple syrup (for keto, use 4 tbsp coconut oil instead, and sweeten with stevia to taste)
pinch stevia or 1 additional tbsp agave or maple syrup
1/4 tsp pure vanilla extract
just over 1/16 tsp salt
melted chocolate chips or sugar free chocolate chips
*The keto version can be no-bake. Simply scoop into balls and freeze to set.
Combine all ingredients except chocolate chips in a tall dish. If using a microwave, heat two minutes. Stir, then microwave one more minute or until firm enough to scoop out into ball shapes. (Or cook on the stovetop until it's firm enough to scoop out.) Scoop into balls on a cookie tray—I used a melon baller, but a spoon or ice-cream scoop will also work. Cook at 360 F for 14-16 minutes. (You might be able to "bake" the cookies in the microwave, but I have not tried this.) Let cool before removing from tray. Line a plate with wax paper. Dip each cookie in melted chocolate, place on the wax paper, and refrigerate or freeze to set. Makes 12-22 cookies, depending on the size cookie scoop you use.
Link Of The Day: