Bring Disney to your kitchen, with this homemade chocolate Dole Whip!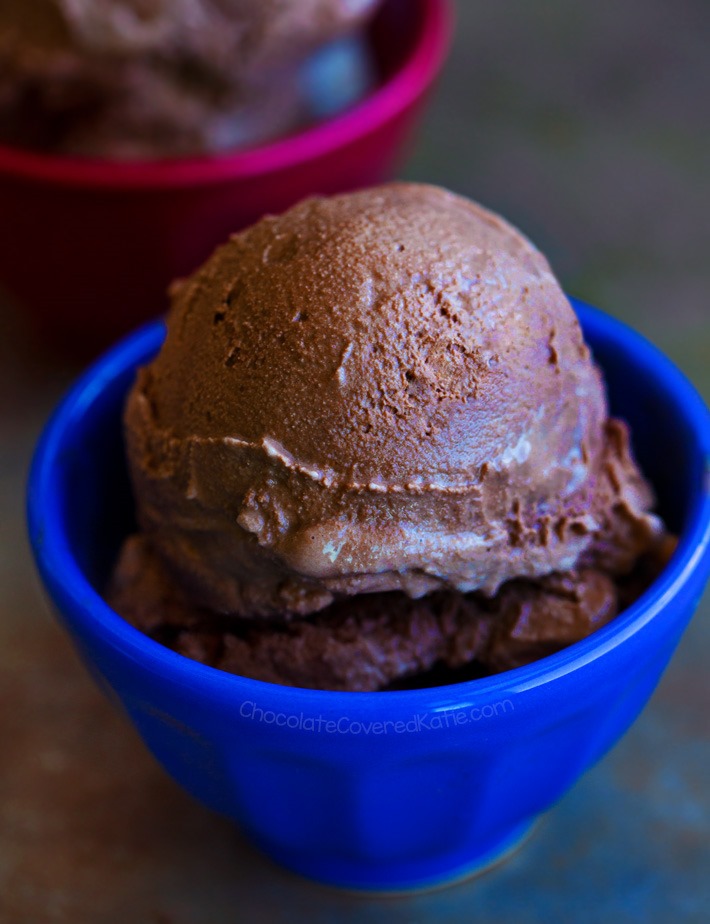 Recently, a large number of new readers have been finding my blog thanks to a post I wrote on the original pineapple Dole Whip Recipe.
But I'm Chocolate Covered Katie… and yet that post has no chocolate!
So naturally, I came up with an easy-to-make chocolate Dole Whip.
Just 4 ingredients, no added sugar, no eggs or dairy, and NO banana this time!
You might also like: Mint Chocolate Chip Nice Cream
Watch the chocolate Dole Whip recipe video – above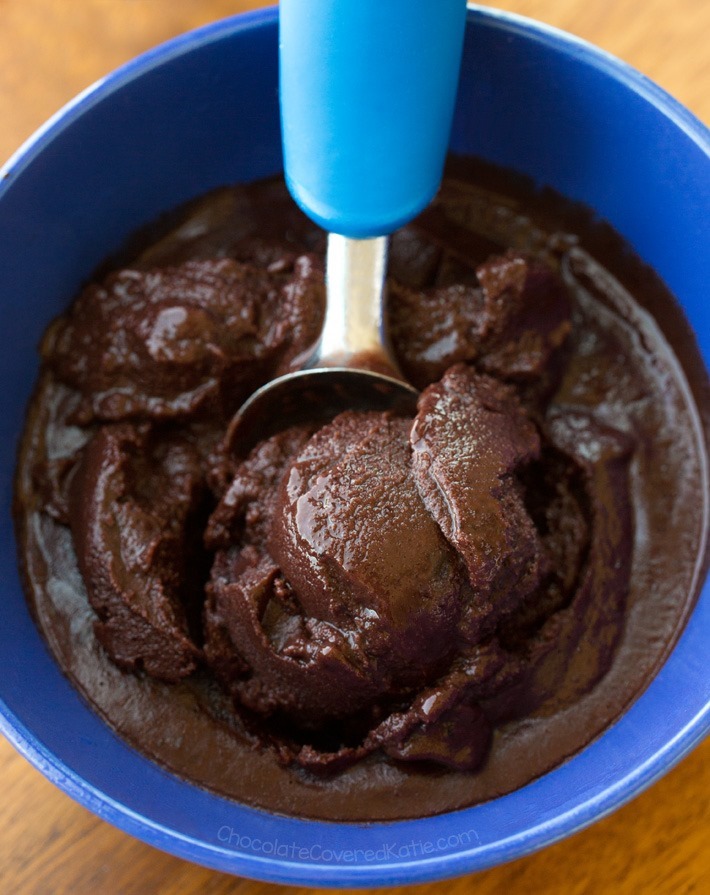 I know it looks like dessert, but this frozen healthy treat is also one of my favorite summer post-workout snacks.
Super healthy, and with ZERO added sugar, the whipped chocolate recipe is packed with antioxidants to fight inflammation and help speed up recovery.
I'll often add a scoop of almond butter for a protein boost, and the topping options are endless. Here are just a few ideas:
Granola
Sliced banana
Mini chocolate chips
Vegan Chocolate Chip Cookies
Shredded coconut
Crushed walnuts
Pumpkin seeds
Or chia seeds, strawberries, Coconut Whipped Cream, chocolate syrup, raspberries, cherries, blueberries…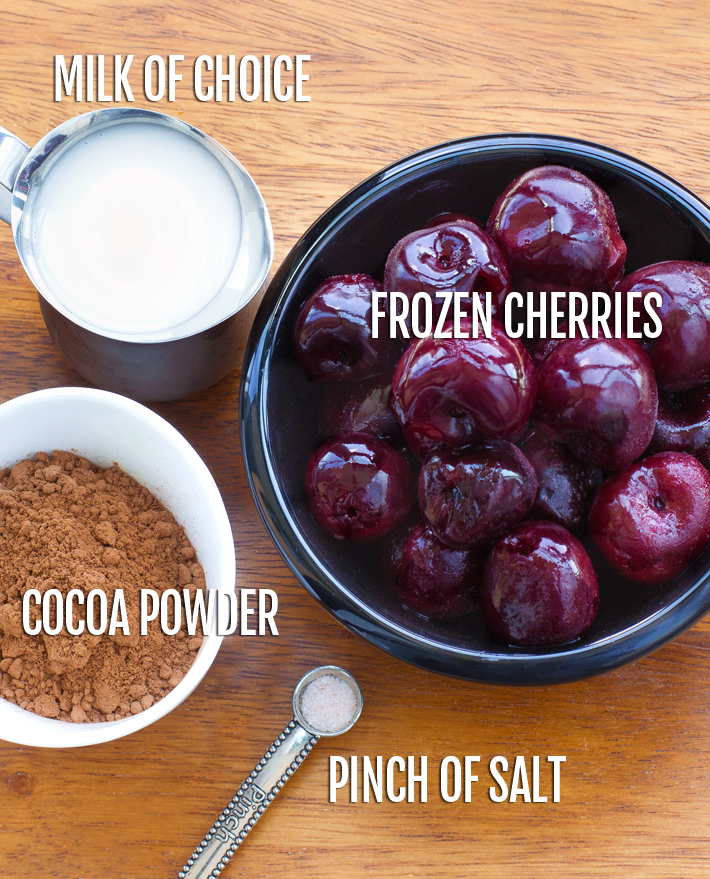 More Healthy Workout Snacks:
To make the chocolate snack, you simply blend all of the ingredients together until smooth. Spoon into bowls (I like to use an ice cream scoop for authentic presentation) or pipe it through a pastry bag if you want the classic Dole Whip swirl.
Disney doesn't actually sell a chocolate version (they should!!). For now, it's available exclusively in your home.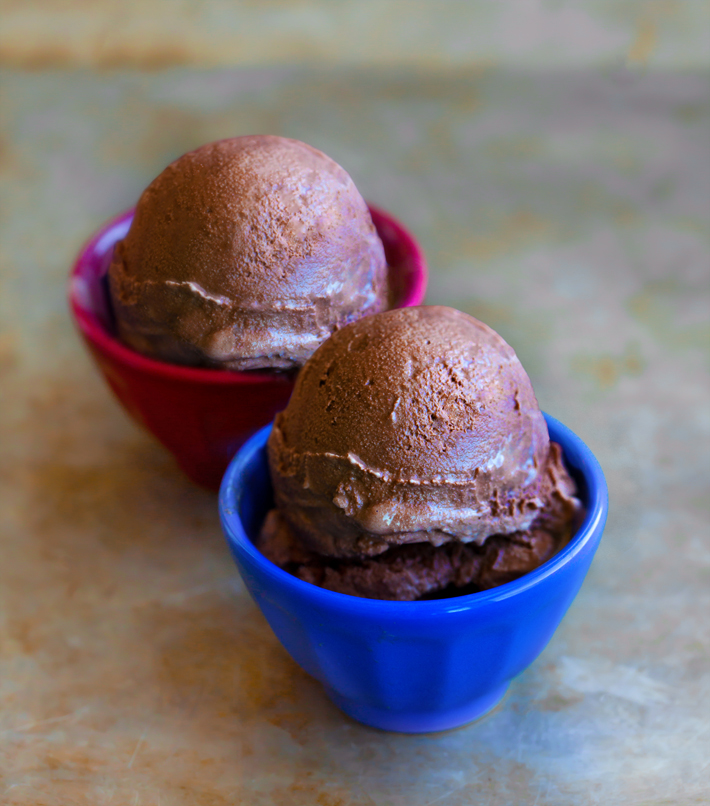 Tips & Tricks For Success:
1. My favorite trick is to buy frozen cherries instead of fresh ones
Not only is buying frozen usually cheaper, it also lets you make the ice cream any time you want it, no need to wait for the fruit to freeze. But the biggest reason I recommend buying frozen cherries is that they usually come already pitted, saving you the step of having to do it yourself.
2. Scoop out with an ice cream scoop
Scooping the chocolate whip out of the blender with a regular spoon works just fine, but only using an ice cream scoop will give it an ice cream shape!
3. Try freezing the milk in an ice cube tray
If you like to make smoothies, homemade ice cream, or frozen coffee drinks, it's always a good idea to freeze some milk of choice or coconut milk in an ice cube tray.
(I own this ice cube tray.)
Pop a few out to use instead of liquid in your frozen treats, and they will add thickness and creaminess without watering the recipe down like using regular ice would.

For a sugar free, low carb version, try this Keto Ice Cream.
Chocolate Dole Whip
Bring Disney to your kitchen, with this homemade chocolate Dole Whip dessert.
Ingredients
2

cups

frozen cherries

(250g)

1/4

cup

milk of choice or canned coconut milk

3

tbsp

dutch cocoa powder

1/8

tsp

salt

optional 1-2 tbsp almond butter or coconut butter
Instructions
*If using fresh cherries as opposed to buying them already frozen, be sure to pit them first. If you don't have dutch cocoa, you can replace it with 1 tbsp regular cocoa plus 1-2 tbsp melted chocolate.

To make the recipe, simply blend all ingredients until smooth. Scoop out (I like to use an ice cream scoop for presentation), or pipe through a pastry bag if you want it swirly. (If using a blender that is not as powerful as a Vitamix, you might need to thaw the cherries a bit and then freeze a few minutes or churn in an ice cream maker before serving.) Serve topped with mini chocolate chips, shredded coconut, or sliced banana if desired.View Nutrition Facts
More Healthy Chocolate Recipes