These no-bake cookie dough babies can be raw, vegan, gluten-free, grain-free, and paleo – with just four ingredients!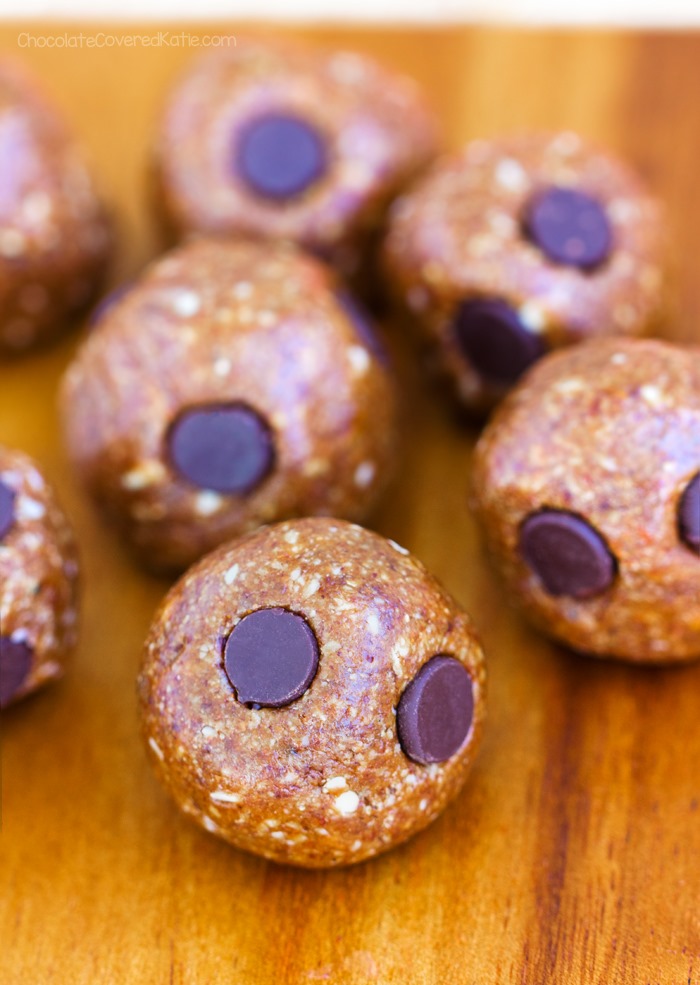 NO eggs
NO flour
NO butter / NO sugar / NO oil
If your favorite part of making chocolate chip cookies has always been eating the raw cookie dough, these snackable cookie dough babies are the perfect healthy answer. Take them on-the-go for long car rides or running errands, pack them into a lunchbox, or keep a few on hand so you always have a healthy snack any time you're craving something sweet.
You could also totally stir some of these into my Banana Ice Cream, for a homemade cookie dough nicecream sundae!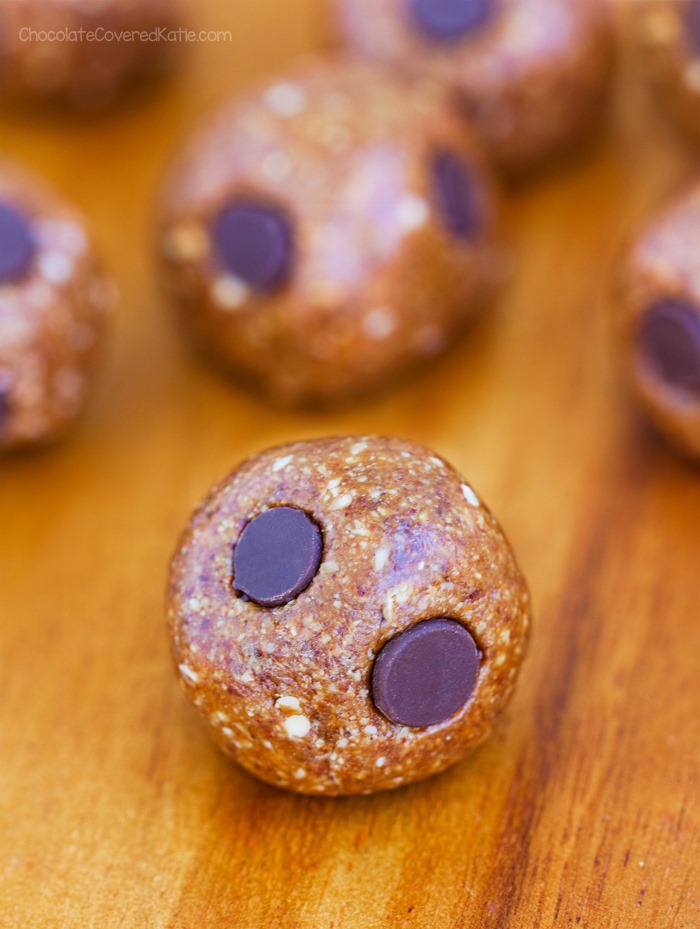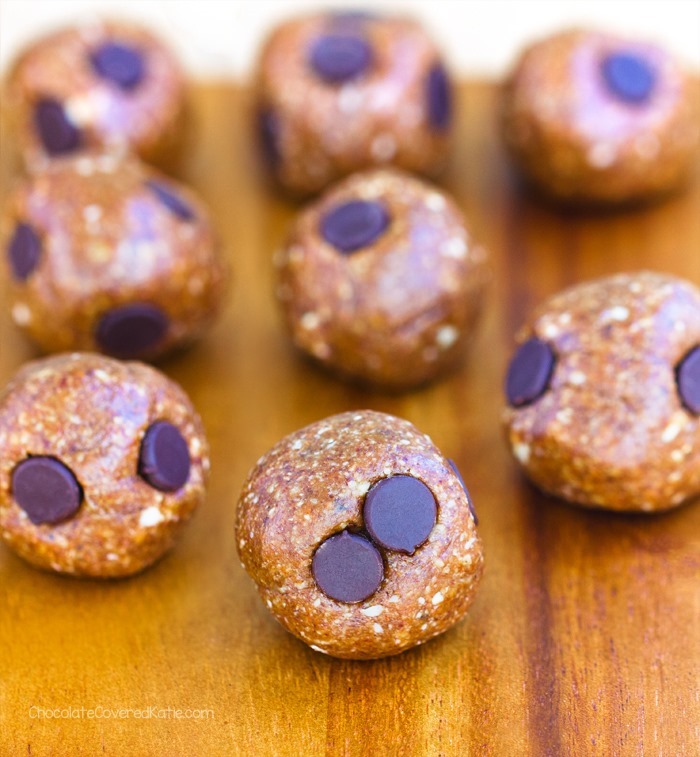 This is the cookie dough variation (one of my favorite flavors) of the fudge babies I made for the live USA TODAY segment on Wednesday. The broadcast went out to over 8 million viewers and was posted on all of their official facebook pages… both crazy exciting and completely terrifying at the same time.
So please just ignore my nervous hair flipping and not looking at the camera in the video if you watch. Definitely will fix those things for the future!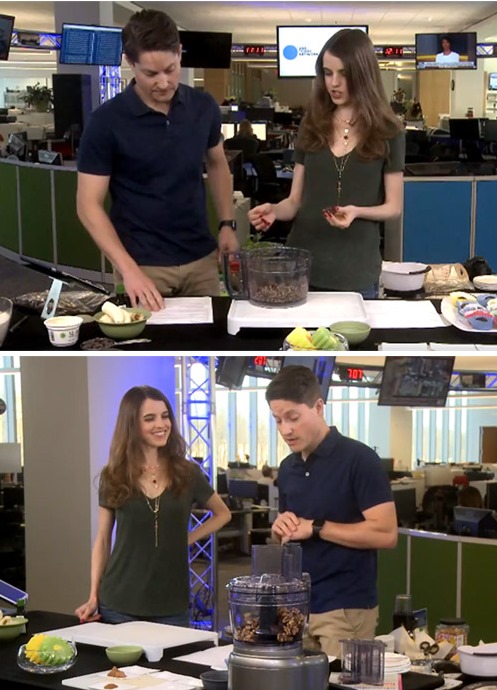 Here's a link to the shortened version of the video, and if you're a visual person and prefer to actually see recipes being made, be sure to subscribe to my YouTube channel while you're over there, because it's where I post all of my recipe videos.
Going back to these cookie dough balls – If you've ever tried a Cookie Dough Larabar, that's what these little energy balls might make you think of when you try them. Just like Larabars, they need no refrigeration and are fine to store in a container for up to a few weeks. The cookie dough bites can also be frozen to always have on hand when a cookie dough craving hits.
To make them refined-sugar-free, you can use naturally sweetened or unsweetened chocolate or cacao nibs, or the chocolate chips can also be left out completely to give you something similar to a Cashew Cookie Larabar, only bite-sized. You could also change up the chocolate chips for raisins, add some shredded coconut or chia seeds, or dip them in melted chocolate – the best part about these fudge babies is how easy it is to customize them… and also how easy they are to eat!


Cookie Dough Fudge Babies
If you want a brownie version, also try the original Fudge Babies.
Cookie Dough Fudge Babies!
Yield:
Depends on size rolled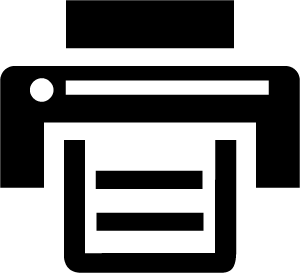 Print This Recipe
[mrp_rating_result show_count="false" show_rich_snippets="false"]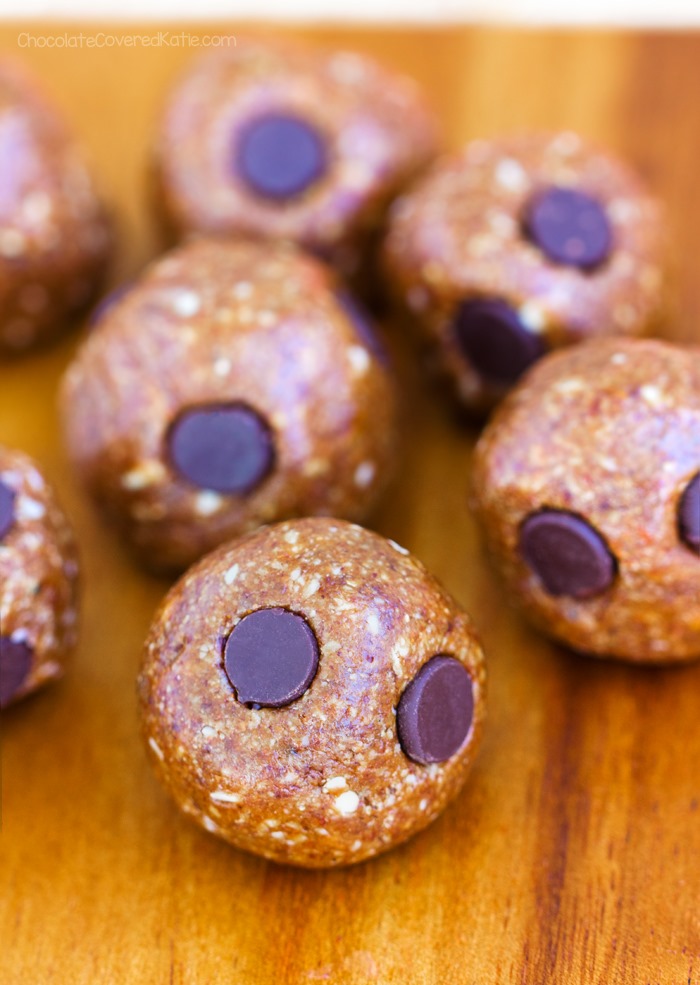 Ingredients
Instructions
*If your dates are rock hard, just soak them in boiling water for a half hour. Most regular grocery stores carry dates; be sure to buy them pitted.
Blend all ingredients in a food processor (or halve the recipe and use a single serve blender or mini chopper). You can add the chips before or after blending. I've found that a food processor works much better than a blender because it processes more evenly and the results are not a sticky mess. Roll into balls – I find it easiest to transfer the dough to a ziploc and smush into one big ball, then break off pieces and roll into smaller balls. Feel free to dip in melted chocolate. You can also form bars or even roll out the dough and cut shapes with cookie cutters.
More Cookie Dough Recipes: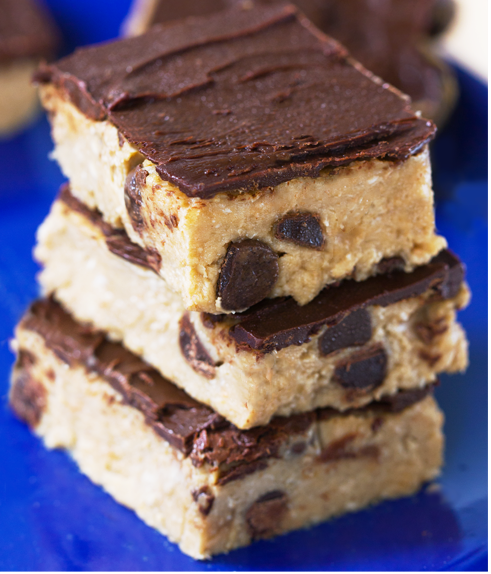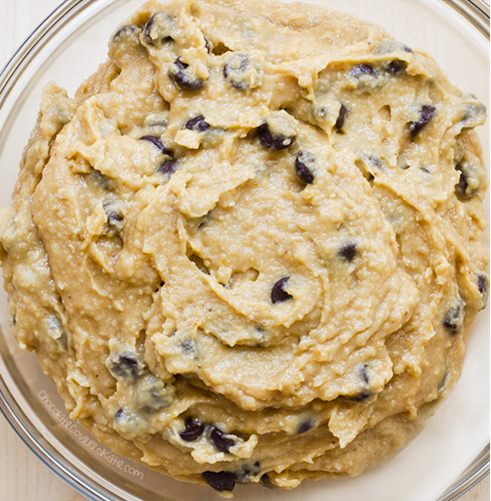 Raw Cookie Dough – To Eat With A Spoon