Cause my cookie's too chocolicious for ya babe.
Oops, wrong Beyonce song.
More single-lady cookin!
We've already done Cupcakes for One.
And we've done single-serving pancakes, pilafs, and cookies… but what about cookie dough balls?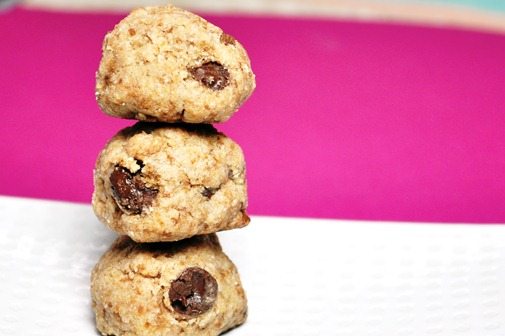 Cookie Dough Balls for One?
That was a query left on my post for Frozen Hot Chocolate.
Sarah C wrote: Could you maybe do a single-lady version of chocolate chip cookie dough balls? I know you have a raw version, but if you could do a baked version, I would LOVE you forever!" Well, love me forever, Sarah, because here's a recipe for cookie dough balls that yields only three balls—the perfect size for a single lady (or bachelor boy).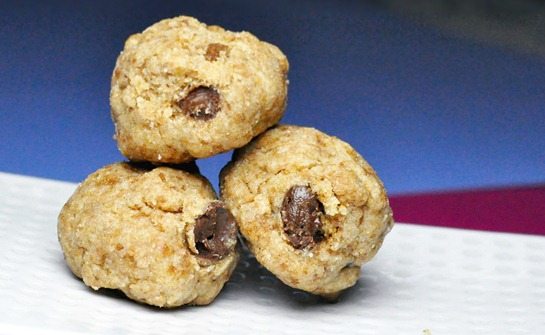 Single-Lady Cookie Dough Balls
Based off the recipe for Single-Lady Cookies
5 level teaspoons flour (18g)
scant 1/16th tsp baking soda
1/16th tsp salt (lessen or omit if using margarine)
2 tsp oil or pre-melted margarine*
1/4 tsp vanilla extract
handful chocolate chips (or raisins, nuts, etc)
sweetener (My testers liked 1 and 1/2 tsp brown + 1/2 tsp white sugar. More brown sugar makes for a softer cookie.)
a little non-dairy milk, if extra liquid is needed (Don't use water.)
Preheat the oven to 350 degrees. Combine dry ingredients, then add wet and mix with a fork. It'll seem a little dry at first, but just keep mixing. Form into three little balls (Do not smush.) Cook for 8-9 minutes. (Take out when still a bit undercooked, so they don't get hard.)
*See link for more about a sugar-free or fat-free variation.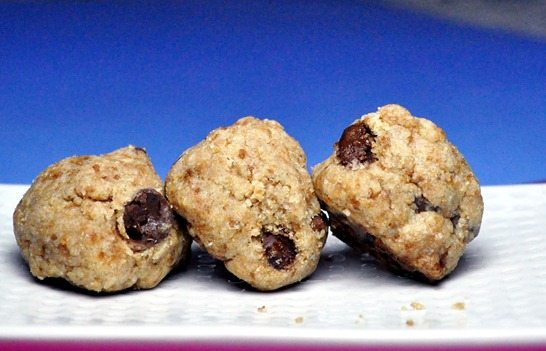 Just enough for one.
Too bad for you, Sports Store Hottie. 😉
Seriously, though, why bother with boyfriends when you can hang around with chocolate chip cookies? If I could marry a cookie, I would. We'd have cute children, no? Hmmm… maybe there's a reason one cannot marry chocolate. It'd give new meaning to the term man-eater!
If you could marry a food, what food would you choose?
(Weird question, I know.) I might marry a jar of coconut butter. (Is it legal to do so? Maybe in California?) Of course I would eat my husband… but not before we had many babies, so I could eat them too. And now I'll stop, because I'm afraid I may have scared you all. Oops.