This ultra creamy homemade spinach tomato pasta dish comes together in just 20 minutes – and with only one pot to clean!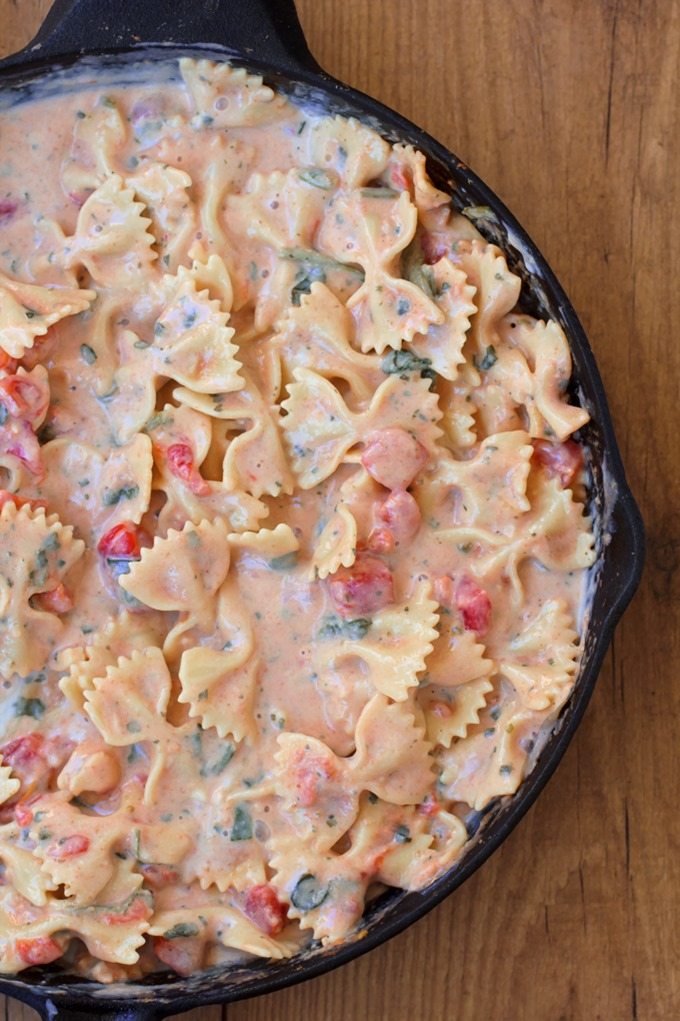 The sauce is so thick and creamy – even without ANY heavy cream!
Something you might not know about me is that I am a huge hockey fan – Seriously, ask me any sort of useless hockey trivia and I will probably know the answer without even having to stop and think.
Come playoff season, you can find me with eyes glued to the television and remote in hand, especially if my team has a chance to win.
I'm lucky enough to have my two favorite teams in the playoffs this year (Dallas Stars and Washington Capitals), which makes for one very happy Katie.
I quickly threw together this creamy spinach tomato pasta dish on Monday night as a simple and filling meal I could enjoy before watching the games.
With just one skillet and no need to chop any vegetables or blend ingredients, I made myself a leisurely dinner and cleaned the entire kitchen, all before 7 PM.
For dessert, try these Vegan Chocolate Chip Cookies or these Black Bean Brownies!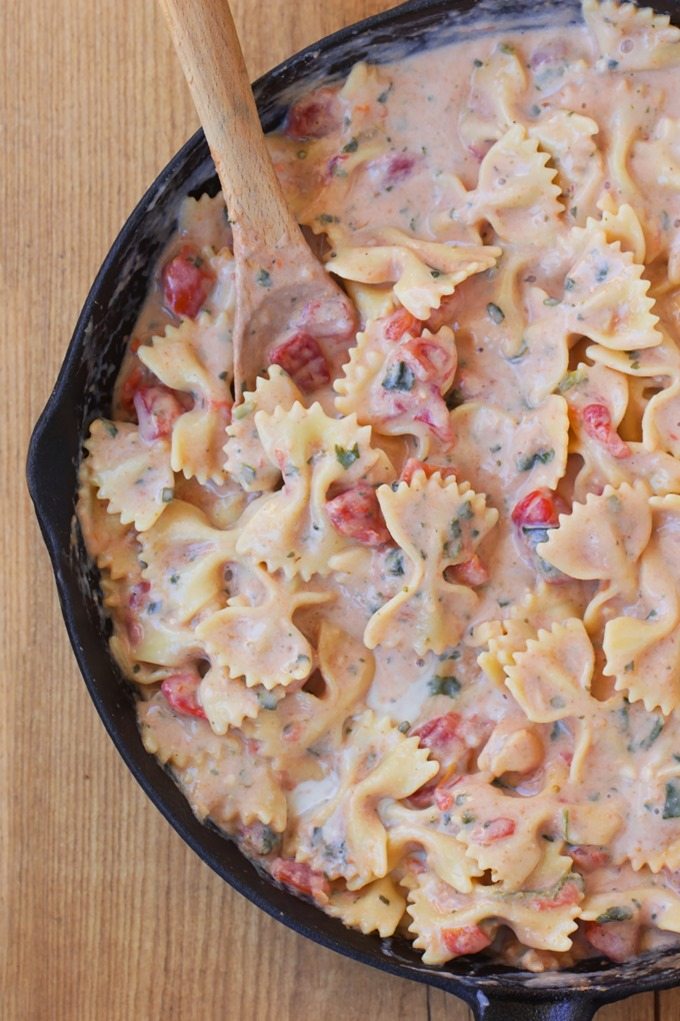 Step 1:
Cook the pasta according to package directions, in salted boiling water.
Drain, but do not rinse.

Step 2:
While the pasta cooks, sauté the garlic for 1 minute, then add the flour, onion powder, and salt.
Whisk in remaining sauce ingredients and bring to a boil, whisking constantly.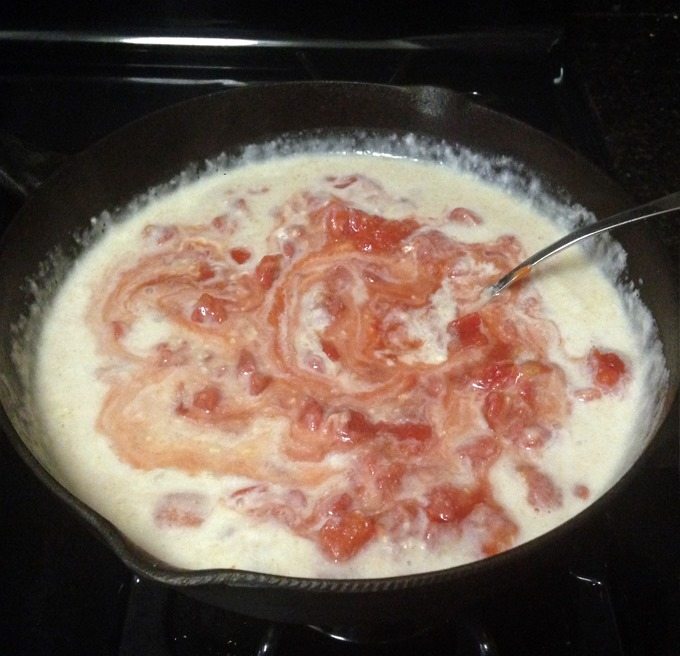 Step 3:
Add the pasta and stir to coat. Taste, and season with salt and pepper if desired.
If the pasta absorbs the sauce and looks a little dry, stir in a little more milk of choice until sauce is creamy again.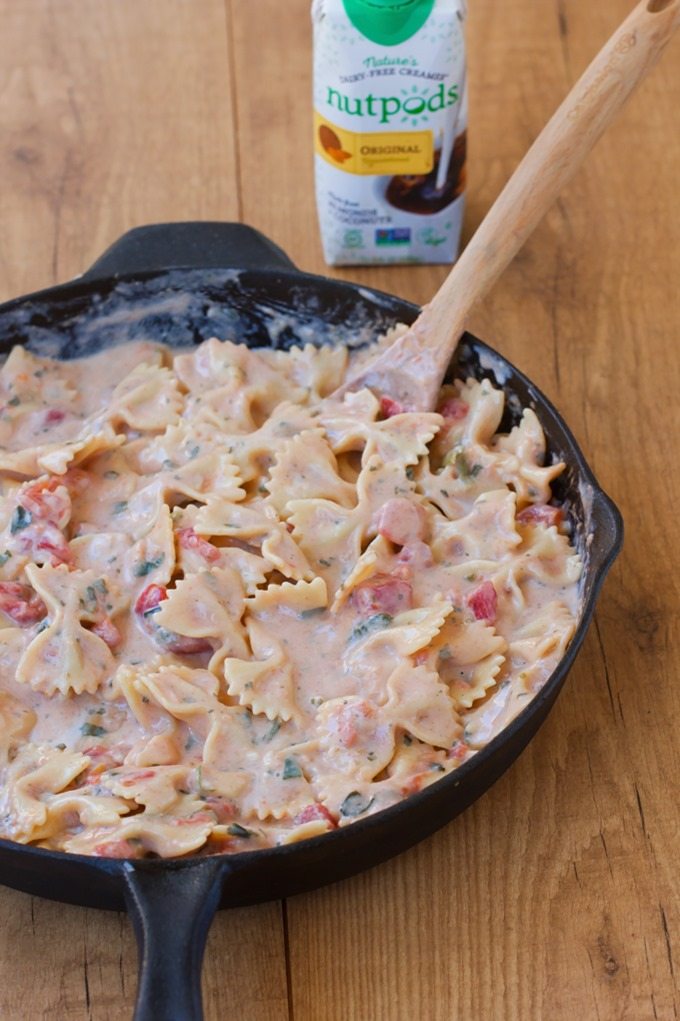 I've made this recipe two different ways now, and both are equally delicious:
The first option is to use cashew cream. If you haven't tried my recipe for Homemade Cashew Cream yet, you should definitely check that one out at some point – It's incredibly versatile and can be used to add richness and creaminess to both sweet and savory dishes, for a fraction of the calories in heavy cream!
The other option, which I tried out on Monday night, is to use unsweetened creamer or a half-&-half-type product. I was recently introduced to Nutpods Dairy-Free Creamer, and I was head-over-slippers in love at first taste of the thick vegan creamer.
(I work from home. Ergo, slippers are my footwear of choice.)
Immediately upon receiving the package, I tried it straight from the bottle… and I can't say that was the only time I drank it straight from the bottle, either. The creaminess is just too hard to resist! Yes, I was the girl who would drink heavy cream straight from the carton as a child whenever my mom would make homemade whipped cream. She'd turn around, and half the heavy cream container would have disappeared.
If this were an iphone, I'd insert the embarrassed emoji now.
Trending Right Now: Black Bean Burgers – 4 Ingredients


Be sure to also try these 12 Vegan Pasta Recipes
Creamy Spinach Tomato Pasta
This creamy homemade pasta dish comes together in just 20 minutes, with only one pot to clean.
Ingredients
8

oz

dry pasta – such as farfalle

1-2

tbsp

olive oil or buttery spread or oil spray

1 1/2

tbsp

minced garlic

3

tbsp

flour

(spelt, white, or sweet rice flour)

1

tsp

onion powder

1/2

tsp

salt

1 1/2

tsp

dried oregano

1

cup

cashew cream or unsweetened creamer – I like Nutpods Dairy Free Creamer

1/4

cup

Parmesan-type topping or nutritional yeast,

optional

1

cup

unsweetened milk of choice or additional creamer

1

can diced tomatoes,

or 14 oz diced tomatoes

1

cup

fresh or 1/2 cup frozen spinach,

optional
Instructions
Bring a salted pot of water to a boil. Boil pasta according to package directions, then drain fully but do not rinse. Meanwhile, sauté the garlic in the oil for 1 minute. (Technically, you can use oil spray, but the oil will give a richer flavor and will help the sauce adhere to the pasta – It amounts to less than a teaspoon per serving, and I really think the flavor will be much better if you use oil instead of spray.) Add the flour, onion powder, and salt. Sauté an additional minute, then whisk in the creamer, milk, oregano, and Parmesan, if using. Bring to a boil, whisking constantly. Boil and whisk for about a minute, then add the tomato and spinach – You can omit the spinach if desired. Stir until sauce thickens. Add the pasta and stir to coat. Season with salt and pepper if desired. If the pasta absorbs the sauce and looks dry, stir in a little more milk of choice until sauce is creamy again.

View Nutrition Facts
More Healthy Pasta Recipes: