This super easy cauliflower alfredo recipe is so deliciously rich and creamy, you will never believe it isn't FULL OF heavy cream and calories!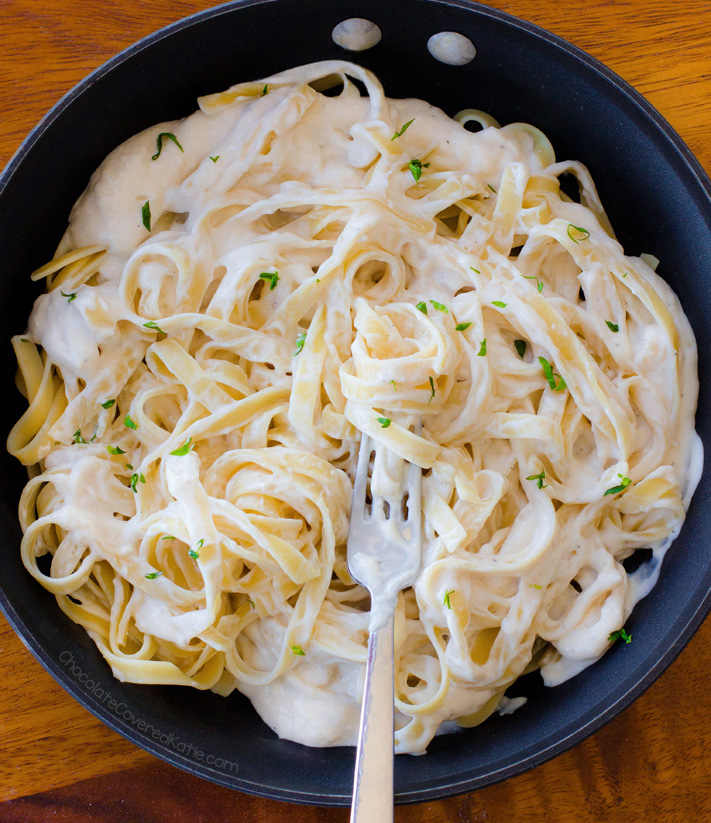 The Best Cauliflower Alfredo Sauce
Easy
Oil Free
Vegan
Low Carb
Dairy Free
Just 5 Ingredients
Even non vegans love this secretly healthy cauliflower alfredo sauce… That's how good it is!
You May Also Like: Coconut Curry – The Easy Recipe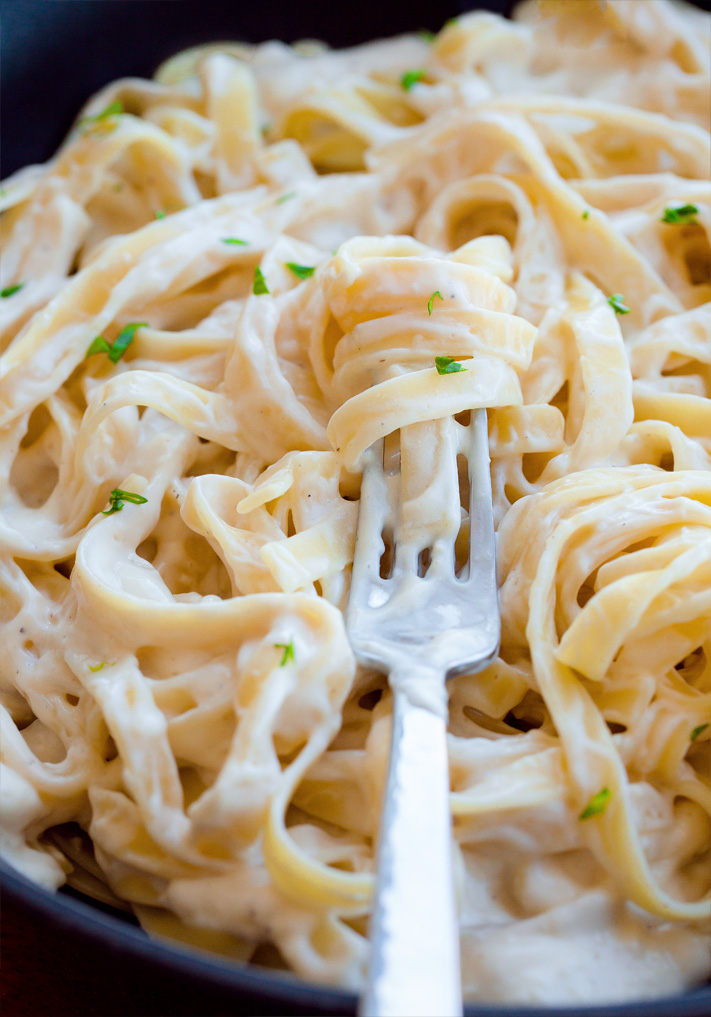 Cauliflower Fettuccine Alfredo
The simple healthy recipe is also gluten free, nut free, sugar free, egg free, whole30, paleo, keto friendly, and soy free.
While most skinny Alfredo recipes call for cashews, tofu, or coconut milk to replace heavy cream, this sauce can also be made without any of those ingredients.
Instead it gets its creaminess thanks to the nutrition superstar cauliflower.
If you've never tried thickening a sauce with cauliflower, I highly recommend it.
You get a rich and creamy sauce without all the extra fat and cholesterol, and it sneaks in a vegetable serving you won't even know you're eating!
Trending Now: Healthy Banana Bread – NO Oil Required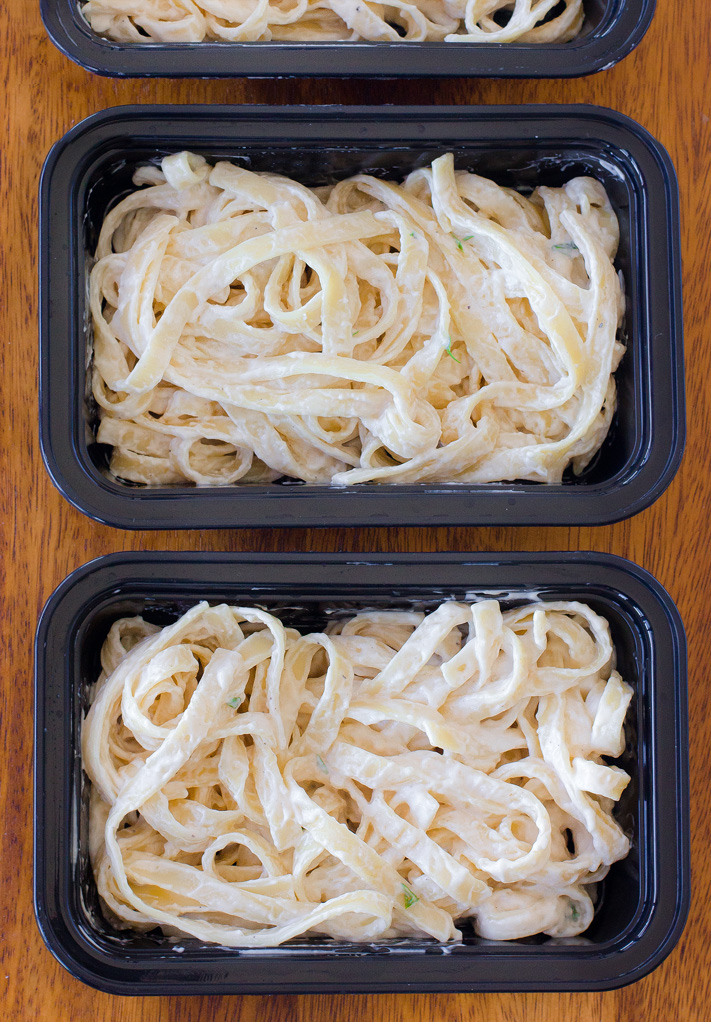 The Alfredo sauce is also really great for meal prep!
Leftover sauce can be refrigerated for 3-4 days or frozen to thaw and use at a later date.
Easy Cauliflower Sauce
If you're worried about making the lightened-up Alfredo for guests who are used to traditional heavy cream versions, be sure to scroll through the 250+ reader reviews at the bottom of this post.
Hundreds of readers have written in to say they've tried the cauliflower Alfredo recipe on their kids, husbands, families, boyfriends, girlfriends, friends, and neighbors, almost always with positive reviews and multiple requests for the recipe.
With just five ingredients, it's deceptively easy to make, and the entire recipe can come together in under 20 minutes from start to finish, making it an excellent wholesome weeknight meal.
For dessert, try this Chickpea Cookie Dough Dip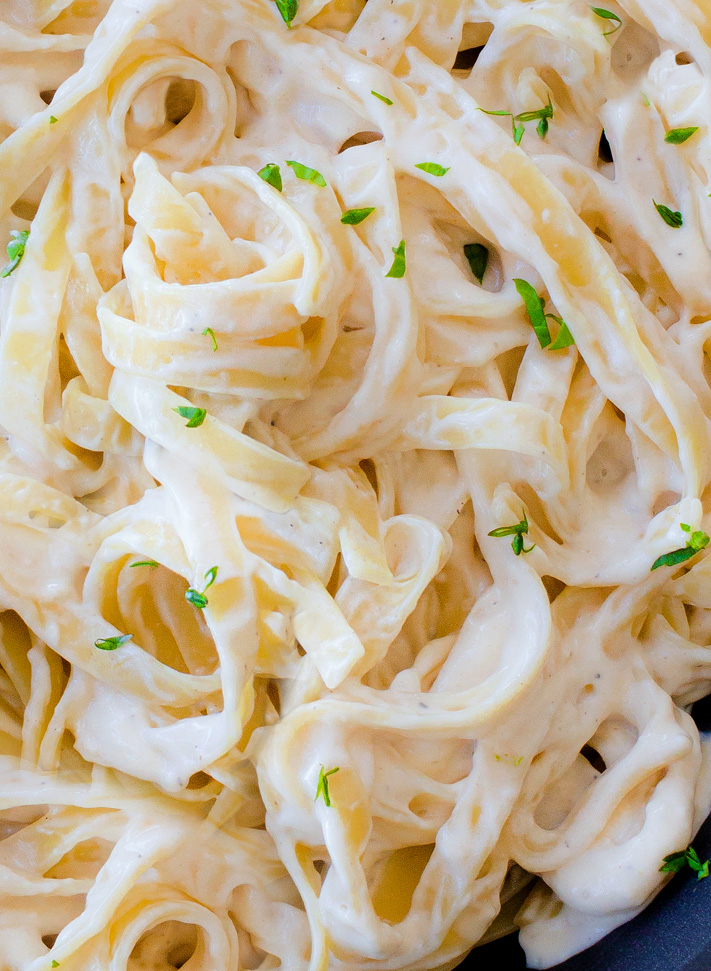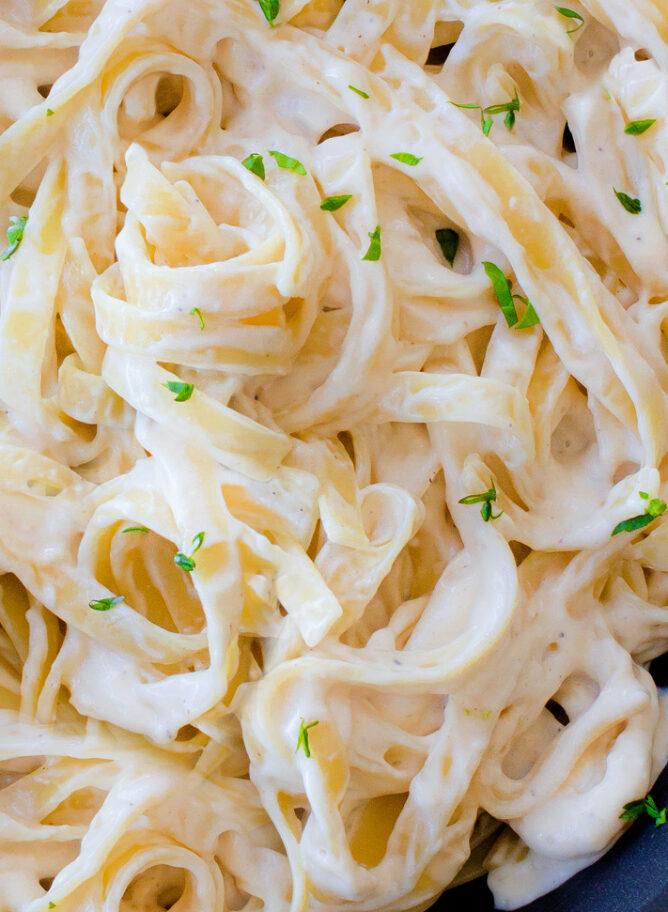 Serving Suggestions
Serve the healthy vegan Alfredo over pasta, zucchini noodles, or Spaghetti Squash.
Or stir in roasted broccoli, peas, carrots, corn, diced mushrooms, tomatoes, garlic, or red peppers.
The sauce is also fantastic as a white gravy for baked sweet potatoes (here's the best way how to cook sweet potatoes) or for lasagna or a white Vegan Pizza Recipe.
How To Make Cauliflower Alfredo:
Add all cauliflower sauce ingredients to a medium pot, and bring it to a boil.
Cover the pot and cook it on a low flame for 15 minutes, then pour it over pasta or spaghetti squash or even roasted vegetables if you'd prefer.
It also makes a delicious soup, and the cauliflower is so mild that anyone who doesn't already know it's in there will never be able to guess!
Above – Watch the video how to make cauliflower alfredo


Cauliflower Alfredo Sauce
An easy and secretly healthy cauliflower alfredo recipe so rich and creamy, you will never miss the heavy cream!
Ingredients
2

cup raw cauliflower florets

(200g)

2

tsp

minced garlic,

or 1/4 tsp garlic powder

1/2

tsp

salt

2

tbsp

butter or olive oil,

or omit for fat-free

1

cup

milk of choice

optional 1/2 cup shredded mozzarella or nutritional yeast

optional 1/4 cup diced shallot or onion

Feel free to add a little Dijon mustard, lemon juice, black pepper, oregano, or rosemary if desired
Instructions
Cauliflower Alfredo Sauce Recipe: Put all ingredients into a medium pot and bring to a complete boil, then cover and simmer 15 minutes or until the cauliflower is fall-apart tender. Pulverize with either an immersion or regular blender. Serve over pasta, or spaghetti squash, rice, roasted vegetables, or whatever you wish. Makes about 2 cups, and it gets much thicker as it sits.

View Alfredo Nutrition Facts
More Easy Cauliflower Recipes