The hassle of the plane rides was completely worth it…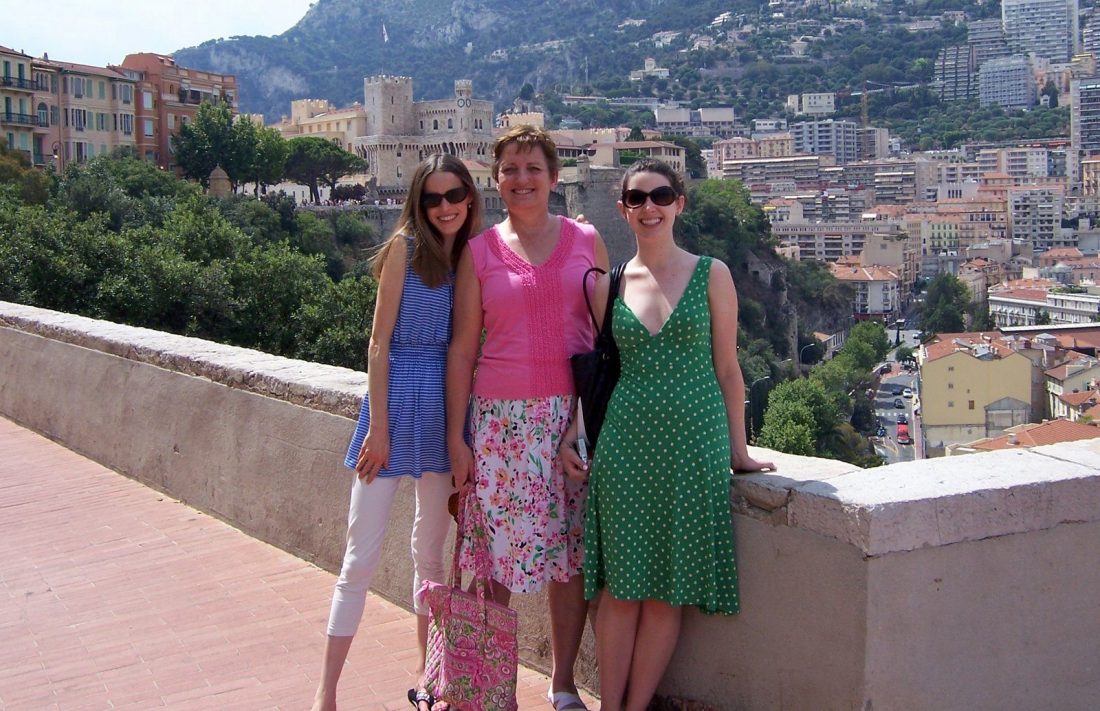 (Mom, sister, and me in Monaco. Note the castle in the background!)
To cruise all night and wake up in such exotic locations as Greece, Italy, Croatia… it was unreal. Over the twelve days, we stopped in Monte Carlo (Monaco), Marseille (France), Barcelona (Spain), Livorno/Florence (Italy), Civitavecchia/Rome (Italy), Sorrento (Italy), Corfu (Greece), Dubrovnik (Croatia), and Venice (Italy). From an early-morning run through the streets of Monte Carlo to late-night Flamenco dancing in Barcelona, from exploring the walled fortresses of Dubrovnik to taking in the museums of Rome, from shopping in Sorrento to splashing at the clear beach of Corfu, I definitely packed in a full schedule. I took so many pictures and walked so much that I'm surprised my camera and feet held up!
But putting aside the wonders of the excursions, even just being on the boat was an amazing experience. For anyone ever thinking of taking a cruise, I can't recommend the Crystal Cruise line highly enough. The boat was so well-staffed it was almost as if there were more attendants than guests. Everywhere you looked, there was a friendly face eager to help, no matter your request. And each family was assigned personal waiters, so the staff really got to know us, and they were always greeting us by name. (Ugh I probably sound so Paris Hilton-ish right now– personal waiters?!– but I swear I am not usually this spoiled. I always felt badly about asking the staff to get things for me, and more than once they had to scold me for trying to clear my own breakfast dishes… or for trying to help our maid–who was so sweet– make the bed.)
I could write an entire book about the past twelve days. But since this is a food blog, I guess I'll try to keep the posts pertinent to food and. (Plus, I really don't think you all want to read a whole book about my adventures.)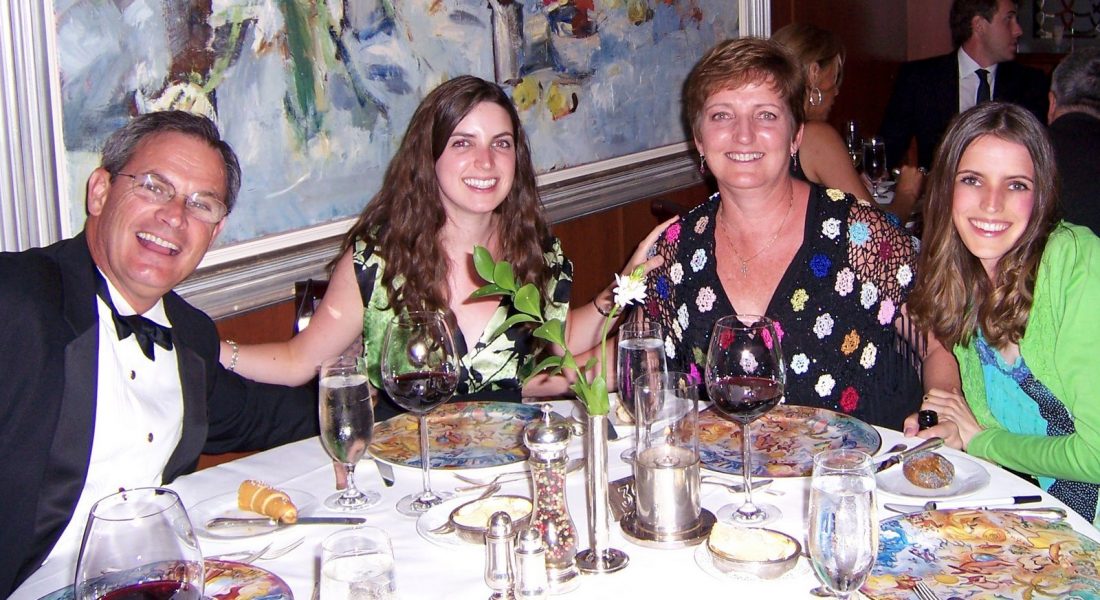 I've always heard that cruises are nightmares for one's diet. (I was conjuring up images of deep-fried chicken strips, milkshakes, and double cheeseburgers.) But I was easily able to eat a healthy diet on this cruise. The chefs were accomodating beyond my wildest dreams. It was like having an entire teaam of personal chefs! They offered almost every variety of vegetable one could imagine (which they were happy to steam up sans butter), a never-ending salad bar (so many varieties of beans, greens, and nuts), and a fruit bar with some of the most succulent fresh fruits I've ever tasted– figs, cantaloupe, honeydew, grapefruit, oranges, plums, kiwi, and on and on. Plus, they had brown rice, whole wheat pasta, oatmeal, barley, and bulgur! And there was a first-class sushi restaurant on board (run by the famous Chef Nobu, with whom everyone in Hollywood seems to be obsessed), so this meant lots of piping-hot miso soup (they had no problem leaving out the bonito flakes), soba noodles, seaweed salad, and edamame.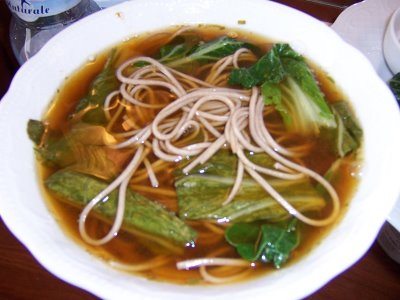 Above, soba soup with fresh bok choy
And if somehow I couldn't make do with "only" this, the chefs assured me that they would be thrilled if I challenged them to make special vegan meals– every night if I so desired. (I told you the hospitality was incredible.) Some of the wonderful meals they made me included watermelon gazpacho, regular gazpacho, a portabella mushroom salad, vegetable soup, homemade tomato sauce for my whole wheat pasta (ingredients: tomatoes, basil, garlic, oregano, salt, pepper, onion powder, and that's it!), and one day they even cooked up some spelt berries that I bought in Italy!
But I'm not finished yet! There was also an ice cream bar on board that offered at least one flavor of sorbet each day (0ne day, the flavor was Sangria. Talk about exotic!). Now, sorbet is not my favorite thing in the world… but I do love smoothies, and the ice cream station was equipped with a milkshake/smoothie-maker. The ice cream man (who told me I was his favorite customer) let me store my soymilk and almond milk (I brought some from home) in his fridge. Whenever I wanted a smoothie, all I had to do was bring him the ingredients and he'd blend them up for me. A perfect smoothie and no mess to clean up? What could be better?!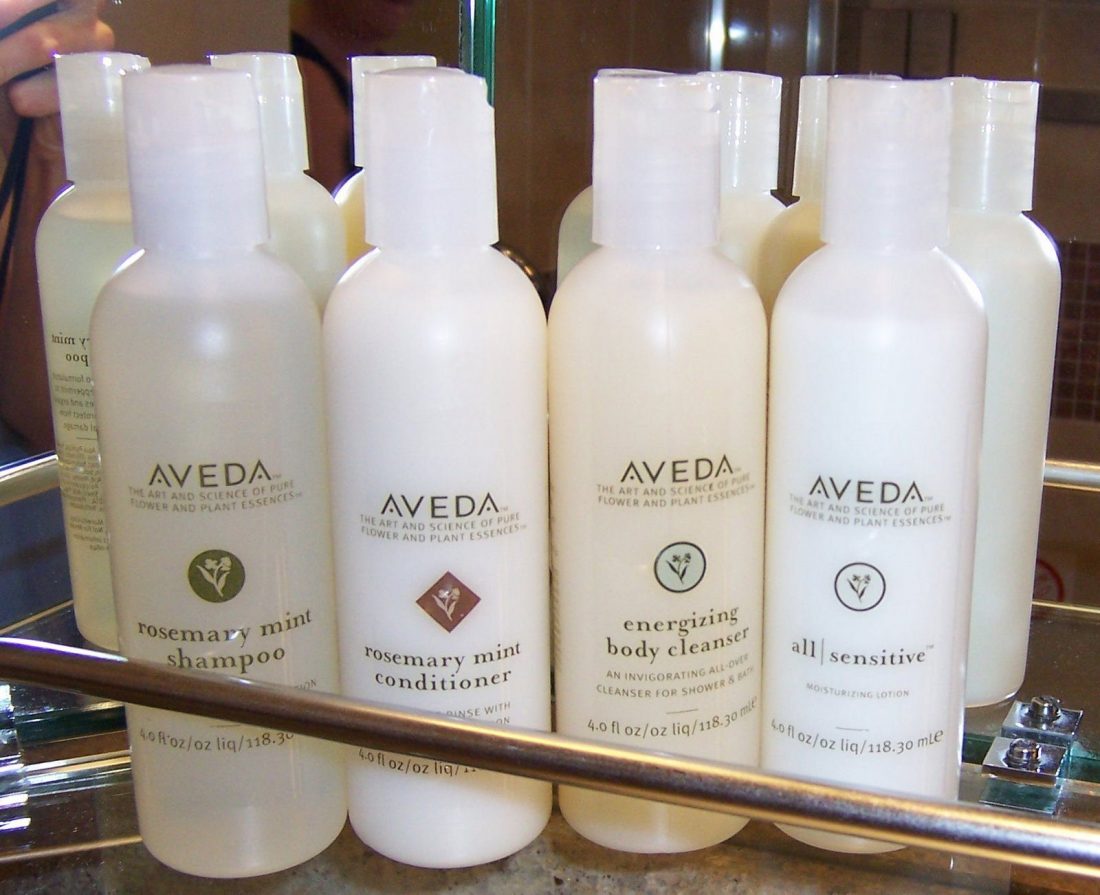 Even the bathroom amenities were vegan-friendly.
Thank you so much, Grandma, for giving us this trip of a lifetime. And congratulations to everyone who made it to the end of my interminable post!