Also known as…
Samoas Fudge Babies!
No, not the spicy Indian potato thing. That's a samosa. This is a samoa. You don't want to get the two confused!

Awhile back, I posted a recipe for Raw Thin-Mint Brownies.
In that post, I vowed to someday try making raw samoas, my favorite girl-scout cookies as a child.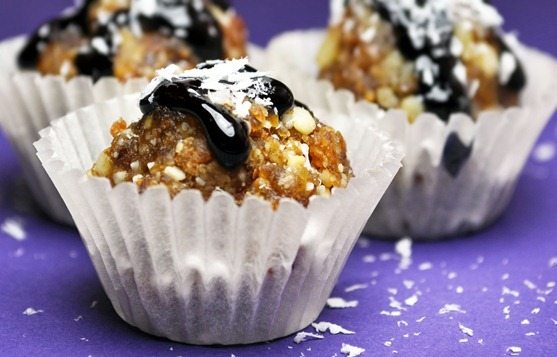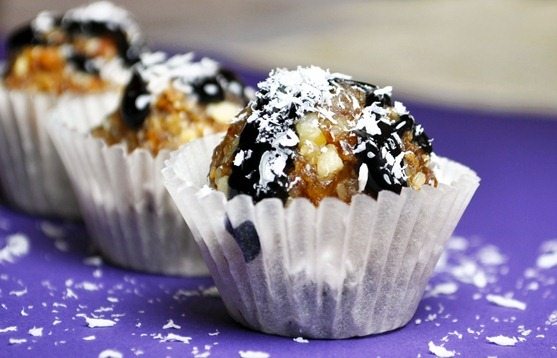 Gosh, my children are pretty.
Certainly prettier than those poor Thin Mint Brownies!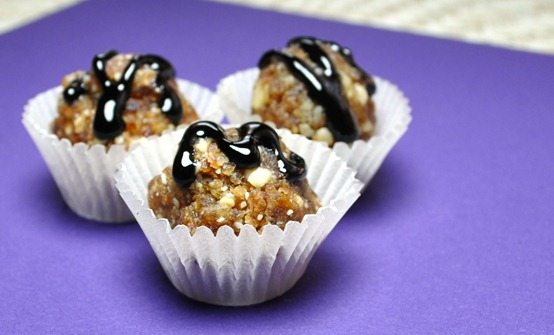 Samoas Babies
Packed 1/2 cup dates (90g)
2 tbsp unsweetened shredded coconut (30g)
1/16 tsp pure vanilla extract
scant 1/8 tsp salt
1-2 tbsp chocolate chips or bar (14-28g)
Put all the ingredients together in your food processor, and blend. (I like to make 1/2 a batch and use the Magic Bullet short cup.) You can reserve a few of the chocolate chips to add, post-blending, if you so desire. See below for nutrition information.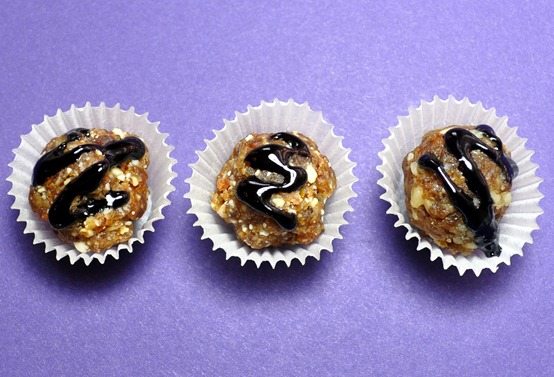 Nutrition Facts for Samoas Babies:
Serving Size: 45 grams (the size of a Larabar)
175 calories
8 g fat
2 g protein
5 g fiber
0 g added sugars
When I set out to create a fudge baby version of the famous Samoas girl-scout cookie, the first thing I did was look up ingredients for the real Samoas.
Do you know what I found?
It wasn't pretty: Sugar, vegetable oil (partially-hydrogenated palm kernel and/or cottonseed oil, soybean and palm oil), enriched flour (wheat flour, niacin, reduced iron, thiamin mononitrate, riboflavin, folic acid), coconut, corn syrup, sweetened condensed milk (condensed milk, sugar), cocoa, sorbitol, glycerin, invert sugar, cocoa processed with alkali,cornstarch, salt, caramelized sugar, dextrose, soy lecithin, carrageenan, leavening, natural and artificial flavor
Anyone want to count how many times some form of sugar is listed in there? (Answer: six)
Sounds more like a science experiment than a cookie. Does anyone else find it upsetting that they're allowed to produce such cookies and feed them—in bulk—to unsuspecting young girls (not to mention the rest of the population that buys the cookies from the scouts). I just don't understand…
Why do they have to make junk? 
Healthy food can taste delicious, as I say in my About Me page.
So why don't they make a healthier cookie for the girl scouts to sell? Unfortunately, I know the answer: cost. It's cheaper for companies to mass-produce cookies with chemical-y ingredients and preservatives than it'd be for them to use real, natural ingredients (i.e. ingredients found in cookies that people would bake at home!). Who ends up suffering? The consumers.
Don't get me wrong…
I'm not saying that eating a girl-scout cookie every now and then is going to hurt you. I truly believe it's perfectly healthy for people to occasionally eat unhealthy foods (as long as they don't stress about it afterwards). Stress over achieving a "perfect" diet seems far worse for one's health than eating processed junk every once in a while. No, what I'm upset about is the fact that manufacturers are allowed to produce said processed junk in the first place! Yes, America is a free country. But does this mean companies have the right to add to their products whatever unhealthy (and, in some cases, dangerous) ingredients they desire? And then they aggressively target these products towards children?! Marketing and deceptive advertising strategies can fool even the most well-intentioned consumers.
Ah, but I digress. Let's get back to the fun stuff, shall we?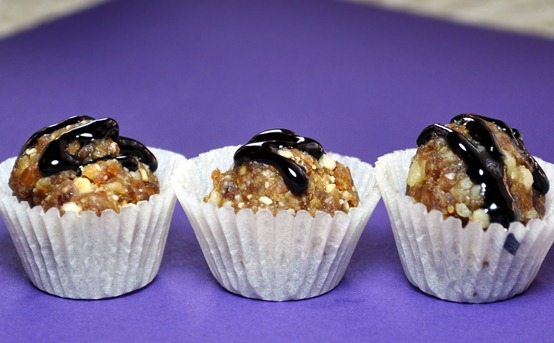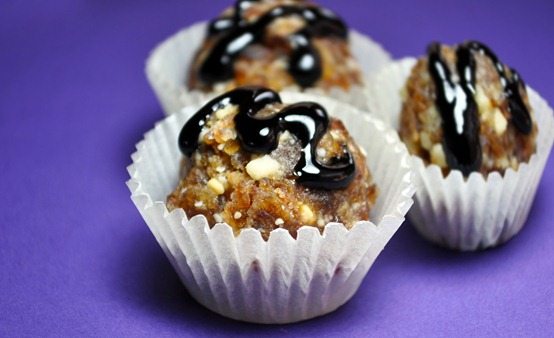 These are actually nut-free!
I improved upon the recipe after the photo-shoot, which is why the babies in the photos have nuts. (Please don't take that sentence the wrong way.) Do they taste exactly like samoas cookies? No, but that wasn't the taste/texture I set out to achieve when making these. They're not raw samoas, they're raw samoas fudge babies!
So what do they taste like?
Well, imagine a Samoa-flavored Larabar.

And click for a list of all the Homemade Larabar Flavors.