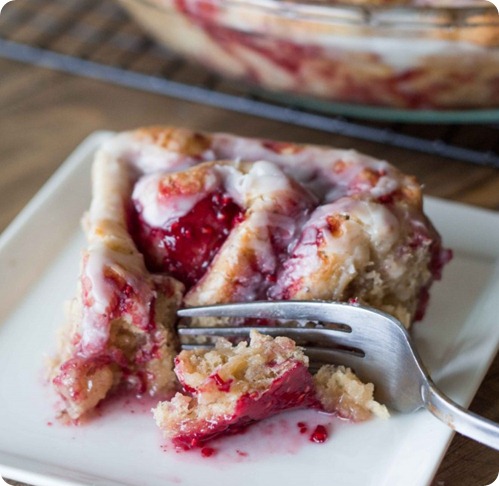 Currently without heat, hot water, and electricity (we caught Texas's ice storm… thanks, Texas), these raspberry homemade cinnamon rolls sound seriously amazing to me right now.
The recipe comes from an incredibly-talented photographer and writer standing in while I wait for the internet to come back and remind myself never again to take hot showers for granted.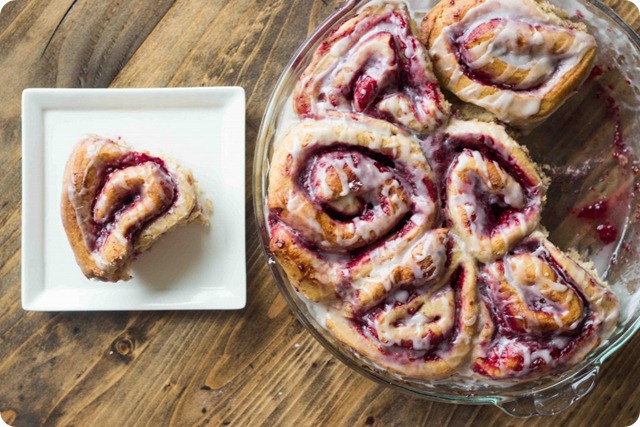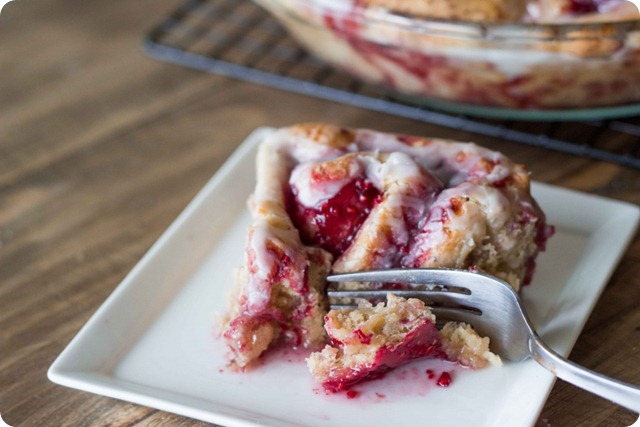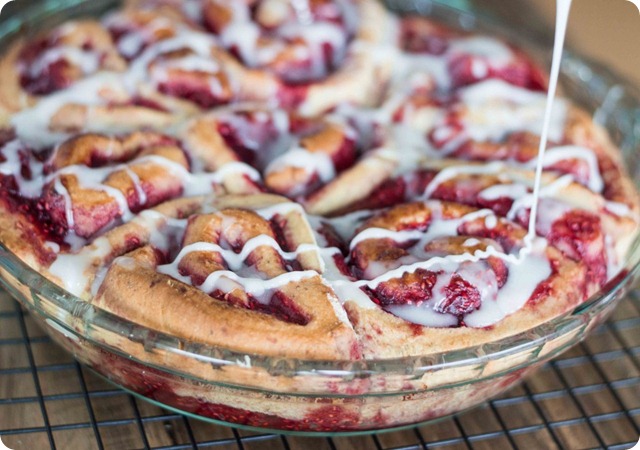 Please welcome Katie, of the blog Veggie and the Beast:
Perhaps it's just me, but the change in seasons always gives me this wave of excitement and empowerment. I start thinking about the possibilities of what could happen, and what the next chapter of the year might bring. The beginning of last summer brought with it an intense, hard-hitting craving for life change. I wanted a challenge. I wanted to shake things up.
I debated getting a puppy, but the reality of living on the 14th floor of a building with no nearby park made me come to my senses. Then I thought perhaps I should move, buy a house, take on those adult milestones that really affirm you are indeed all grown up. After assessing my ridiculously cushy and laughably-affordable living situation, I had to go back to the brainstorming board.
The result of that brainstorming, oddly enough, was to adopt a vegan diet for one month. As someone who's eaten a vegetarian diet for over 20 years, and cooks and bakes vegan food regularly, I didn't expect that taking the vegan plunge would be that difficult. I looked forward to challenging myself to put a vegan spin to my favorite foods.
As is the case with most challenges, this mini life change wasn't entirely smooth. There were instances when I wanted cheese, white chocolate, and baked goods made with butter and eggs, but the morning when I baked these raspberry homemade cinnamon rolls made me forget all those lacto-ovo cravings. These rolls were the high point of my vegan challenge….and perhaps the best breakfast I've had all year.
The whole wheat pastry flour in the dough gives these homemade cinnamon rolls a boost in fiber and health, without the heavy texture of regular whole wheat flour. Since pastry flour has a fine consistency, the dough is very soft, and slightly more difficult to roll than regular sweet roll dough. Fortunately, the dough is also very forgiving in its shape, so you can easily reshape any rolls that get a little funky in the rolling/cutting process.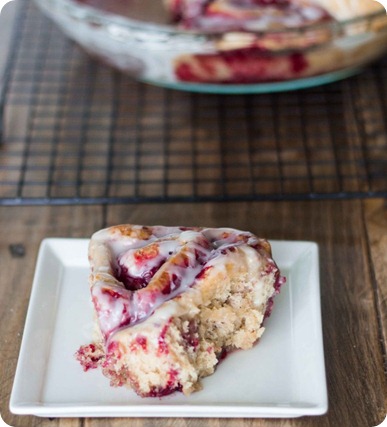 The resulting homemade cinnamon rolls are flaky, buttery (tasting), and perfectly sweet with a touch of tart raspberry and warm brown sugar and cinnamon. They're the kind of rolls you can bring to a get together and no one will suspect that they're vegan. They're also the kind of rolls you may not want to bring to a get together, because you want to save them all for yourself.
Homemade Cinnamon Rolls
Sweet Roll Dough
1 cup milk of choice
1/4 cup plus 2 tbsp full-fat buttery spread (such as Earth Balance)
2 1/4 cups whole wheat pastry flour
1 cup unbleached all-purpose flour
1 (1/4 ounce) package Rapid Rise or Instant yeast
1/4 cup brown sugar
1/4 tsp salt
1/2 tsp baking powder
1 tsp pure vanilla extract
1 tbsp ground flax mixed with 3 tablespoons warm water
Raspberry Cinnamon Filling
10 ounces frozen raspberries
1/4 cup brown sugar, loosely packed
1 tsp ground cinnamon
1/2 cup water
1 tbsp cornstarch
Icing
2-2 1/2 cups powdered sugar or Sugar-Free Powdered Sugar (depending on desired consistency)
3-4 tbsp unsweetened vanilla almond milk (or milk of choice)
½ tsp pure vanilla extract
Instructions
Heat the almond milk in a small saucepan over medium heat just until it starts to bubble on top. Remove from heat and whisk in ¼ cup of the buttery spread until melted (it will melt quicker if you cut it into chunks). Set aside and let cool to a lukewarm temperature while you get the dry ingredients together
In a large mixing bowl, whisk together whole wheat pastry flour, yeast, brown sugar, salt, and baking powder. Beat in the vanilla, flax egg, and the lukewarm milk/buttery spread mixture.
Add the all-purpose flour in two waves, stirring well with a wooden spoon after each addition. Once you have a loose dough, either use a knead hook in your mixer for about 3 minutes, or knead on a lightly-floured surface until smooth (about 5 minutes). This sounds gross, but you want the the dough to feel just a bit softer than your ear lobe when you pinch it (I know, what?).
Cover the dough with a damp towel and let rest for 25-30 minutes, until it holds its shape when poked.
While the dough is resting, heat the raspberry, brown sugar, water and cornstarch in a small saucepan. Bring to a boil, and stir for 6-7 minutes (It will thicken in this time). Set aside to cool*.
Use a rolling pin to create a 16×12 inch rectangle with the dough. Lightly brush the dough with the remaining melted buttery spread, then spoon the raspberry mixture evenly over the entire dough. Carefully roll up the dough. Some of the raspberry mixture will be squeezed out, but that's okay. Pinch the seam to seal. Cut off the end pieces, as it seems unfair that someone would get stuck with the runt of the bunch. Cut the remaining dough into 8-9 rolls (depending on how big you want them). I used a cheese knife to cut mine, as the dough is quite soft**. Place cut-side-up in a greased 9-inch cake or pie pan, cover with a damp towel, and let rise for another 30-minutes. Set the oven to preheat to 375.
After the dough has risen, put the rolls in the oven for 20 minutes, until golden brown on top.
While the rolls are baking, mix almond milk and vanilla into the powdered sugar. You can adjust the levels to get the consistency you want.
Drizzle the icing on top of the warm rolls. Best served warm! If you've enjoyed this recipe, check out the other recipes on Katie's site.
Notes:  I did not strain the raspberry sauce, because I knew the seeds wouldn't bother me. I honestly barely noticed them, but if you think they will bother you go ahead and strain the sauce.
Don't be afraid that the dough is soft; Some of the rolls may feel like they're falling apart as you're cutting and transferring them to the pan, but you can easily shape them back into a circle if they get a little misshapen. I had to do that, and mine still ended up pretty.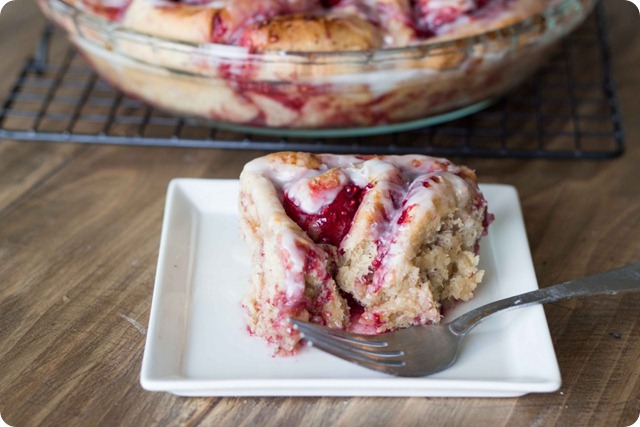 Question of the Day:
What would be your dream cinnamon roll flavor?
I've made plain cinnamon rolls and Pumpkin Cinnamon Rolls, but next up I'm hoping to create a recipe for Tiramisu Cinnamon Rolls: coffee-based rolls that are stuffed with cream cheese filling.