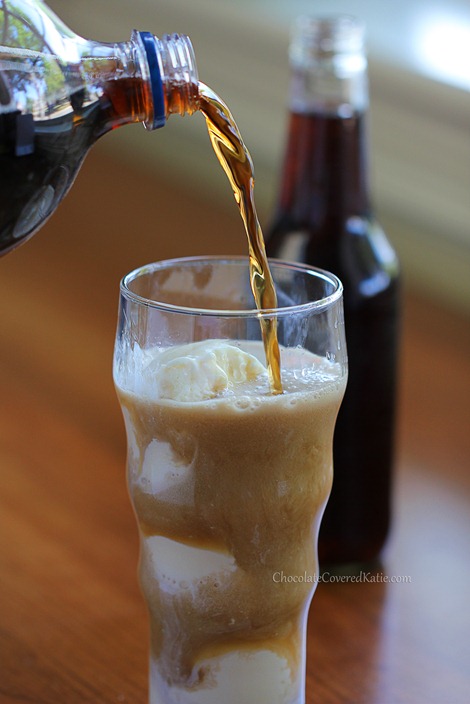 Did you know that you can make your own healthy soda at home?
It's not hard at all!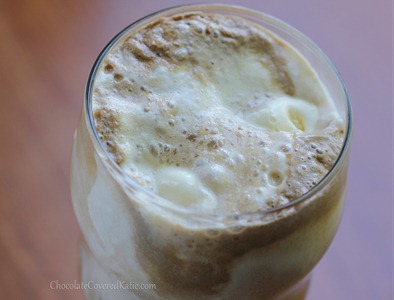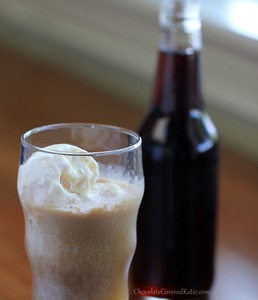 And it's absolutely delicious in a cream soda float!
Use your favorite coconut, vanilla, or homemade Healthy Ice Cream.
(S is not a fan of coconut, which gave me a great excuse to try out a cashew-based version for our floats.)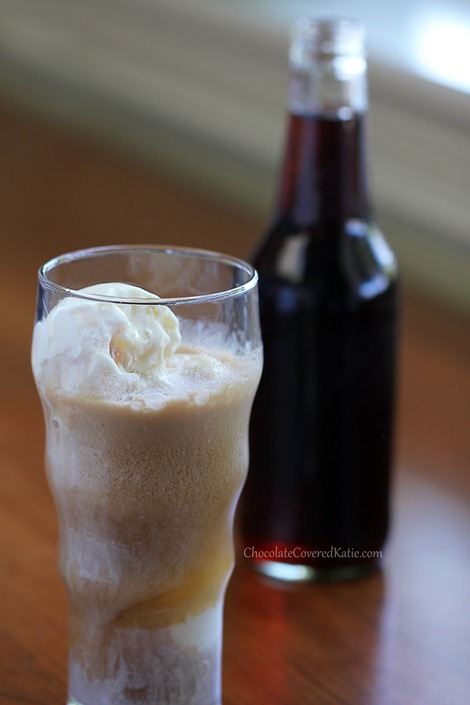 Way back in the 1920s, my great grandmother would make homemade soda in her basement, then invite all the neighbors over for a party.
Well, soda is not all she made in her basement. But we probably shouldn't go into that… 😉
Homemade root beer and ginger ale were her specialties; however I've always liked cream soda best, and so I adapted my great grandma's homemade soda technique for the recipe I'm posting today: homemade and healthy cream soda, high in B vitamins, and much lower in sugar than the cola you'd get from a store.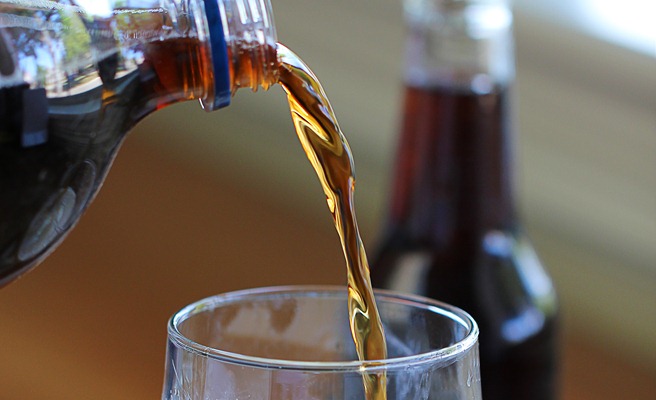 Homemade Cream Soda
1/4 cup warm water (60g) (about 110 degrees F)
1 tbsp coconut sugar or regular sugar or agave (12g)
pinch stevia extract, or 2-3 tbsp sweetener of choice
1/4 tsp brewers or dry active yeast (see below for yeast-free version)
1/2 tsp pure vanilla extract (2g)
1/8 tsp cream of tartar
1 strip lemon zest (2-in or so)
2 cups water (480g)
32oz soda bottle, with a cap
Dissolve the 1 tbsp sugar (not xylitol or stevia) in the water, then sprinkle the yeast over top. Set aside 6-10 minutes, or until it bubbles. (If it doesn't bubble, either your yeast is bad or your water was too hot.) Meanwhile, put all other ingredients into the soda bottle and shake well. Pour the bubbly yeast mixture into the soda bottle, either using a funnel or pouring through a paper cup with a small hole at the bottom. Shake, then put the cap on the bottle and store it in a warm, dry place. Wait about a day and a half (no longer), then slowly open the bottle over the sink—just in case. Your soda is ready to drink, or store it in the fridge. I'm sure that if you want instant cream soda, you could just use carbonated water and skip the yeast
For Instant Cream Soda: Omit the yeast and the 1 tbsp sugar. Use carbonated water for all the water in the recipe. Stir all ingredients together, and there is no need to wait.
Click for: Cream Soda Nutrition Facts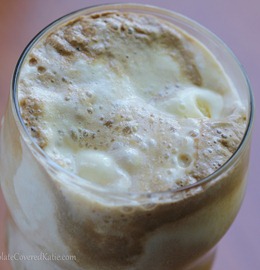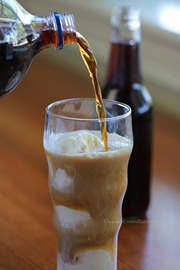 Question of the Day:
Pepsi, Coke, Sprite, Dr. Pepper… What's your favorite type of soda?
When I was really little, I loved to buy orange sodas from the vending machine at a park near our house. But I'd never actually drink the sodas, as I didn't like the sugary sweetness or carbonation. This was always a struggle between my mother and me… she knew the only reason I'd ask for money for a soda was because I liked pushing the button and watching it fall from the machine. The actual drink would end up in the trash after a few sips. Looking back, I tell my mom she should've been happy about this; she didn't have to deal with a crazy-hyper kid on a sugar high!
Link of the Day: