Greek Yogurt Cheesecake – luxuriously smooth, and surprisingly good for you!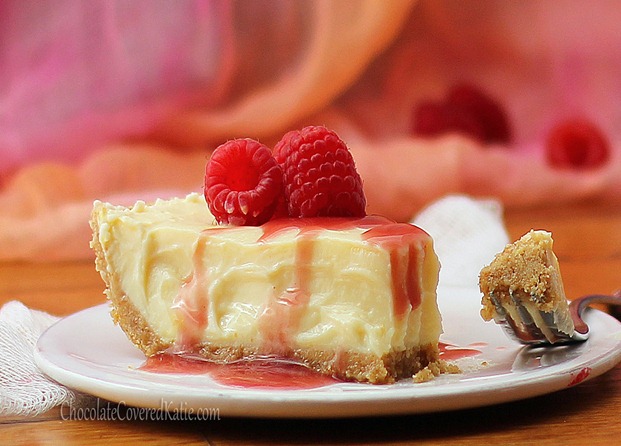 Did you know it's possible to make a delightfully rich and creamy cheesecake with absolutely no cream cheese whatsoever?
The resulting Greek yogurt cheesecake is nutritious and filling, with a deliciously creamy custard texture that makes it more like a cheese pie than a cheesecake. The Greek yogurt cheesecake filling can be prepared in minutes, and you can pour it into a store-bought crust or one that's homemade, such as my Healthy Graham Cracker Crust.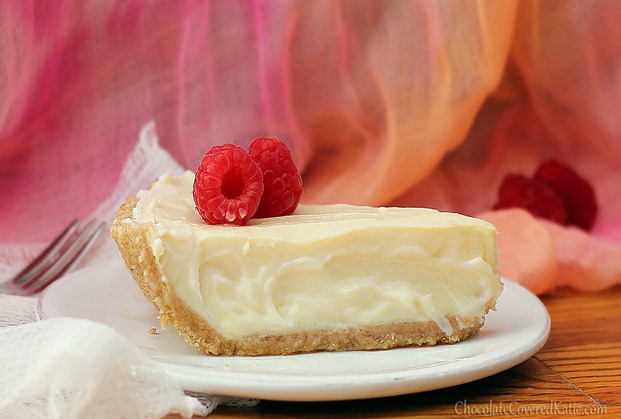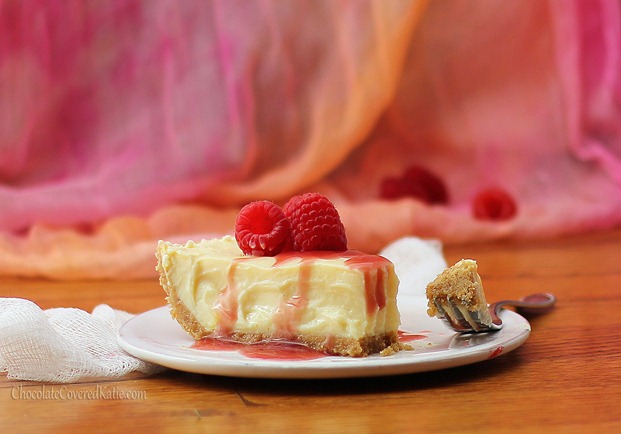 P.S. What are your favorite ways to use Greek yogurt? I still have some of the dairy-free "yogurt" left from experimenting with different versions of this Greek yogurt cheesecake recipe, so I'd love any ideas you have for ways to use up the leftover vegan Greek yogurt. Maybe a cream sauce or salad dressing?
Or maybe another cheesecake!


Greek Yogurt Cheesecake
Greek Yogurt Cheesecake
Print This Recipe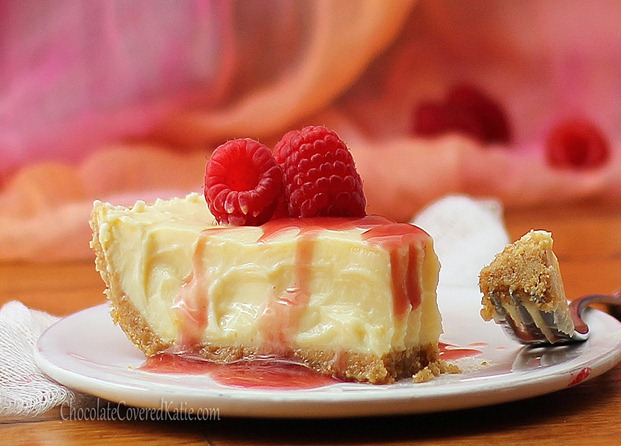 Ingredients
1 1/2 cups Greek yogurt - I used dairy-free Homemade Greek Yogurt(360g)
1/2 cup plus 1 tbsp Mori-Nu silken firm tofu (For soy-free, see nutrition link below) (135g)
1/4 tsp plus scant 1/8 tsp salt
1 1/2 tsp pure vanilla extract
1/2 tbsp lemon juice (7g)
5 tbsp pure maple syrup or agave (70g)
pinch uncut stevia OR 2-3 tbsp granulated sugar of choice
2 1/2 tsp cornstarch or arrowroot (11g)
Instructions
Preheat oven to 350 F. Combine all ingredients in a food processor or blender, and blend until completely smooth. (I guess you can do this by hand if you don't mind a less-smooth texture.) Pour into any prepared crust. (I have a crust recipe linked under the second photo in this post.) Bake 50 minutes, then remove from the oven. It'll still look very gooey, but that's okay. Allow to cool for an hour before moving the cake, uncovered, to the refrigerator to set for at least 8 hours, during which time it will magically firm up and become more flavorful. (I haven't tried this pie with regular tofu, so replace the Mori-Nu with regular at your own risk.) For substitution notes and troubleshooting, see the following nutrition link:
Link Of The Day: