A homemade and crustless impossible pumpkin pie with a soft, custard-like texture…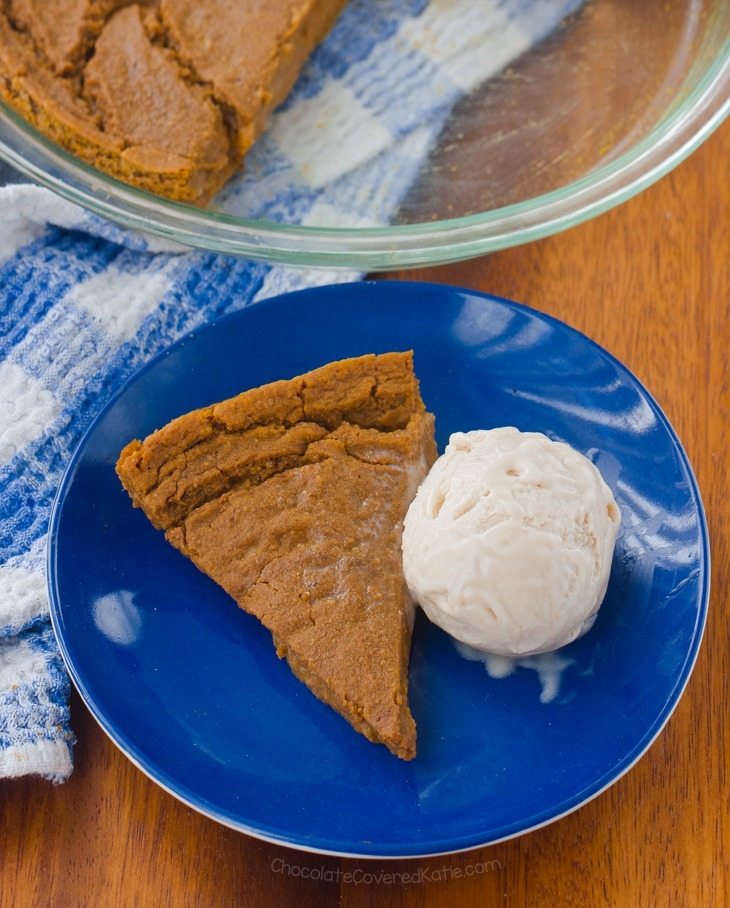 All for just 70 calories a slice.
This recipe is without a doubt one of my most popular recipes, not just during the holidays but all year round.
And yet, the original Crustless Pumpkin Pie recipe was published so long ago (back in 2012 – feel free to make fun of that old post if you read it) that many have probably missed seeing it completely.
I wanted to update the original recipe—taking new photos and doing my first ever video!—to give one of the most popular recipes on the blog the recognition it deserves so it won't be lost in the archives.
I call the recipe "Impossible Pumpkin Pie" because it magically sets up without any crust at all!
If you have leftover pumpkin, try these Pumpkin Muffins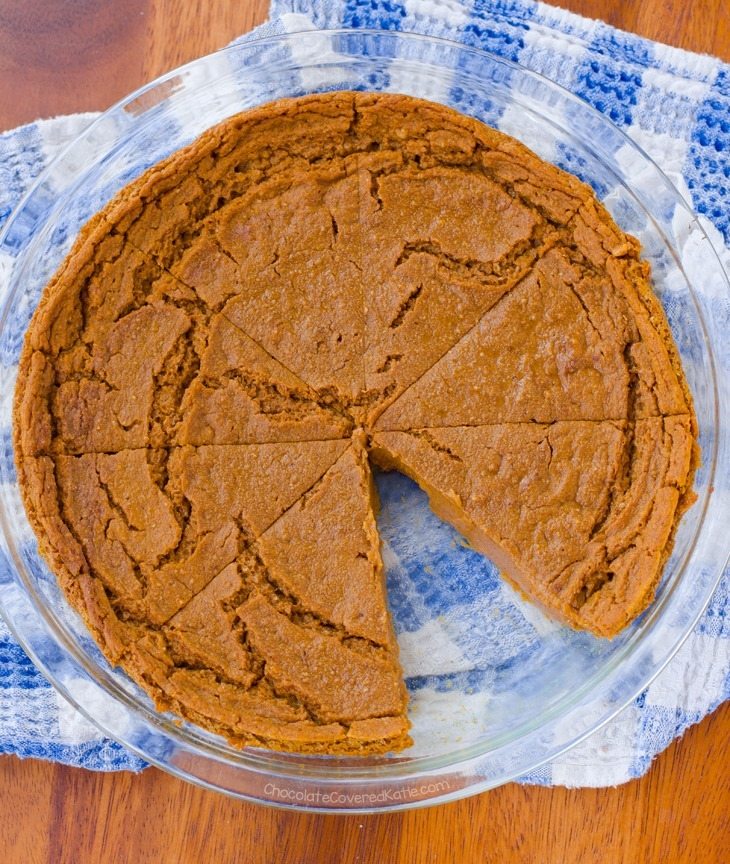 This is a one-bowl pumpkin pie that takes literally just minutes to prepare – stir the ingredients together in the bowl, smooth into a round pan, and wait for the magic.
It will come out of the oven all soft and deliciously custard-like.
The recipe can be egg-and-dairy-free, gluten-free, vegan, and completely free of refined sugar; yet it's something even people without any dietary restrictions can also really enjoy.
And the nutrition stats are stellar, with over 100% of the RDA for Vitamin A in just one slice of pie.
I topped the pie with ice cream, because the only thing better than whipped cream and pumpkin pie is ice cream and pumpkin pie.
Try topping it with Coconut Milk Ice Cream, Banana Ice Cream, or this Keto Ice Cream for a low-carb option.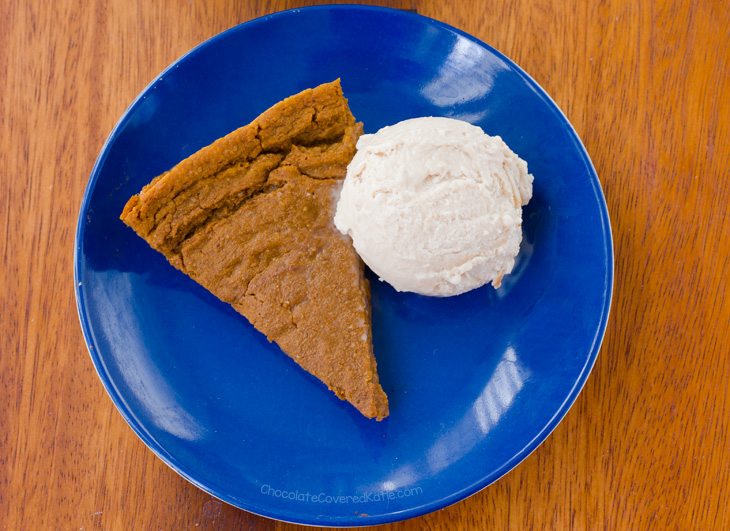 With such a fantastic nutrition profile, going back for seconds of this crustless pie is strongly encouraged!
I'm one of those people who firmly believes just a single slice of pumpkin pie is never enough and always look forward to dessert at Thanksgiving much more than the meal.
There's no way green beans and mashed potatoes can compare to homemade pecan and pumpkin pie.
Then again, I know my sister would disagree with me. She was always most excited for the mashed potatoes.
No idea how that is possible… but it meant more pumpkin pie for me 🙂
And please feel free to let me know your thoughts on the video below – Are videos something you'd like to see more of in the future?
I'm late to the video train but had a surprising amount of fun making this one.
It helps that my camera didn't fall into the pie as I was filming, which sadly did happen when I filmed the video for my Ultimate Vegan Cheese Sauce.
Anyway, if you haven't seen today's recipe before, I hope you love it as much as I do!


Impossible Pumpkin Pie
This homemade crustless impossible pumpkin pie has a soft and custard-like texture.
Ingredients
2

tsp

cinnamon

2

tsp

baking powder

1

tsp

pumpkin pie spice

1/2

tsp

salt

1/3

cup

flour,

such as spelt, oat, almond, white, sorghum, or whole wheat

1/3

cup

maple syrup or sugar

(or sweetener of choice)

pinch

uncut stevia OR 2 additional tbsp sugar of choice

1

15-oz can pumpkin puree

3/4

cup

+ 2 tbsp milk of choice

2

tbsp

oil OR omit and increase milk to 1 cup

2 1/2

tsp

pure vanilla extract

optional 1 tbsp ground flax or 2 tsp cornstarch

(see note below)
Instructions
*The pie will be a bit delicate (less firm) without the final optional ingredient, which is fine as long as you handle it with care or wish to serve it in a bowl.

Preheat the oven to 400 F. Grease a 9-inch round pan. In a large bowl, stir together all of the ingredients (For most even results, I like to add the ingredients in the order shown in the video). Smooth into the prepared pan. Bake on the center rack 35 minutes – it will be super-soft after baking, which is what you want. Allow to cool completely before transferring, uncovered or only loosely covered, to the fridge to "set" for at least 6 hours. Slice and serve. Store leftovers covered in the fridge for 3-4 days.View Nutrition Facts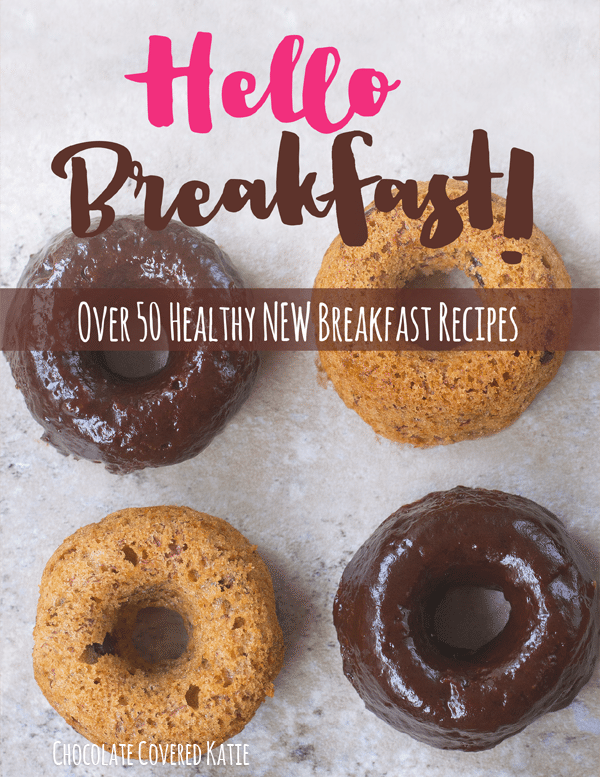 More Pumpkin Ideas