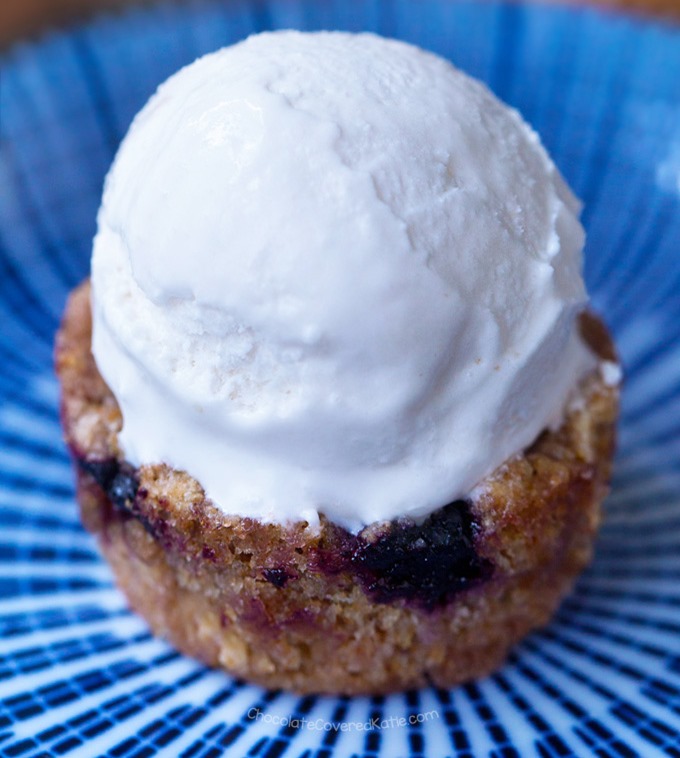 What could possibly be better than homemade blueberry pie?
How about fifteen single-serving blueberry pies that you can bake IN A MUFFIN TIN?
These hand-held blueberry pies are the perfect summer dessert – bursting with sweet blueberries. They're easy to make, portable, and completely delicious. Just pick one up, bring it to your mouth, and repeat!
Try them with a scoop of my homemade Coconut Ice Cream.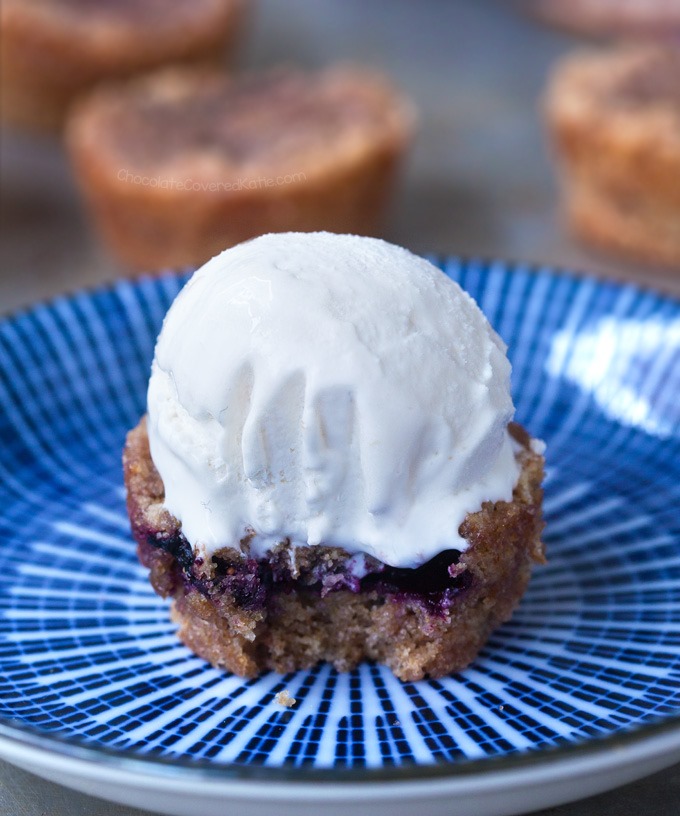 More Muffin Tin Recipes:
Breakfast Oatmeal Cupcakes (reader favorite)
Peanut Butter Cookies In A Muffin Tin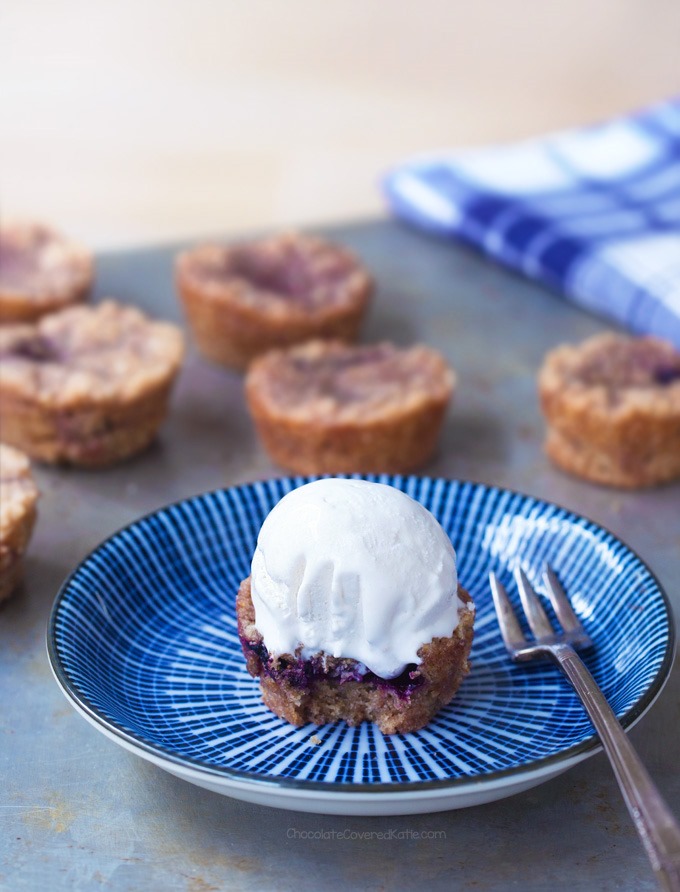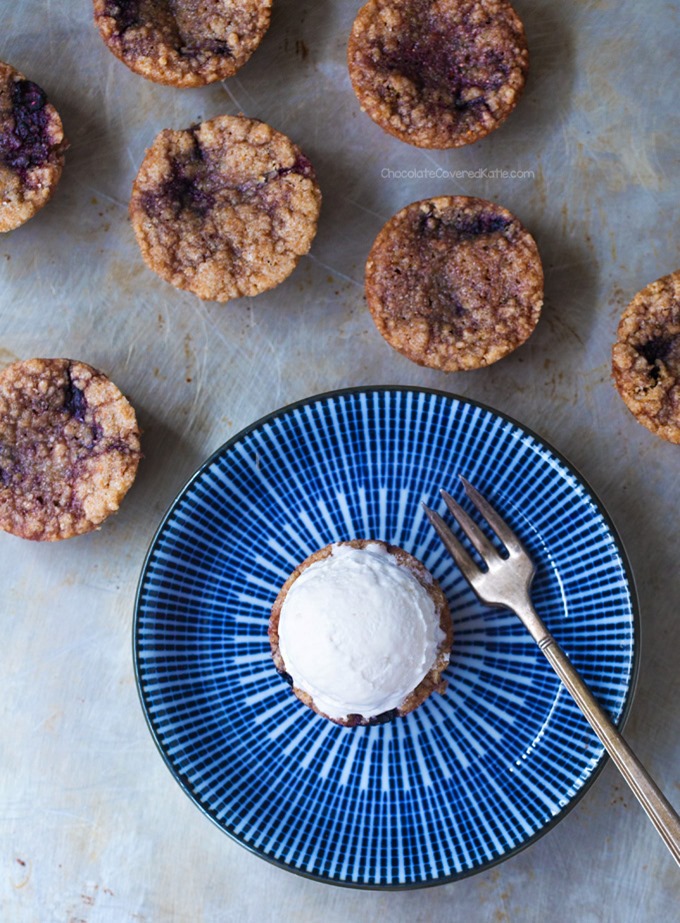 **Fourth Of July Variation**
If you need a cute dessert for the upcoming Fourth Of July (it's next week!), make just half a batch of the blueberry filling and turn the other half into strawberry filling instead.
Then alternate stuffing the pie crusts with blueberry or strawberry filling to make adorable and festive Fourth Of July mini fruit pies.


Mini Blueberry Pies–In A Muffin Tin!
Adapted from: Mini Apple Pies, In A Muffin Tin
Mini Blueberry Pies–In A Muffin Tin!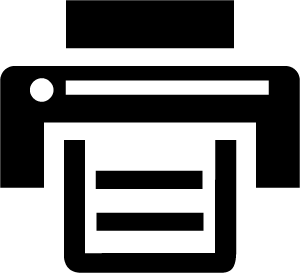 Print This Recipe
[mrp_rating_result show_count="false" show_rich_snippets="false"]
Ingredients
3/4 cup spelt, white, or ap gf flour
1/4 tsp baking powder
1/4 tsp cinnamon
1/8 tsp salt
1/4 cup unrefined sugar
3 1/2 tbsp cold buttery spread (or oil, see note)
1 cup blueberries, fresh or frozen-thawed
1 tsp arrowroot or non-gmo cornstarch
1 tbsp pure maple syrup, agave, or honey
1/2 tsp pure vanilla extract, optional
Instructions
*Using oil yields a crispier crust, while using non-hydrogenated buttery spread yields a softer crust.
Preheat the oven to 350 F. Grease a mini muffin tin well. If desired, put a very long, thin strip of parchment inside each tin (to more easily remove the pies when they're done). Set aside. Combine the first 6 ingredients, completely breaking up the butter until fine crumbles form. Press around 2 tsp dough firmly into the bottom of each tin. Stir together remaining ingredients in a bowl. Place a little over 1 tsp of this blueberry filling on top of each crust. Divide remaining crumble—around 2 additional tsp per muffin tin—over the filling, pressing firmly down. Bake on the center rack, 14 minutes or until crust is golden and mostly set. Let cool at least 10 minutes before either pulling up the parchment strip or simply going around the sides of the pies with a knife.
Trending Right Now: