This chocolate vegan tart recipe is perfect if you need a show-stopping fancy chocolate dessert to impress all of your guests. No one will ever know how easy it is to make!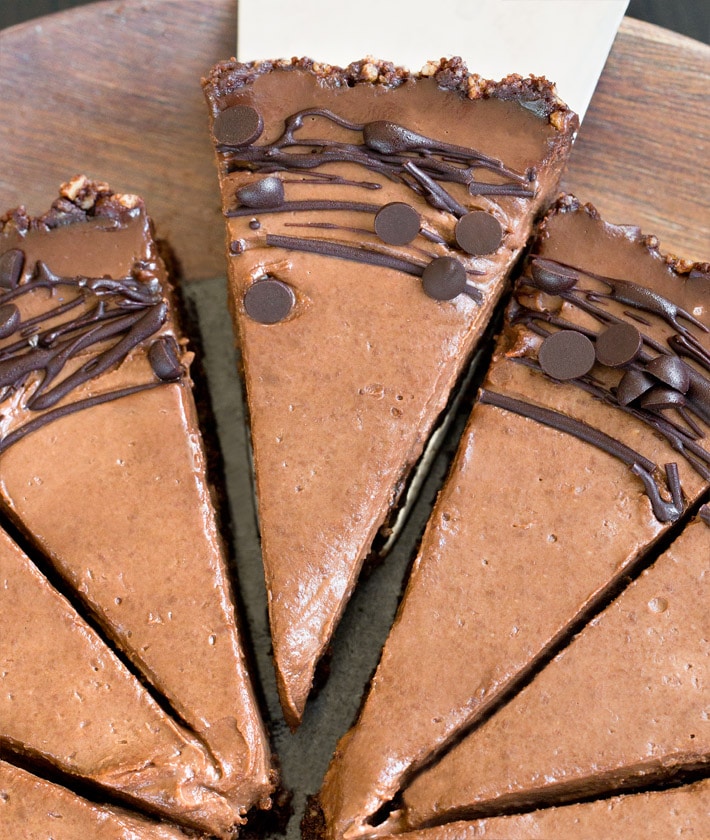 If you've written off tart recipes in the past as being too difficult, you should definitely be sure to give this one a try, because it will completely change your mind!
Just 6 ingredients, no baking required (not even for the crust!), and the simple recipe can be egg free, dairy free, vegan, soy free, gluten free, and keto friendly.
Also try this Vegan Cheesecake Recipe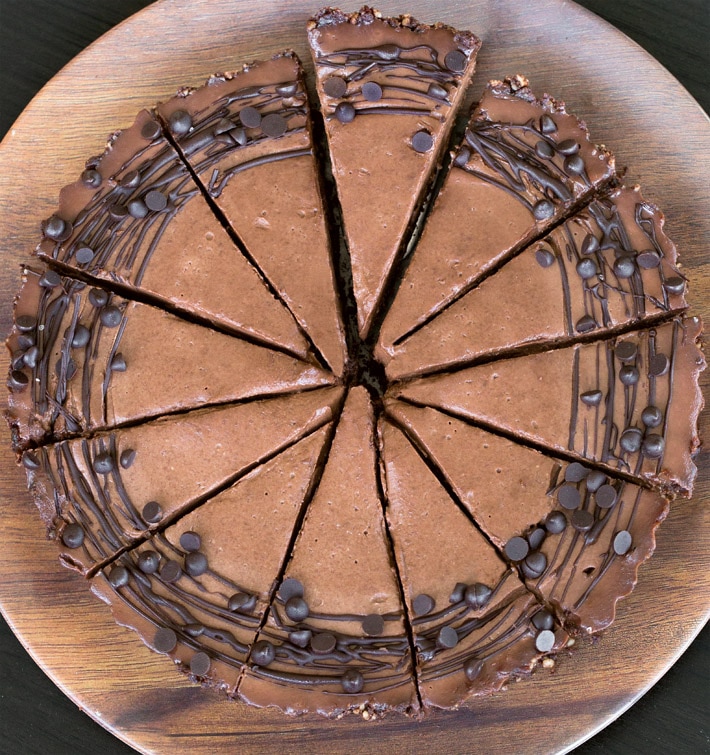 With a raw dessert crust and rich chocolate ganache center, it's almost impossible to resist the charms of the no bake vegan recipe.
I made one this past weekend for a small group of friends, none of whom are vegan. They all loved it! One friend even said he'd go vegan in a heartbeat if he could eat this chocolate tart for breakfast, lunch, and dinner.
Not sure I'd go that far… but it is pretty darn delicious.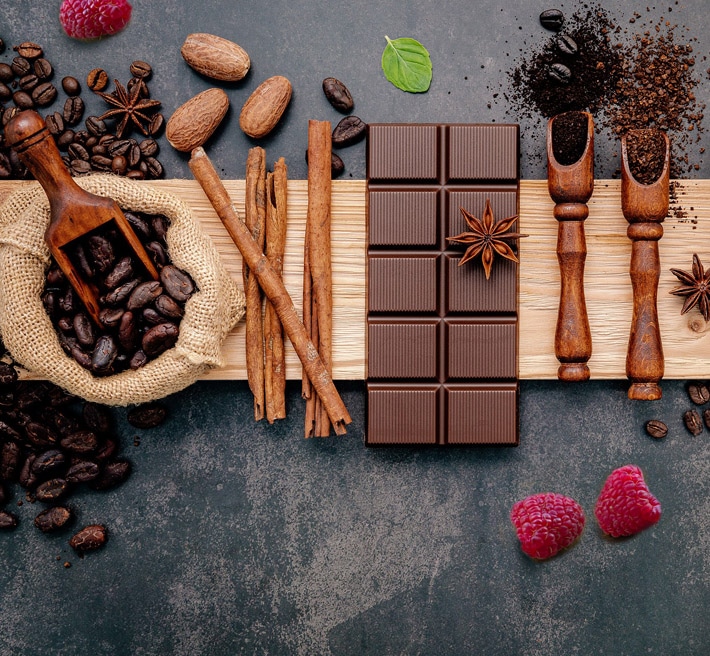 Vegan Tart Topping Ideas
Shaved chocolate
Cacao nibs
Maldon sea salt
Crushed pretzels
Powdered sugar
Almond or peanut butter
Coffee beans
Crushed peppermint candies
Or garnish the eggless dessert with fresh strawberries, raspberries, blueberries, blackberries, or sliced banana or cherries.
I topped mine with a swirl of melted chocolate, a quick sprinkle of flaked sea salt, and a handful of mini chocolate chips.
You can also turn it into a chocolate nutella tart by using roasted hazelnuts in the crust and drizzling or spreading Homemade Nutella on top. Garnish with more hazelnuts.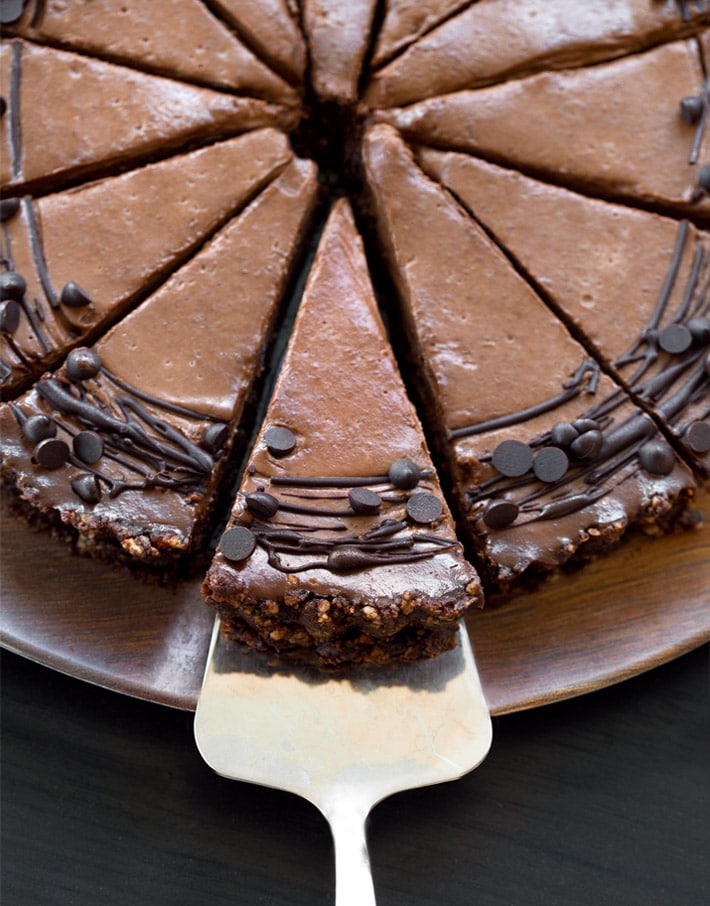 Chocolate Tart Ingredients
Coconut Milk – This should be canned full fat coconut milk or coconut cream, not the kind that comes in a carton in the refrigerated section, and not lite or low fat. There's also a coconut-free version linked in the recipe below that uses tofu to achieve a similar texture.
Chocolate Chips – I used semi sweet chocolate chips. To make a tart that's entirely vegan, be sure to look on the label and buy dairy free chocolate chips. Most grocery stores should carry at least one plant based option. If using unsweetened chocolate chips, add your favorite sweetener to taste in the filling.
Crust – You have multiple options for the base. I chose to make a raw tart crust with dates, cocoa powder, and nuts (try a mix including any of the following: pecans, walnuts, almonds, macadamia nuts, pumpkin seeds, peanuts, or cashews).
If you prefer, feel free to use any chocolate or non chocolate vegan tart crust that will fit in a 9-inch removable bottom tart pan. Or go with the sugar free option below: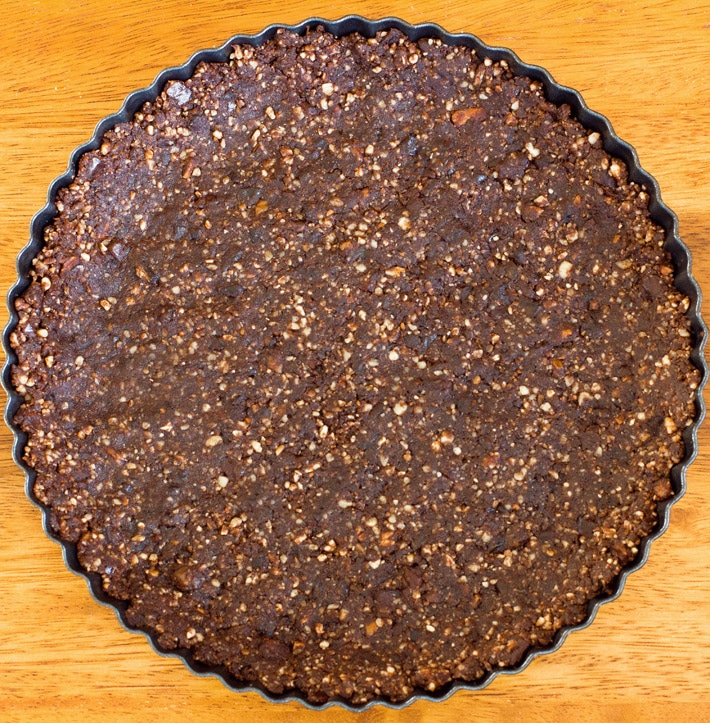 Chocolate Keto Tart
For a keto version, buy sugar free chocolate chips and use the following low carb tart crust as your crust recipe:
2 cups almond or pecan flour
1/4 tsp salt
4-6 tbsp melted coconut oil or butter – enough to make it slightly sticky
If you don't have pecan or almond meal on hand, you can pulse raw nuts in a food processor until they yield a flour consistency.
What if I don't have a tart pan?
I actually didn't own a tart pan either, so I ordered this one on Amazon.
It came with four mini tart pans and was under $15 for everything. So I have a great excuse to try more vegan tart recipes, such as fruit tarts, lemon tarts, and savory tarts.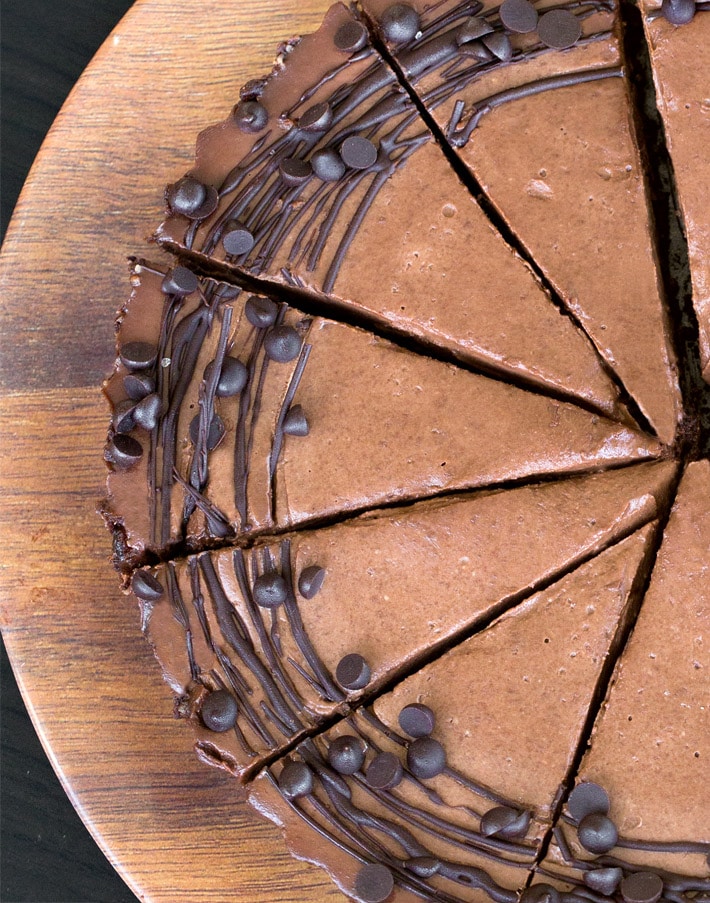 How to make a vegan chocolate tart
To give the filling adequate time to firm up, I like to make it the day or night before.
If using the date based crust, buy pitted dates or remove the pits. Dates should be soft, but if they are stale (rock hard), just rehydrate them by microwaving for a few seconds or pouring boiling water over top and letting them soak until soft.
Combine all of the crust ingredients in a food processor until evenly blended and crumbly. I did try the recipe in a blender but found it to yield an overly sticky dough that was difficult (albeit not impossible) to work with, so I highly recommend using a food processor if you have one.
Transfer the mixture to a 9-inch tart pan or a parchment-lined pie pan. Press down very firmly, working from the center out, to evenly distribute the dough. Set aside.
Heat the coconut milk or cream in a saucepan just until it begins to boil. Turn off the heat, and add the cup of chocolate chips. Stir constantly until the chips melt and the tart filling is smooth.
Pour the contents of the saucepan into the prepared crust, and freeze a few hours or refrigerate overnight or until firm enough to slice. Store leftovers in the refrigerator for 3-4 days, or freeze in an airtight container for a month or two.
Leftover coconut milk? Make Vegan Pumpkin Pie
Above, watch the step-by-step vegan tart recipe video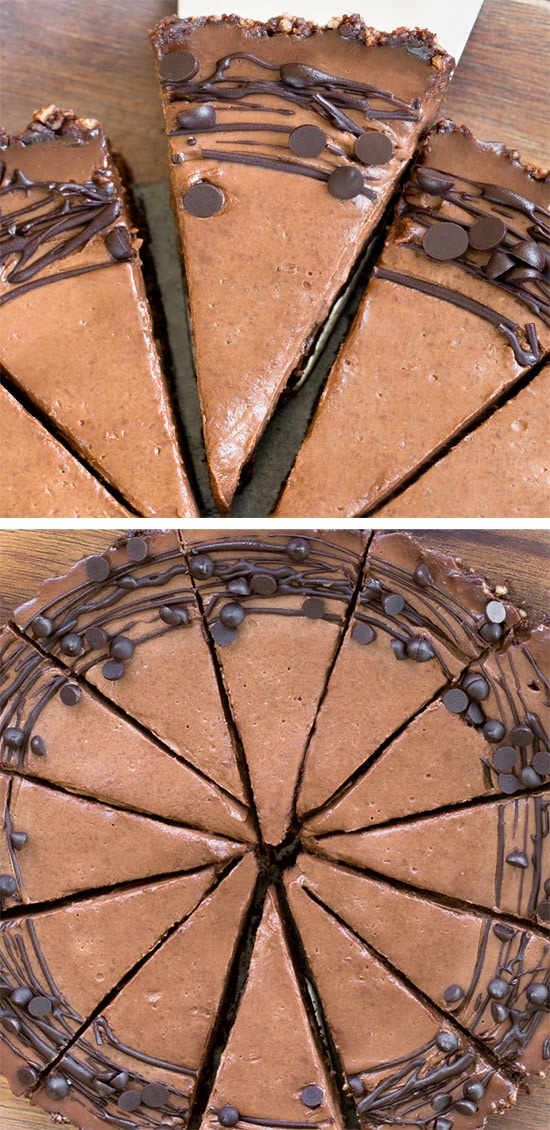 The tart was adapted from these Chocolate Truffles and Avocado Chocolate Mousse.
Vegan Chocolate Tart
This homemade chocolate vegan tart recipe is the perfect fancy dessert to impress all of your guests.
Ingredients
Chocolate Tart Filling
1

cup

canned coconut milk or cream

(coconut-free version: Vegan Chocolate Pie)

1

cup

chocolate chips

(8 oz)
Crust Recipe
2

cups

walnuts, almonds, or pecans

1

cup

dates (or use the keto crust recipe above)

3

tbsp

cocoa powder

1/8

tsp

salt
Instructions
*For firmest results, I like to make the recipe the night before. Or you can freeze it until firm if you'd prefer not to wait that long.

To make the tart: If not already pitted, remove the date pits. (If dates are rock hard, just microwave a few seconds.) Combine all crust ingredients in a food processor until thin crumbles form. (Using a blender yields a super sticky dough that's much harder to work with, although not impossible.) Transfer dough to a 9-inch tart pan or a parchment-lined pie pan, and press down very firmly to evenly distribute the dough.   

Heat the coconut milk (it must be the full-fat canned kind) or cream until barely boiling. Turn off heat completely, and stir in the chocolate chips until they melt. Pour filling into the crust. Either freeze a few hours until firm enough to cut or refrigerate overnight (if it's still too soft to cut clean slices, freeze a half hour to get it firmer). Refrigerate or freeze leftovers.

View Nutrition Facts
Vegan Chocolate Desserts