Super fudgy, homemade mint chocolate brownies – that are secretly good for you!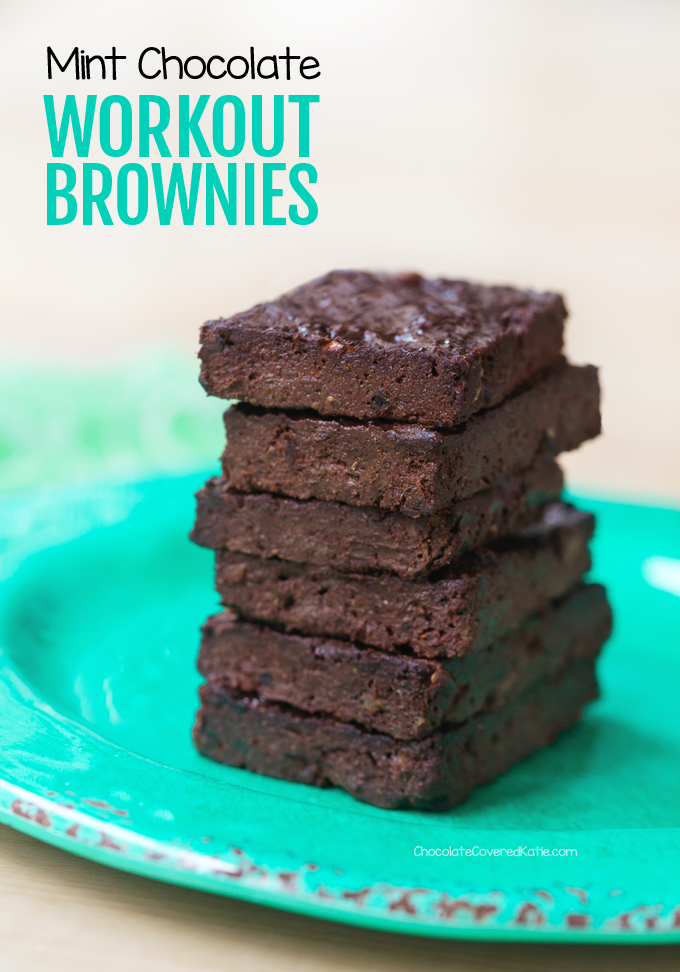 In less than two weeks since I first posted the recipe for the original Chocolate Workout Brownies, it is absolutely CRAZY how many of you have already tried them!!!
Already over a hundred of you have emailed me, commented, or posted on social media that you've tried the recipe. Seriously, you guys are the best.
I love these brownies just as much as you all do… and I'm already on my fourth batch. This time I added peppermint extract to the original recipe, because I've always thought mint-chocolate is even better than regular chocolate. And these mint brownies are no exception.
(Also be sure to check out the original version if you haven't tried it yet.)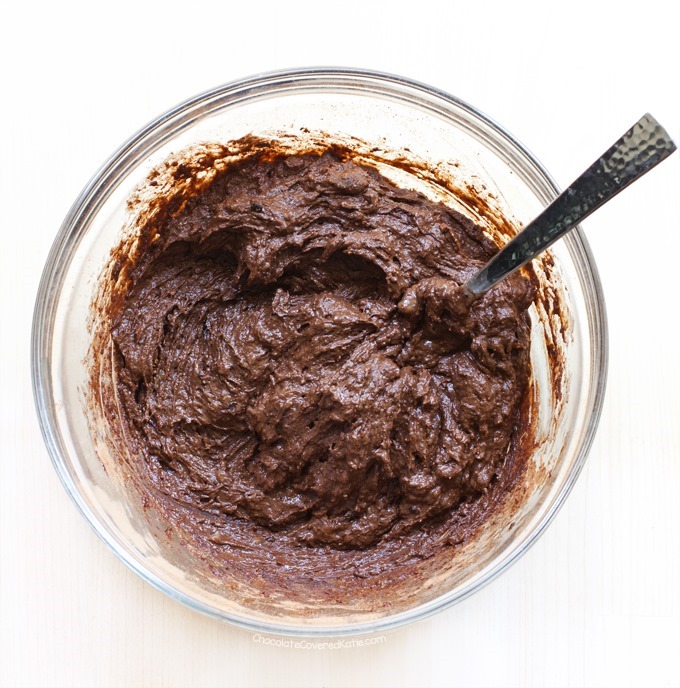 In all of my trials with these brownies, I've discovered a few things:
-Substituting regular cocoa powder for the protein powder works just fine.
-Adding a tbsp of dutch cocoa to the batter makes them taste even more brownie-like!
-For a nut-free option, pumpkin seed butter works really well.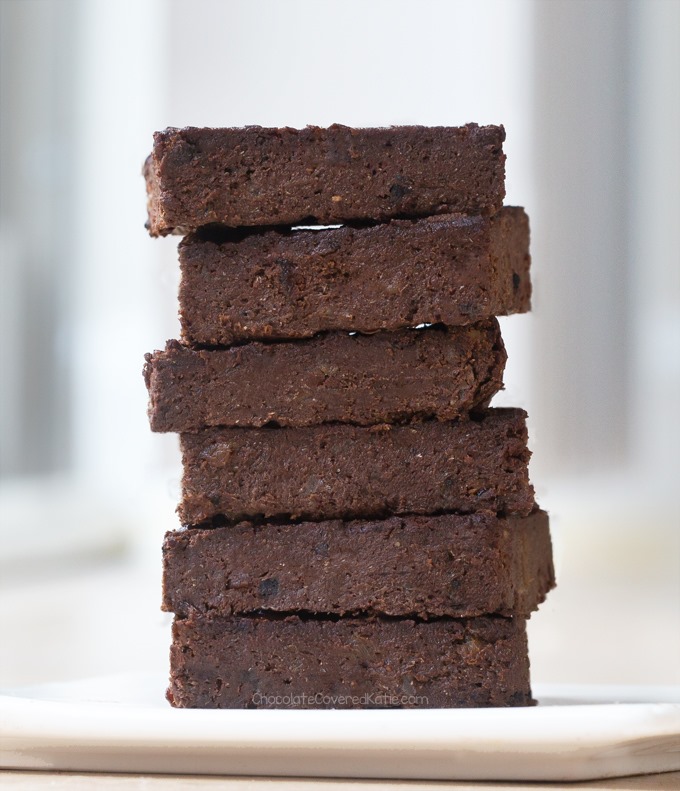 Eat them plain or with any of my Healthy Frosting Recipes.
My Mint Chocolate Frosting Shots would be particularly amazing here.
The brownies can stay out overnight or be refrigerated for a few days. Or you can freeze leftovers to have on hand any time a brownie craving hits!


As I mentioned in the original recipe, these brownies are more of a healthy snack as opposed to something you'd make for a bake sale or party. If you're the type of person who could happily eat an energy bar for dessert instead of a sugary traditional dessert, hopefully you will love these brownies!
If you do try them, be sure to tag ChocolateCoveredKatie on Instagram, so I can see and like your pictures!
Mint Chocolate Workout Brownies
Mint Chocolate Workout Brownies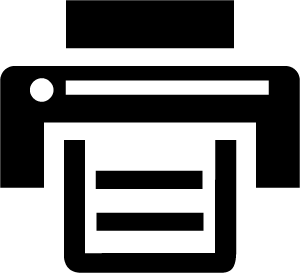 Print This Recipe
[mrp_rating_result show_count="false" show_rich_snippets="false"]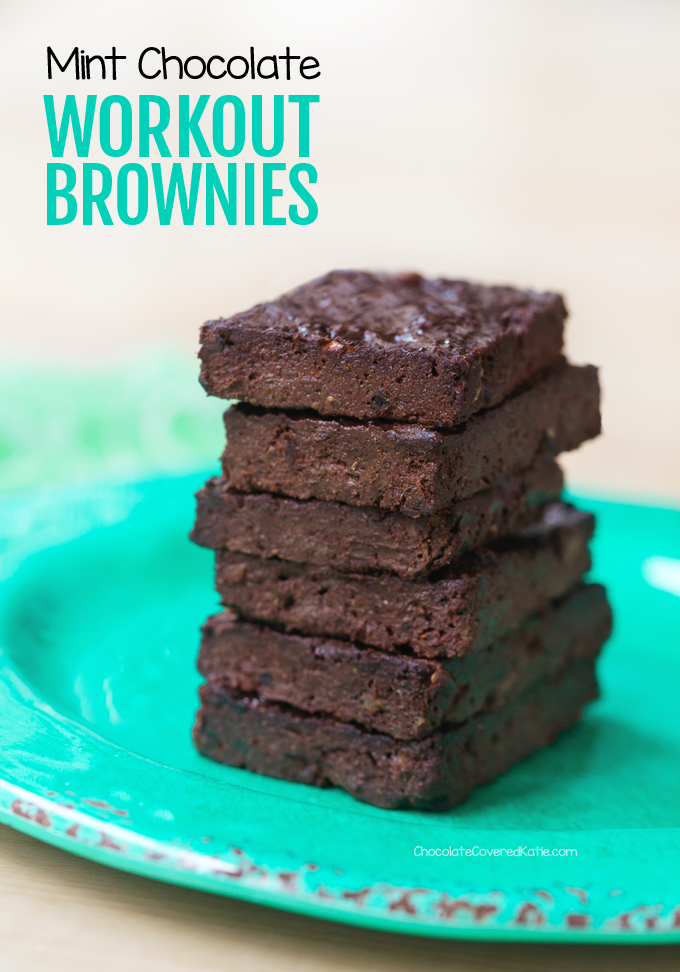 Ingredients
1 cup overripe banana or applesauce
2/3 cup cashew, sun, almond butter, or pumpkin seed butter
1/3 cup cocoa powder
3 tbsp chocolate protein powder or additional cocoa
1 tsp pure vanilla extract
1/4 tsp to 1/2 tsp pure peppermint extract, as desired
1/4 cup sweetener of choice OR additional banana
optional mini chocolate chips, crushed walnuts, etc.
Instructions
*Use the higher amount of peppermint extract—and make sure it says "pure peppermint" on the label—for a more powerful mint flavor. For the most brownie-like taste, I use mostly regular unsweetened cocoa and about 1 1/2 tbsp dutch to make up the 1/3 cup total cocoa powder. Especially if using the applesauce version or if using all cocoa powder (or unsweetened protein powder), I recommend including the sweetener of choice. If using all banana and all cocoa powder, you can add a little sugar or stevia to make up for the sweetness you'd get if you used a sweetened protein powder.
Preheat the oven to 325 F. Line an 8-inch pan with parchment paper. If using natural nut butter, gently warm until it's easily stir-able. Combine all ingredients in a bowl, stir until completely smooth, and spread into the prepared pan (see video). Bake on the center rack 20-25 minutes (20 for super fudgy brownies) – they will be undercooked when you take them out. Let cool, then loosely cover with a paper towel and place in the fridge overnight, during which time they firm up without losing their fudginess. The brownies are also much sweeter the next day! If you want to frost them, frosting options are listed earlier in the post – you'll need about 1/2 cup. Store leftovers in the fridge, or freeze for up to a month.
Trending Right Now: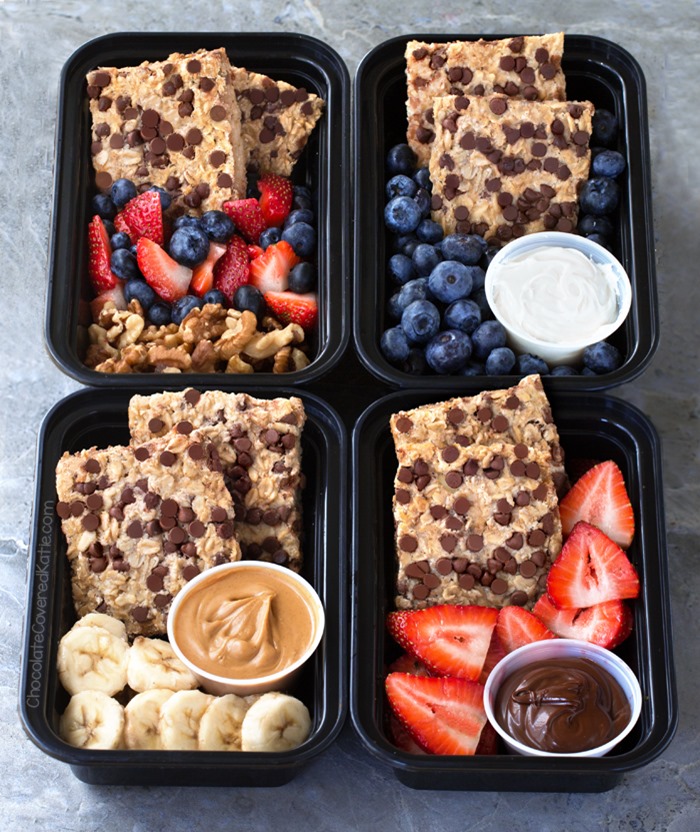 Breakfast Meal Prep (20 Healthy Recipes)