Top o' the morning to ya!
Were you mint-ed out with all the St. Patrick's Day Recipes?
Hope not, because I have one more to share!
Yesterday's special dessert: a fudge-mint parfait. (Yes, today is St. Patrick's Day, but I had to make it early so I could blog about it before St. Paddy's Day is over!)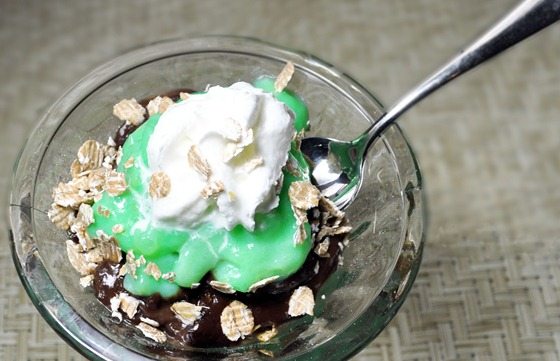 Vegan cream, spelt flakes, and Chocolate-Fudge Frosting.
Like St. Patrick's Day in a parfait glass.
(St. Patrick's Day goes French??)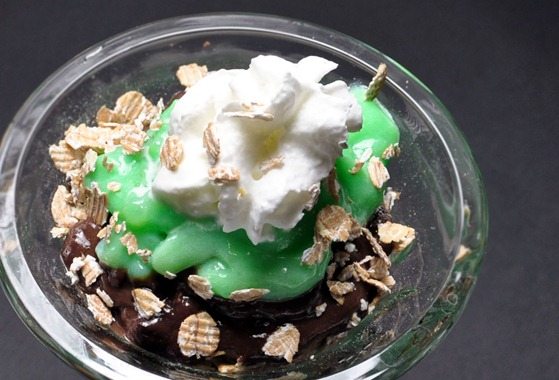 Soy-Free Peppermint Cream
(Makes 1 1/2 cups: one Katie-sized serving!)
5 tiny drops pure peppermint extract
sweetener of choice
1/16th tsp salt
scant 2 1/2 T water (20g)
1/2 serving agar base (recipe linked below)
3 drops coconut extract (Optional, but highly recommended)
Optional (for green hue) handful spinach (I used frozen) (You could use green food coloring. Or opt to keep the cream white, like candy-cane cream!)
Instructions: First, make up the agar base. When the base is cooled, put half of it in a blender (or Magic Bullet) with all the other ingredients and blend away.  Whip very well. I like to put it in the freezer for a few minutes prior to eating, so it's super-cold.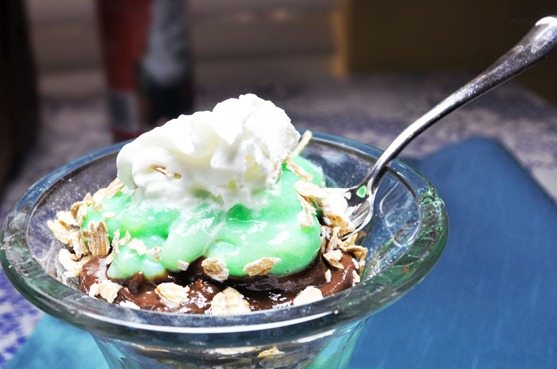 See original whipped-cream post for Nutrition Facts.
I'm really lovin' this holiday-parfait thing. Other holiday parfaits so far: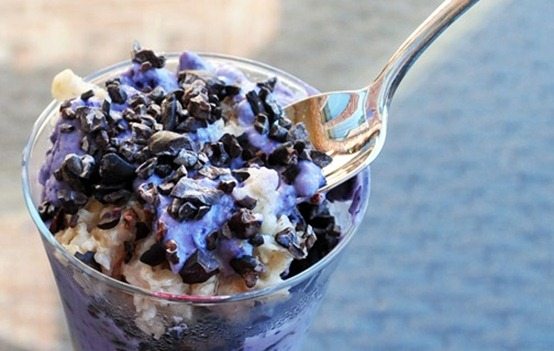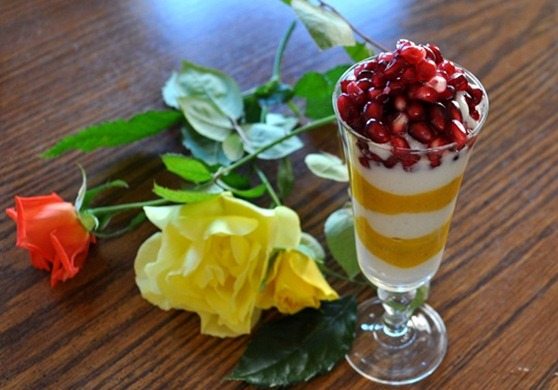 I'm thinking, for Easter, a carrot-cake parfait is a must. Carrots, raisins, walnuts… delicious ideas are already spinning. (Oh, and in case you were wondering, I totally upped the saturation of that green cream. It did not look as pretty when I ate it!)
When you eat:
What's most important: looks or taste?
Do you like to make your meals look pretty, using fancy plates and garnishes? Or do you just throw things together and not care about the appearance, as long as it tastes yummy? I do a little of both. Sometimes, I'm in the mood to be fancy-schmancy. But at other times–especially when I'm in a rush–prettiness just goes out the window.
Same if I'm eating a food that can't look pretty, like my No-Cream Cream of Broccoli Soup.