Make your own chocolate peanut butter cups at home, in 10 fun different flavors!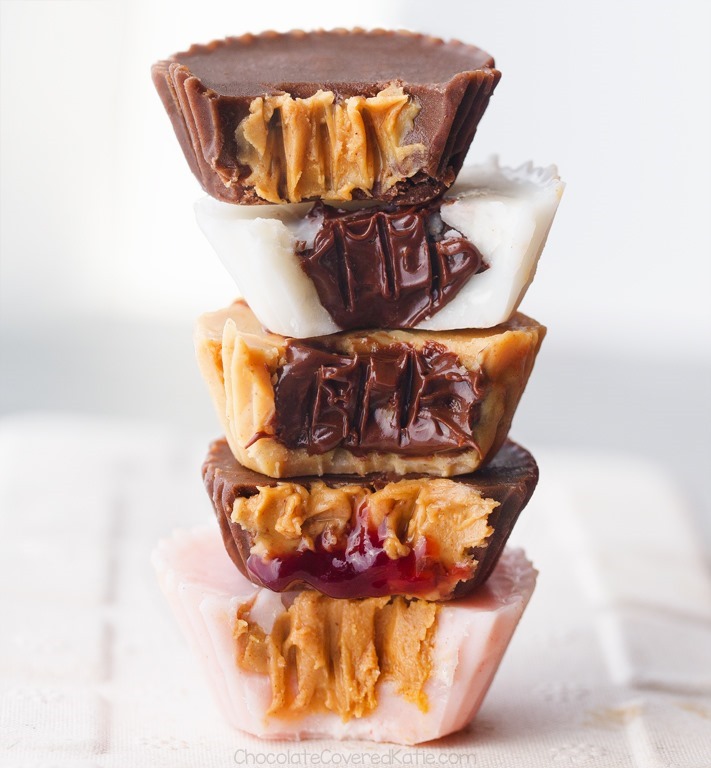 So, it's almost Halloween.
And soon you'll be seeing a dizzying selection of candy for sale.
Snickers, Sweet Tarts, Starburst, Kit Kats, Junior Mints, Crunch Bars…
But the one Halloween candy that outsells all the others in the US every year without fail has always been my favorite too:
The Reeses Peanut Butter Cup.
Also Try These: Vegan Peanut Butter Cookies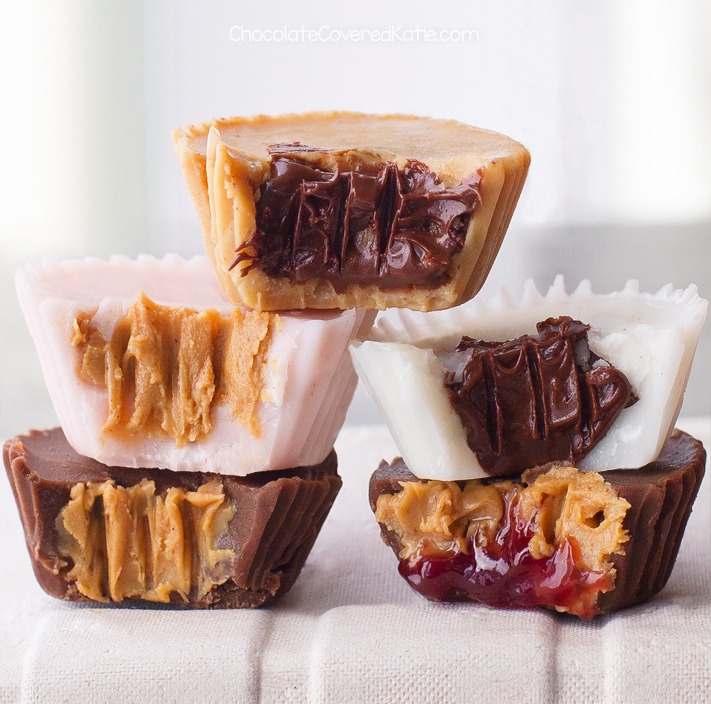 As a child, it was my goal each October 31st to collect as many packages of Reeses as possible while out trick-or-treating.
Forget all the other candy.
Then I'd return home and trade my younger sister for even more peanut butter cups.
Fast forward to the present, and not much has changed.
I'm still all about the chocolate and peanut butter.
Trending Right Now: Keto Mug Cake – Vegan, Low Carb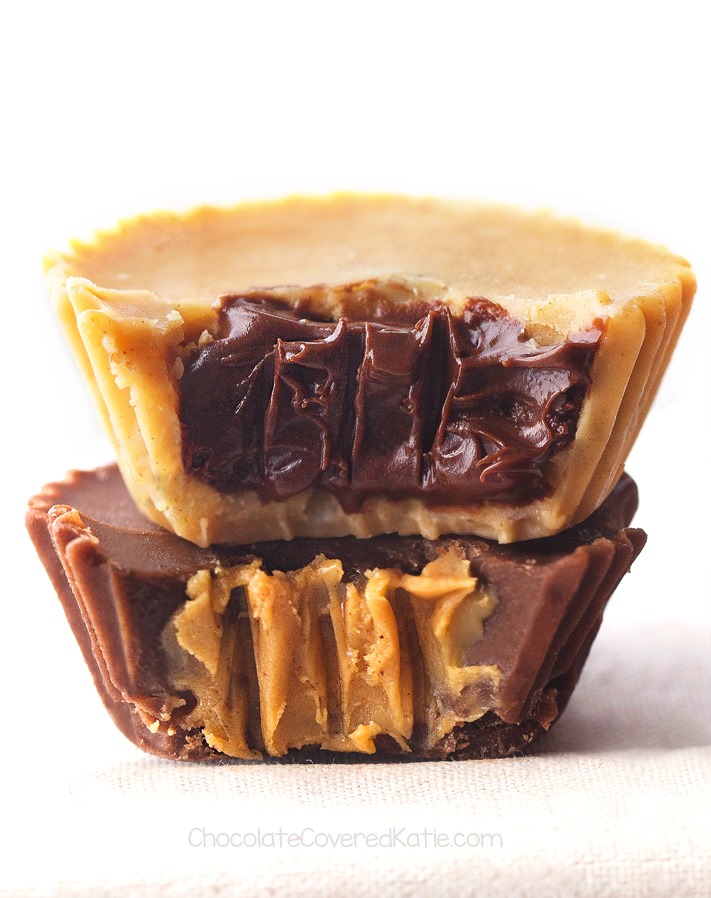 The Flavors
Peanut Butter & Jelly: Make the base. Fill with peanut butter and jelly.
Cookie Dough: Make the base recipe, and stuff with Chickpea Cookie Dough.
Dark Chocolate Coconut: Use melted coconut butter as your base (stir in a little sweetener of choice if desired). Fill with melted chocolate chips.
Inside Out: Stir 1/2 cup powdered peanut butter with 1/4 cup coconut oil and 4 tsp pure maple syrup or sweetener of choice. Use this instead of the chocolate coating in the base. Melt 3 tbsp chocolate chips as filling.
Chocolate Banana: Use mashed banana instead of peanut butter for the filling.
Strawberry Jam: Combine 3 tbsp coconut butter with 2 tsp mashed strawberry and optional sweetener of choice to taste. Use this as your base, and fill with nut butter of choice.
Almond Butter Cups: Simply replace the peanut butter with an equal amount of almond butter. This also works with cashew butter, macadamia butter, or sunbutter for a nut-free version.
Nutella: Make the base. Stuff with Healthy Nutella.
Raspberry Truffle: Fill the base with raspberry jam. It legit tastes like a Godiva raspberry truffle!
The Classic Original: Vegan Peanut Butter Cups
What flavors are your favorites???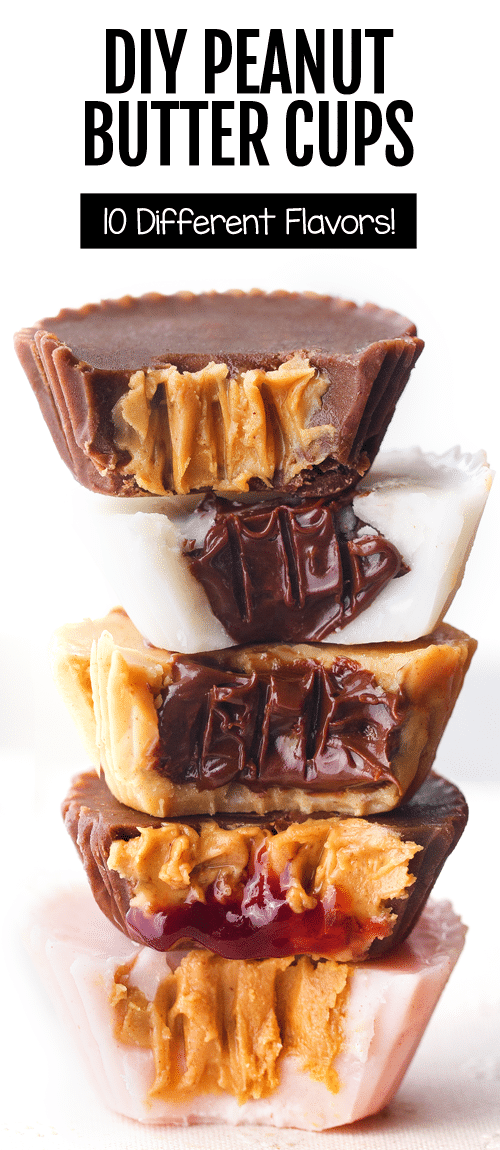 Homemade Peanut Butter Cups
How to make chocolate peanut butter cups at home, in 10 flavors.
Yield
10
– 15 peanut butter cups
Ingredients
1/4

cup

peanut butter or allergy-friendly sub

1-2

tbsp

sweetener of choice,

optional

pinch

salt,

optional

1/2

cup

chocolate chips or sugar free chocolate chips

optional 2 tsp vegetable or coconut oil for a smoother chocolate sauce
Instructions
*The recipes for all ten flavor variations are listed under the third photo in this post.

For the base: Carefully melt the chocolate chips and stir with the optional oil until smooth. Spread about 1 tsp up the sides of mini cupcake liners.

Freeze. Meanwhile, stir nut butter together with the optional sweetener and salt. Add about a tsp of filling to each liner, then cover with another tsp chocolate. Freeze again to set.

View Nutrition Facts
Notes
The peanut butter cup recipe was inspired by these Fat Bombs. 
More Chocolate Peanut Butter Recipes: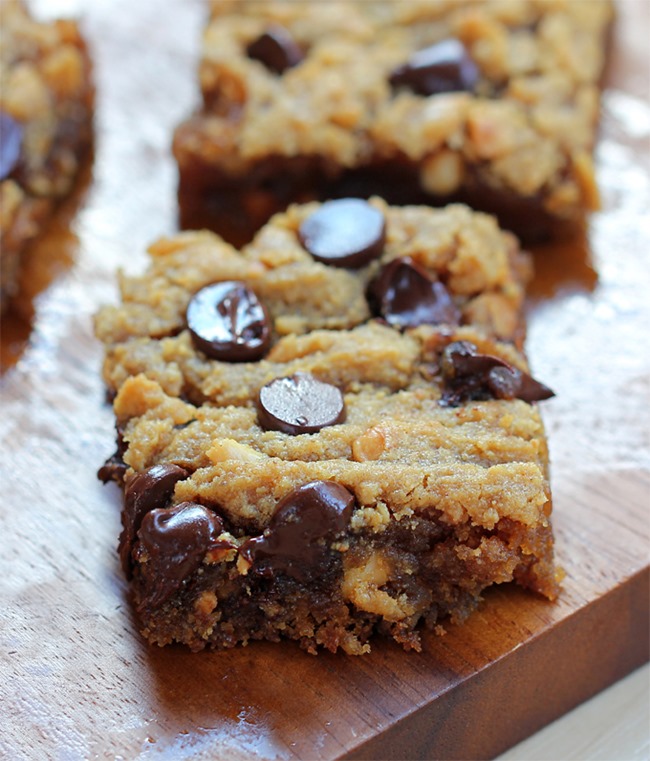 Chocolate Chip Peanut Butter Bars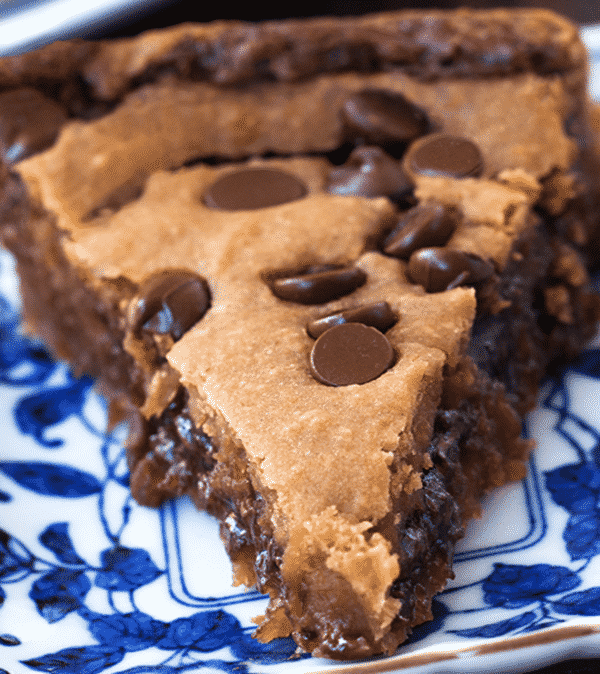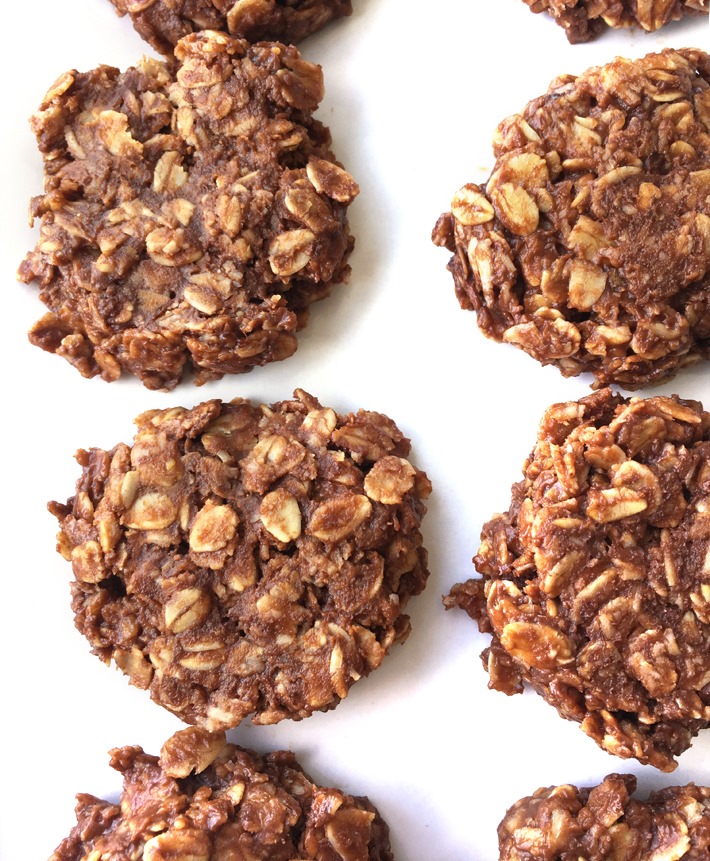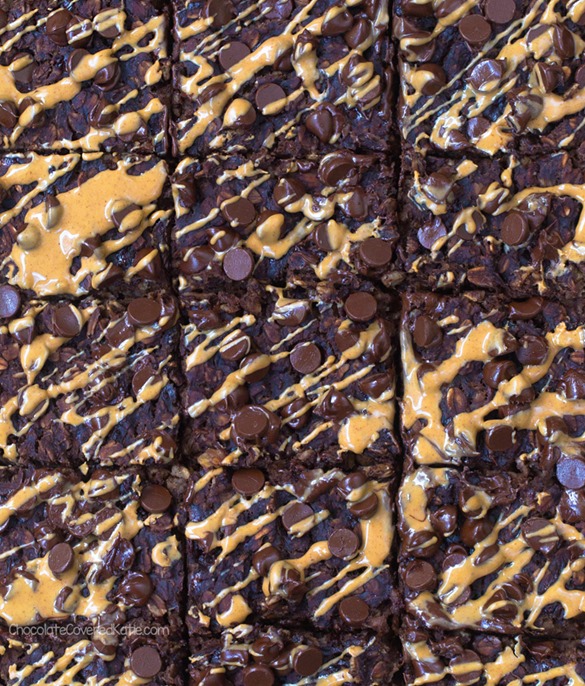 Peanut Butter Brownie Baked Oatmeal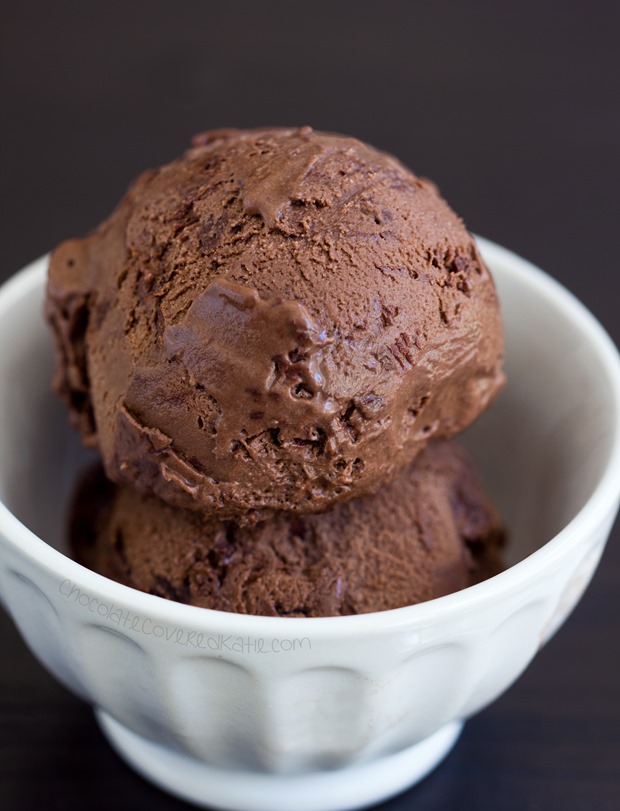 Chocolate Peanut Butter Nice Cream