This easy chocolate peanut butter baked oatmeal recipe is a healthy breakfast for the whole family.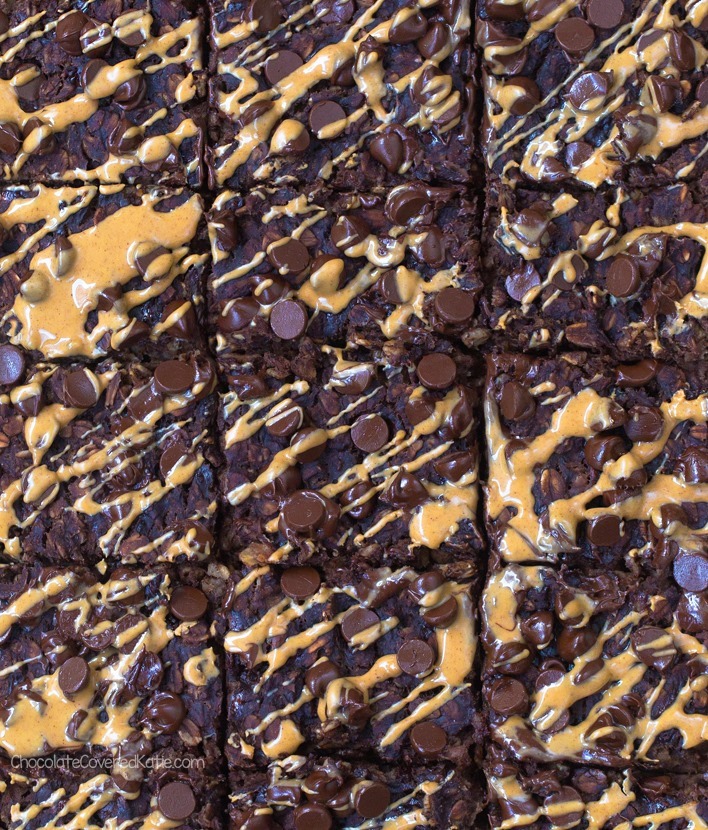 Cook just once, and get breakfast for the entire week!
Ooey, gooey, chocolatey peanut butter baked oatmeal that can be prepared the night before and is perfect for taking on the go.
The recipe yields a large number of servings, so it's great for when you have guests spending the night or are feeding a crowd.
Leftovers can easily be frozen, to reheat any time you're in a rush and need an instant and healthy breakfast.
Also Try These Applesauce Muffins  – Oil Free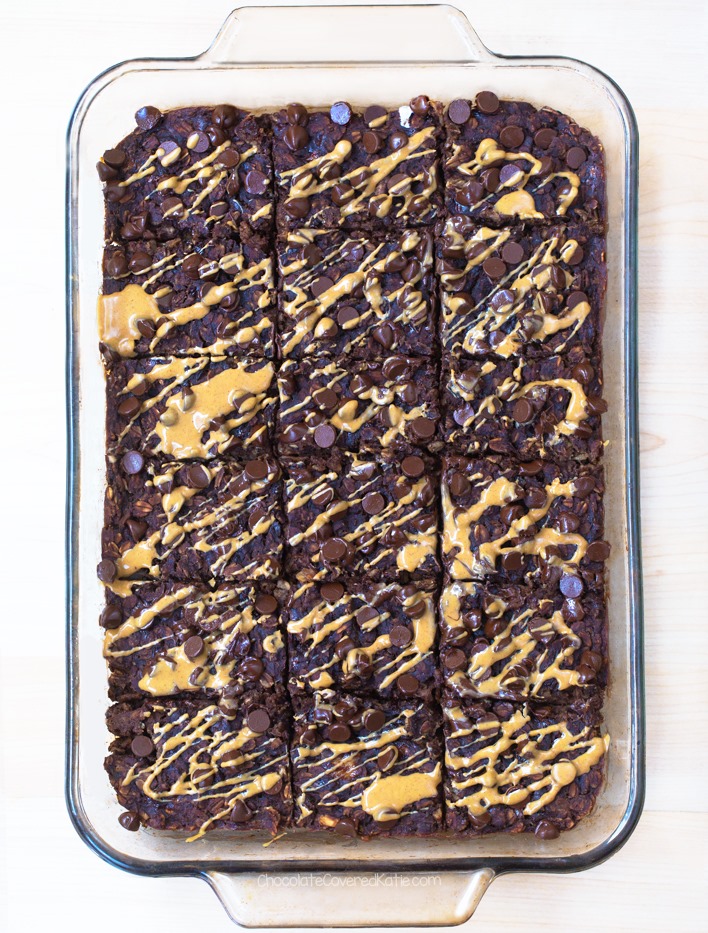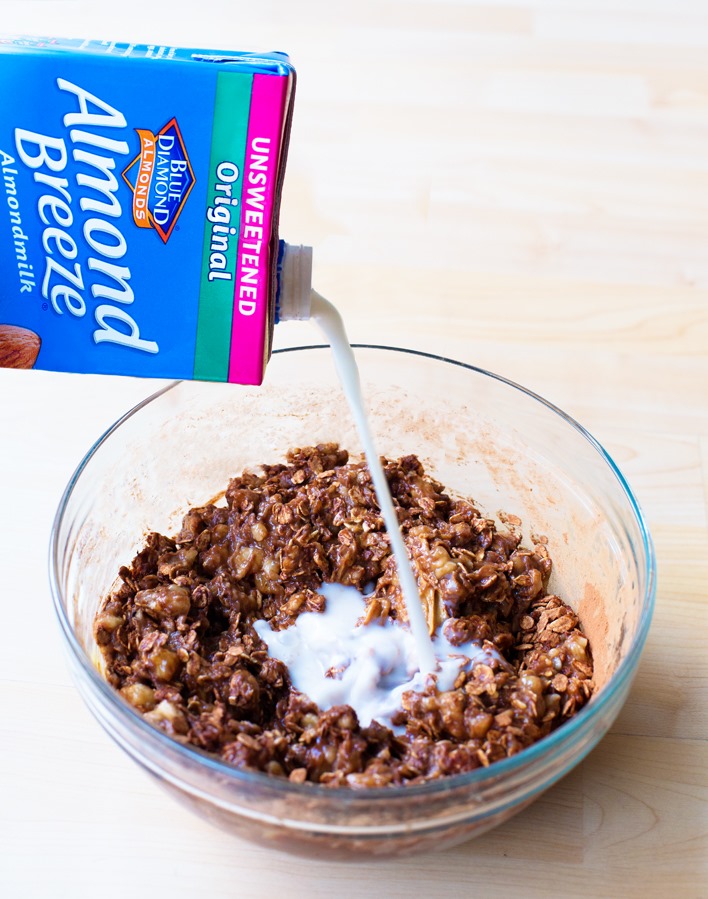 This chocolate peanut butter baked oatmeal can be all of the following:
Soy Free
Dairy Free
Gluten Free
Egg Free
Refined Sugar Free
Just 8 Ingredients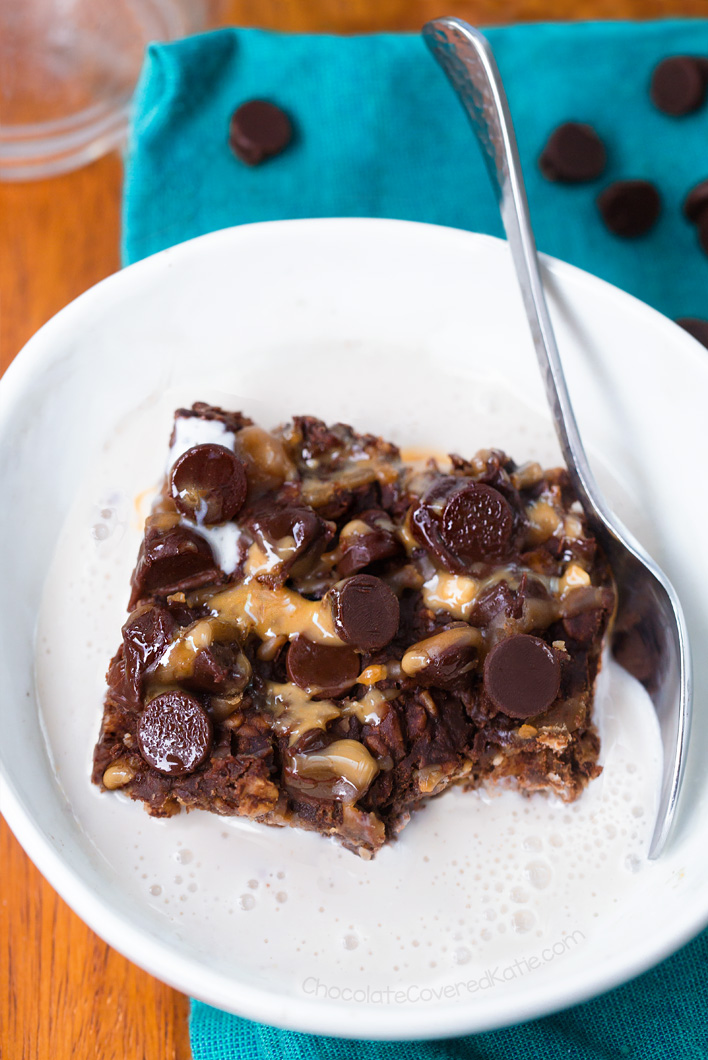 If you've been reading my blog for a while, you might have noticed that many of the recipes will call for "milk of choice" as one of the ingredients.
People often ask me what this means, or what milk I personally use. My favorite, and possibly the most-used ingredient in my entire kitchen, is Blue Diamond Almond Breeze. It's creamy, dairy-free and plant-based, and its unsweetened varieties (original, vanilla & chocolate) have less than 40 calories per cup. I go through so many cartons of almond milk that I usually buy them five or six at a time! (And yes, in case you were wondering, this is SUPER FUN to carry home from the grocery store.)
Most often my go-to will be the Almond Cashew Unsweetened Original, which—thanks to having zero grams of sugar—is especially good for using in savory recipes like these Cheesy Ramen Noodle Bowls or my Ultimate Vegan Cheese Sauce.
I also make sure to always have a couple shelf-stable Almond Breeze (good for up to a full year) tucked into my pantry, because you never know when you might run out of refrigerated almondmilk halfway through making a recipe.
This is exactly what happened to me yesterday morning when I was making the peanut butter oatmeal, and having that shelf-stable Almond Breeze on hand saved the day. Or, it saved my breakfast plans at least!
Trending Recipe: Chocolate Oatmeal Fudge Bars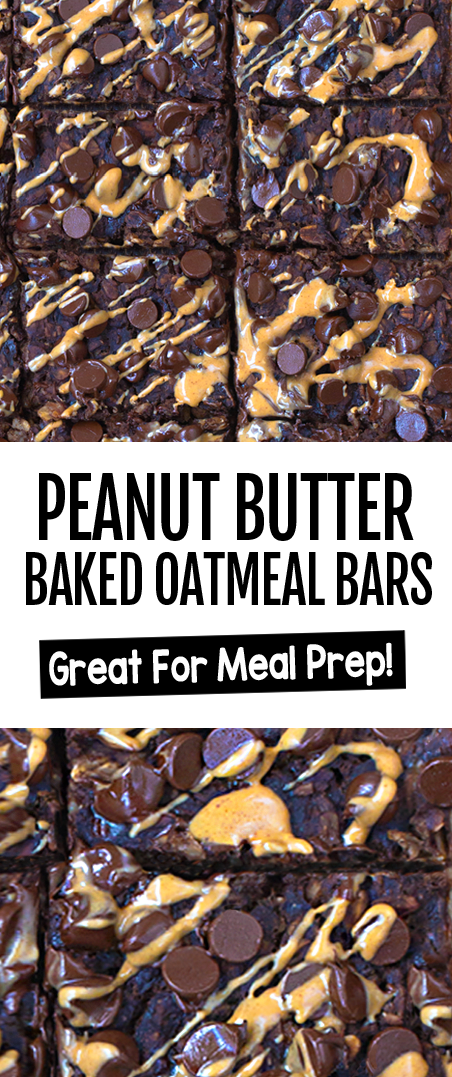 Peanut Butter Brownie Baked Oatmeal
Adapted from my Breakfast Oatmeal Cups To Go
Peanut Butter Brownie Baked Oatmeal
Yield:
8 bars or 16 squares
Print This Recipe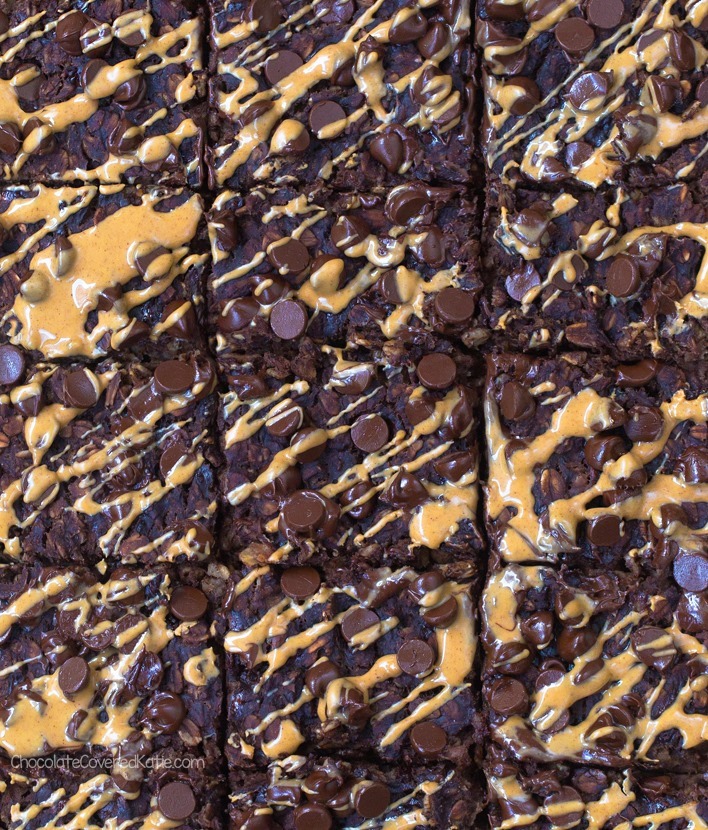 Ingredients
1/3 cup peanut butter or allergy-friendly sub
2 2/3 cup overripe mashed banana (banana-free version here)
1 cup milk of choice – I like Almond Breeze Almondmilk
1/4 cup pure maple syrup OR additional milk of choice if you are used to the lower sweetness level of clean-eating recipes
2 1/2 tsp pure vanilla extract
3 cups rolled oats
1/2 cup cocoa powder
1 tsp salt
optional chocolate chips, melted peanut butter for garnish
Instructions
Be sure to use bananas that are partially or mostly brown before peeling, which means they're ripe. Preheat the oven to 350 F and either line a 9×13 baking pan with parchment or grease the bottom and sides very well. In a large bowl, stir together the first 5 ingredients until evenly combined, then stir in remaining ingredients. Smooth into the pan, top with chocolate chips if desired. Bake on the center rack 30 minutes, then do not open the oven door even a little, but turn the oven off and let the pan sit in the turned-off oven for an additional 20 minutes. Garnish with additional peanut butter or maple syrup if desired, and serve hot or cold. This tastes even better if you loosely cover and refrigerate overnight, so I highly recommend serving it the day after it's made. Leftovers can also be sliced and frozen for up to two months.
More Ways To Use Almondmilk: