How to make kid friendly chocolate rainbow cupcakes from scratch. The recipe can even be vegan or gluten free, with no food coloring required!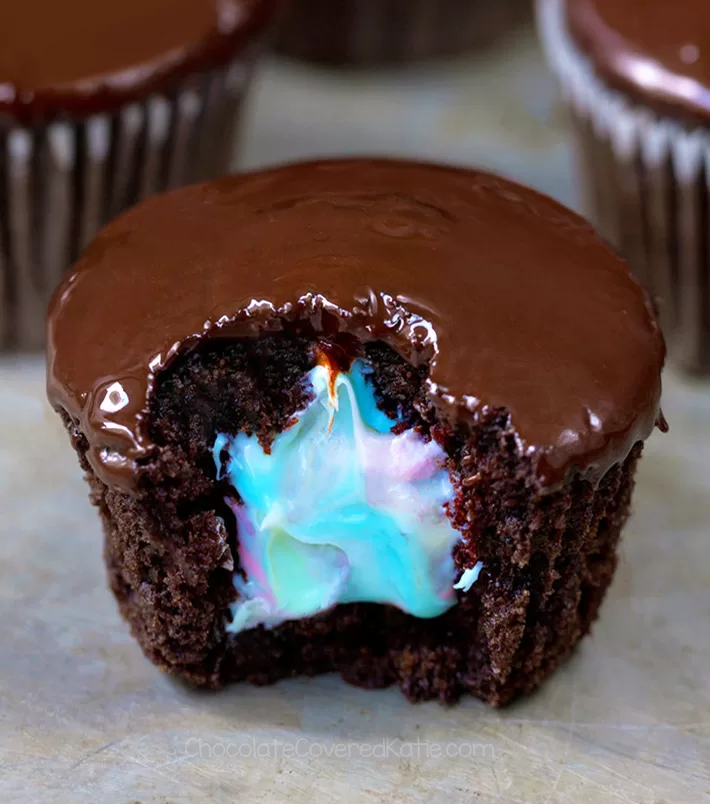 Magical rainbow cupcakes
If you've ever wondered what unicorns eat for dessert, now you know. It's these homemade dark chocolate rainbow unicorn cupcakes.
The vibrant and delicious cupcakes are a perfect choice for birthday parties.
Or turn them into gender reveal cupcakes, swapping the rainbow filling with pink or blue. You can also make galaxy cupcakes. (See these Galaxy Donuts.)
They may look like plain and ordinary chocolate cupcakes on the outside… but just one alluring bite reveals the sweet magical rainbow filling hiding underneath!
You may also like these Sweet Potato Brownies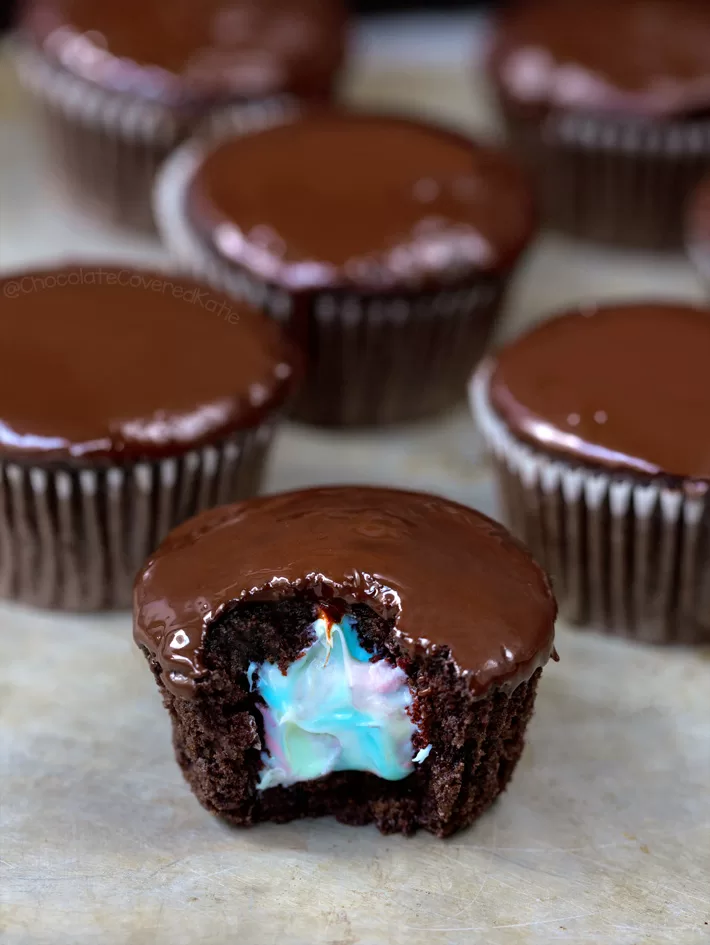 Chocolate rainbow cupcake ingredients
The cupcakes call for cocoa powder, flour, sugar, baking soda, salt, water, applesauce or yogurt, oil, pure vanilla extract, white or apple cider vinegar, rainbow unicorn filling, and optional mini chocolate chips.
If you do not have applesauce or yogurt, use an equal amount of mashed banana or roasted sweet potato puree.
I use a combination of regular unsweetened cocoa powder and Dutch process cocoa powder, because Dutch cocoa gives chocolate baked goods a classic brownie flavor. It should be readily available at most grocery stores but can be substituted with additional regular cocoa if you prefer.
The recipe works with white sugar, evaporated cane juice, or unrefined coconut sugar. For sugar free cupcakes, granulated xylitol will also work here.
Watch the rainbow unicorn cupcake recipe video – above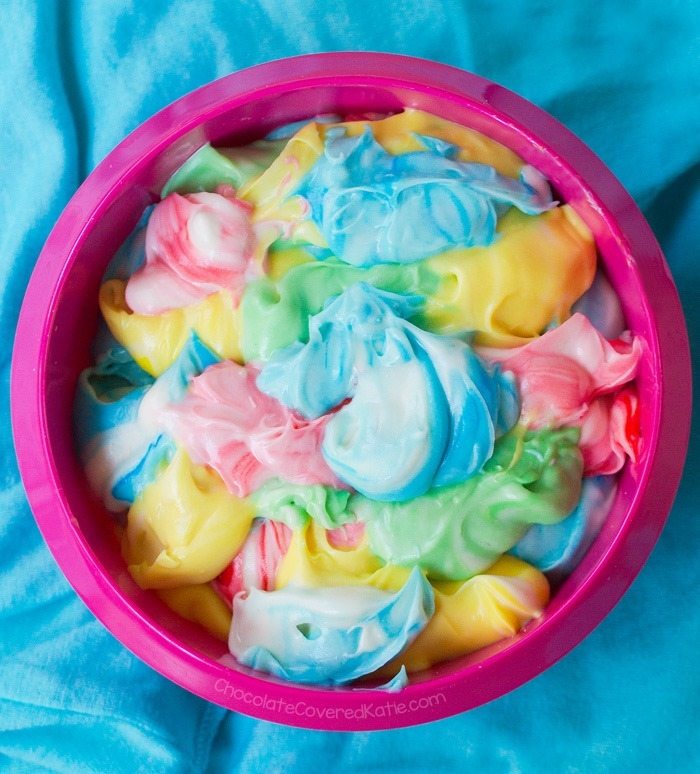 How to make rainbow cupcakes
You can either prepare the rainbow filling ahead of time and store it in the fridge, or whip it up while the cupcakes are baking.
Preheat the oven to 350 degrees Fahrenheit, and line a muffin tin with liners.
Whisk the water, applesauce or yogurt, vanilla extract, and vinegar in a large mixing bowl. Let this mixture sit while you sift the dry ingredients in a separate bowl.
Pour wet into dry, and stir until just evenly combined. Smooth the cupcake batter into the prepared cupcake liners, going about two thirds of the way up.
Bake the tray on the center rack of the oven for twenty minutes. Or if you are making mini cupcakes in a mini muffin tin, bake for ten minutes.
When time is up, the cupcakes should be domed, with a toothpick inserted into the center coming out mostly clean. (See the video above for a visual.)
Let the cakes cool before adding the unicorn filling.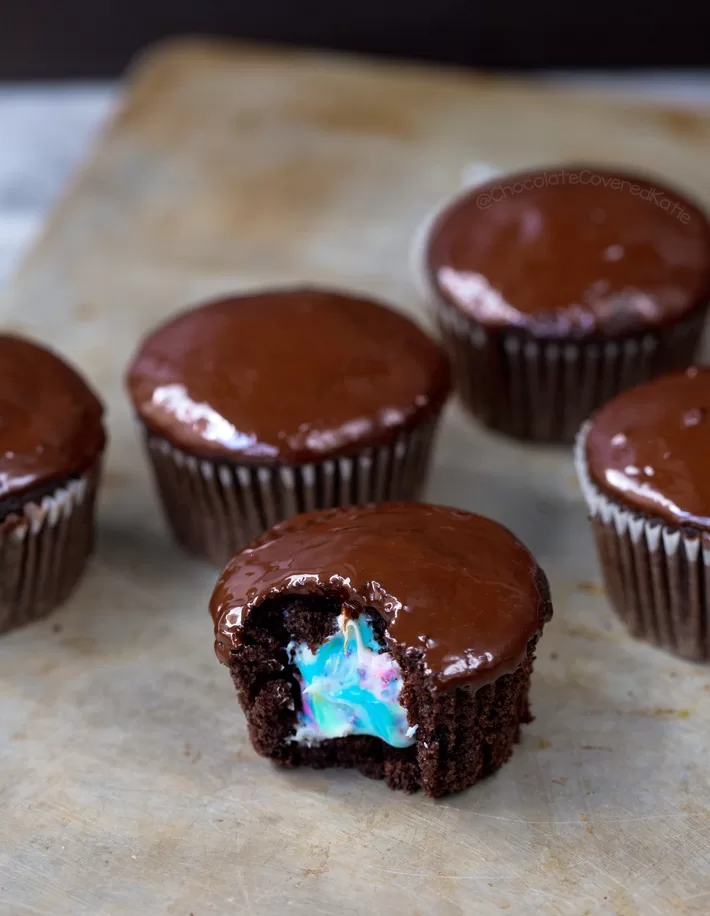 How to fill cupcakes
You have a few options. The first way to stuff cupcakes is to add the filling to a pastry bag or a Ziploc with an icing tip placed in the corner and a small hole cut out. Squeeze the filling into the center of each cupcake through the bottom.
The second way is to use a spoon to cut out a piece of the cupcake top. Scoop the filling into the center, then smush the top piece back on. Hide the seam with frosting or melted chocolate or ganache.
These cupcakes taste even better a day after they are made, with a fluffier texture. Liners peel off easily after a day as well.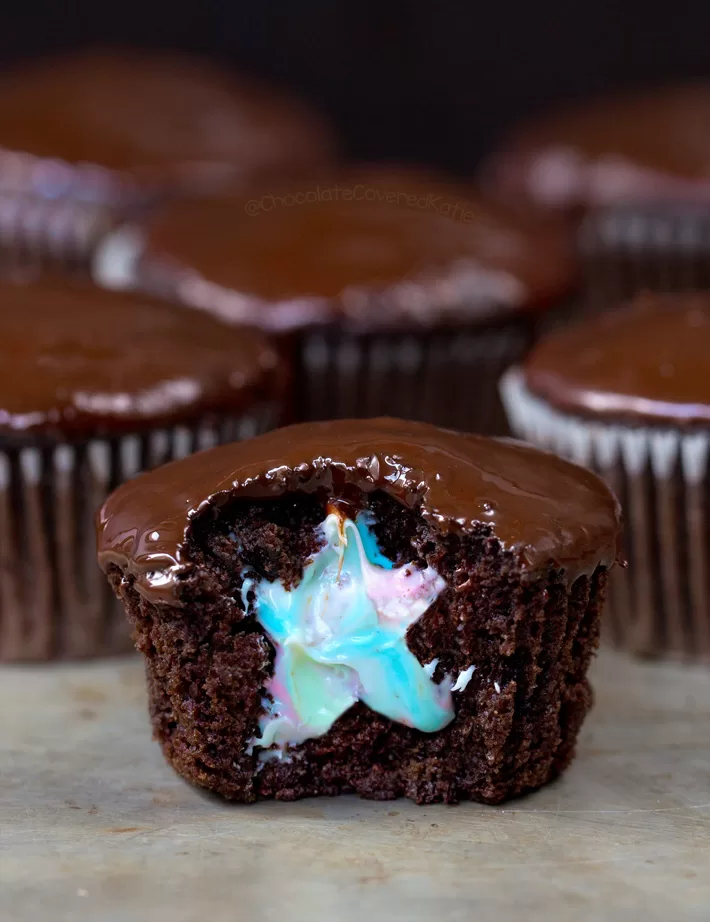 Storing the unicorn cupcakes
Store the cupcakes, either on the counter or in the refrigerator, in a covered container. Leave a small opening so excess moisture does not get trapped.
After a day or so, it is best to refrigerate any leftover cupcakes for optimum freshness.
You can also freeze the cupcakes for up to two months. To ensure the filling retains its smooth and creamy texture, it is best to frost and fill the chocolate cupcakes after thawing, instead of before freezing.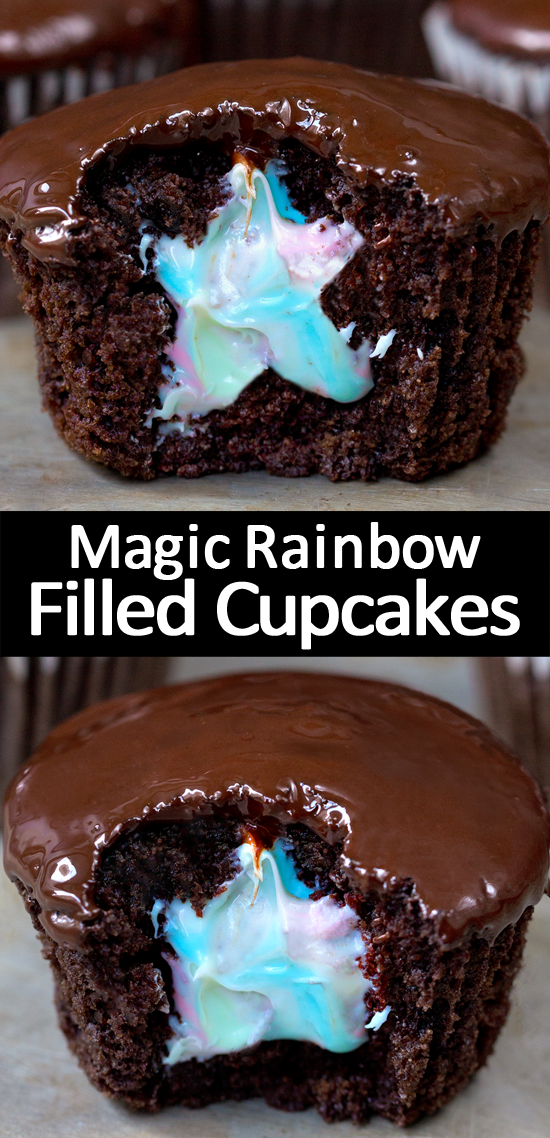 The recipe was adapted from my Vegan Chocolate Cupcakes and these Oreo Cupcakes.
Chocolate Rainbow Cupcakes
These magical chocolate rainbow cupcakes are a perfect recipe for birthday parties.
Ingredients
3/4

cup

water

1/4

cup

applesauce or yogurt of choice

1/4

cup

oil

2

tsp

pure vanilla extract

1

tsp

white or cider vinegar

1

cup

spelt,

white, or bob's gf flour (Low carb option: Keto Cupcakes)

3/4

cup

sugar,

unrefined if desired

1/4

cup

unsweetened cocoa powder

2

tbsp

Dutch cocoa powder or additional unsweetened

1/2

cup

mini chocolate chips

(optional)

1/2

tsp

+ 1/8 tsp salt

1/2

tsp

baking soda

1

batch Rainbow Unicorn Dip

optional melted chocolate chips for the top
Instructions
*The extra 2 tbsp cocoa can be Dutch or regular. I highly recommend Dutch for deeper chocolate flavor. Use regular unsweetened cocoa for the initial 1/4 cup.

Preheat oven to 350 F. Line a cupcake pan. Whisk first 5 ingredients. Let sit at least 10 minutes, and sift all remaining ingredients in a new bowl while waiting. Pour wet into dry, stir just until evenly mixed, and smooth into the liners. Only fill up 2/3 of the way, because they rise a lot and you don't want them to burst and sink in the middles (although if it happens, just hide with frosting!). Bake 20 minutes. Let cool. Filling can either be added by squeezing through a pastry bag inserted in the bottom of each cupcake or by using a spoon to cut out a piece of the top, add filling, smush the piece back on, and top with frosting or melted chocolate to hide the seam. Liners peel off easily if you serve the cupcakes the next day.

View Nutrition Facts
More Family Friendly Recipes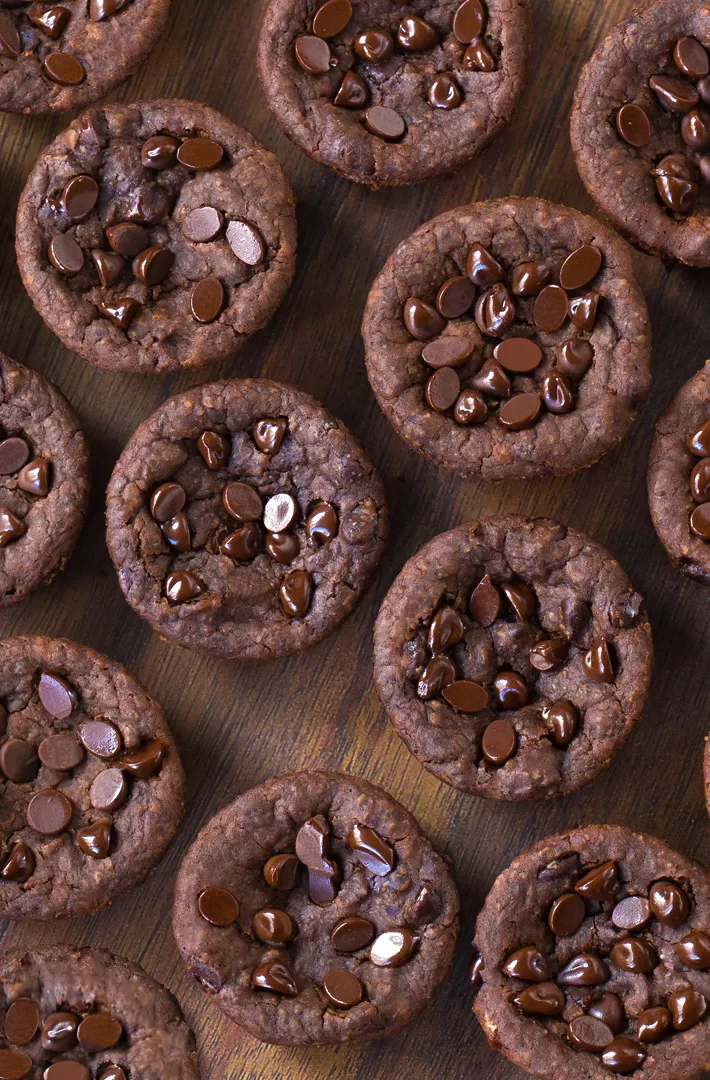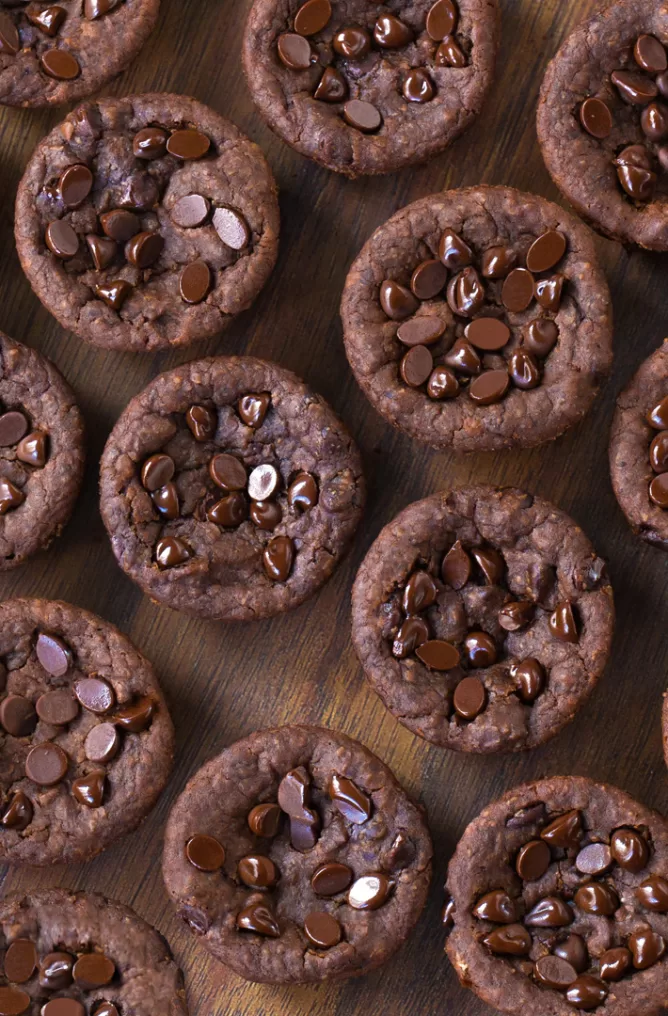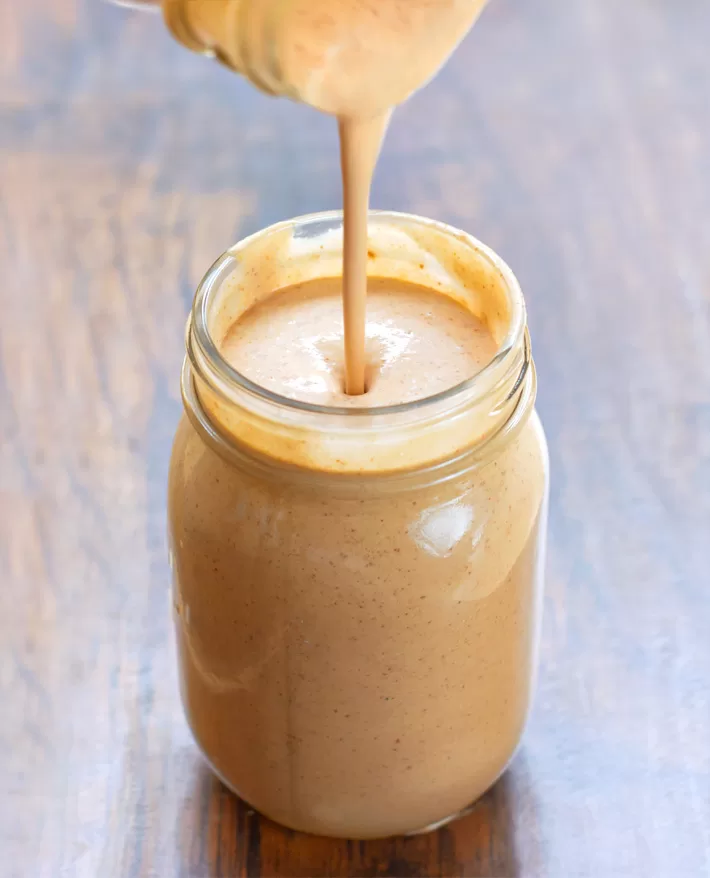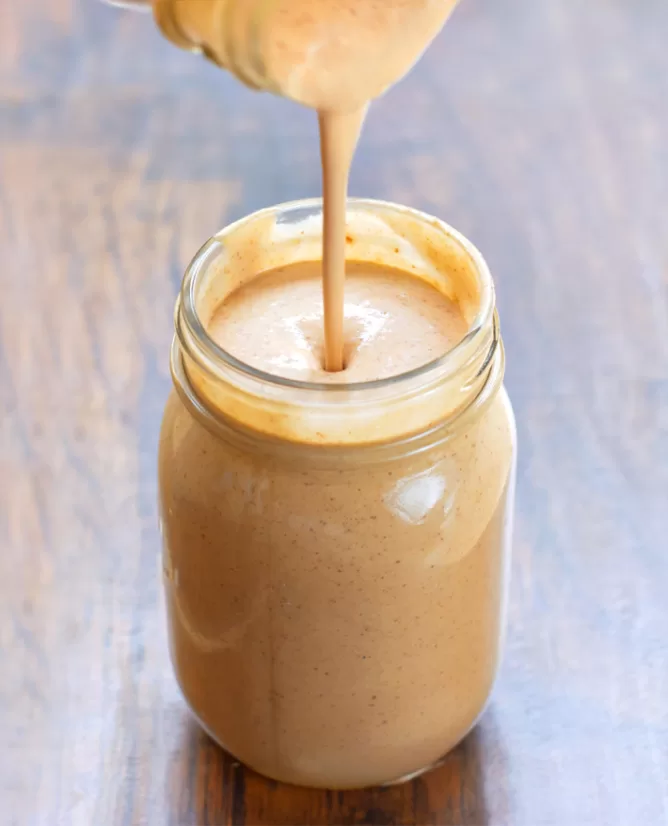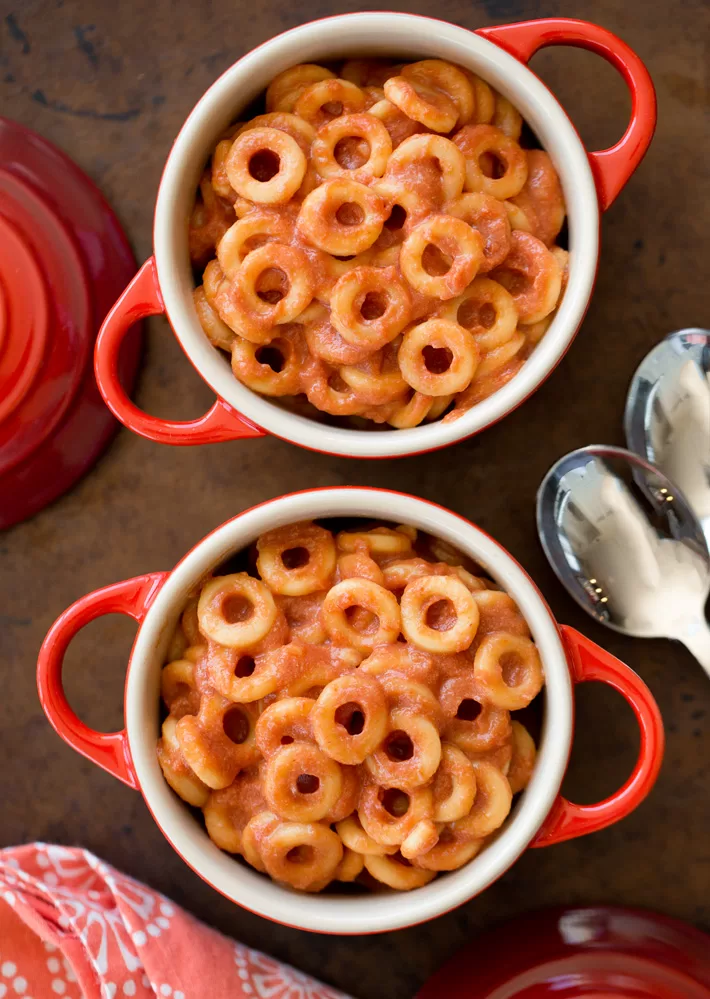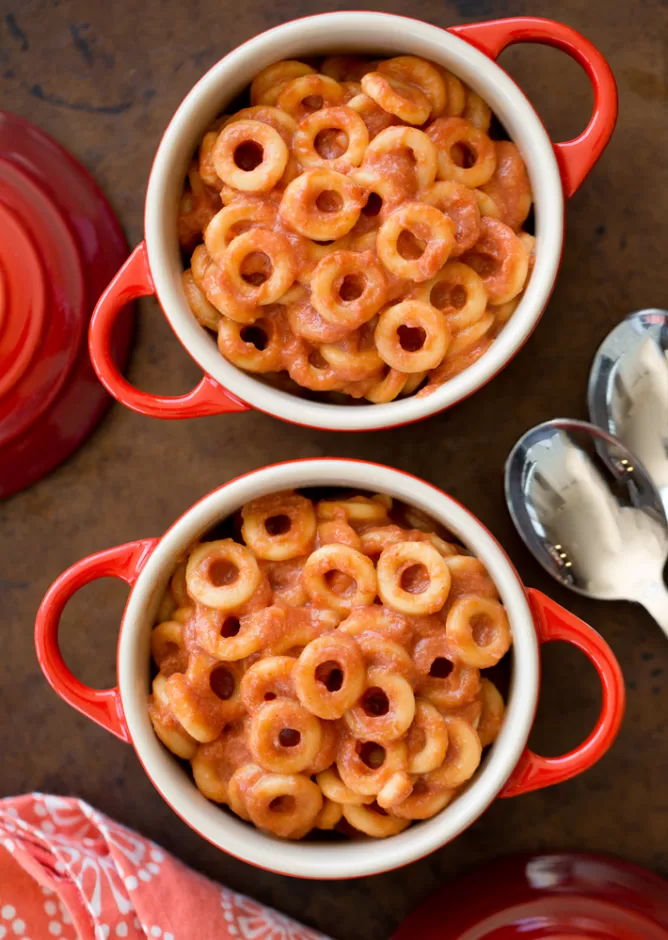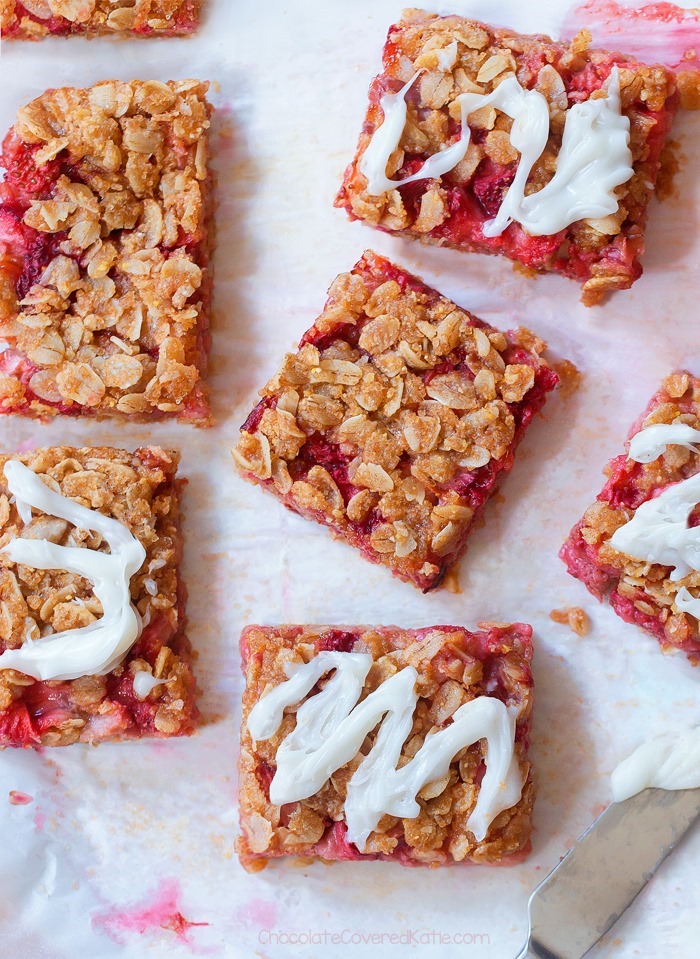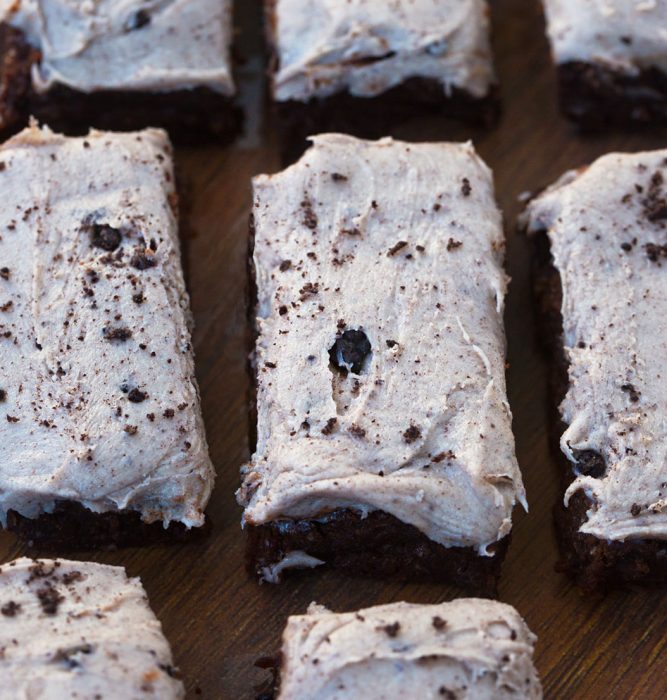 Potluck Oreo Brownie Bars, from the Hello Breakfast Cookbook