This beautiful rainbow unicorn dip might be the most magical thing I've ever made.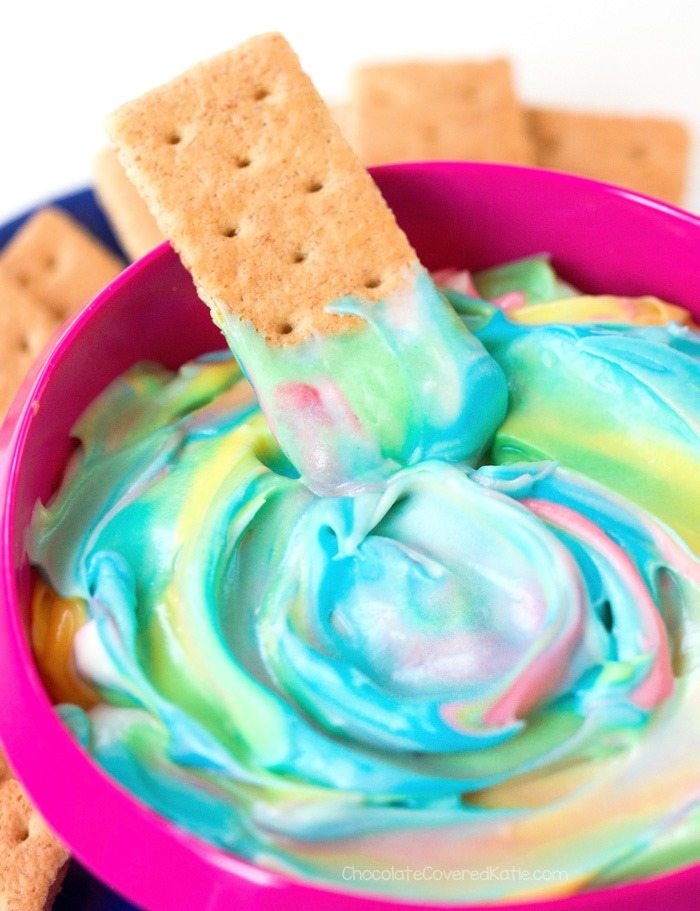 Unicorns are having a moment.
Magical, unicorn-themed food has been completely taking over Pinterest recently, from unicorn hot chocolate, to unicorn bark, to unicorn macarons and unicorn poop cookies (ummm…).
As someone who grew up with Lisa Frank and My Little Pony (please say you are not too young to remember these things!), the recent new profusion of rainbow on instagram and on the internet in general is making me ridiculously happy right now.
Also try this Dole Whip Recipe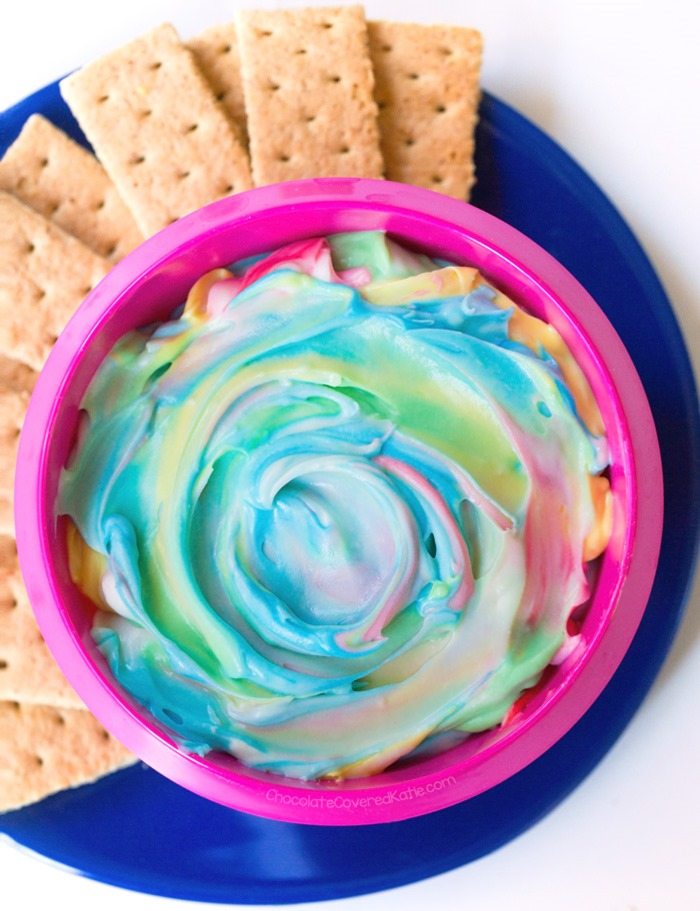 Of course I had to put my own spin on the unicorn dessert trend, and since cheesecake is one of my all-time favorite desserts, it was only natural I'd want to incorporate it into this fairytale-esque rainbow cheesecake dip.
I brought the dip to a Super Bowl party last night and served it with graham crackers.
So basically, it was a bunch of guys watching football while eating unicorn dip from a neon-pink serving bowl.
No one can resist the charms of this magical rainbow dessert!
Trending recipe: Overnight Oats – 15 flavors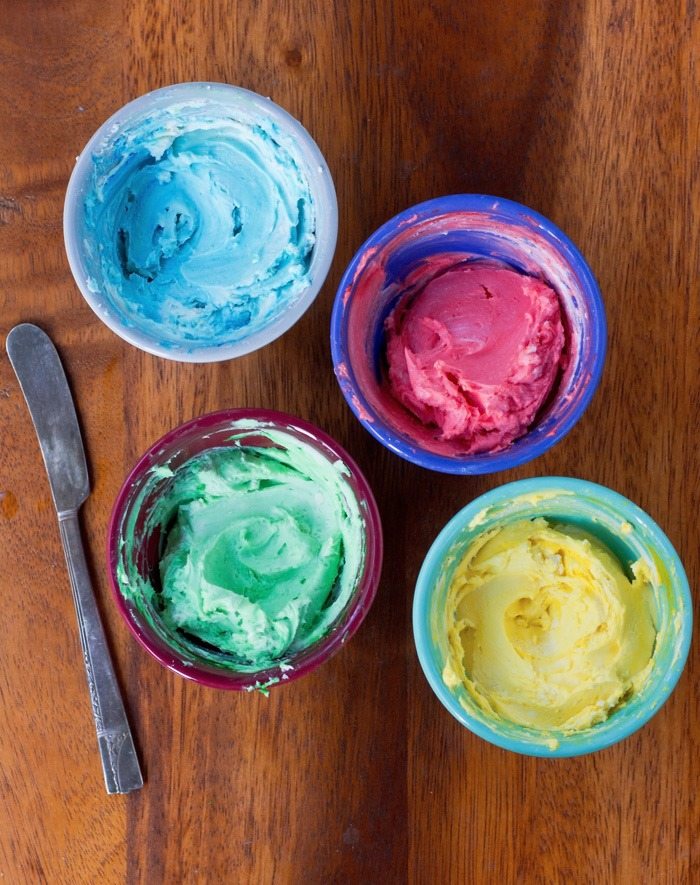 An easy and kid-friendly recipe.
And now, if unicorn dip recipes start to take over your instagram and pinterest feeds, you know who to blame.
Sorry not sorry.
This easy-to-make rainbow dip was inspired by my Vegan Cheesecake Recipe.
You whip up the cheesecake batter, portion it into four dishes, then swirl all of your colors together to make one big and beautiful bowl of unicorn cheesecake dip.
The entire process takes about 10 minutes from start to finish, and there is NO baking required.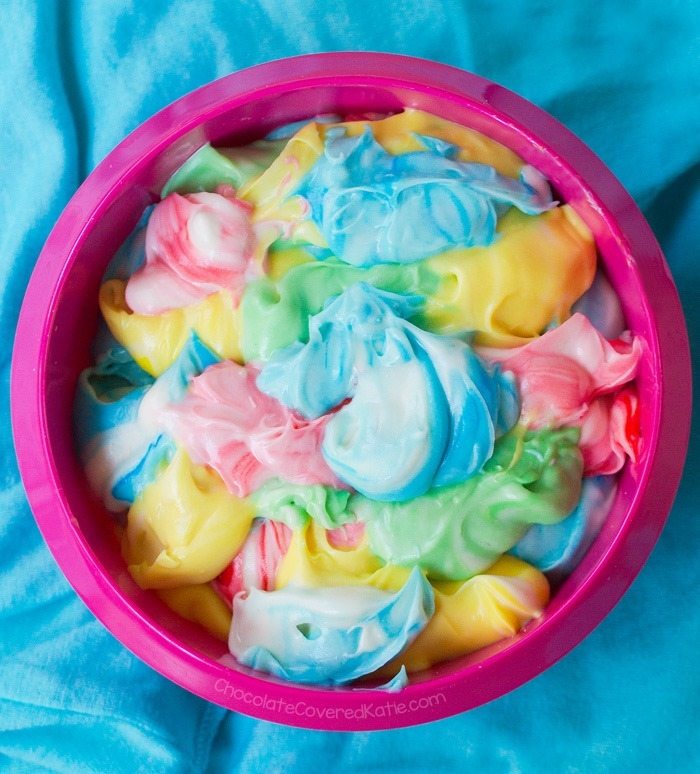 So how did I come up with the idea for Unicorn Dip in the first place?
My initial idea was actually for something totally different: unicorn banana bread!
That idea did not turn out too well, as the banana bread swallowed up any trace of rainbow filling during the baking process.
But of course I had to sample the filling as I worked.
Some recipes taste good but look ugly; some recipes look good but taste just okay – This is one recipe that looks beautiful and tastes delicious too!
It really is magical!
Watch the unicorn dip recipe video above
In the video, I skipped the four bowls and simply stirred the colors together all in the same bowl. This will produce a darker dip but it still works!
The video shows food coloring, while the photos show the natural version.

Rainbow Unicorn Dip
This beautiful rainbow unicorn dip might be the most magical recipe you'll ever make.
Ingredients
12

oz

cream cheese or vegan cream cheese

1

cup

yogurt

(nondairy works too)

1

tsp

pure vanilla extract

1/3

cup

sugar of choice,

or monk fruit for sugar-free

food coloring OR a pinch turmeric

acai powder, spirulina, and blue spirulina
Instructions
Bring cream cheese to room temperature. Blend all ingredients except the colors until smooth. Although a blender, food processor, or hand blender will yield smoothest results, you can technically stir by hand if you must. Divide among four little dishes and stir a different coloring into each dish. (Be very light-handed if using turmeric and spirulina, as these flavors are strong and a little goes a long way.) Drop spoonfuls of each color into a serving bowl, alternating colors. Then swirl colors together with a spoon. Leftovers can be covered and refrigerated up to three days.

View Nutrition Facts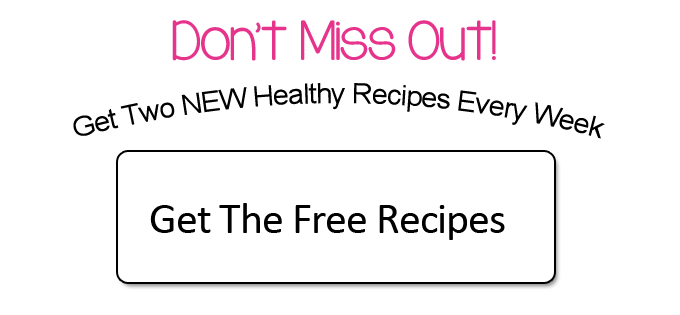 Popular Recipes This Week: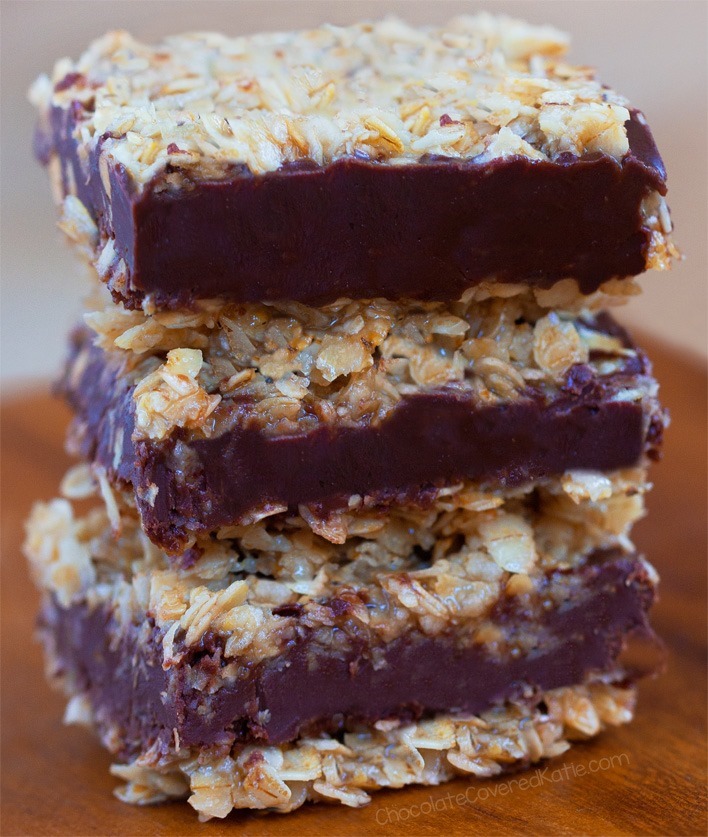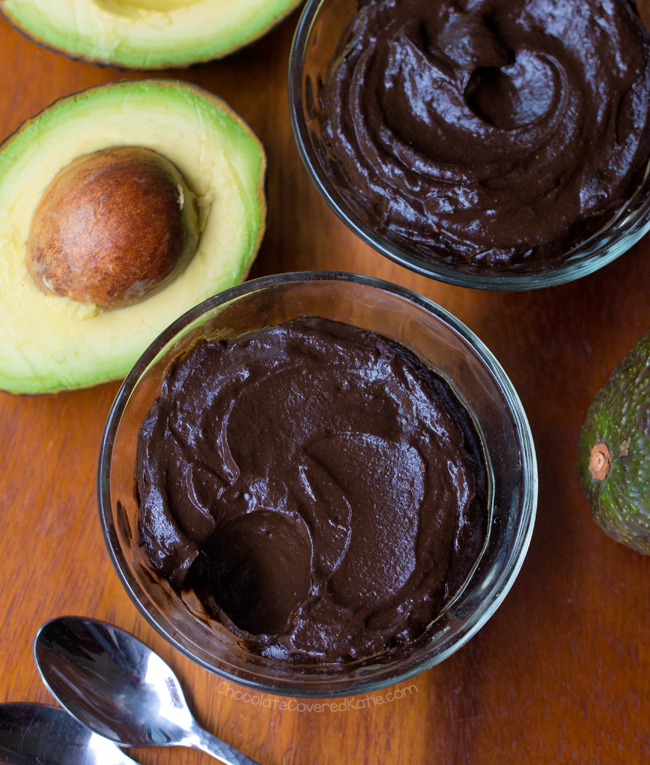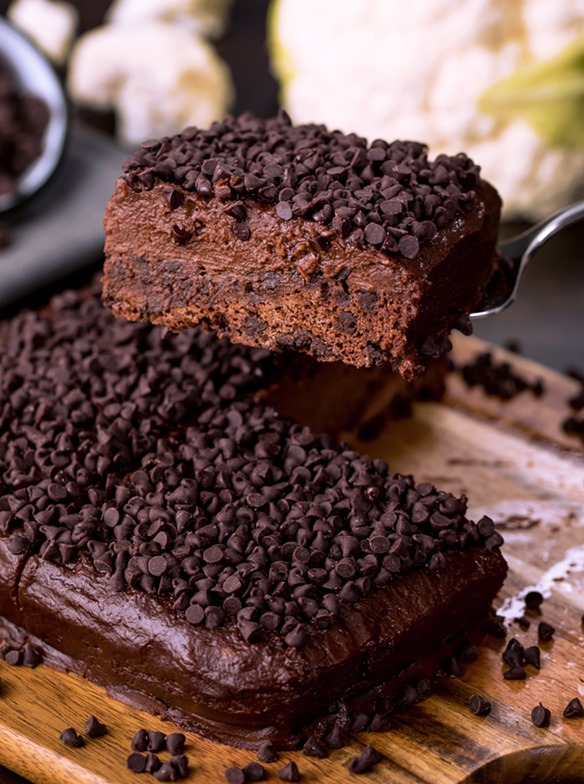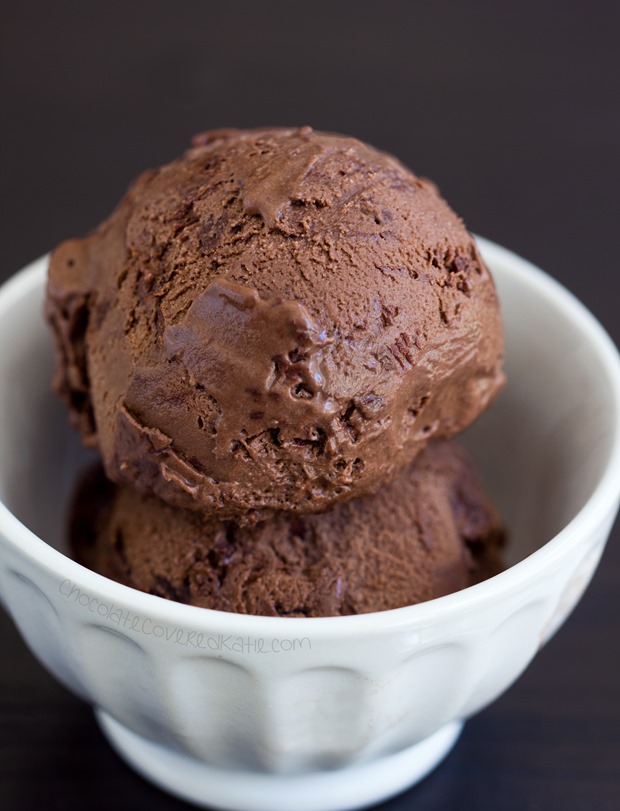 Chocolate Peanut Butter Nice Cream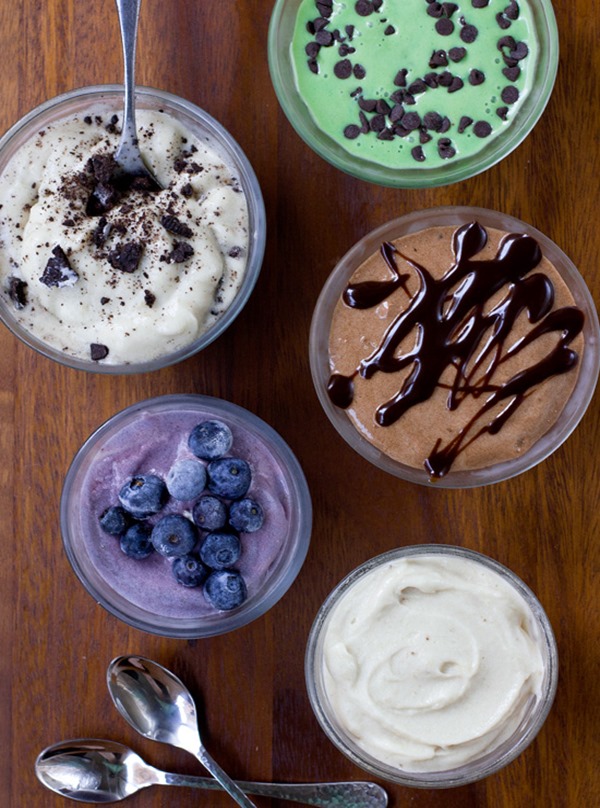 (10 Flavors)