Everyone will fall in love with these delicious homemade Oreo cupcakes, topped with a thick and fluffy cookies and cream frosting recipe!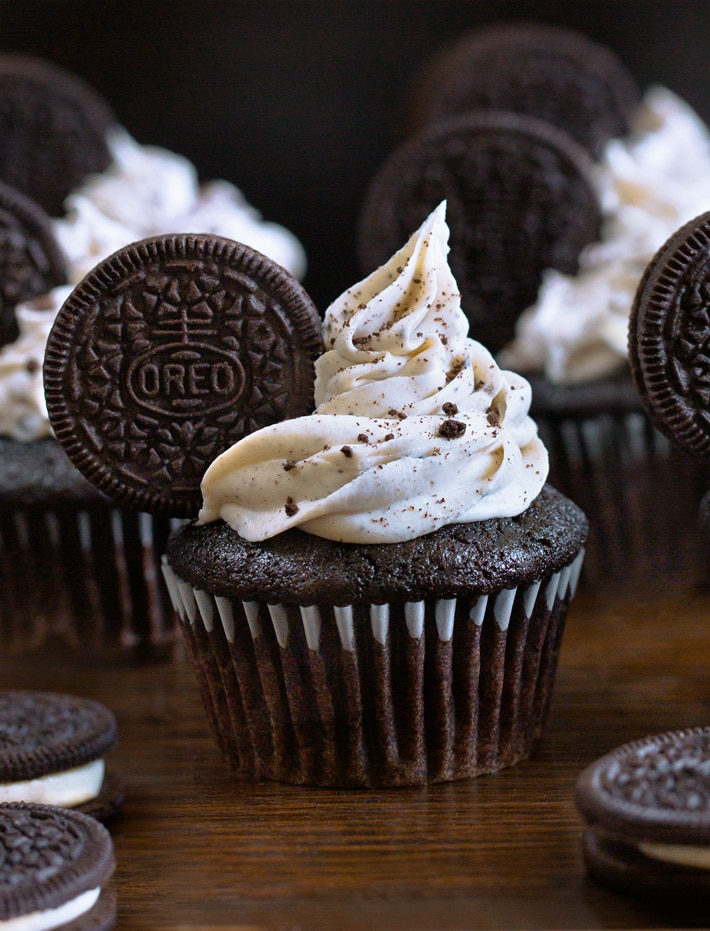 This is the ultimate Oreo cupcake recipe!
If you are looking for classic cupcakes to whip up for a school birthday party, barbecue, baby shower, wedding, or any other celebration at all, these dark chocolate cupcakes always put a smile on the face of everyone who tries one.
The cupcake itself is soft and moist, and the frosting is so good that you'll want to eat it straight out of the bowl with a spoon!
Readers also love these Peanut Butter Brownies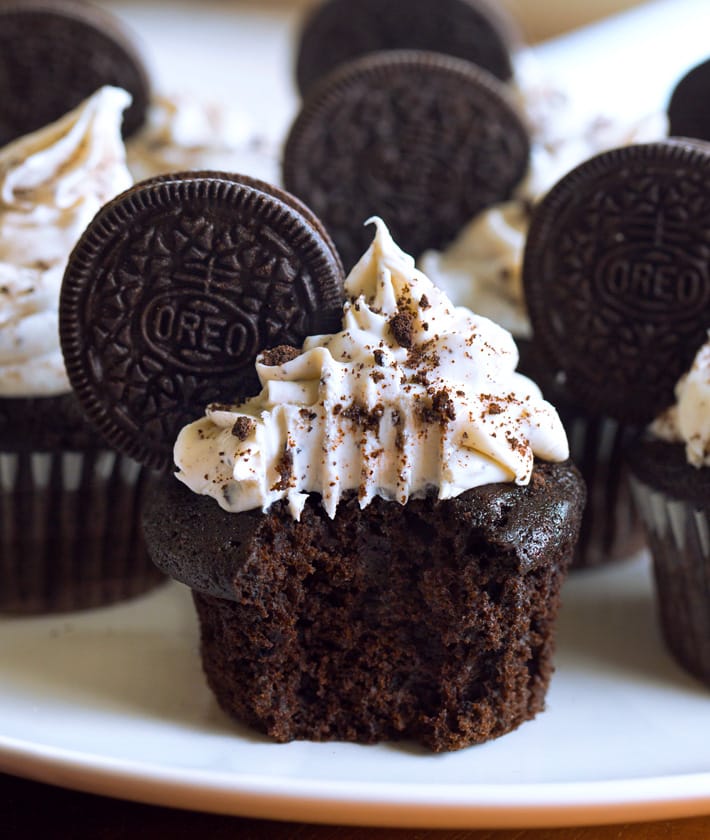 The trick to the best Oreo cupcakes
While some Oreo cupcake recipes call for chocolate cake mix, homemade cupcakes taste so much better than ones from a box.
The trick to make homemade cupcakes that are just as quick and easy as using a boxed mix is to measure out the dry ingredients days or even weeks ahead of time.
You can store this Oreo cupcake mix in a sealed gallon size bag in the kitchen pantry so it is ready whenever you want to make cupcakes!
Over 60 billion Oreos are sold each year, making them both the world's and America's favorite cookie. If you try these frosted Oreo cupcakes, hopefully they will quickly become your favorite cupcake recipe.
Above, watch the step by step Oreo cupcake recipe video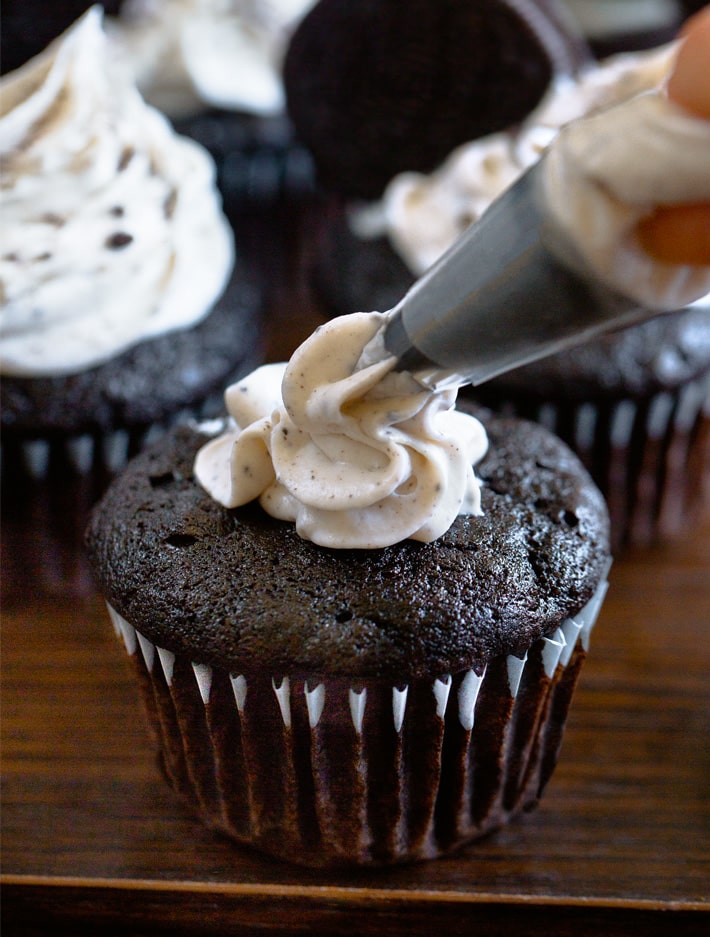 Cookies and Cream Frosting
This recipe gives you two options for the Oreo frosting.
If you're pressed for time, the easy option is to simply use your favorite store bought buttercream or cream cheese frosting. Stir in crushed Oreo sandwich cookie crumbs.
Or you can make your own whipped homemade frosting from scratch by combining the following:
1 cup salted butter or plant based butter, 3 cups powdered sugar or erythritol, 1 teaspoon pure vanilla extract, and a sprinkle of Oreo cookie crumbs.
The secret to making the best Oreo frosting that stays white instead of turning grey is to whip everything except the cookies up first, using hand beaters or a stand mixer.
Once you achieve a thick and smooth buttercream frosting texture, turn off the beaters and very gently stir in the cookie crumbs.
You can either spread the frosting onto the cupcakes with a knife or scoop it into a piping bag or pastry bag. I used a Wilton 1M open star decorating tip for the cupcakes in the photos.
Place a chocolate sandwich cookie onto each cupcake for fancy presentation.
While you have the beaters out, make this Peanut Butter Dip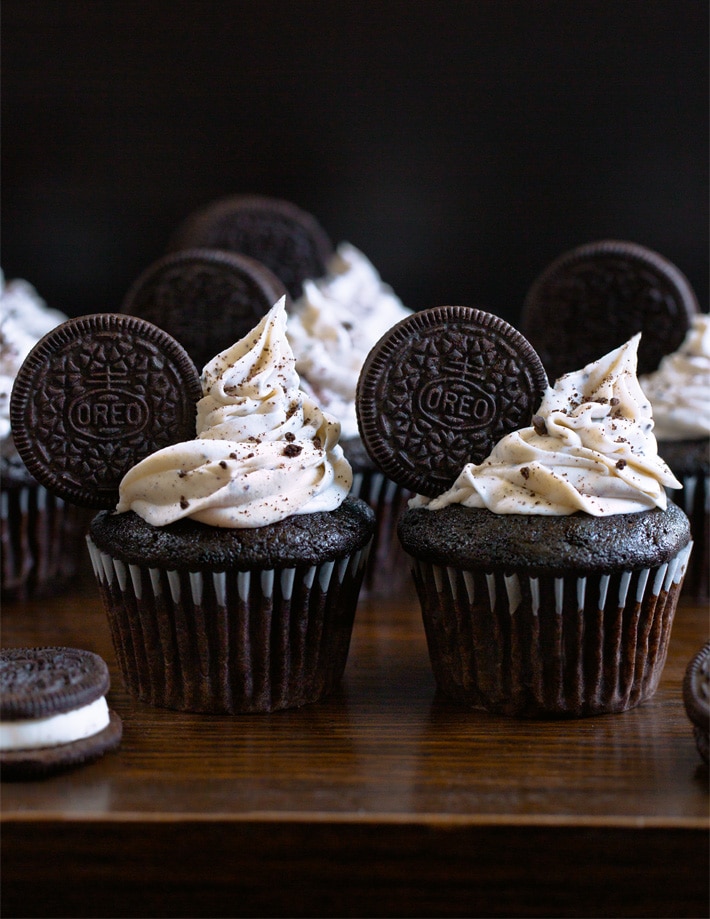 Ingredients you need for the recipe
The frosted cookies and cream cupcakes call for flour, unsweetened cocoa powder, sugar, baking soda, salt, white or apple cider vinegar, oil, pure vanilla extract, yogurt, water, frosting, and of course Oreos.
I recommend spelt, white, or a gluten free all purpose flour mix. Do not use almond flour or coconut flour. There is also a low carb cupcake option in the recipe below.
Feel free to use regular white sugar or unrefined sugar, such as coconut sugar. For sugar free Oreo cupcakes, substitute xylitol or granulated erythritol.
To get that classic Oreo cookie flavor, the Dutch cocoa powder is important. It should be available at most grocery stores. Hint: Just look for the words "processed with alkali" in the cocoa powder ingredient label to find Dutch processed cocoa.
Vegetable, sunflower, or melted coconut oil all work to make the chocolate Oreo cupcakes. I have not tried an oil free version and therefore can't recommend one.
Any store bought or homemade crème filled chocolate wafer cookie can be substituted for the Oreos.
If you prefer, here are some No Bake Oreo Cheesecake Cupcakes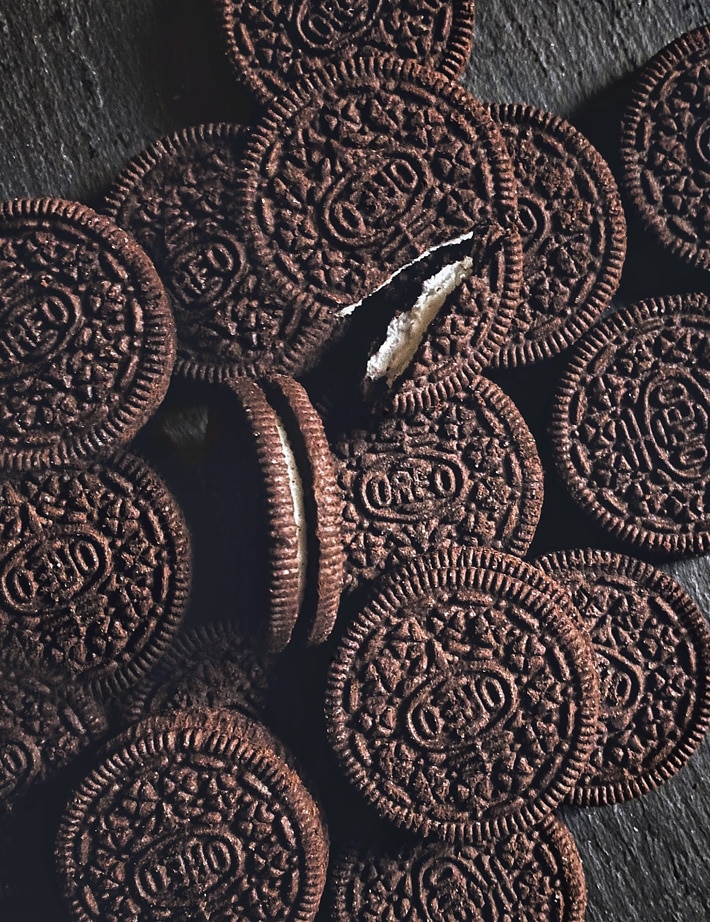 Vegan Oreo Cupcakes
This kid friendly cookies and cream cupcake recipe is based on a popular chocolate wacky cake from the 1930s that calls for baking soda and vinegar to make the cake rise instead of eggs.
So the cupcakes already just so happen to be egg free.
If you want to make them vegan, use your favorite dairy free yogurt in the cupcake recipe and plant based butter in the cookies and cream frosting.
Also try these popular Vegan Chocolate Chip Cookies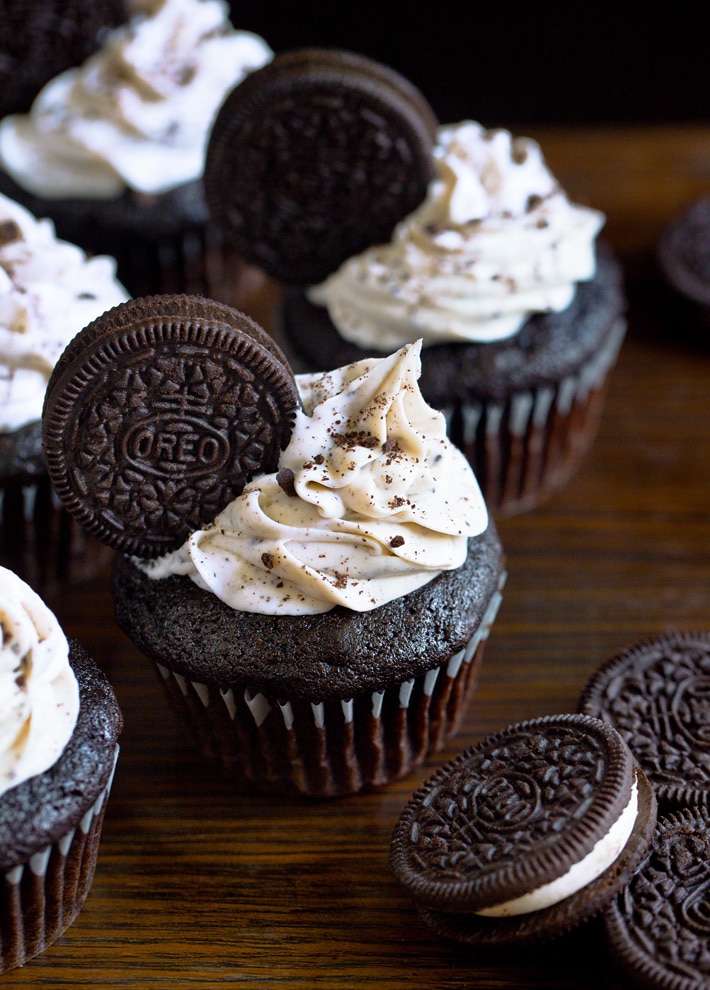 How to make Oreo cupcakes
Preheat the oven to 350 degrees Fahrenheit. Line a cupcake pan with cupcake liners.
Whisk the water, yogurt, oil, vanilla, and vinegar in a large mixing bowl, and let this sit while you sift together the remaining ingredients in a separate bowl.
Pour wet into dry, stir just until evenly mixed, and smooth the cupcake batter into the prepared pan. Only fill the liners up about two thirds of the way, because they will rise while they cook.
Place the baking tray on the oven's center rack, and bake for 20 minutes. If you prefer to make mini Oreo cupcakes, bake the mini cupcakes for just 10 minutes.
The desserts should be domed after this time (see video above). A toothpick inserted into the center of a cupcake should come out mostly clean.
Let the cakes cool before frosting. These taste even better the next day, and the liners peel off easily after sitting a day as well.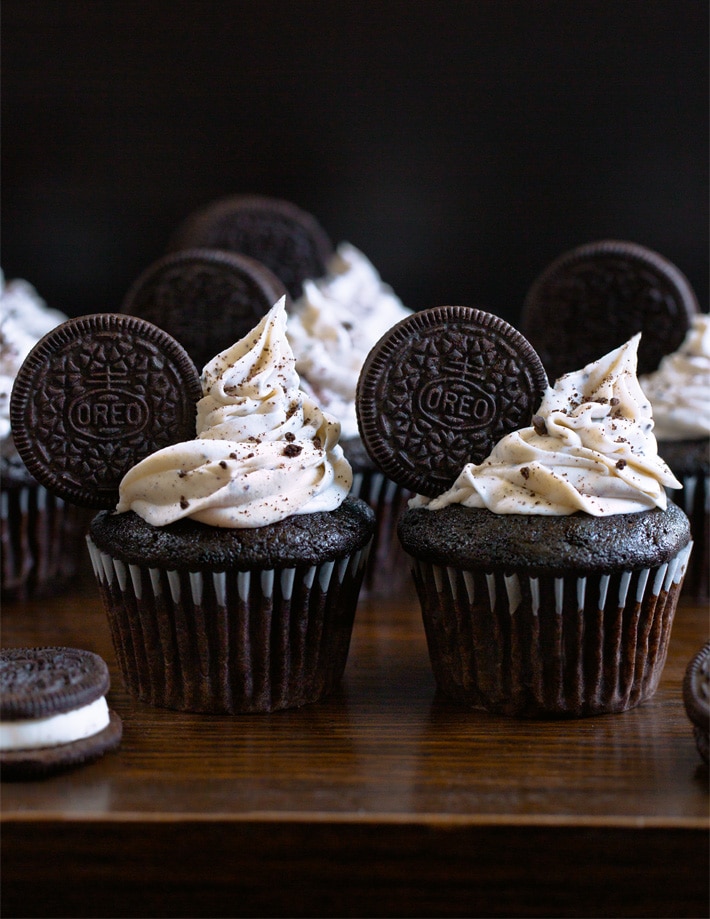 Storage tips
Store leftover cupcakes in a covered container, either on the counter or in the refrigerator, with a small opening for moisture to escape.
After a day or two, I recommend refrigerating leftovers for optimal freshness.
The cupcakes can also be frozen. While you technically can freeze them with frosting included, it is best to ice the cupcakes after thawing, because the buttercream will have a much better creamy texture.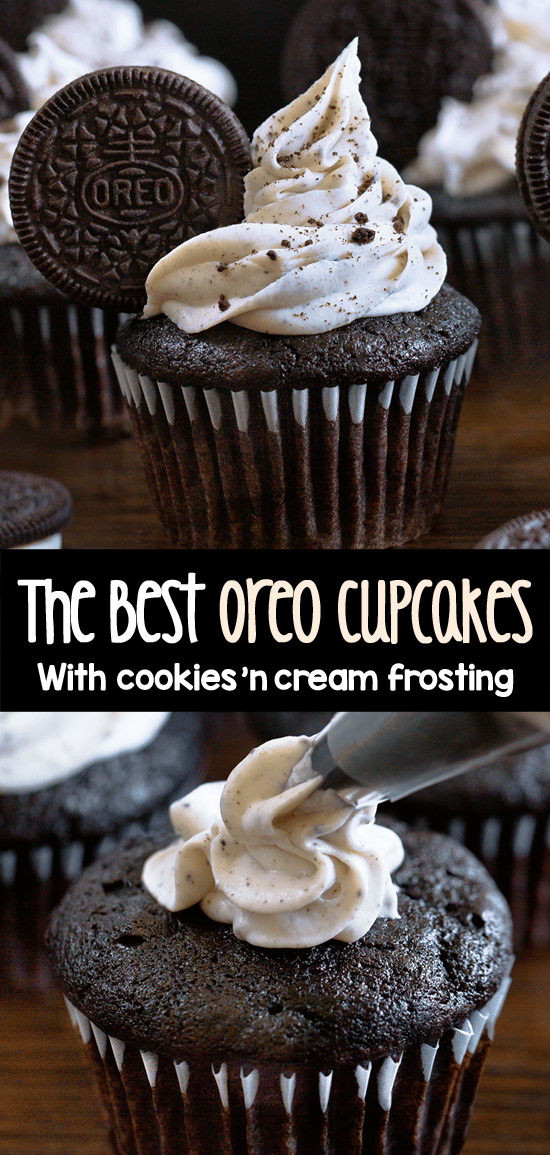 Oreo Cupcakes
How to make the best Oreo cupcakes, topped with a fluffy cookies and cream frosting recipe!
Ingredients
3/4

cup

water

1/4

cup

yogurt

1/4

cup

oil

2

tsp

pure vanilla extract

1

tsp

white or cider vinegar

1

cup

spelt,

white, or bob's gf flour (Low carb option: Keto Cupcakes)

1/4

cup

unsweetened cocoa powder

2

tbsp

Dutch cocoa powder

3/4

cup

sugar,

unrefined if desired

1/2

tsp

salt

1/2

tsp

baking soda

Oreo frosting

(the frosting recipe I used is written out above, or feel free to use store bought if you prefer)
Instructions
Preheat the oven to 350 F. Line a cupcake pan. Whisk wet ingredients in a large bowl, and let this sit while you sift together the remaining ingredients. Pour wet into dry, stir just until evenly mixed, and smooth the batter into the lined pan. Only fill the liners up about two thirds of the way, because they will rise while they cook. Bake for 20 minutes, or 10 minutes for mini cupcakes, or until a toothpick inserted into the center of a cupcake comes out mostly clean. Let cool before frosting. They taste even better the next day, and liners peel off easily after a day as well.

View Nutrition Facts
More Popular Chocolate Desserts