These colorful baked galaxy donuts are out of this world! The kid friendly breakfast recipe is so much fun to make at home.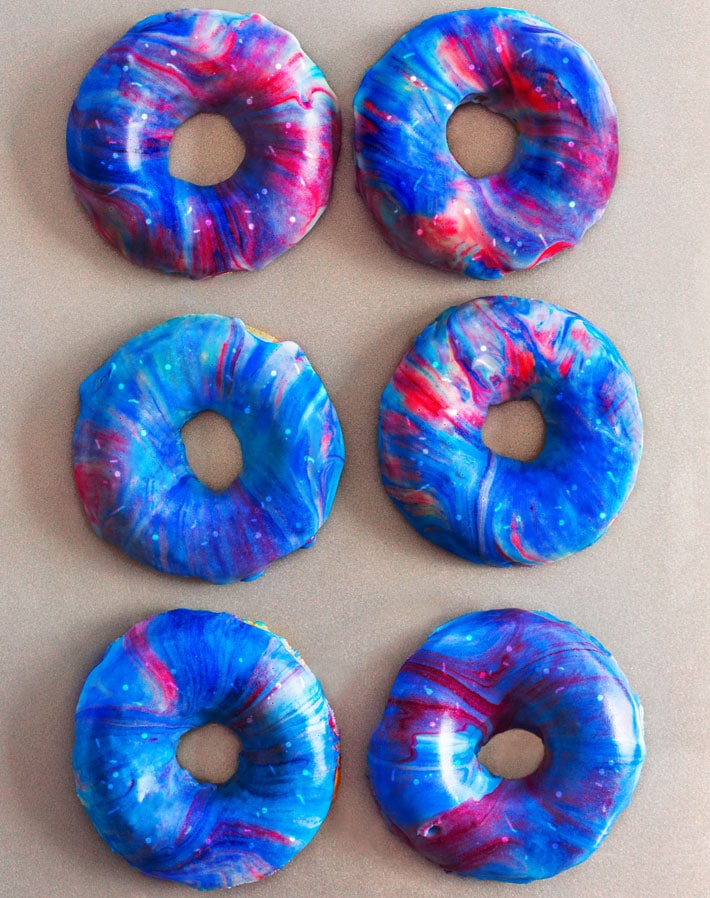 Looking for a great rainy day baking project?
Galaxy donuts are the perfect choice.
With celestial swirls of magenta and blue, the dazzling donuts are just as delicious as they are beautiful. The shiny galactic glaze is made in one bowl, and the simple donut recipe can be both vegan and gluten free, with no eggs or dairy.
You may also like this Applesauce Cake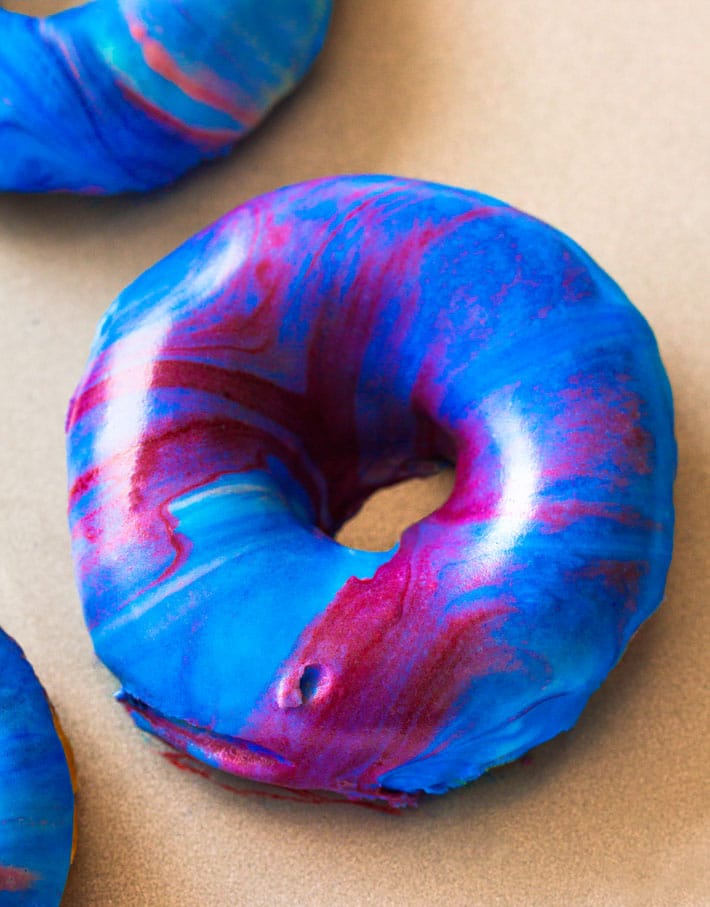 Homemade galaxy donuts
I've had galaxy donuts or cosmic donuts on my list of recipes to try ever since the mysterious outer space pastries took over Instagram and social media a few years ago.
A small breakfast gathering with friends last week offered the perfect opportunity to finally try them out. And now that I know how easy it is to make the marbled glaze, there will definitely be more galaxy desserts in my future.
Galaxy cake, galaxy cupcakes, or even galaxy Vegan Cinnamon Rolls…
Galaxy donut ingredients
Here's what you need: flour, water, apple cider or white vinegar, pure vanilla extract, liquid sweetener, baking powder, salt, and the galaxy donut glaze.
We've tried the recipe with all purpose, oat, spelt flour, and Bob's gluten free all purpose flour. In general, baked goods made with oat flour have a dense texture, so if you prefer lighter donuts, go with the spelt or all purpose.
Pure maple syrup, agave, or honey (not for vegans) are good liquid sweetener options. There is also a sugar free donut recipe included in the recipe box below.
If you are feeling especially adventurous, garnish the finished cake donuts with edible glitter or star sprinkles to take them to a whole new dimension.
For a healthy breakfast, try serving the donuts with this Tofu Scramble recipe.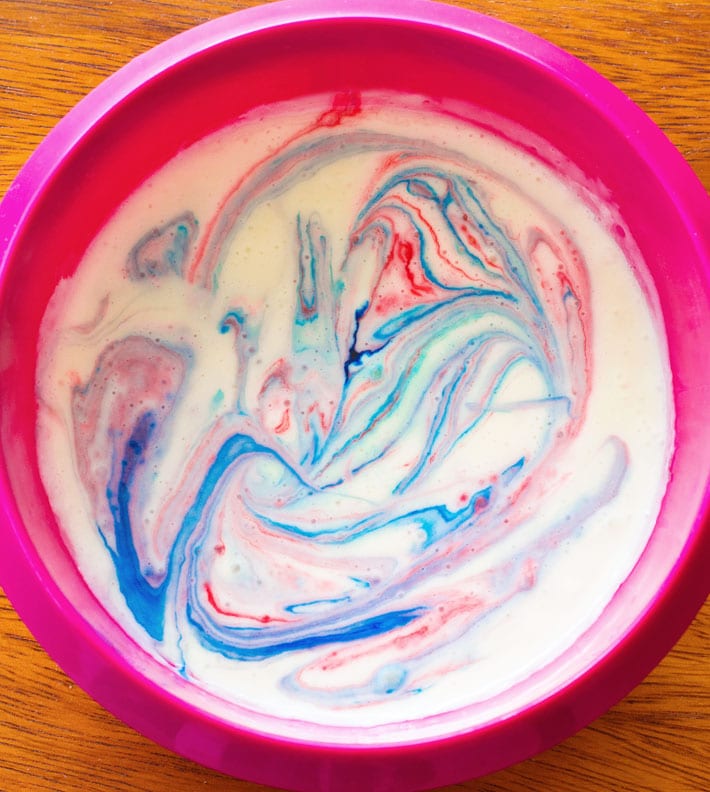 How to make the galaxy glaze
First choose one of the two frostings below, then swirl in the colors.
Basic donut glaze: Combine half a cup powdered sugar (or sugar free powdered sugar) with one tablespoon milk of choice and an optional tablespoon of melted coconut oil or butter. Add more liquid to thin it out if needed.
Frosting glaze: Frost the baked donuts with melted Coconut Butter, sweetened if desired. Or use your favorite vanilla frosting (homemade or store bought), gently heated for a few seconds until thin and easily stir-able.
Marble donut frosting
Using a toothpick or chopstick, swirl a few drops each of red and blue food coloring into your glaze. This can be regular or natural food coloring.
Watkins and McCormick (McCormick Nature's Inspiration Food Colors) both sell food coloring made from vegetables, with no artificial dyes. Or you can use blue spirulina and beet powder instead of food coloring if you wish.
If you desire a darker finish, add more drops of color to the glaze and swirl everything together until there is no white showing. For the donuts in the photos, I chose to leave a little white of the plain glaze intact.
Dip each donut in the galaxy frosting, then place on a plate. For easy cleanup later, I recommend lining the plate with wax or parchment paper, but it is not required.
Serve and enjoy. Leftover donuts can be stored in an airtight container on the counter overnight. Refrigerate or freeze leftovers after a day for freshness.
The recipe was adapted from my Healthy Blueberry Muffins and these Vegan Donuts.
Watch the galaxy donut recipe video above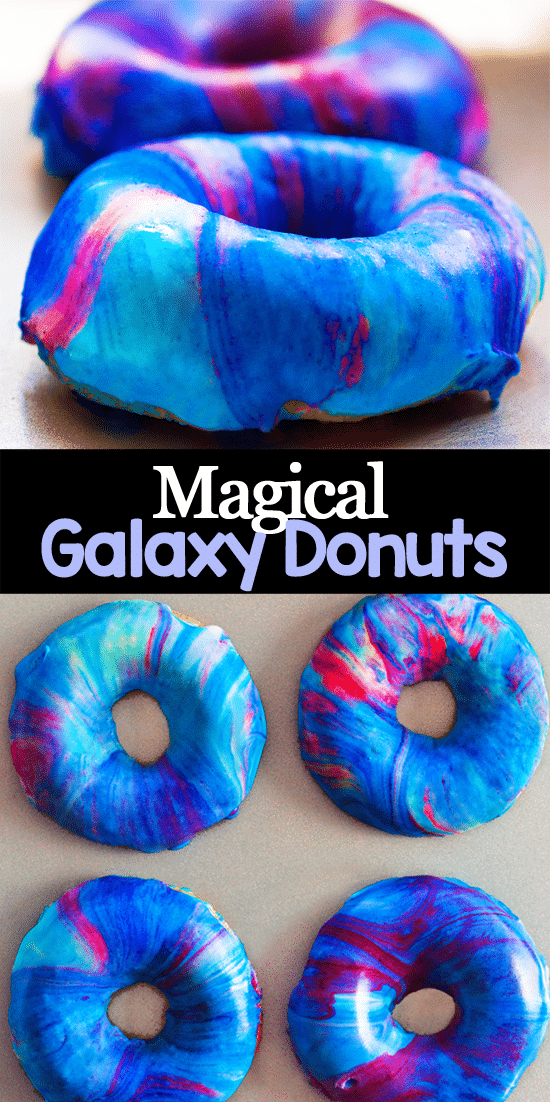 Galaxy Donuts
These baked galaxy donuts are a kid friendly breakfast recipe that is so much fun to make!
Yield
6
donuts, or 20 mini donuts
Ingredients
1/4

cup

water

1

tsp

white or cider vinegar

1/2

tsp

pure vanilla extract

3 1/2

tbsp

oil,

or applesauce or mashed banana for fat-free

1/3

cup

pure maple syrup or agave

(here's a sugar free donut recipe)

1

cup

flour, loosely packed

1

tsp

baking powder

1/4

tsp

salt

galaxy glaze

(see above)
Instructions
Whisk all liquid ingredients. Grease a donut pan or a mini muffin pan, and preheat the oven to 350 F. Add dry ingredients to a bowl. Once oven is preheated, stir wet into dry (don't overmix). Smooth batter into the pan. Bake 9 minutes or until donuts are cooked through. Let sit about 5 minutes before popping out of the pan. To frost the donuts, see "How to make the galaxy glaze" written out above in the post.View Nutrition Facts
Notes
The recipe works with white, all purpose, spelt, oat, or bob's gf all purpose flour. I have not tried almond flour, coconut flour, or whole wheat flour. Feel free to experiment with other flours at your own risk.
Be sure to also try these Vegan Chocolate Chip Cookies
Kid Friendly Breakfast Ideas