These soft, sweet, and secretly healthy Auntie Anne's pretzels are just as delicious as the ones you can get at the mall!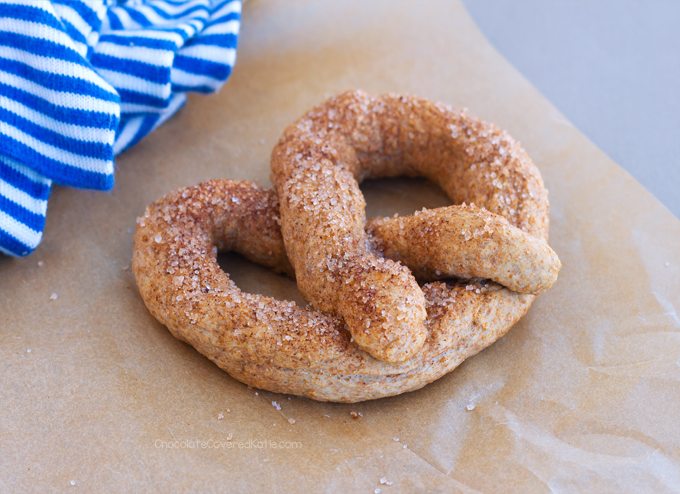 I still remember my first Auntie Anne's pretzel.
It was in West Chester, Pennsylvania, when I was eight years old. The little shop smelled like cinnamon sugar as soon as you walked in, and a friendly lady in a striped apron smiled across the counter as she quickly and skillfully twisted long strips of dough into perfect pretzel shapes. For a while, I thought she was the actual Auntie Anne, and I dreamed about growing up and working in that shop, smelling cinnamon all day, as I learned to roll perfect pretzels.
Last weekend, Auntie Anne's came to my own kitchen. This was my first time making soft pretzels, but I adapted a base recipe I already knew would yield a successful dough: my recipe for Pumpkin Cinnamon Rolls.
All in all, these homemade Auntie Anne's pretzels were much easier to make than I'd anticipated.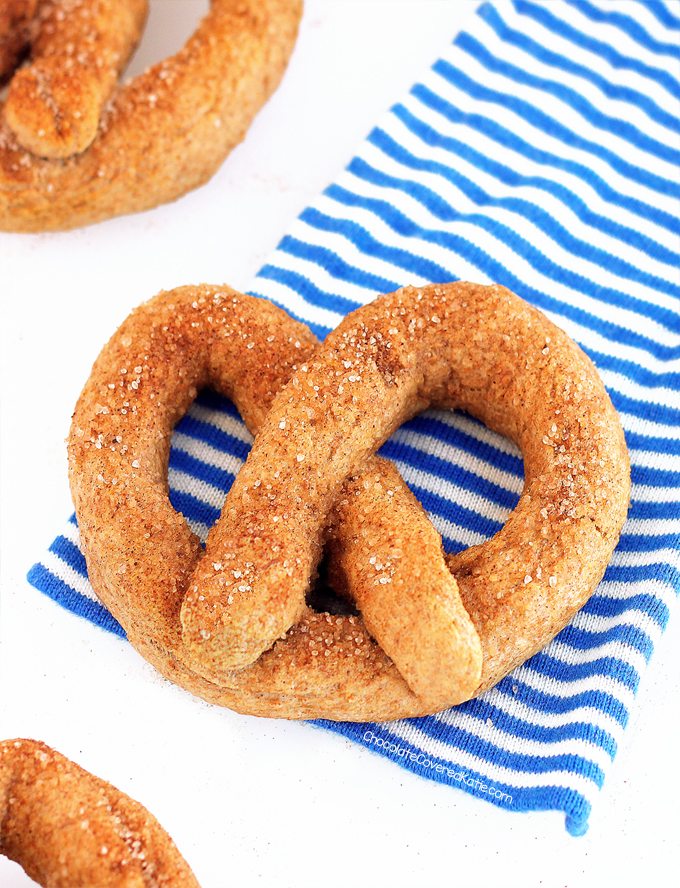 Healthy Auntie Anne's Pretzels
(Auntie Katie's soft pretzels)
1 cup milk of choice
1 tsp agave or honey or sugar
1 tbsp yeast
2 1/2 cups ww or white flour, or a combination of the two
1 tsp salt
2 tbsp brown sugar or coconut sugar
2 tbsp butter spread, such as Earth Balance OR firm coconut oil
1/3 cup baking soda
Extra flour as needed
In a measuring cup, heat the first two ingredients to around 110 degrees F. (Mine reached this point after 1 minute in the microwave.) Sprinkle the yeast on top, then let it sit 5 minutes. If your yeast is good, it will bubble up. Meanwhile, in a large bowl, stir together the flour, salt, and the 2 tbsp sugar. (Do not use xylitol here.) Cut in the butter spread (or oil), using a fork or stand mixer. Combine with the yeast mixture, using your hands or stand mixer, until well-combined, then knead on a floured surface or in the bowl for 5 minutes, adding more flour as needed to keep it from being too sticky to knead. (I mixed the dough in the bowl and added a total of 6 extra tbsp flour by the end of the 5 minutes.)
Lightly grease the mixing bowl, then set the dough in the bowl, cover the bowl with a towel, and put in a warm place (such as an oven on "bread proof") for 50-60 minutes or until it has doubled in size. Preheat oven to 350 F and lightly grease a baking tray. In a long and shallow dish or container, dissolve the baking soda in 3 cups warm water. Set aside. Now get out your risen dough: punch dough to deflate, then form evenly-sized pieces (6 for large pretzels, 12 for smaller ones). Roll each section as thinly as you possibly can (seriously, the thinner the better), then twist into a pretzel shape. Dip into the baking soda, shake to dry, then arrange pretzels on the baking tray. Baking time will vary, depending on whether you're using whole-wheat flour or all-purpose, but homemade Auntie Anne's pretzels are done when they have turned golden-brown and you can smell them (15-18 minutes). Scroll down for flavors.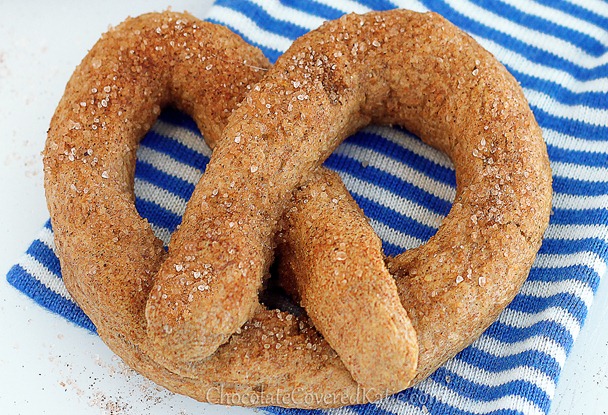 Homemade Auntie Anne's Soft Pretzel Flavors:
Cinnamon Sugar Pretzels: melt some of your favorite butter-type spread or coconut oil in a shallow dish, then dip the hot pretzels into the spread. (For a fat-free version, you can spray them with oil spray instead. They just won't be anywhere near as rich and buttery!) Immediately dip into a mixture of cinnamon and sugar (or xylitol).
Salted Soft Pretzels: sprinkle pretzels with coarse salt before baking
Coconut Pretzels: dip each pretzel in melted coconut butter. Sprinkle shredded coconut over top.
Homemade Soft Pretzel Dip Ideas: dip pretzels in ranch dressing, maple-mustard dressing (combine mustard with pure maple syrup), or even peanut sauce or a nutritional-yeast cheese sauce.
That's not to say I have anything against the real Auntie Anne's. Their soft pretzels are certainly not the worst snack you can get at a mall food court! And if you ask them to hold the butter, the following Auntie Anne's pretzels are actually vegan: Original, Cinnamon Sugar, Almond, Garlic, Jalapeño, and Raisin. If you are a super-strict vegan, you'll want to skip the pretzels due to the processed sugar. (It's a personal choice; my goal with my veganism is to present the lifestyle as do-able, fun, and easy, not to show that I'm getting bogged down with tiny details like processed sugar. I feel that would just turn more people off to the lifestyle, which is opposite of my goal. So when I'm out with friends, I jump at the chance to eat "normal" food when we all stop at the mall food court.)
Link Of The Day: