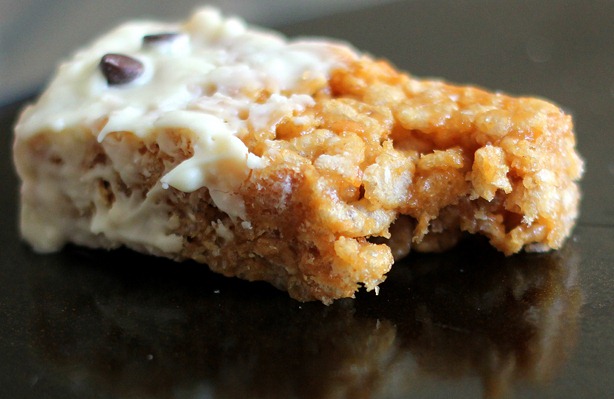 With no corn syrup and no sugar-filled marshmallows in the recipe, these peanut butter rice krispy treats are a not-so-spooky snack you can feel good about making this Halloween!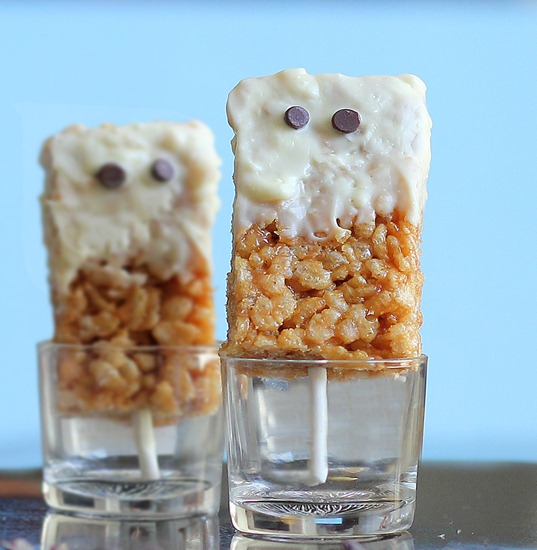 Rice Krispies Treat Ghosts! Sweet, sticky, salty, and scary delicious.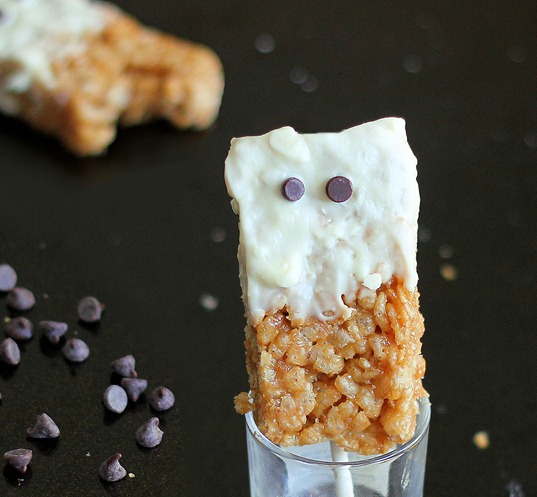 Complete with little chocolate chip eyeballs. I consumed many eyeballs in the process of making these peanut buttery treats. 😕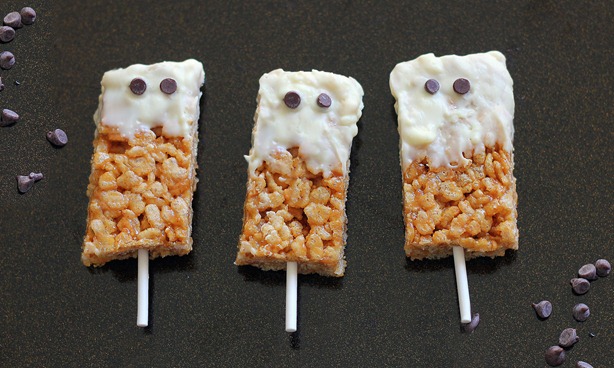 Spooky Rice Krispies Treats
(Makes 12-16 squares)
Adapted from Homemade Rice Crispy Treats
3 cups rice crispies (regular, gf, or brown) (90g)
2 tsp pure vanilla extract
1/2 tsp salt (I used salted pb, too)
1/2 cup plus 2 tbsp peanut butter (or another nut butter, or sunbutter) (140g)
1/2 cup sticky sweetener ( (I used agave. Honey will work, but not for strict vegans. Brown rice syrup will also work, but it's not as sweet so you might want to add a little more.)
melted coconut butter or white chocolate (You can find vegan white chocolate online… I'm also working on a homemade recipe that is almost ready to post. Stay tuned.)
popsicle sticks or skewers (optional)
mini chocolate chips for the eyes (plus extras to eat while you work!)
Mix your nut butter, sweetener, and salt. Melt (either in the microwave or stove) until it can be stirred into a lump-free paste, then add the vanilla extract and pour over the cereal. Stir very well, making sure to coat all the crispies. Line a pan (8×8) with wax paper and spread the mixture evenly into the pan. Place a sheet of wax paper on top of the mixture, then press down as firmly as you can. Really press it down, and use a can or book to press even more firmly! Freeze for at least 30 minutes before slicing, then insert popsicle sticks if desired. These treats can be stored in the freezer, in the fridge, or loosely covered in a cool, dry place.
View Rice Krispies Treats Nutrition Facts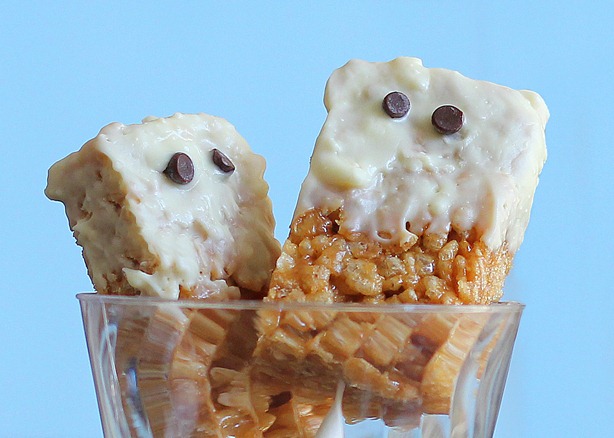 And another post-bite picture: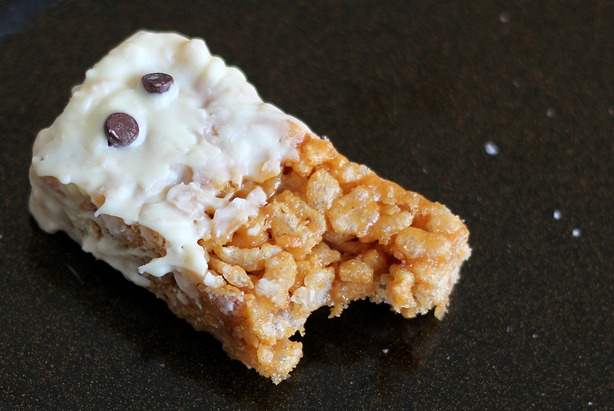 Do you like ghost stories or scary movies?
When I was in Girl Scouts, one of my favorite parts of our camping trips was sitting around the fire and telling ghost stories. (My other favorite part was sneaking bites of the plain Hershey's bars when we were supposed to be making s'mores. Burnt marshmallows are overrated.)
I've also watched Casper more times than I can count. But I scare easily and much prefer funny ghost stories to terrifying ones like The Shining or The Ring.
Link Of The Day: