These bite-sized 3 ingredient peanut butter balls are completely addictive!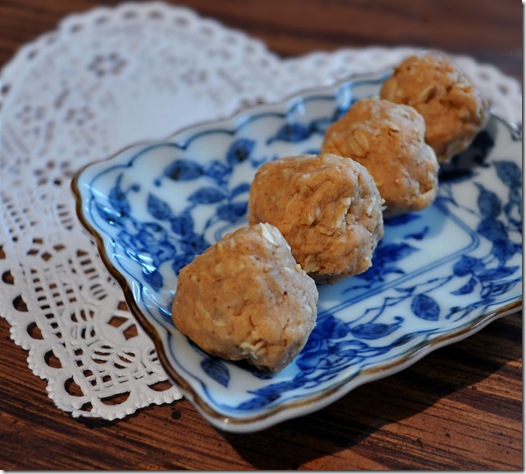 Happy Monday, chocolate sprinkles!
Happy Monday? Meh, who likes Mondays? Not me. Not during the school year, anyway. But you know what can turn even a Monday into a funday? Sweet treats! And the treats I'm offering today have only two to three ingredients, which means chasing away the Monday blues has never been easier… or more delicious.
So here we go; it's finally time to add another recipe to my 100+ Oatmeal Recipes.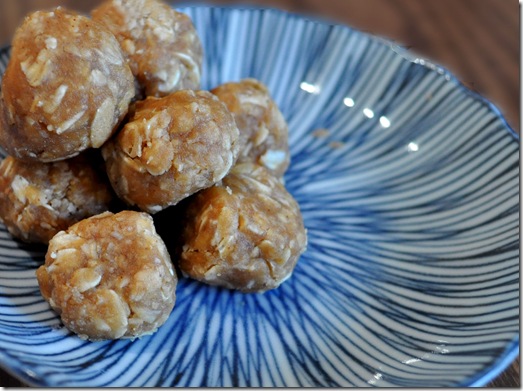 Did you have a favorite snack as a kid?  One of my sister's and mine was something known as Honey Milk Balls. Here's my healthier veganized version (which are also healthier, although even the original honey milk balls are somewhat healthy).
3 Ingredient Peanut Butter Balls
Very scant 2 tbsp oats or oat bran (12g)
2 tbsp peanut butter OR allergy-friendly alternative (30g)
Optional, depending on the sweetness of your nut butter: 1-2 tsp agave or a few stevia drops (plus a few tsp water if needed).
Directions: First measure the oats into a bowl and crush them a bit (with your hands, a fork, or even the Magic Bullet). Then add the pnb and optional sweetener. If you take the pb straight from the fridge, you might want to microwave 20-30 seconds (or just leave the pb out for a bit so it gets soft enough to mix). Mix well, then form into balls… or eat the dough! The recipe makes a very small amount (shown above).
Obviously you can double, triple, or even centuple (that's 100 times) the recipe. Variation ideas are listed below.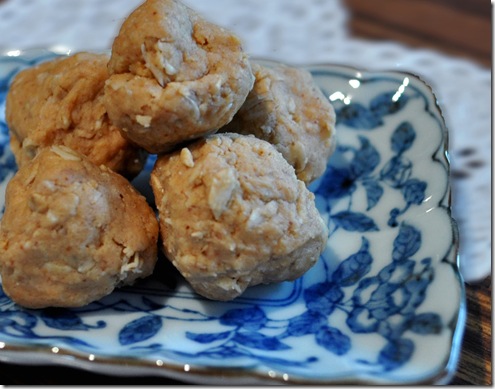 They're high in protein, fiber, and—most importantly—taste!
Variation ideas:
Melt chocolate with your pb, or add nibs or chips
Add flakes of coconut, and/or chopped, dried fruit
Put in some jelly for pb&j balls
Add spices, such as cinnamon
Try using wheat germ, or perhaps even crushed flaxseeds, in place of the oats
I'm thinking these 3 ingredient peanut butter balls would be really yummy with some Mighty Maple peanut butter. But I don't happen to have any at the moment… and I probably shouldn't buy a jar until I finish off at least one of the many other nut butters taking over my home. Observe: