Whimsical unicorn strawberries – in every color of the rainbow.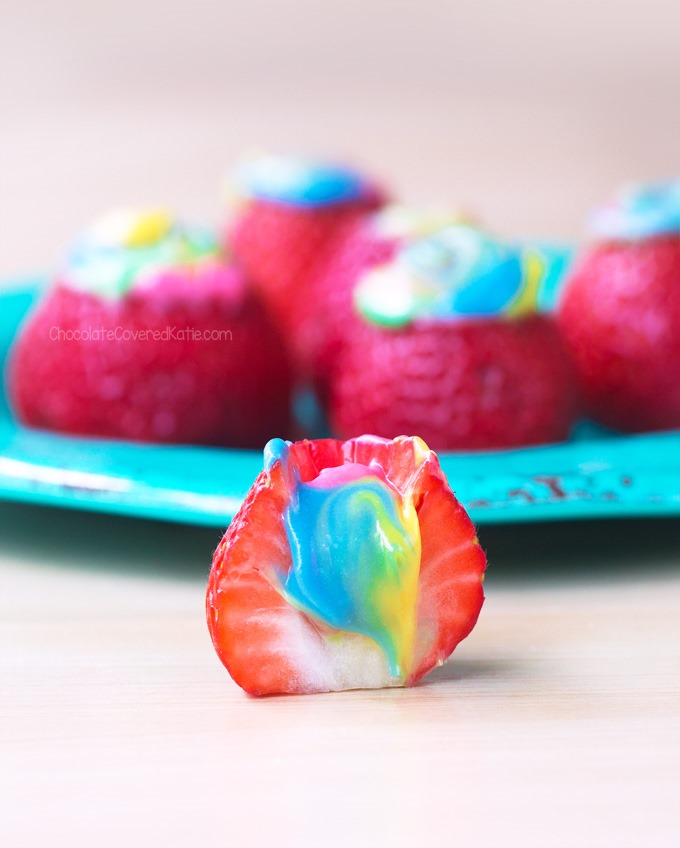 Every time I come across a recipe for unicorn anything, whether it be unicorn cookies, or unicorn lattes, or Unicorn Cheesecake Bars, I find it impossible to not get swept up in the fairytale magic.

Hopefully these rainbow strawberries can put a smile on your face as well.
They're a fun and healthy snack that can be enjoyed by kids and adults of all ages; and the beautiful rainbow colors can be achieved without using any food coloring at all.
As if by magic…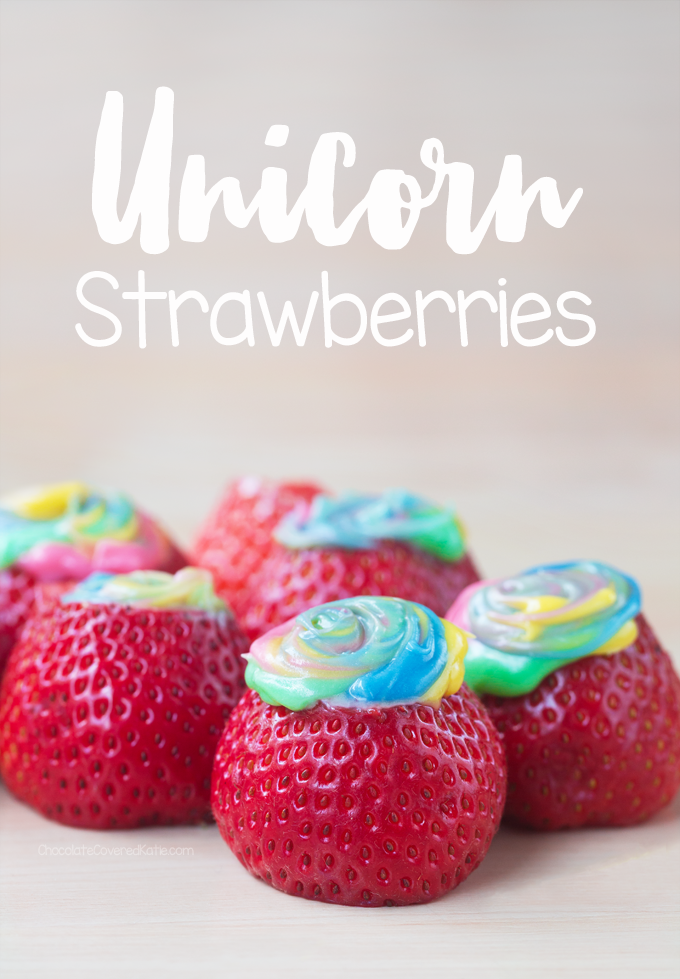 You have multiple options for the filling:
The first option is to simply use your favorite vanilla frosting.
Option two is to fill the berries with my Rainbow Unicorn Dip recipe.
The third option is written out below.
No matter which option you use, follow the same steps by dividing the base into small bowls, stirring a different color into each, then swirling everything together and either spooning the filling into the strawberries or piping it through ziplocs or icing bags.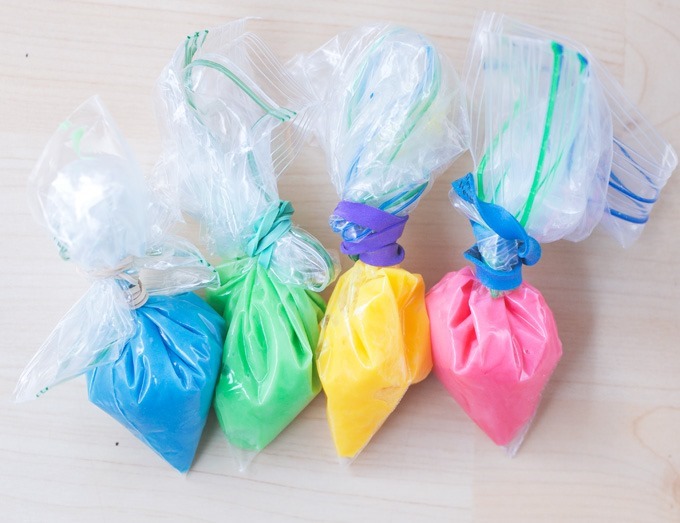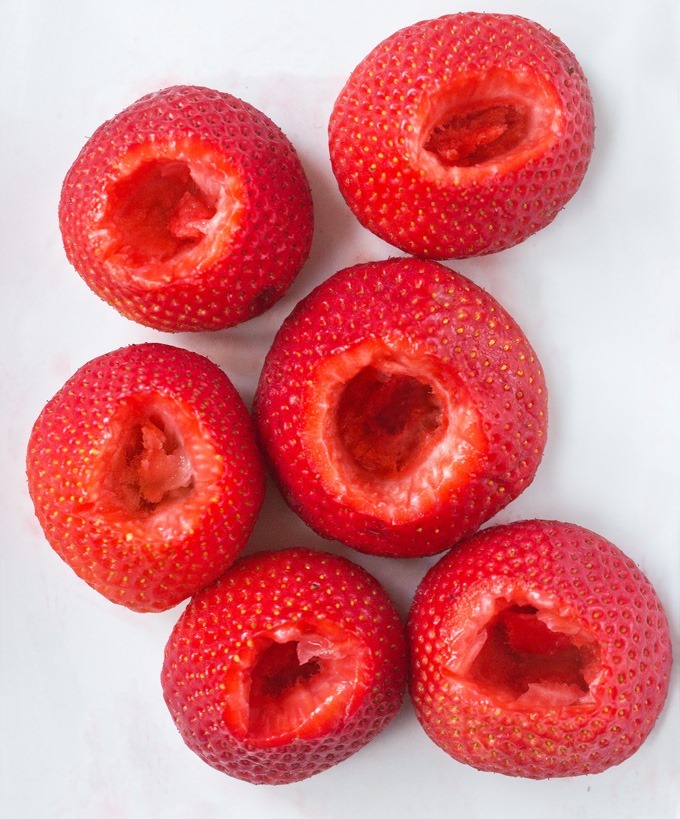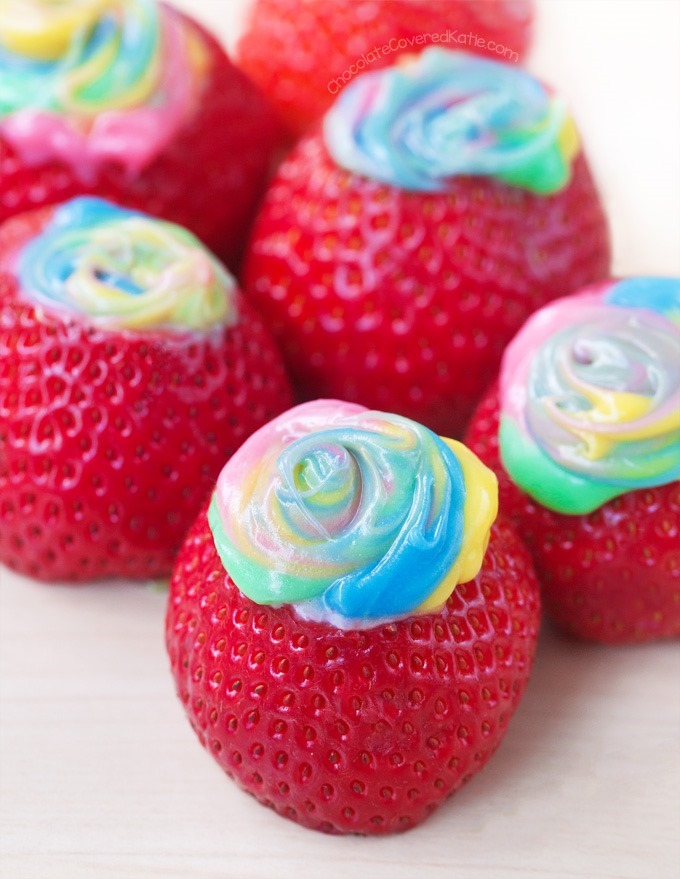 I'm dedicating this post to one of my best friends.
A few years ago, when he was going through a hard time and I asked if there was anything I could do for him, he facetiously replied that he wanted a unicorn.

Undeterred, I went to Target and found Sparkles The Unicorn.
For the next two weeks, I took iphone pictures of Sparkles around the apartment: Sparkles doing the dishes, Sparkles watching television, Sparkles eating ice cream… and I would send the pictures to my friend as proof of Sparkles' existence before finally giving the stuffed animal over to live with him for good.
(Yes, I am easily entertained.)


Unicorn Strawberries
How To Make Unicorn Strawberries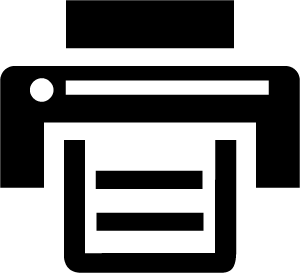 Print This Recipe
[mrp_rating_result show_count="false" show_rich_snippets="false"]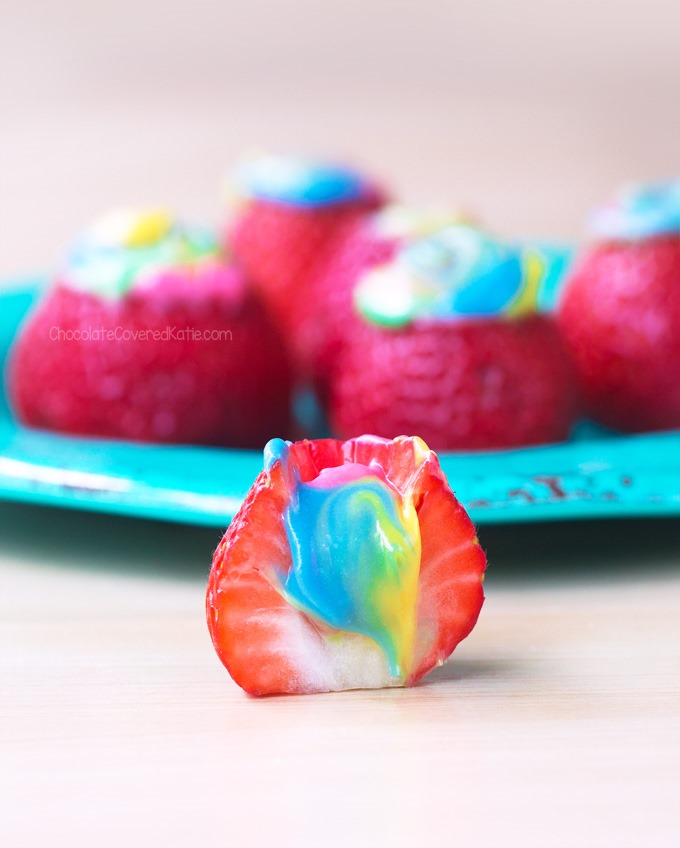 Ingredients
1 can coconut cream (Coconut-free filling options listed earlier in the post)
3-4 tbsp unrefined sugar, or stevia as desired
food coloring OR a pinch turmeric, acai powder, spirulina, and blue spirulina
fresh strawberries
Instructions
Cut off the stems of the strawberries, then hollow out the centers. Cut a little off the other sides as well, so they will sit upright. Beat the coconut cream and sweetener until stiff peaks form. Divide among four or five little dishes and stir a different color into each, leaving one white if desired. (Be very light-handed if using spirulina and turmeric, as these flavors are quite strong and a little goes a long way.) Either pipe the filling through ziplocs or icing bags OR swirl all colors together and simply spoon it into the berries. Serve immediately.
Trending Right Now: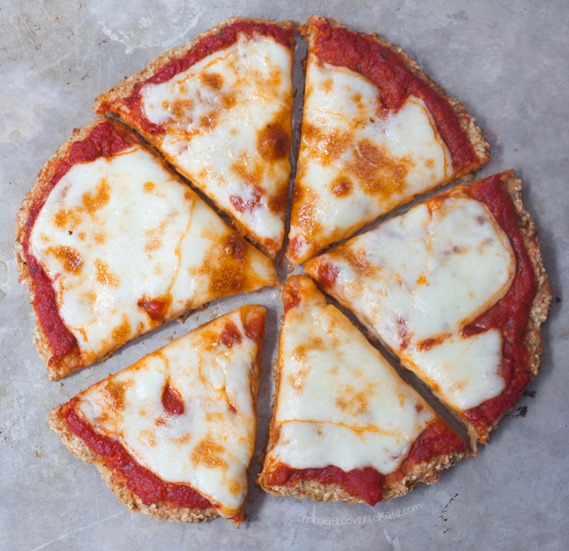 A simple cauliflower pizza crust recipe, made without eggs, dairy, or flour.