Hi chocolate pizza pies!
I always marvel how my posts involving peanut butter are much more popular than the others. They even seem to be more popular than my posts involving chocolate. You people need to sort out your priorities! Chocolate should always come first.
Still, I'm glad you liked the Peanut Butter Frosting post. Today's post involves peanut butter too. But more importantly, it involves the power couple: cinnamon and raisin. Some things are made for each other. Chocolate and raspberry, peanut butter and jelly, Brad Pitt and Jennifer Aniston. Hmmm, scratch that last one.
The marriage of cinnamon and raisins is guaranteed to last forever. If you need proof, just take a look at the snack I ate yesterday afternoon: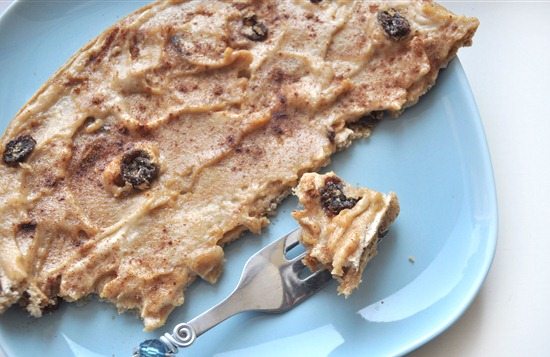 The cinnamon-raisin breakfast pizzert. I added both to the wet mix, then added more cinnamon after it emerged from the oven.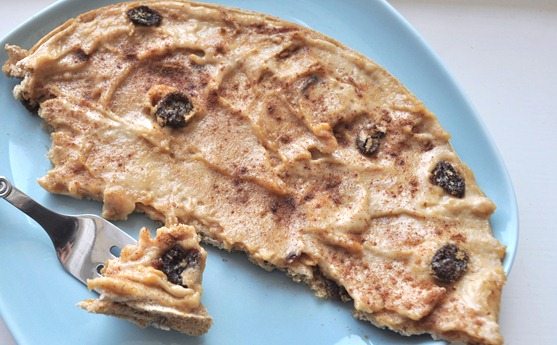 Cinnamon Raisin Breakfast Pizzert
Serves 1-2
1/2 cup spelt or white flour (or click for a Gluten-Free Version.) (70g)
1 tsp baking powder
1/16 tsp uncut stevia OR 2 tbsp sugar of choice
1/3 cup plus 1.5 tbsp water, juice, or milk of choice
2 tbsp (35g) applesauce or melted coconut oil (or veg oil, mashed banana, or even baby food!)
1/8 tsp salt
1/4 tsp cinnamon
1/4 cup raisins
Mix everything together and pour the batter into a greased pan. Grease very well so the pizzert doesn't stick to the pan! Cook in an UNpreheated oven set to 420 F, for 10 minutes or until a toothpick comes out clean. Frost with peanut butter or healthy peanut butter frosting if desired.
View Breakfast Pizza Nutrition Information