Crispety, crunchety, peanut buttery homemade & healthy Butterfingers!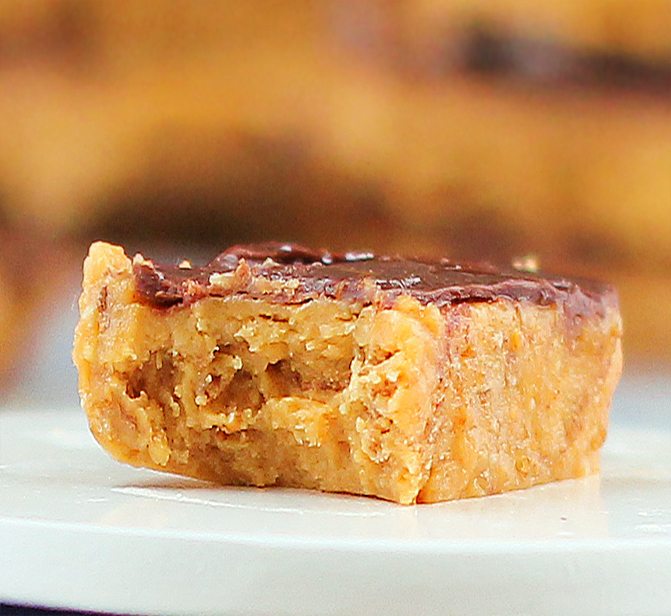 Candy bars that defy all logic.
The homemade Butterfingers have that exact same toffee-like crunch of store-bought Butterfinger bars… yet these are whole-grain, high in iron, and completely free of high-fructose corn syrup.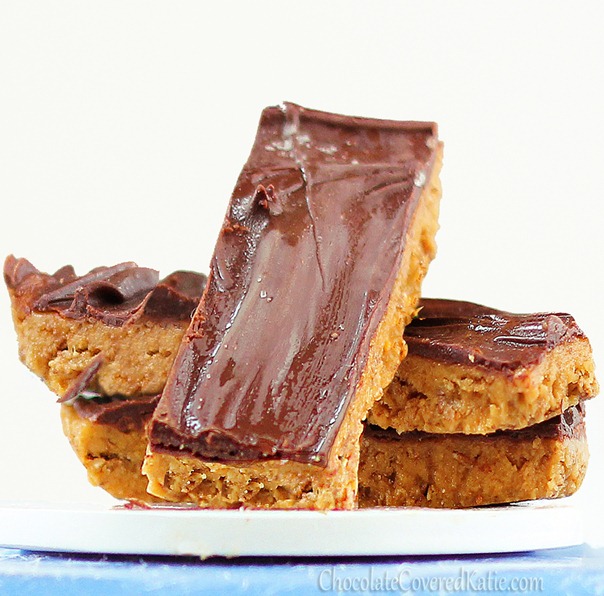 The inspiration for these healthy butterfingers came from a dollar-bin book I saw at the fabric store.

The book recipe, which yielded an 8×8 pan, just like mine, called for 1 cup of sugar, 3/4 cup corn syrup, and 1/3 cup shortening.
Yes, 3/4 cup of corn syrup in addition to the cup of sugar…
It was basically screaming for a healthy makeover!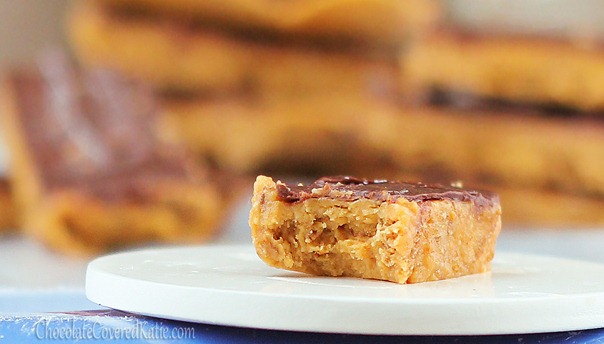 Screaming so loudly that I had to get to work on the challenge as soon as I got home.
We used to play the quiet game when I was little, and I'd always lose.
Unless I tickled my sister, and then she'd lose.
Fair shmare.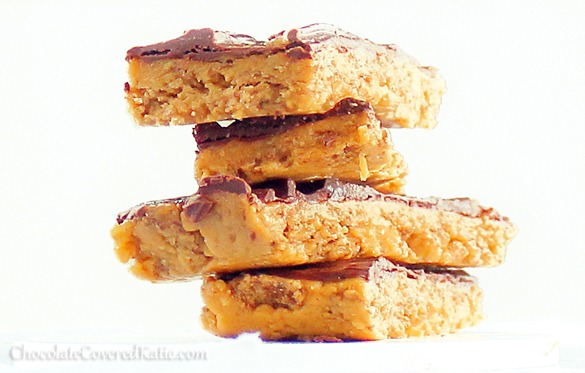 Did you ever play the Quiet Game?
If you've never heard of it: The basic idea is for everyone to be completely silent, and the first person to break the silence loses. Parents often tell their kids to play the game as a ruse to calm the kids down. But whenever we played, it ended up with the opposite effect.
I remember one occasion, at a very fancy restaurant, where my dad was making monkey faces at us to get my sister and me to crack first.
Finally, my embarrassed mom sent all three of us outside!



Healthy Butterfingers
Healthy Butterfingers!
Print This Recipe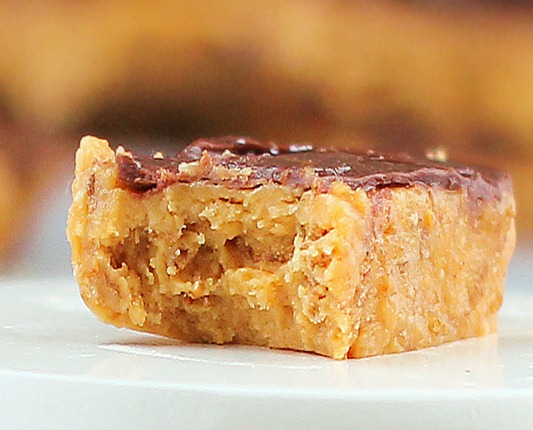 Ingredients
1/4 cup agave (Honey works, but it's not for strict vegans and will also add a slight honey flavor. Corn syrup will also work, and commenters have said brown rice syrup or pure maple syrup work as well.) (60g)
1 tbsp molasses (regular, or blackstrap for bars high in iron. Or omit and increase agave to 1/3 cup. The taste will be slightly less authentic without the molasses.) (15g)
3 1/2 tbsp xylitol or sugar, or evaporated cane juice (40g) (Texture will be a little less toffee-like, but still just as delicious, if using xylitol.)
1 cup peanut butter (crunchy or creamy) (225g) (Almond or cashew butter will work; the flavor just won't be as close to that of the popular candy bar.)
1 1/2 cups bran flakes (or cornflakes or another flake cereal) (56g)
1/8 tsp salt (plus a little extra if using unsalted peanut butter)
optional topping: 2/3 cup chocolate chips or 1/4 cup virgin coconut oil mixed with 1/4 cup cocoa powder and vanilla stevia drops or liquid sweetener to taste
Instructions
Homemade Butterfingers Recipe: Combine first three ingredients in a small saucepan, and bring to a boil on medium heat. Boil about a minute, stirring constantly, then remove from heat. Add the peanut butter and salt, and stir until it makes a paste. Add the cereal and stir very well to coat, partially crushing the cereal flakes as you stir. Make sure the flakes are very evenly coated. Press into an 8×8 pan—either lined with wax or parchment paper, or greased very well—and freeze until completely hardened. (Cut into bars while only somewhat frozen, or thaw the block a little before cutting.) If you wish to cover in chocolate (they're good even without it), you can cover them at any time—either pre-cutting or post-cutting. Simply melt the chocolate chips over low heat, stirring constantly until smooth, or mix the coconut oil with the sweetener and cocoa. Then spread over the bars with a spatula and re-freeze to harden. Store in the freezer for optimum "snap." Makes 12-16 "betterfinger" bars.
Link Of The Day:

No Bake Chocolate Recipes – 50 Healthy Treats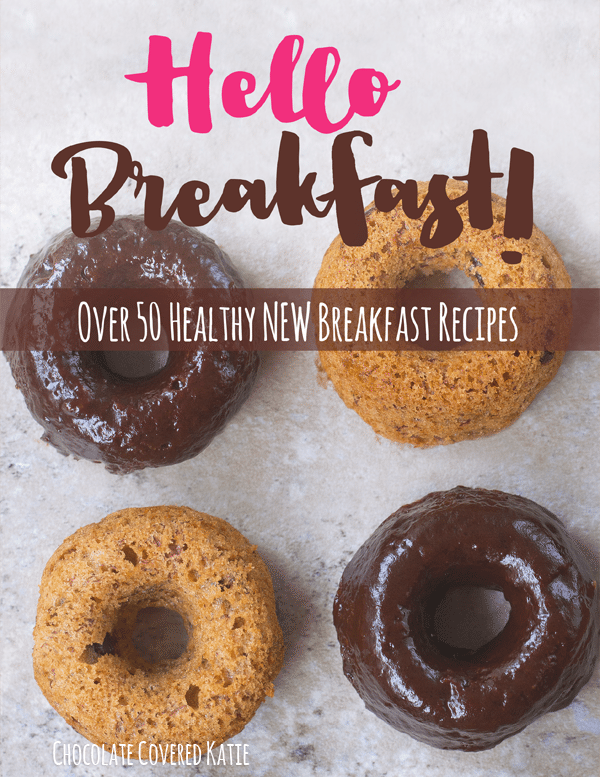 Just Released – Katie's brand new cookbook: