An irresistibly light and moist zucchini cake – with a full cup of zucchini packed into the recipe!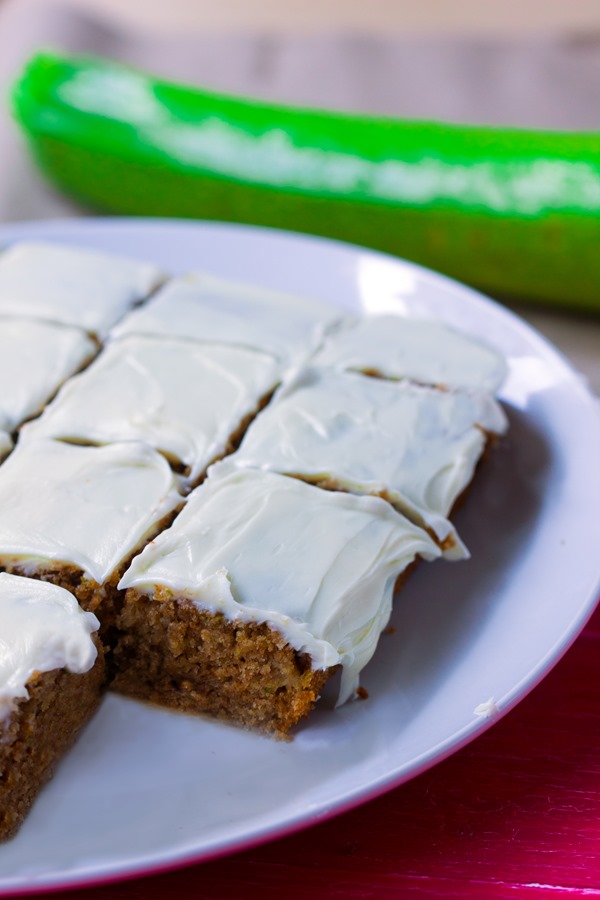 Hello, zucchini season!!!
Lately, the zucchini just looks so good when I'm grocery shopping that somehow it always makes its way into my cart. And then when I get it home, I have to figure out what to do with it all! This past week, I've made sautéed zucchini, grilled zucchini, zucchini fritters, zucchini burgers, zucchini bread, and my all-time favorite Chocolate Zucchini Brownies (highly recommended if you haven't tried them yet!).
Yet somehow, I still had zucchini left after all of that.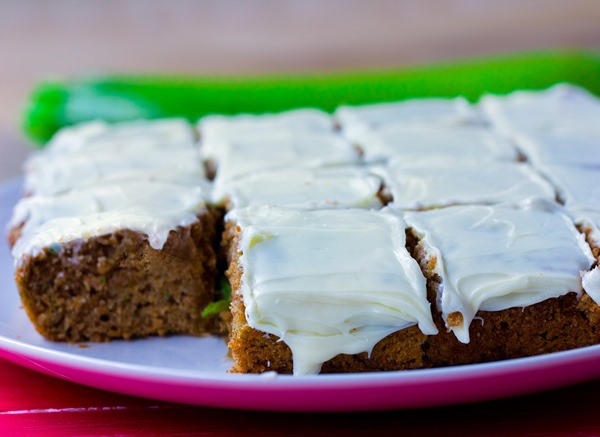 Frosted with homemade Greek yogurt frosting, this light zucchini cake is the perfect summer treat.
You can add raisins, walnuts, and/or shredded coconut if you wish; but it's also quite delicious without any optional ingredients or frosting.
This zucchini cake recipe is one of my go-to recipes for any summer party, since everyone seems to go crazy for zucchini in the summertime. You can easily leave it out a few hours without refrigeration, making the recipe an ideal choice whenever you're asked to bring dessert.
For easier transportation, I like to quickly frost and slice the cake after arriving at my destination.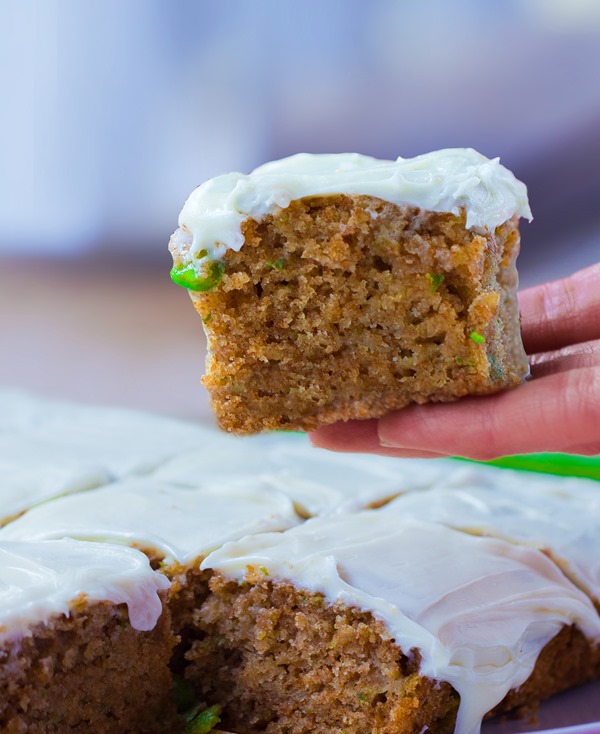 And now I've finally run out of zucchini.
I need to go buy some more…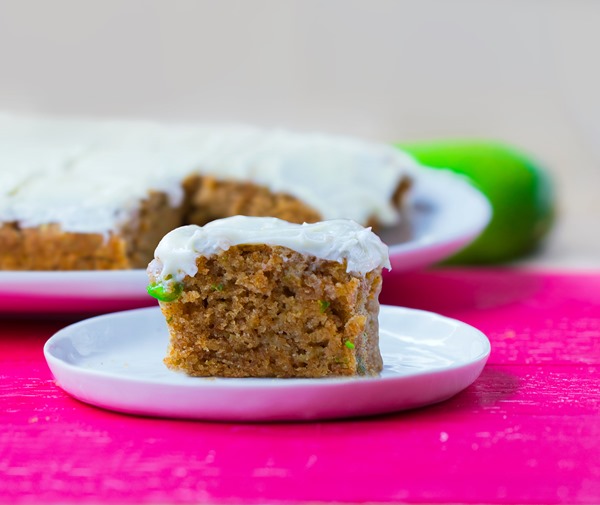 Moist Zucchini Cake
Adapted from Chocolate Chip Zucchini Muffins
Moist Zucchini Cake – With Greek Yogurt Frosting
Print This Recipe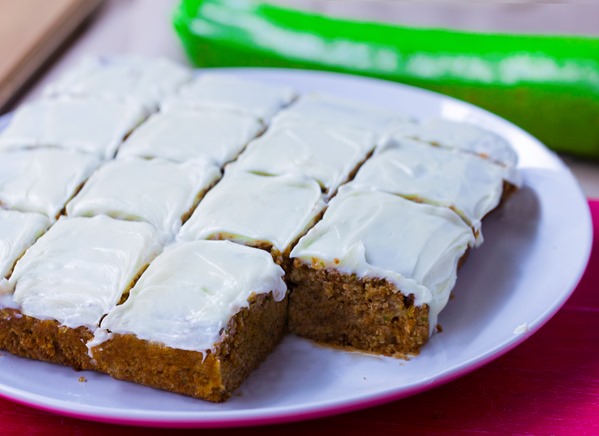 Ingredients
1 cup finely grated zucchini, loosely packed (200g)
1/2 cup applesauce (120g)
1/3 cup oil (Replace with more applesauce only if you don't mind the gummy texture of fat-free baked goods.) (70g)
1 1/2 tsp white or apple cider vinegar (7g)
1 1/2 tsp pure vanilla extract (6g)
1 1/2 cups spelt or all-purpose or Bob's gf flour (180g)
1/2 tsp baking soda
3/4 tsp salt
1/2 tsp cinnamon
1/3 cup sugar of choice or xylitol (65g)
1/16 tsp uncut stevia OR 2 tbsp additional sugar
1/3 cup mini chocolate chips or raisins, optional
1/4 cup finely chopped walnuts, optional
1/2 cup shredded coconut, optional
Instructions
Preheat your oven to 350 F and line an 8-inch square pan with parchment paper. In a mixing bowl, whisk together the first 5 ingredients and let sit at least 10 minutes (or you can refrigerate overnight). In a separate bowl, stir together all remaining ingredients. Pour wet into dry, and stir until just combined. Don't overmix. Pour into the 8-inch pan and smooth down evenly. Bake 30 minutes or until a toothpick inserted into the center of the cake comes out clean. The cake tastes sweeter and has a better texture the day after it is made, and leftovers can be stored in the fridge for 3-4 days or sliced and frozen. I frosted the cake with 1/2 cup of my cream cheese frosting recipe, linked under the second photo of this post. If using a preservative-free frosting such as the one I used, it's best to frost just before serving.
Link Of The Day: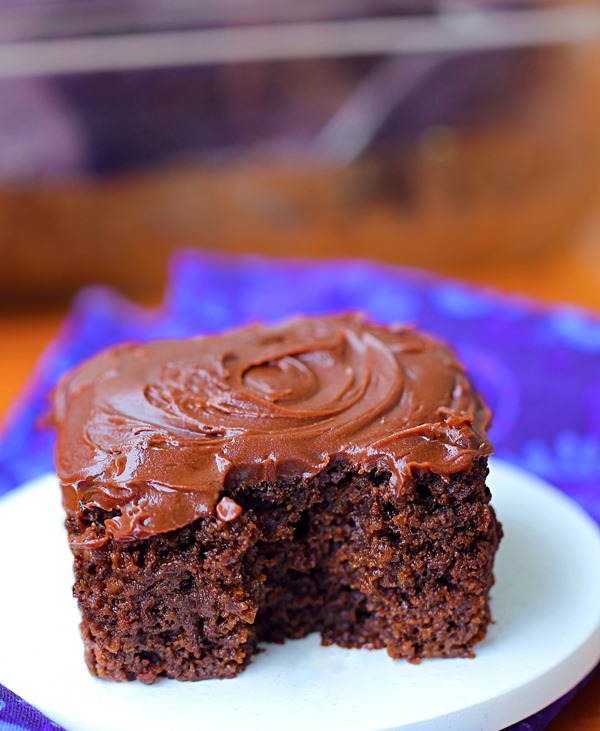 100 Calorie Chocolate Cake     {Oil-free + healthy chocolate cake recipe}