Rich, moist, and ultra fudgy, this homemade chocolate zucchini bread recipe is perfect for a healthy breakfast or delicious dessert!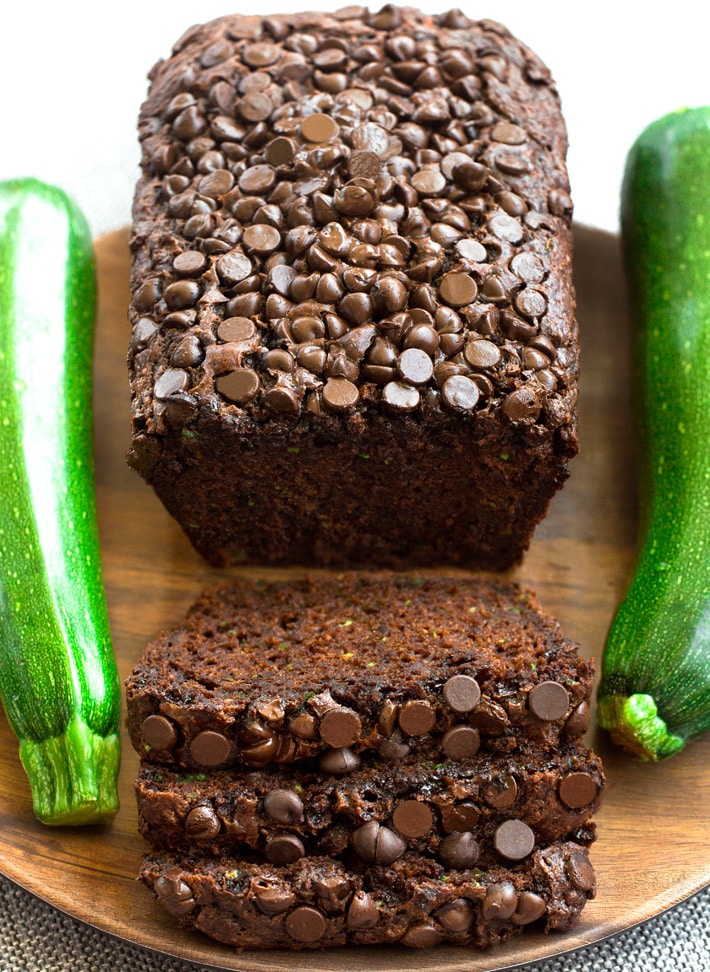 Healthy chocolate zucchini loaf
This super easy chocolate zucchini bread packs in over a full cup of zucchini.
Sneaking the nutrition powerhouse zucchini into the recipe adds an incredible amount of softness and moisture, without all the extra fat and calories.
The chocolate loaf cake can be whole grain, vegan, gluten free, low fat, and egg free, with an out-of-this-world bold chocolate flavor!
Readers also love this Healthy Banana Bread
Above: Watch the video how to make chocolate zucchini bread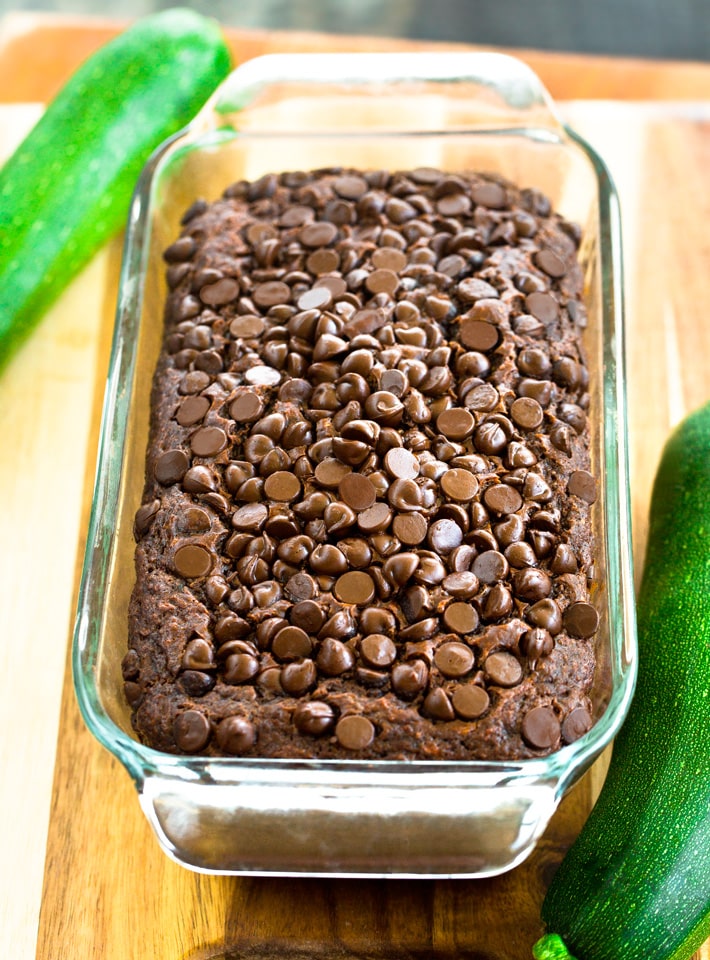 Add ins and topping ideas
Try stirring in a handful of crushed walnuts or almonds, toasted hazelnuts, roasted pecans, or shredded coconut with the dry ingredients.
Or add half a cup of finely chopped dates, pumpkin seeds, or chocolate chips.
After baking, spread slices with Homemade Nutella or almond butter, coconut butter, apple or pumpkin butter, cream cheese, or a sprinkle of powdered sugar.
The skinny chocolate zucchini bread is rich and sweet enough that you can easily serve it unfrosted if you prefer.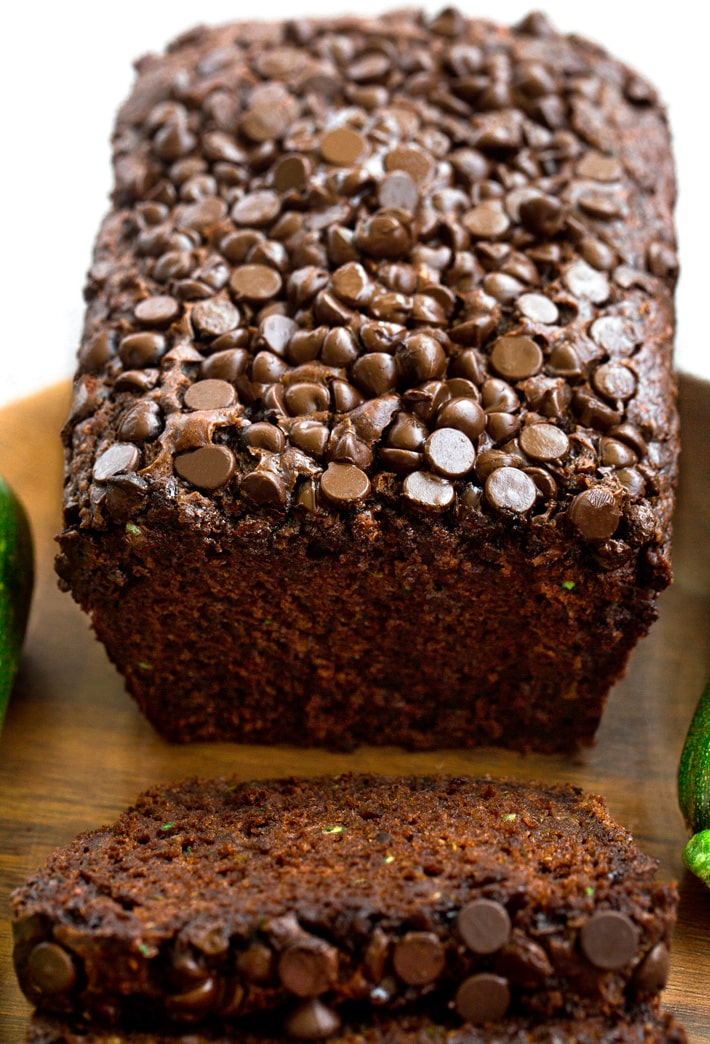 Death by chocolate zucchini cake
This is a really great way to use up extra zucchini.
The chocolate zucchini quick bread makes an amazing healthy dessert, perhaps with a side of Keto Ice Cream, or Coconut Ice Cream, or even Banana Ice Cream.
It's also healthy enough for a filling breakfast packed with wholesome nutrition.
The absolute best part about this easy zucchini recipe is that it honestly tastes like actual chocolate cake!
The recipe was adapted from these Zucchini Brownies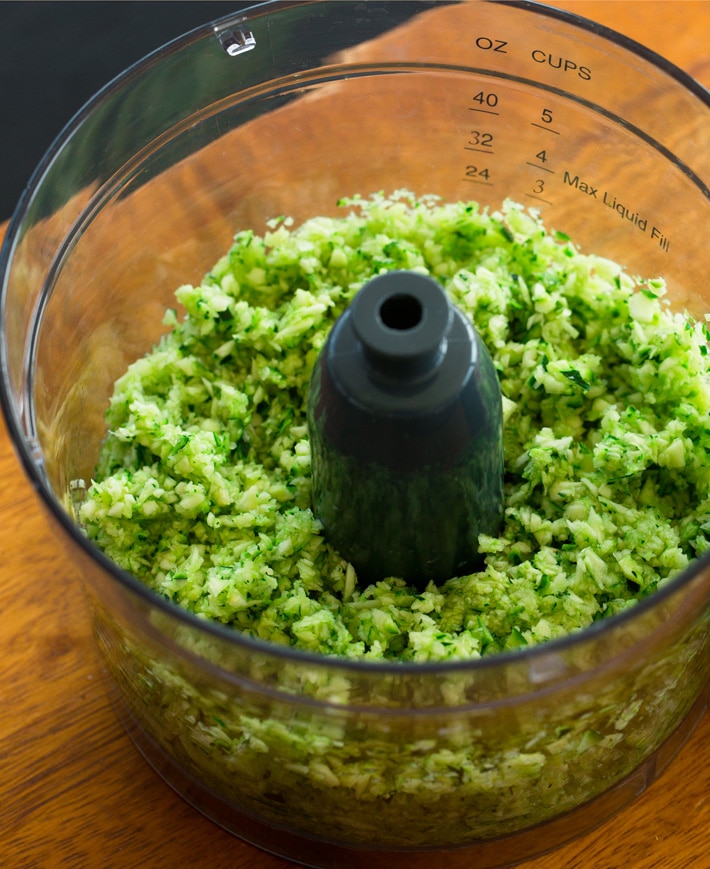 How to make zucchini bread
Wash the zucchini, and cut off the edges. I find it easiest to grate zucchini by pulsing it in the food processor. You can shred it by hand with a box grater if you prefer.
Preheat the oven to 350 degrees Fahrenheit. Grease a 9×5 loaf pan, then set it aside.
Stir all of the dry ingredients in a large mixing bowl until evenly mixed. Add the wet ingredients, including the shredded zucchini, and stir to form a batter.
Smooth the chocolate batter into the prepared loaf pan, using a spoon or spatula. Press some extra chocolate chips into the top if you wish.
Bake the bread on the oven's center rack for 55 minutes, then insert a toothpick into the center of the chocolate zucchini cake. If the toothpick comes out mostly clean, remove the baking pan from the oven.
Let cool completely. Then very loosely cover, allowing an opening for excess moisture to escape. If you can wait, I highly recommend letting the recipe sit a day before slicing, because the texture is better and the taste is so much richer!
After a day, store leftovers in the refrigerator for freshness. You can also slice and freeze leftover zucchini bread to have on hand for a quick breakfast in the future.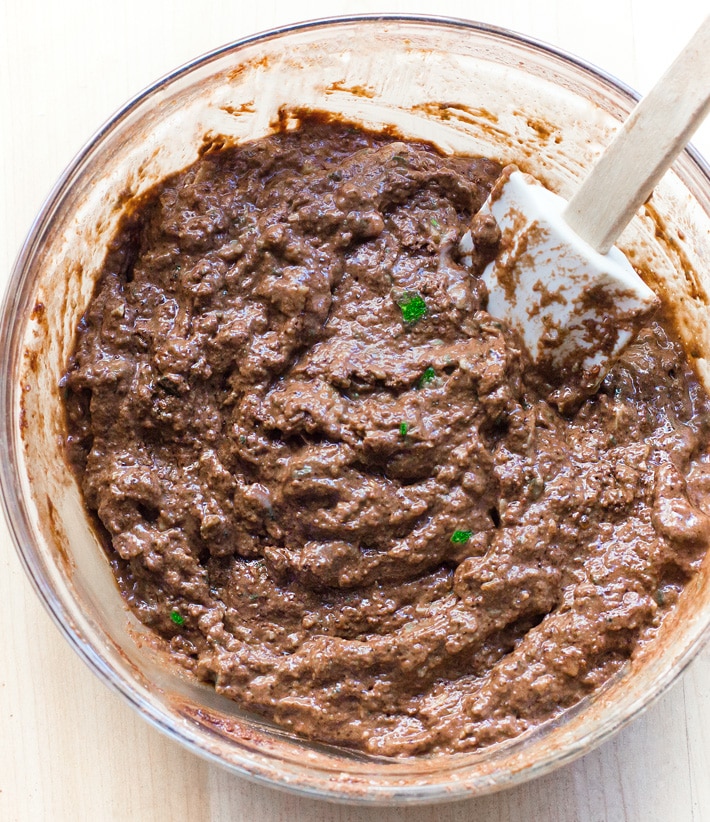 Chocolate zucchini bread ingredients
The recipe calls for flour, cocoa powder, baking powder, baking soda, salt, sugar, yogurt, eggs or flax eggs, oil, pure vanilla extract, and finely grated zucchini.
Use spelt, oat, or all purpose white flour for best results. I have not tried whole wheat flour here so cannot recommend it. Report back if you do experiment.
If you are looking for a paleo, grain free, flourless, or low carb bread recipe, you may like this Almond Flour Banana Bread or my Keto Pumpkin Bread.
For gluten free chocolate zucchini bread, use oat flour or certified gluten free oat flour. There's also an oil free option for those who prefer a version without oil.
To achieve the richest flavor, I recommend a combination of regular unsweetened and Dutch cocoa powders. Dutch cocoa gives baked goods a deep brownie-like taste.
The sweetener can be regular white sugar, unrefined coconut sugar or date sugar, evaporated cane juice, or xylitol or granulated erythritol for a sugar free zucchini bread.
Leftover zucchini? Use it up in this Tofu Scramble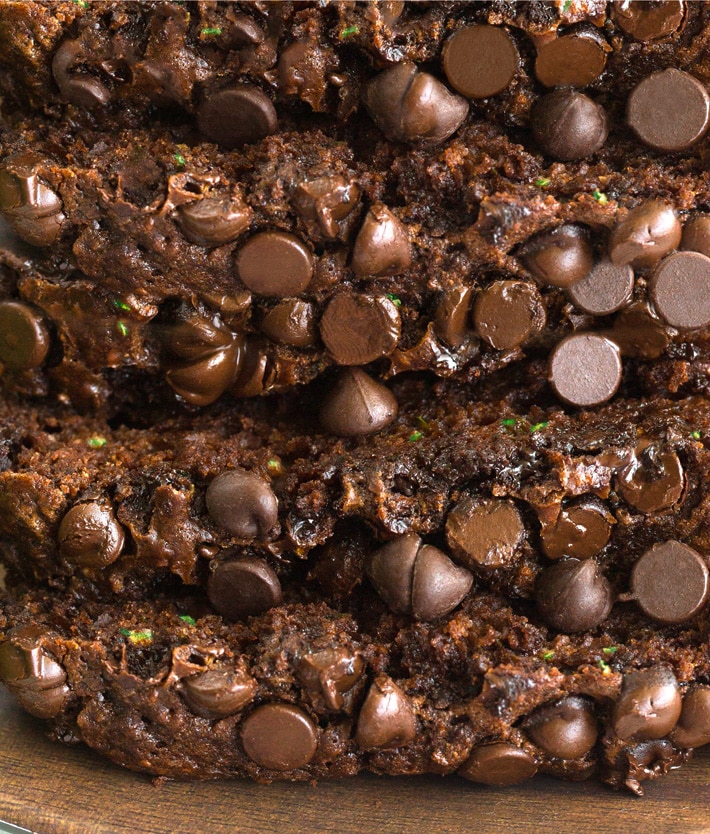 Substitutions for the yogurt or oil
No yogurt on hand? It works to substitute an equal amount of sour cream or coconut cream. If using coconut cream, feel free to replace the oil in the recipe with milk of choice or additional coconut cream.
Mashed banana is also a great substitute for the yogurt and turns the dessert into a wonderful chocolate banana zucchini bread.
For oil free chocolate zucchini bread, replace the oil with an equal amount of additional yogurt. I also once used softened almond butter instead of oil and loved the results.
Vegan chocolate zucchini bread
For a plant based version, I often use coconutmilk yogurt. Other nondairy yogurts, such as almond or soy yogurt, work as well.
The recipe already does not call for any butter. If adding chocolate chips, look for dairy free brands, which should be readily available at most grocery stores.
To make egg free zucchini bread, either use two flax eggs or replace the eggs with half a cup of additional nondairy yogurt. If using all yogurt instead of flax eggs, the loaf will not rise as much, but it's still just as delicious!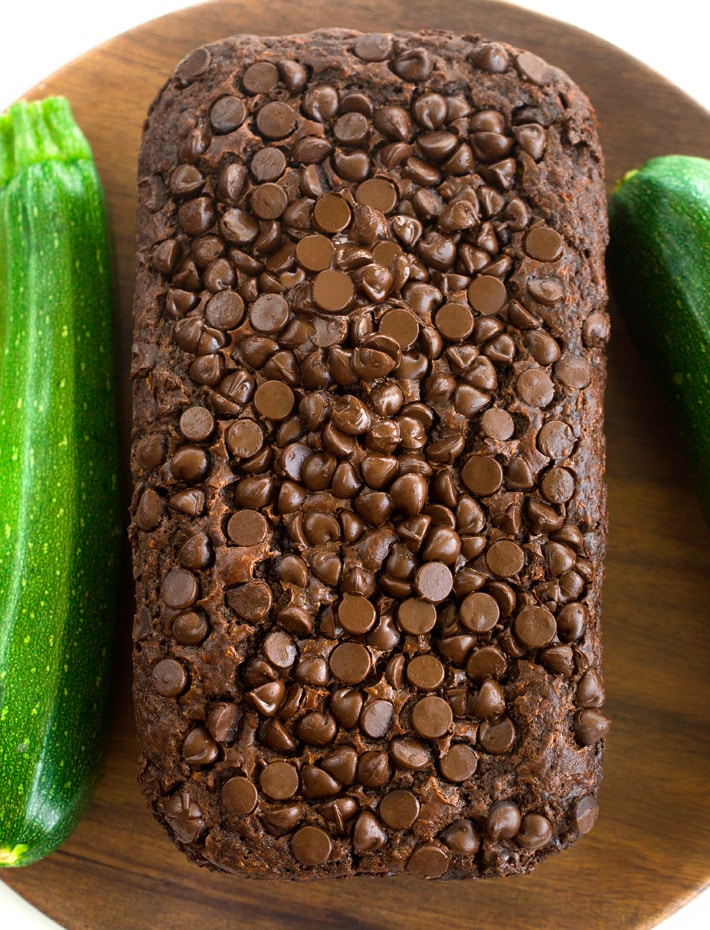 Converting the recipe to gram measurements
If you prefer to use grams instead of cups, here are the measurements to use:
280 grams shredded zucchini, 30 grams cocoa powder, 10 grams Dutch process cocoa, 180g flour, 120 grams yogurt, 140 grams sugar, 50 grams oil, and 15 grams pure vanilla extract. Also remember to add in the other ingredients not measured in cups.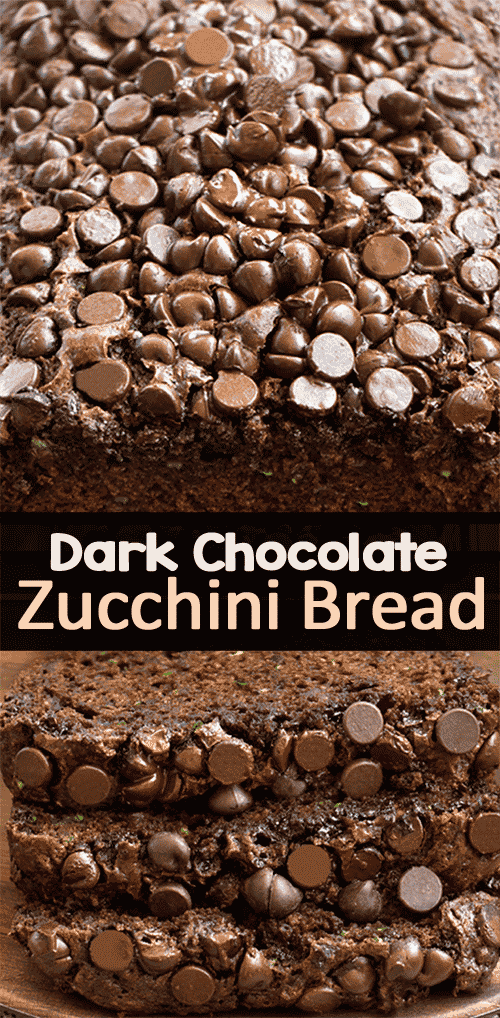 Chocolate Zucchini Bread
This rich, moist, and fudgy chocolate zucchini bread recipe is perfect for a healthy breakfast or dessert!
Ingredients
1 1/4

cup

spelt,

white, or oat flour

1/4

cup

cocoa powder

2

tbsp

Dutch or additional regular cocoa powder

1

tsp

baking powder

1/2

tsp

baking soda

1/4

tsp

salt, just over level

2/3

cup

sugar,

unrefined or xylitol if desired

1

1/4 cup

finely grated zucchini

(gram measurements listed above)

1/2

cup

plain yogurt,

dairy free if desired

1/4

cup

oil,

or additional yogurt for oil free

2

eggs or flax eggs

(substitutions are listed above)

1

tbsp

pure vanilla extract

1/2

cup

mini or regular chocolate chips,

optional
Instructions
Preheat the oven to 350 F. Grease a 9×5 loaf pan. Stir together all dry ingredients in a large mixing bowl. Add remaining ingredients, and stir to form a batter. Smooth into the loaf pan. Press some extra chocolate chips into the top if desired. Bake on the center rack 55 minutes or until a toothpick inserted into the center comes out mostly clean. Once cooled, I highly recommend loosely covering with a cloth and letting sit overnight, either on the counter or in the fridge, because the flavor and texture are even better the next day!

View Nutrition Facts
More Easy Chocolate Desserts