These baked cinnamon sugar donuts are soft, light, fluffy, and absolutely delicious for breakfast or dessert!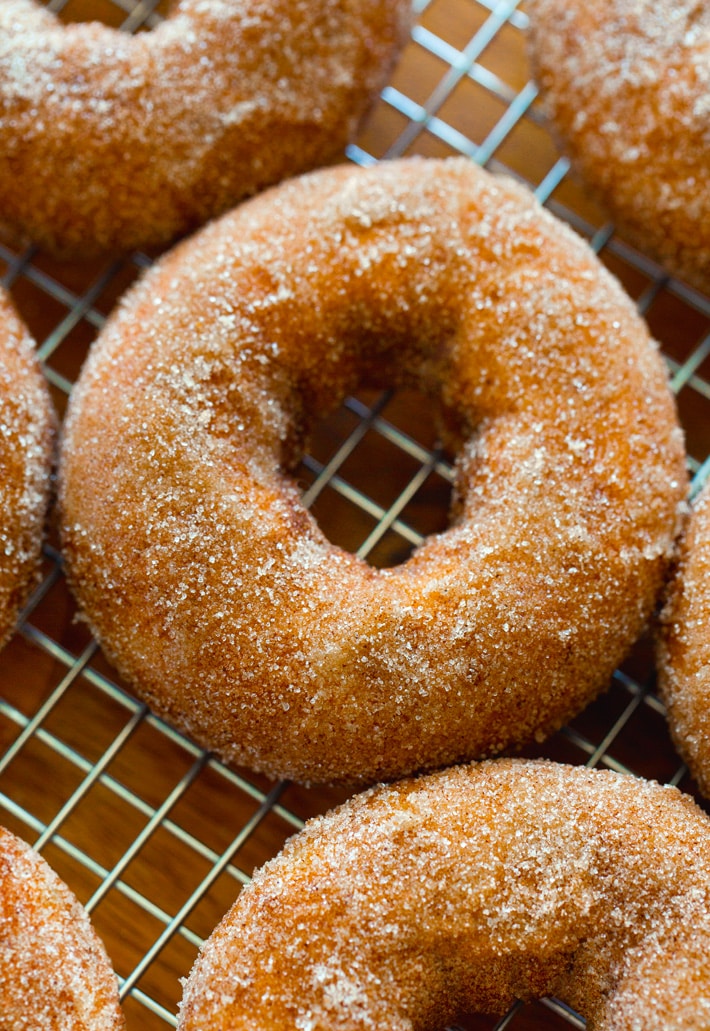 Who doesn't love cinnamon sugar donuts???
Whether served with a hot cup of coffee for breakfast or on their own as an afternoon snack, these ultra soft and fluffy baked donuts are always a fantastic choice.
Guests will think they came straight from a fancy bakery or café. And yet the recipe is so easy to make, right in your own kitchen!
You may also like this Brownie in a Mug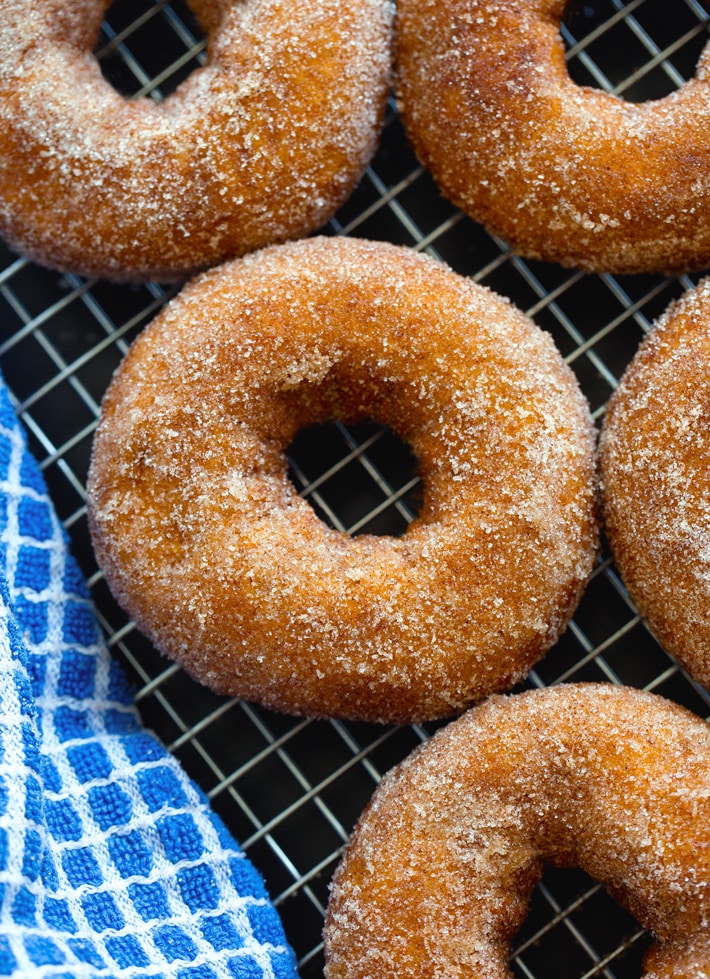 The best baked cinnamon sugar donuts
Forget those boxes of store bought Krispy Kreme and Dunkin Donuts. These homemade old fashioned cake donuts are baked, not fried.
I actually prefer them over glazed donuts for breakfast, because their taste and texture remind me of muffins or coffee cake. And they pair really well with coffee or tea.
The baked cinnamon sugar donuts (or doughnuts) are naturally egg free and can also be dairy free, gluten free, and vegan.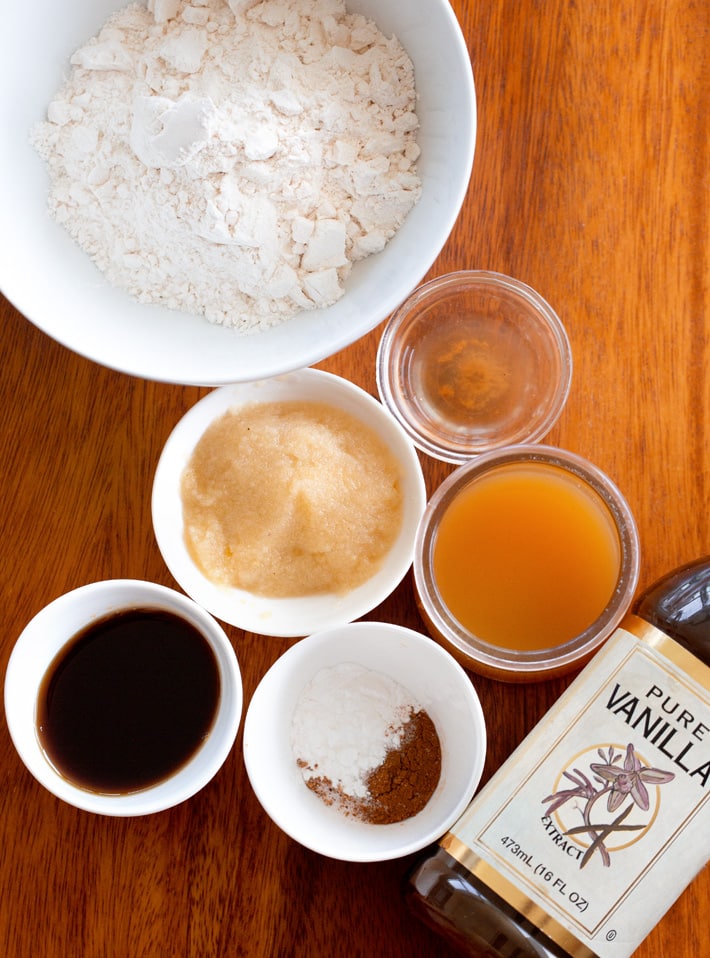 Cinnamon sugar donut ingredients
The donut recipe calls for flour, water, cinnamon, salt, baking powder, pure vanilla extract, sweetener, and a fat source or applesauce or mashed banana for low fat.
Flours that work include white or spelt flour, oat flour, or gluten free all purpose flour. Others such as whole wheat flour, almond flour, or coconut flour may work with some modifications, but I have not tried these and therefore cannot recommend them.
Sweetener options include pure maple syrup, honey, or agave. If you'd like to use sugar, increase the amount to half a cup and increase the water to two third cup.
Also make this Almond Flour Banana Bread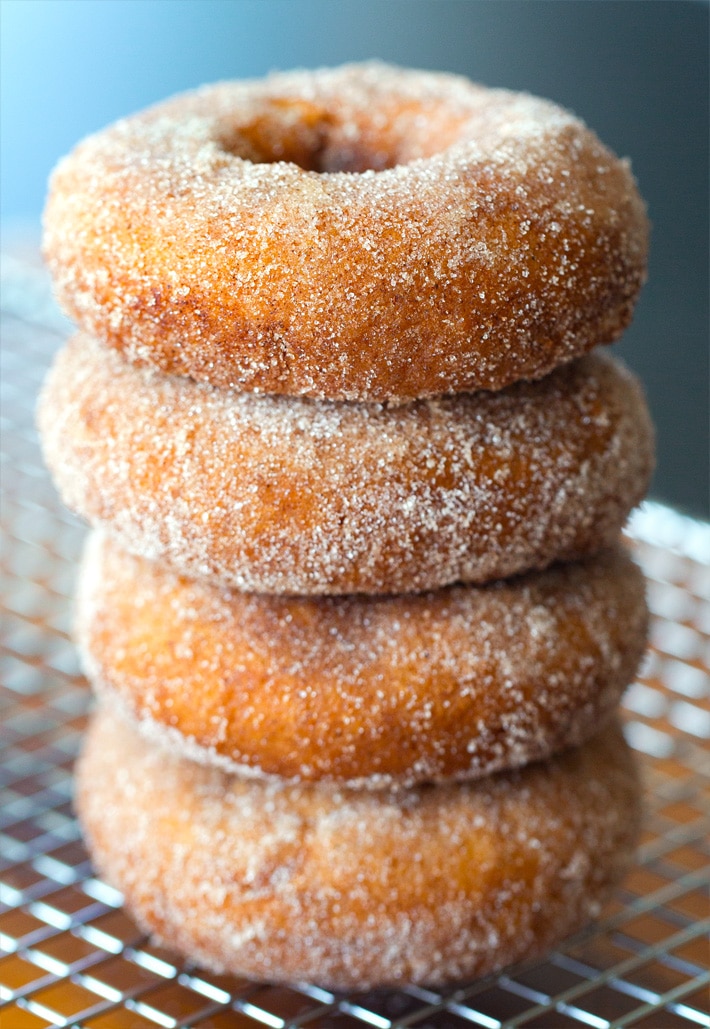 How to make baked cinnamon sugar donuts
Start by greasing a donut pan or mini muffin pan. Preheat the oven to 350 degrees.
Whisk together the water or apple juice, white or apple cider vinegar, vanilla, oil or nut butter (or applesauce or banana), and the sweetener in a large mixing bowl.
Once the oven is preheated, stir in the flour, salt, cinnamon, and baking powder to form a donut batter. Do not overmix.
Place the donut pan on the oven's center rack. Bake for eight minutes or until the baked cinnamon sugar donuts have risen and a toothpick inserted into the center of a cinnamon donut comes out mostly clean.
Let cool before removing from the pan and dipping in cinnamon sugar. I recommend spraying the donuts with oil so the topping adheres better, but it is not required.
Note: I have not yet tried making the donuts in an air fryer. If you experiment before I do, be sure to report back with results.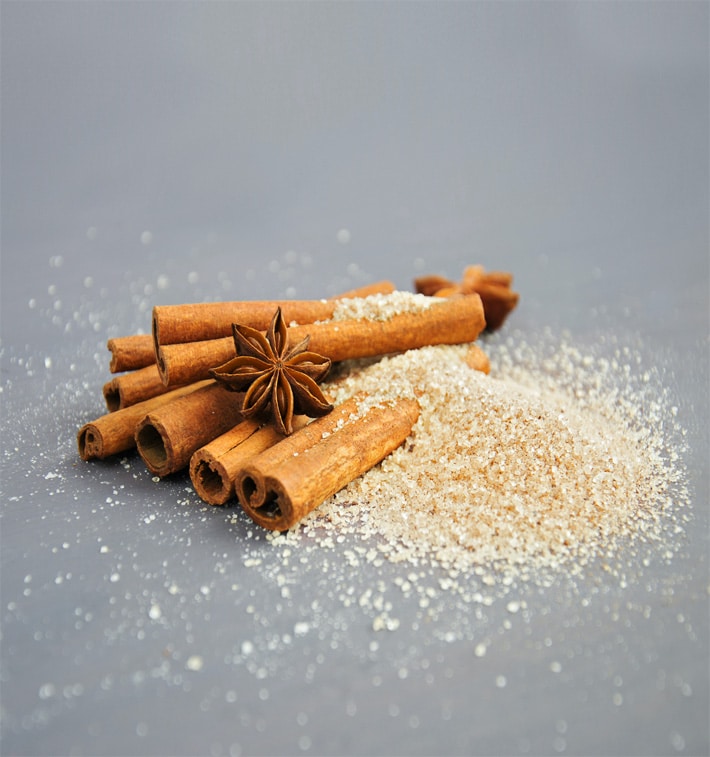 Homemade cinnamon sugar
This is possibly the easiest recipe you could imagine.
To make your own cinnamon sugar, simply stir two tablespoons of ground cinnamon into half a cup of sugar. You can use regular white sugar, unrefined coconut sugar, date sugar, evaporated cane juice, or granulated erythritol for sugar free.
Need less? Use one tablespoon of cinnamon and a fourth cup of sugar. Or half a tablespoon of cinnamon and two tablespoons of sugar.
The DIY recipe is easy to scale up or down as desired.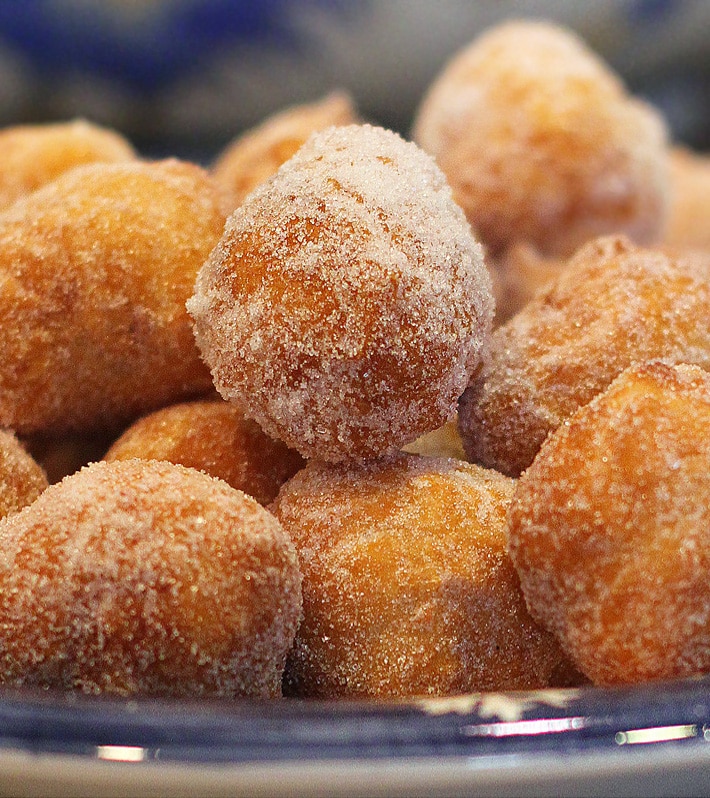 Baked cinnamon sugar donut holes
If you do not own a donut pan or prefer to make mini donuts, the first option is to bake the donuts in a mini muffin pan. For smaller donut hole munchkins, only fill the pan halfway up.
Or you can use a Donut Hole Baking Pan – yes, these things exist!
Pouring the batter into a cake pop machine or a donut maker machine should also work, although I have not personally tried these options yet.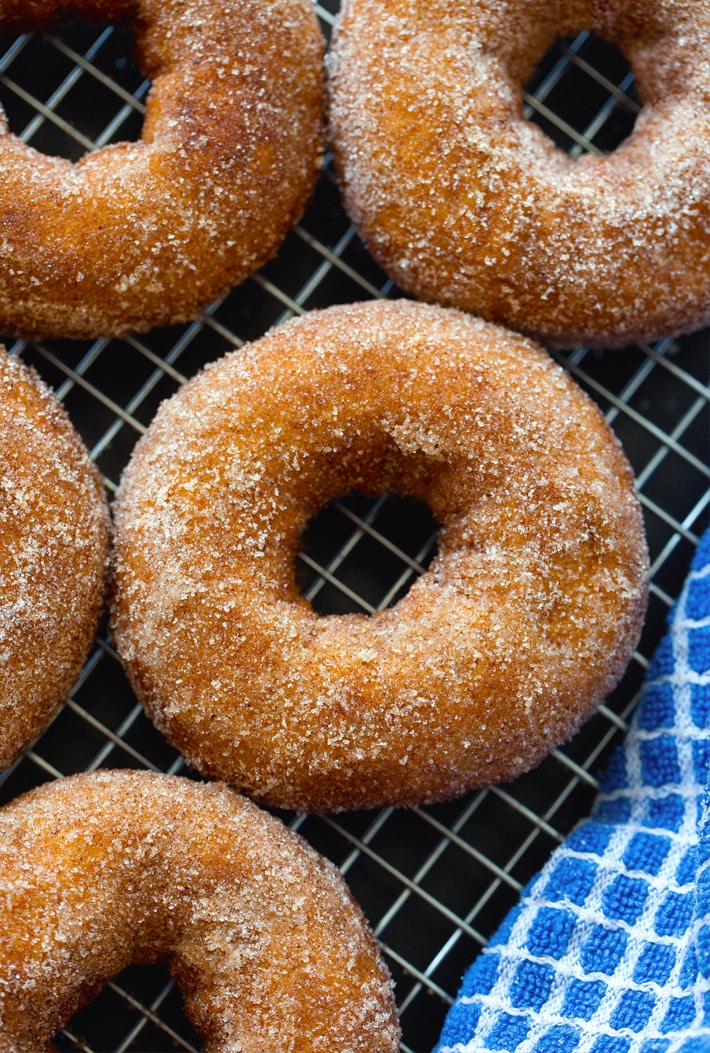 Recipe storage tips
Let the cinnamon sugar baked donuts cool completely.
Then take any leftover donuts and place them in a container with a layer of parchment paper in between each donut so they do not stick together.
Cover the container, leaving a small opening to allow excess moisture to escape, which will guard against soggy donuts the next day.
Once in the container, donuts can be stored at room temperature for one or two days. I recommend covering fully and refrigerating or freezing after this time for freshness.
Thaw frozen donuts in the microwave or on the counter before enjoying.
Watch the cinnamon sugar donut recipe video, above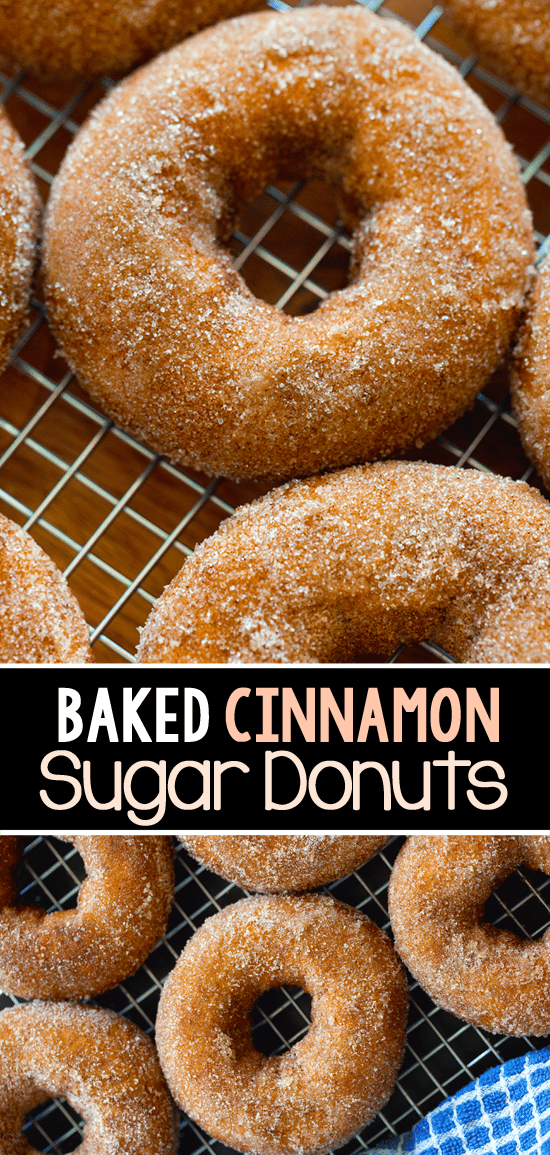 Baked Cinnamon Sugar Donuts
These baked cinnamon sugar donuts are soft, light, fluffy, and delicious for breakfast or dessert.
Yield
6
donuts (or 20 mini)
Ingredients
1/3

cup

water or apple juice

1

tsp

white or cider vinegar

1/2

tsp

pure vanilla extract

3

tbsp

oil,

nut butter, or applesauce or mashed banana for fat-free

1/3

cup

pure maple syrup or agave

(here's a sugar free donut recipe)

1

cup

flour, loosely packed

1

tsp

baking powder

1/2

tsp

cinnamon

1/4

tsp

salt

Cinnamon Sugar Coating: combine 2 tbsp cinnamon with 1/2 cup granulated sweetener of choice
Instructions
Whisk liquid ingredients in a bowl. Grease a donut pan or mini muffin pan. Preheat oven to 350 F. Stir in remaining ingredients. Bake 8 minutes or until donuts have risen and are cooked through. Let cool before removing from the pan. Dip in cinnamon sugar. I like to first spray with oil spray (or brush with oil or butter) so the cinnamon sugar adheres better.

*The recipe works with white, spelt, oat, or gluten free all purpose flour. I have not tried almond or whole wheat so cannot recommend those.

View Nutrition Facts
More Recipes With Cinnamon