This single serving chocolate brownie in a mug recipe is the perfect choice for any time you're craving a simple gooey chocolate fudge brownie dessert!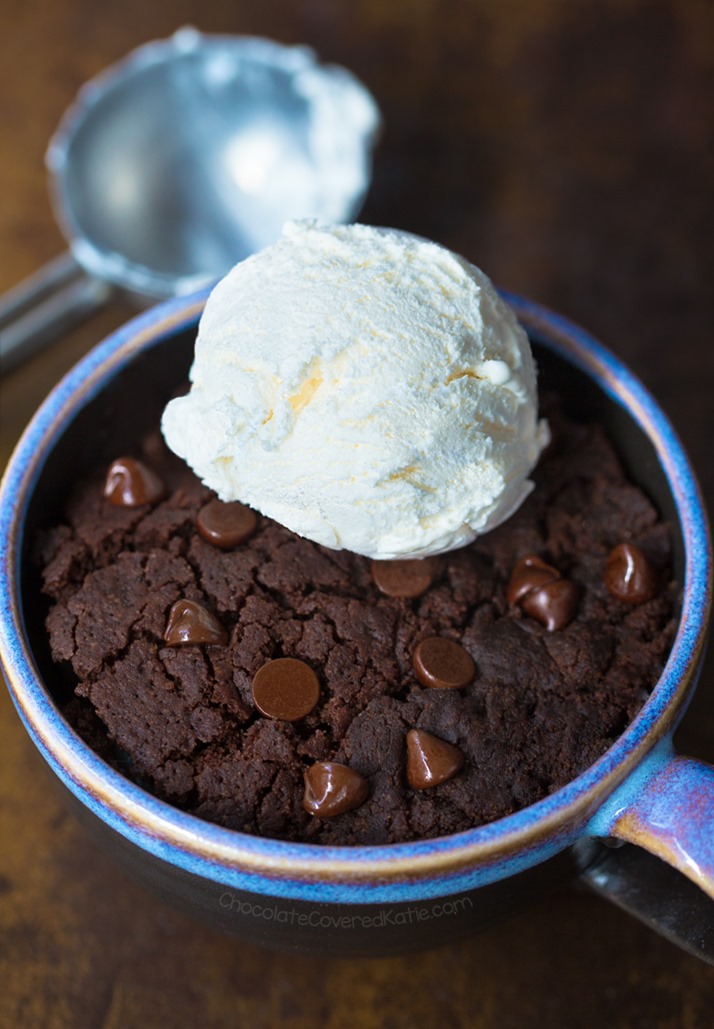 Chocolate brownie in a mug
Say hello to a rich, moist, and delicious chocolate treat, ready in under five minutes.
For any true chocolate lover, this dangerously easy chocolate mug brownie for one might become your new favorite recipe, because you can whip it up almost instantly as soon as a chocolate craving hits.
There's no need to even heat up an oven!
You may also like these Black Bean Brownies
The best brownie mug cake
Single serving and easy to make, this decadent chocolate recipe can also be high protein, gluten free, sugar free, and vegan, with no eggs required.
And do you want to know the best part? Unlike many other chocolate brownie mug cake recipes, this one calls for absolutely no box brownie mix!
Feel free to add chocolate chips, or top with Coconut Ice Cream or Keto Ice Cream.
The gooey brownie in a mug was adapted from my healthy chocolate mug cake, which is one of the reader favorite recipes on my site.
To turn it into a single serving brownie, I played around with the ingredient ratios and also added some Dutch cocoa to give it that ultra rich, deep and chocolatey classic brownie flavor.
Also be sure to try this Healthy Banana Bread
Brownie in a mug recipe video
Above – watch the video how to make a brownie in a mug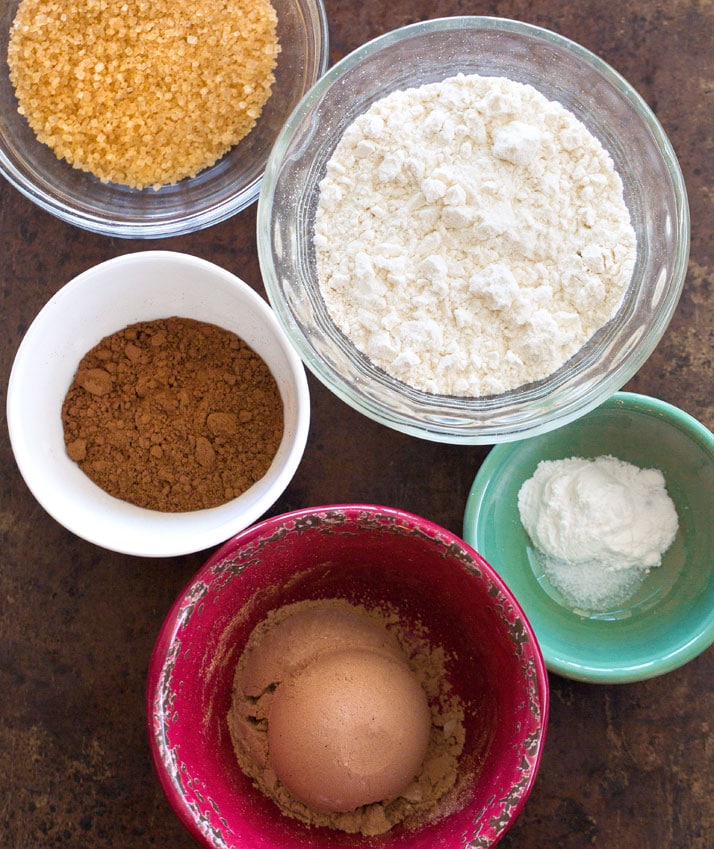 Brownie mug cake ingredients
For the cocoa powder: The recipe calls for both regular unsweetened cocoa powder or cacao powder and Dutch process cocoa powder. If you can only find regular cocoa, it still works without Dutch. The brownie mug cake will just not have as much of a rich traditional brownie flavor.
What type of flour? You can use white all purpose flour, whole grain spelt flour, or oat flour. There is also a keto option included in the recipe. I have not tried almond flour, coconut flour, or whole wheat flour here and therefore cannot recommend those.
For the fat: The video uses coconut oil, but you can substitute any neutral oil or your favorite healthy nut butter of choice, such as peanut butter or almond butter.
While I haven't tried a low fat version, many readers have written in to say they've had good results replacing the oil for applesauce or mashed banana. So you can try one of these fat free ideas at your own risk.
For a protein mug brownie: Simply substitute the tablespoon of cocoa powder with an equal amount of your favorite chocolate protein powder.
Flavor variations: Add a few drops of pure peppermint extract for a mint chocolate brownie in a mug. Or add a drop or two of almond or maple extract or up to half a teaspoon of instant coffee powder.
You can even make a Nutella brownie mug cake by replacing the oil with a spoonful of chocolate hazelnut butter or this Homemade Nutella Recipe.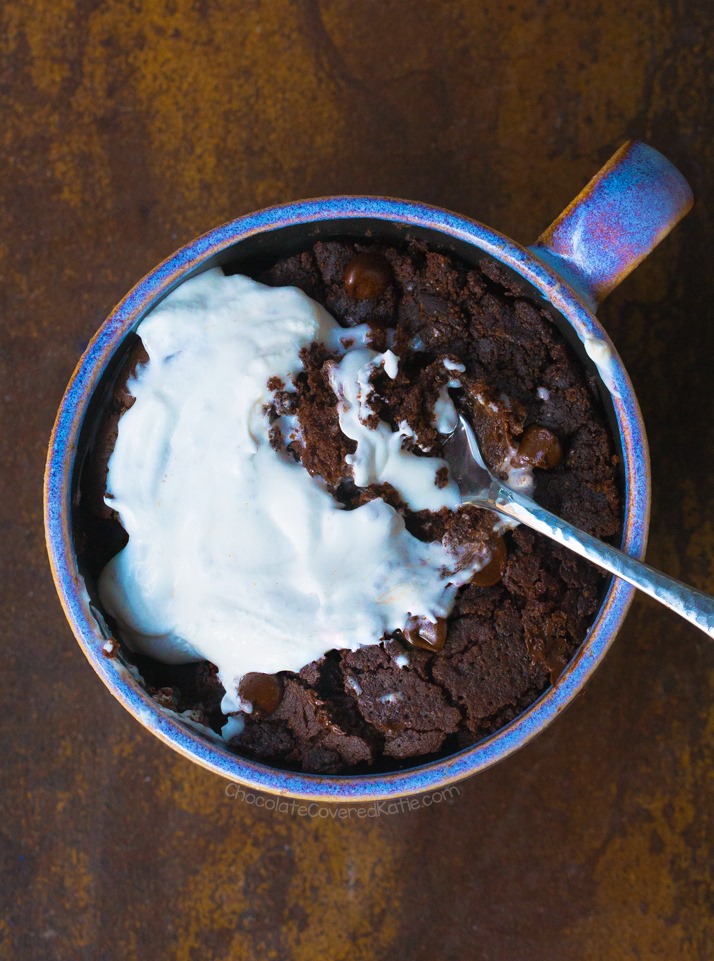 How to make the recipe
To whip up the chocolate dessert, simply stir together the cocoa powder, flour, sugar or sugar free sweetener, baking powder, salt, oil or nut butter, milk of choice, and pure vanilla extract in a in a coffee mug or heat safe dish.
The brownie can be made in a microwave or a conventional oven. Be sure to grease the mug first if you want to remove the cake before eating it.
If you are baking the mug brownie in an oven, preheat it to 350 degrees Fahrenheit. Once it reaches the set temperature, bake the mug cake dessert for fourteen minutes on the center rack of the oven, then let it cool.
Or if you prefer a microwave brownie, place the dish or coffee cup in your microwave and cook until done. Time will depend on your microwave's wattage.
I cooked my fudgy mug brownie for a minute, followed by two ten-second increments, so the mug dessert will be ready in about eighty or ninety seconds total.
Store leftovers covered in the refrigerator for up to three days.
Wait, what leftovers?
Here's a vanilla version: Vanilla Mug Cake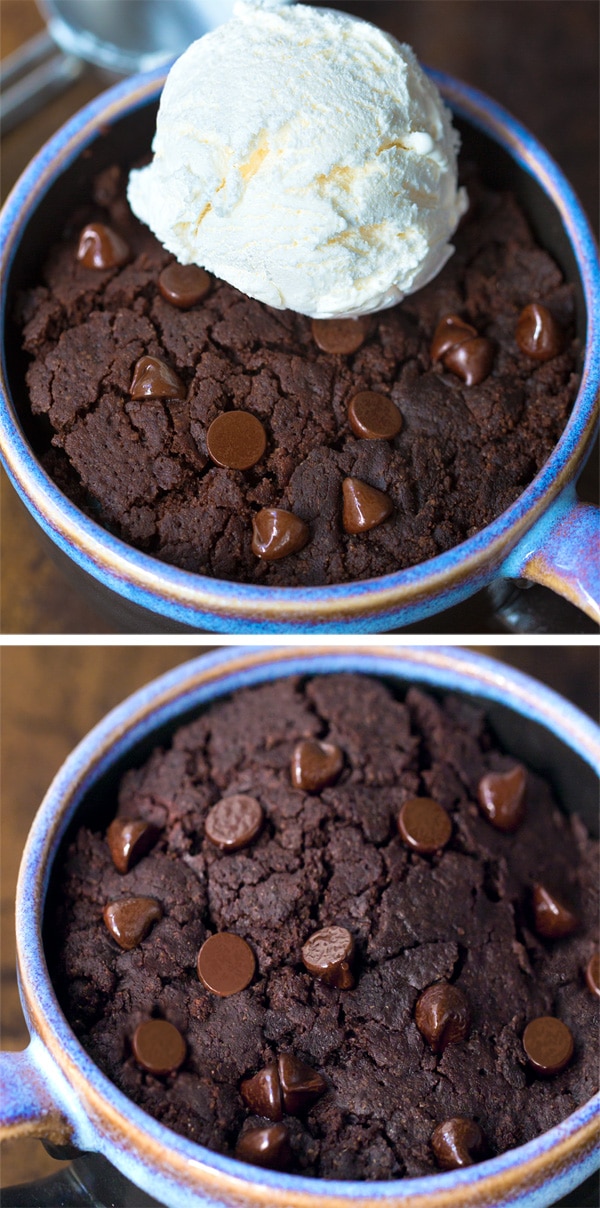 Brownie In A Mug
This single serving brownie in a mug recipe is perfect for any time you're craving an easy chocolate dessert.
Ingredients
1

tbsp

unsweetened cocoa powder

2

tsp

Dutch cocoa

or additional regular

3

tbsp

spelt,

white, or oat flour (Here's a Keto Mug Cake Recipe)

2

tbsp

sugar,

or sub erythritol if desired

scant 1/4 tsp baking powder

1/8

tsp

salt

1

tbsp

oil

or nut butter (some readers sub applesauce or banana)

3

tbsp

milk

of choice

1/2

tsp

pure vanilla extract
Instructions
Notes: If you want to remove the brownie mug cake before eating it, be sure to grease the mug before starting. If you can't find Dutch cocoa, subbing additional regular will still work; it will just have less of a brownie flavor. I haven't tried subbing applesauce or banana for the fat and therefore can't vouch for the taste of that substitution.

If baking, preheat oven to 350 F. Combine all ingredients in a mug or 1-cup dish (or two 1/2-cup dishes). Either bake around 14 minutes, OR microwave until set. Microwave times will vary depending on wattage and if using one or two dishes – I cooked mine for 1 minute, followed by two 10-second increments. If you try the recipe, be sure to leave a comment or rate it below!

View Nutrition Facts
More Healthy Chocolate Recipes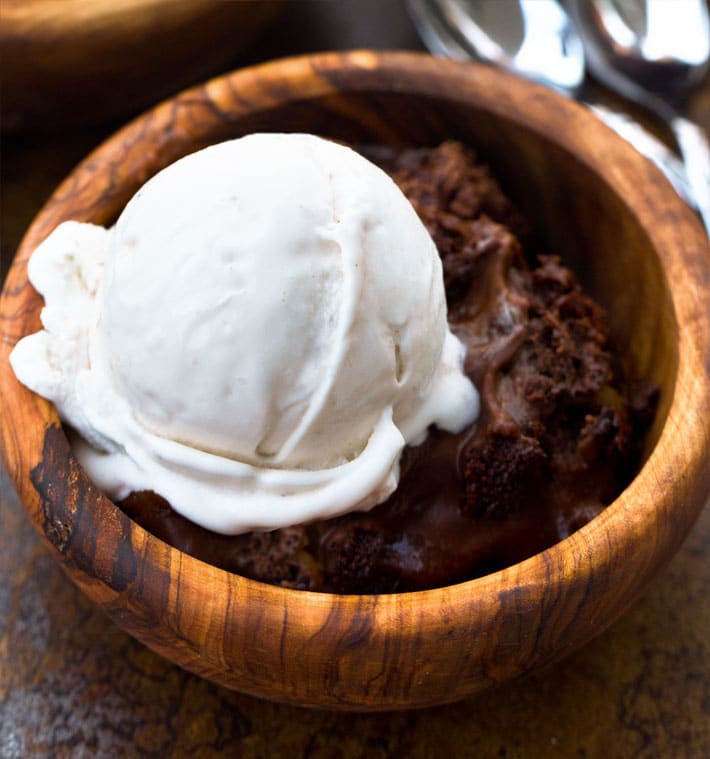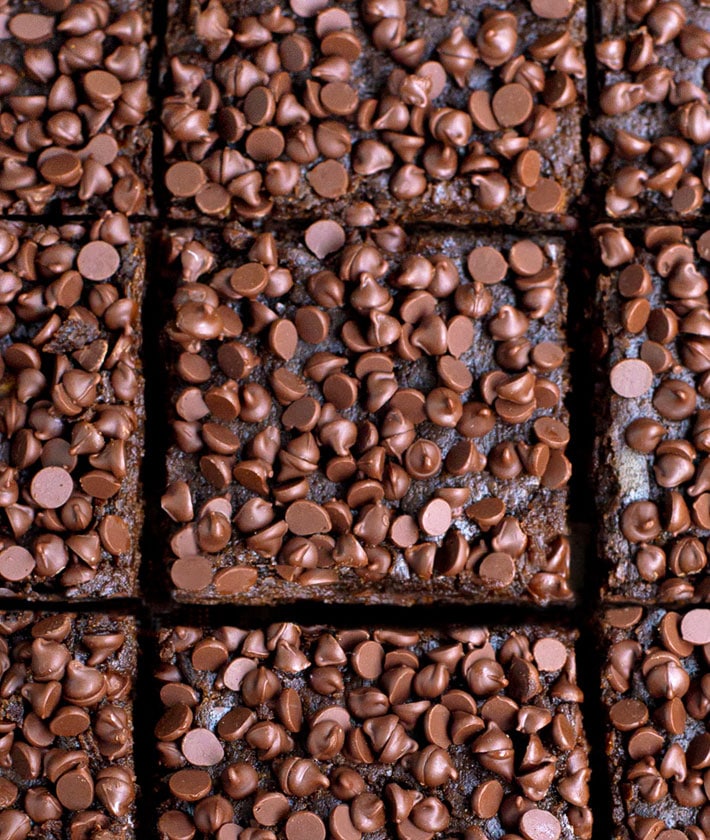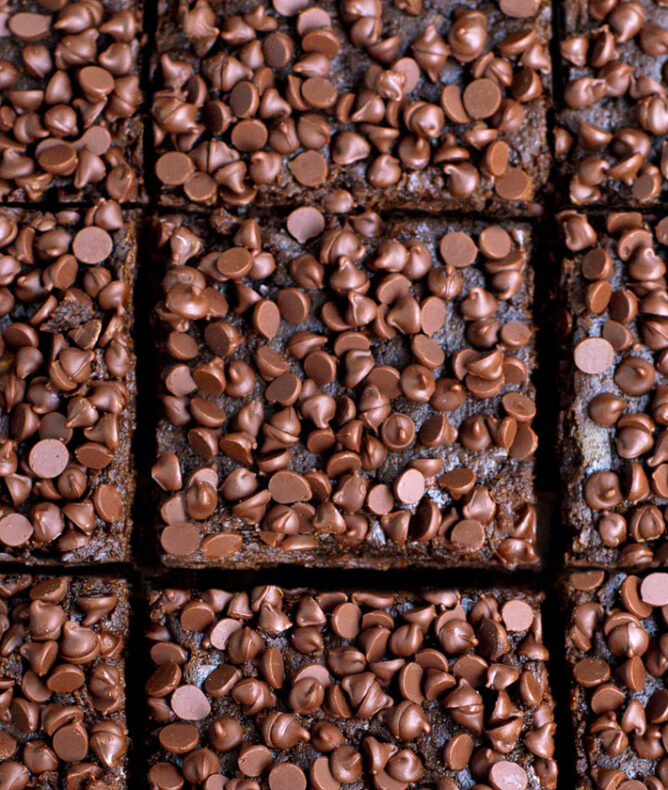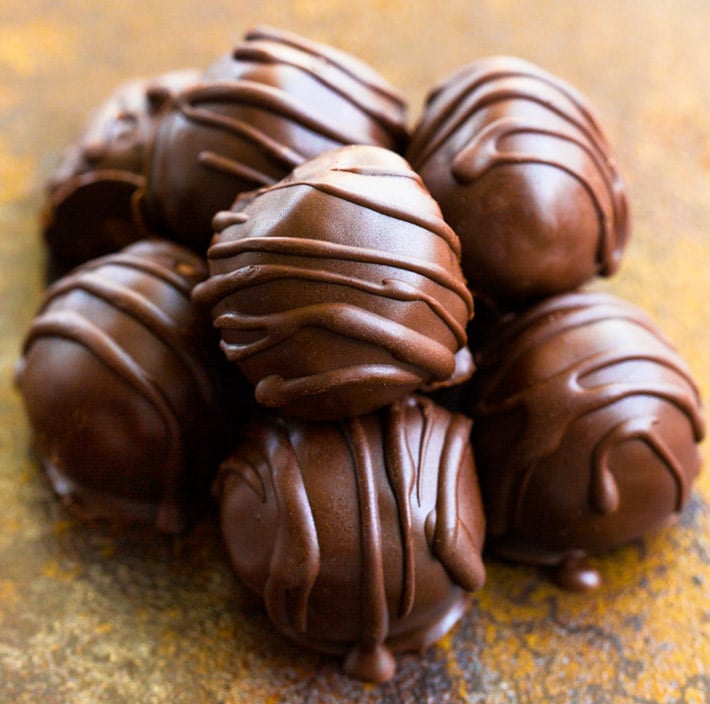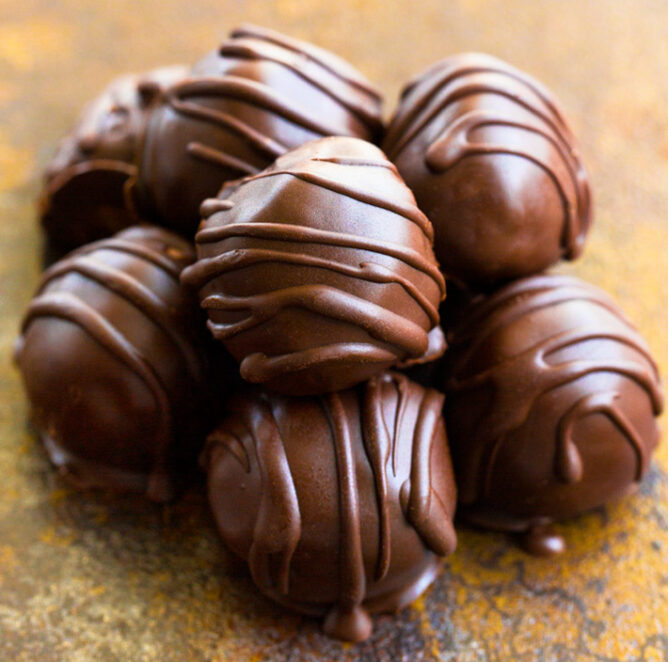 Chocolate Truffles – 3 ingredients