This homemade vegan carrot cake recipe is soft, moist, and irresistibly delicious, with thick vegan cream cheese frosting in each and every unbelievable bite!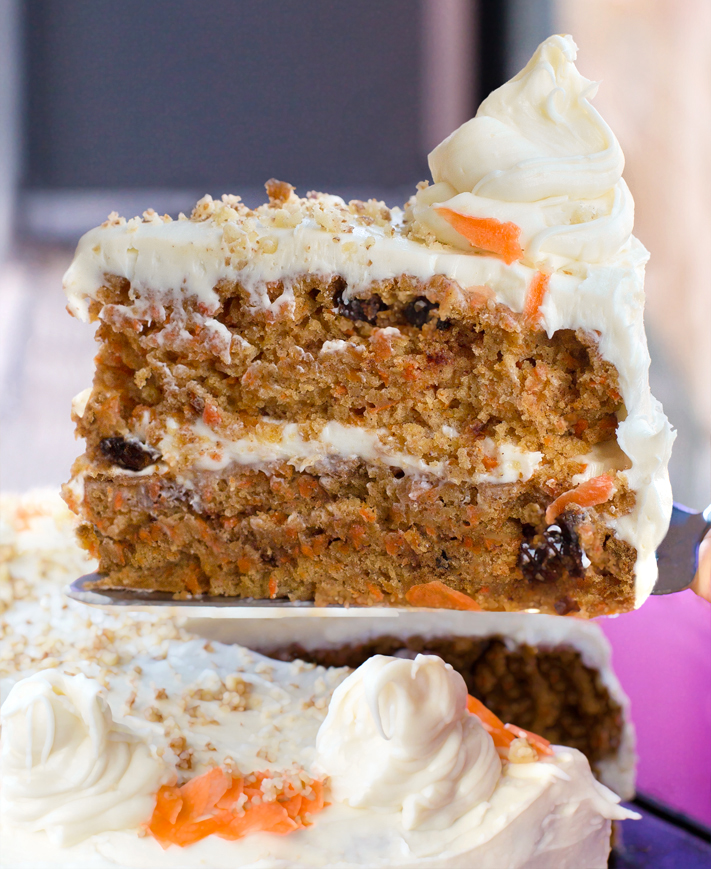 The best vegan carrot cake
One Bowl
Dairy Free
Egg Free
Oil Free Option
If you're looking for a truly show stopping vegan Easter dessert that's easy to make and guaranteed to wow both vegans and omnivores, this is absolutely the recipe you should choose – because it comes out perfectly every single time.
Also try the popular Healthy Carrot Cake Cupcakes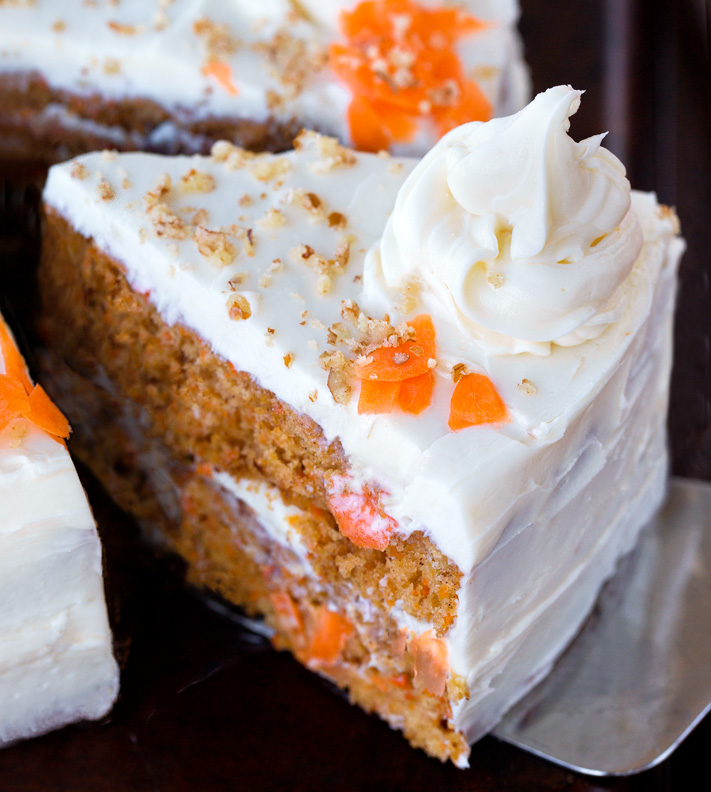 This simple vegan cake recipe calls for just a few basic ingredients.
Sweet and flavorful, it will become your go-to carrot cake recipe for years to come.
Don't be surprised if this cake starts showing up in your dreams.
The classic taste will remind you of a traditional carrot cake you'd find at an upscale restaurant or bakery. And yet it is secretly healthy at the same time, with no dairy and no eggs required.
The recipe is also packed with a full cup of shredded carrot, making it ultra moist and soft, without all the extra fat.
If desired, you can add raisins, pineapple, or crushed walnuts to the batter. You will want to make the recipe not just for Easter, but for birthday parties, Mother's Day, Thanksgiving, and Christmas too.
Readers also love these Healthy Blueberry Muffins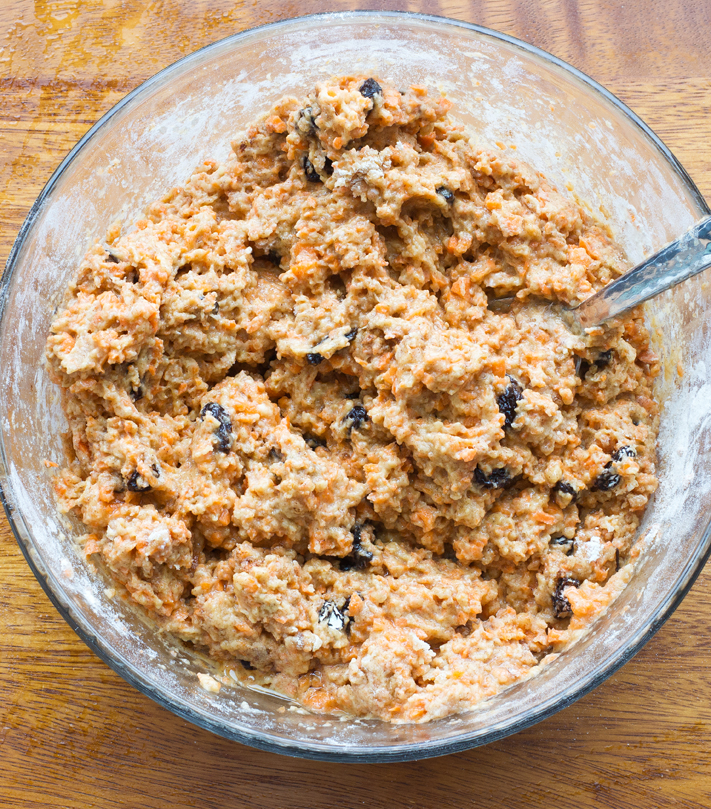 How to make vegan carrot cake
Start by preheating the oven to 350 degrees Fahrenheit. Grease and line an eight inch round or square pan with parchment paper.
If you are doubling the recipe for a double layer carrot cake, prepare two pans instead of one. A doubled recipe will also fit into one 9×13 pan.
To make the carrot cake from scratch, whisk together the first five ingredients, and let the mixture sit for at least 10 minutes, or cover and refrigerate overnight.
Stir all remaining ingredients into the liquid to form a cake batter. Pour the batter into the prepared pan, and smooth down with a spatula or spoon.
Bake on the oven center rack for thirty minutes or until a toothpick inserted into the center of the cake comes out mostly clean.
Baking tip: I recommend loosely covering the carrot cake once it is cool and letting it sit overnight on the counter. If you can wait, the recipe tastes sweeter and has a lighter texture the next day.
After a day, leftover cake should be refrigerated for three to four days. Or it can also be sliced and frozen for up to three months.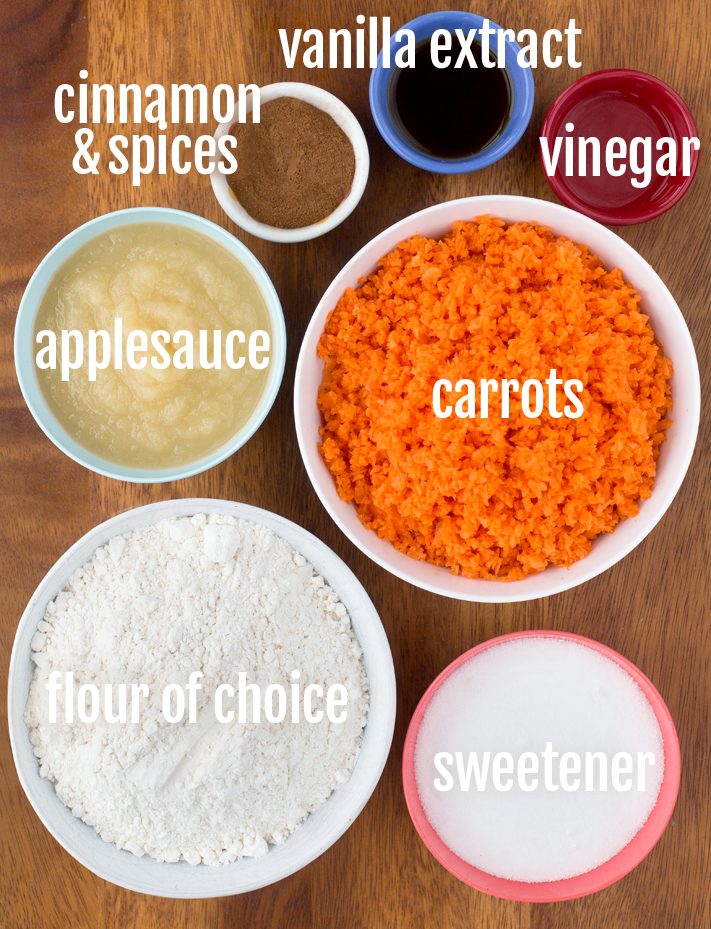 Plant based carrot cake ingredients
The vegan carrot cake recipe calls for shredded carrot, applesauce or pineapple, optional oil, white vinegar or apple cider vinegar, flour, pure vanilla extract, cinnamon, baking soda, sugar, and a pinch of salt.
Spelt, oat, white all purpose, and some brands of gluten free flour will work. We have not tested the recipe with whole wheat flour, pastry flour, coconut flour, or almond flour. If you want a low carb and sugar free carrot cake, try the keto carrot cake option mentioned in the recipe below.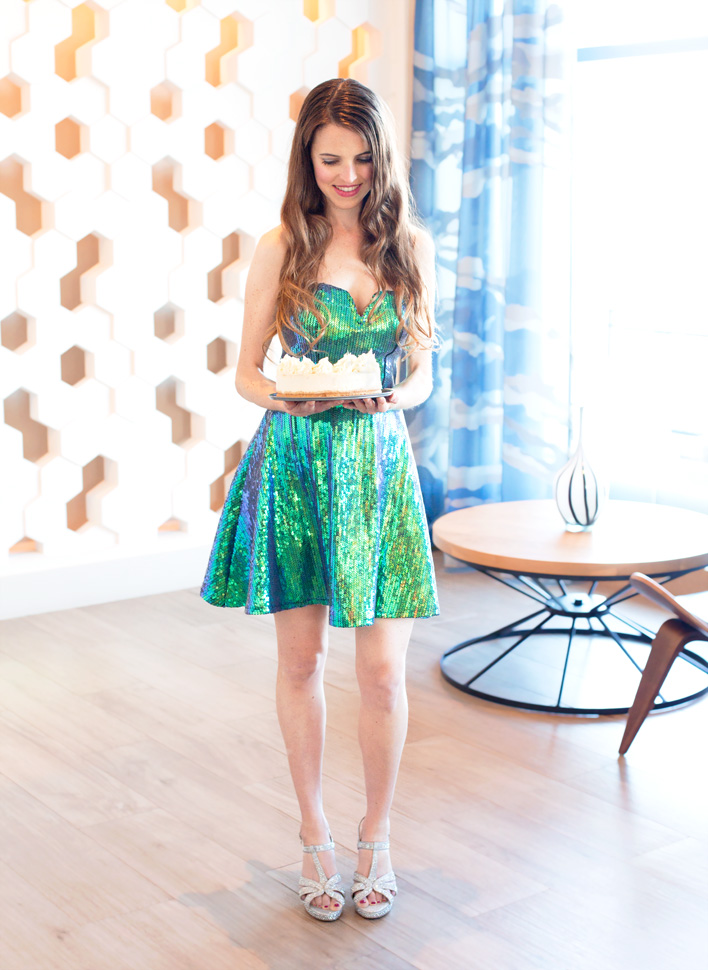 Out of applesauce? You can substitute an equal amount of mashed banana for a fun flavor variation. Crushed pineapple is also a wonderful choice.
The recipe is spiced with one and a half teaspoons of ground cinnamon. You can also add a pinch of nutmeg, cloves, and powdered ginger for a carrot spice cake.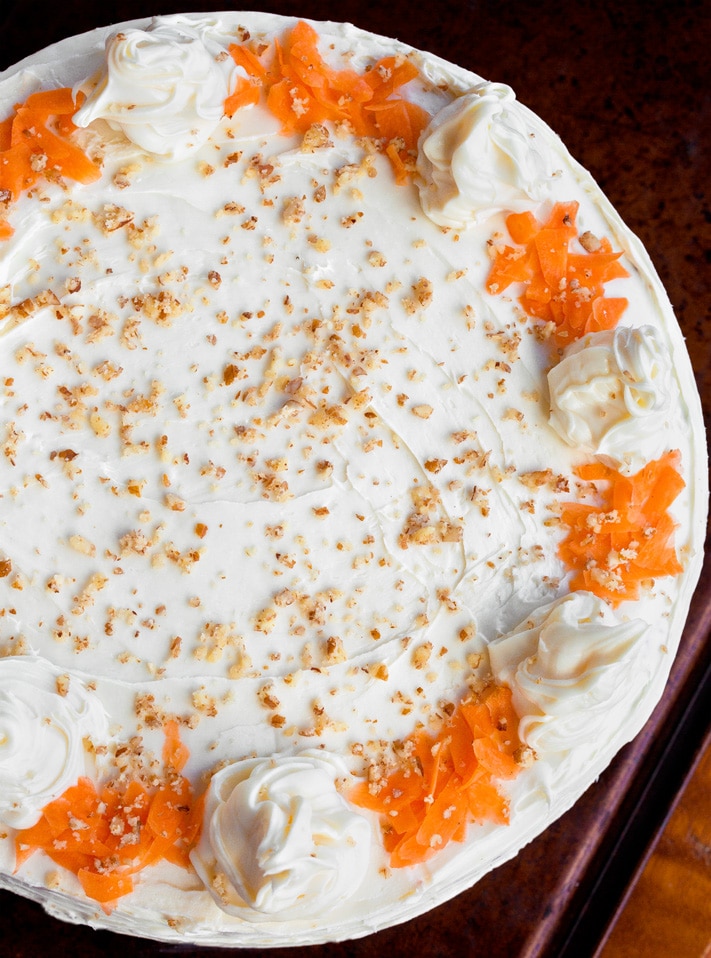 Carrot cake frosting options
Let's be real. One of the best parts of carrot cake is the frosting!
My favorite way to serve the dairy free carrot cake is with the homemade vegan cream cheese frosting recipe directly under the photo below.
But it is also great topped with homemade or store bought vegan vanilla frosting, Coconut Butter, or even with Coconut Whipped Cream.
To save time, you can take a shortcut and use packaged frosting. Oddly enough, both Duncan Hines Creamy Home Style Cream Cheese Frosting and Pillsbury Creamy Supreme Cream Cheese Flavored Frosting are accidentally vegan. I'm not saying they are healthy frosting options, but if you are in a hurry, they can work in a pinch.
Vegan cream cheese frosting
Beat room temperature 8 oz cream cheese (such as Tofutti or Miyokos) or homemade Vegan Cream Cheese with 4 oz butter spread (such as Melt or Earth Balance) or coconut butter, 2 cups powdered sugar, and 1 tsp pure vanilla extract.
Add a little nondairy milk of choice as needed. For reference, this recipe yields about 2 cups of frosting, and I used about 1/2 cup of frosting on each of the layers of the carrot cake in the pictures.
Leftover frosting? Make these Vegan Cinnamon Rolls
Above, watch the vegan carrot cake recipe video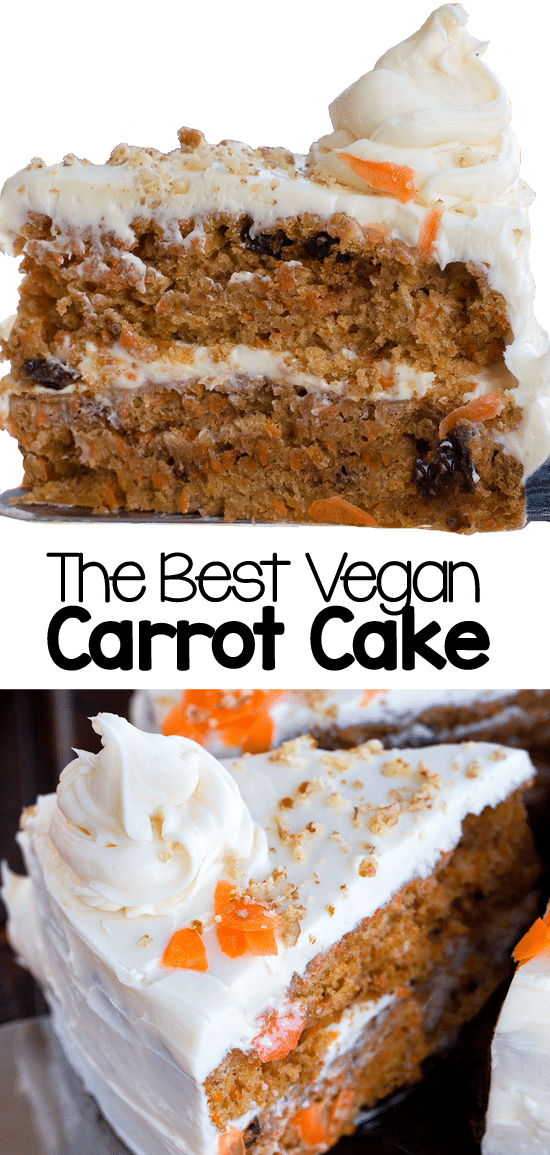 Vegan Carrot Cake
This homemade vegan carrot cake recipe is ultra moist and delicious! For a double layer cake or to fill a 9×13 pan, simply double the ingredients.
Ingredients
1

cup

shredded carrot,

packed (200g)

1/2

cup

applesauce or crushed pineapple

1/4

cup

oil,

or additional applesauce for fat free

2

tsp

white or cider vinegar

2

tsp

pure vanilla extract

1 1/2

cups

white, spelt, oat, or bob's gf flour

(Here's a Keto Carrot Cake)

1 1/2

tsp

cinnamon

3/4

tsp

salt

1/2

tsp

baking soda

1/2

cup

sugar, unrefined if desired

optional 1/4 cup raisins

optional handful shredded coconut, crushed walnuts or pecans, etc.
Instructions
Preheat oven to 350 F. Grease and line an 8-inch square or round pan with parchment. (If doubling the recipe, use two 8-inch pans or one 9×13.) In a mixing bowl, whisk together the first 5 ingredients and let sit at least 10 minutes or refrigerate overnight. Stir in all remaining ingredients. Pour into the pan, and smooth down. Bake 30 minutes or until a toothpick inserted into the cake comes out clean. If you can wait, I like to loosely cover once cool and let it sit overnight, because the cake tastes sweeter and has a lighter texture the next day! Leftovers can then be refrigerated 3-4 days or sliced and frozen. The frosting recipe I used for this cake is written out above. And if you're a visual person, be sure to check out the video above that shows how to make the carrot cake.

View Nutrition Facts
Vegan Easter Recipes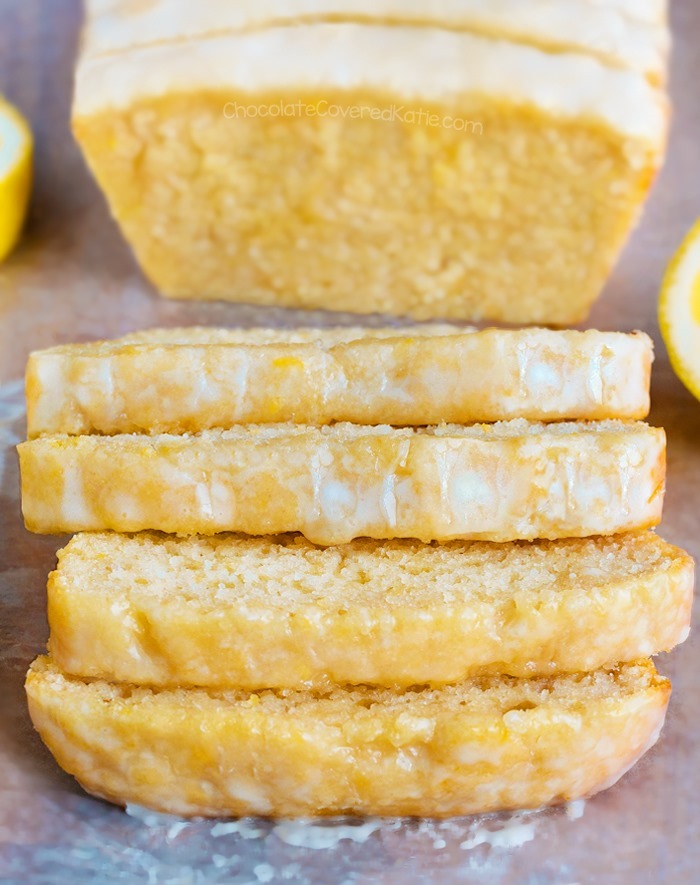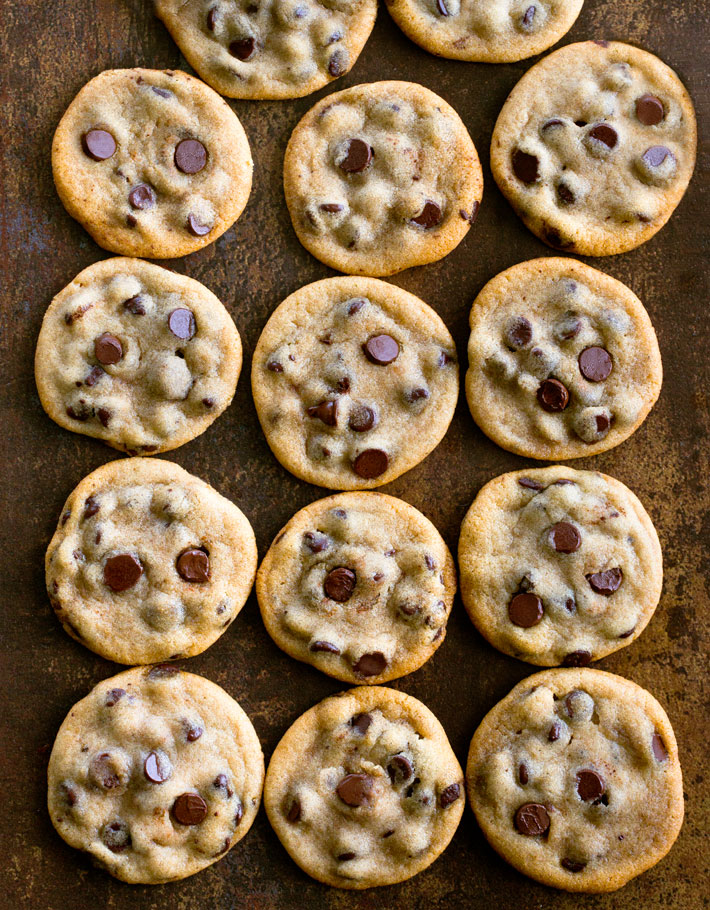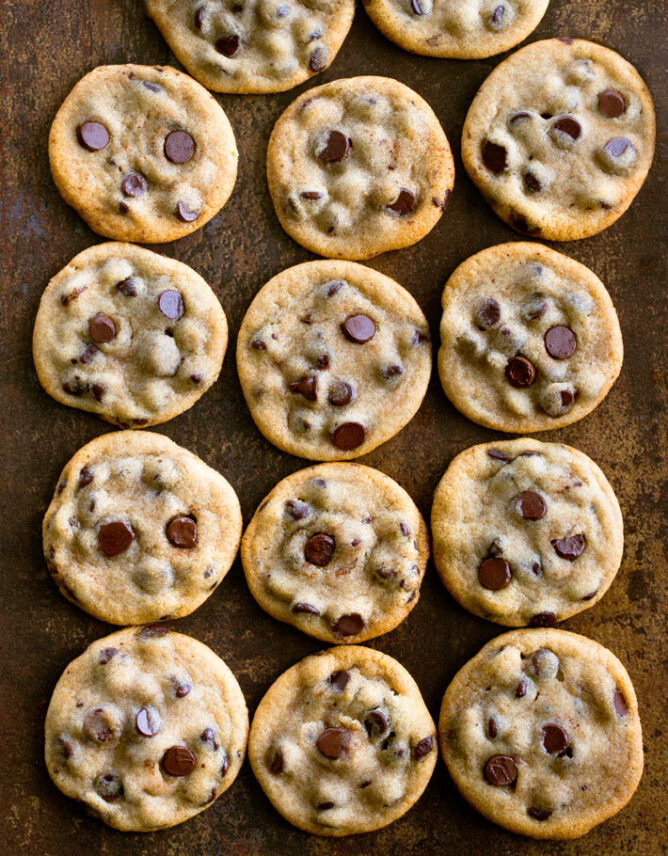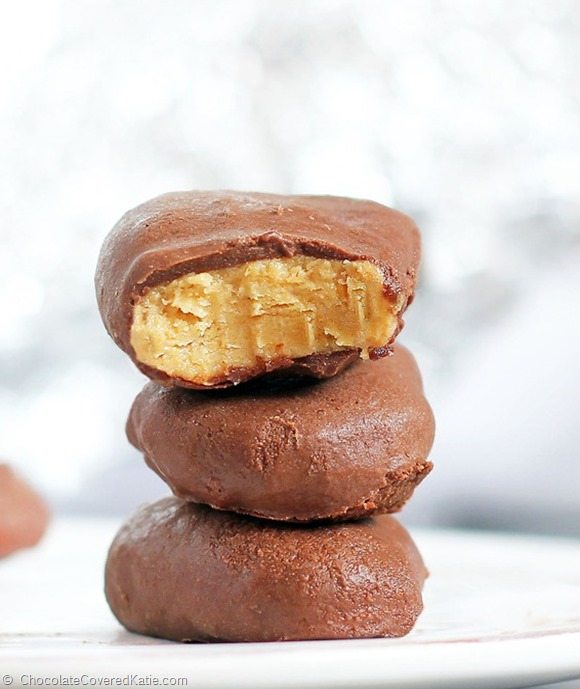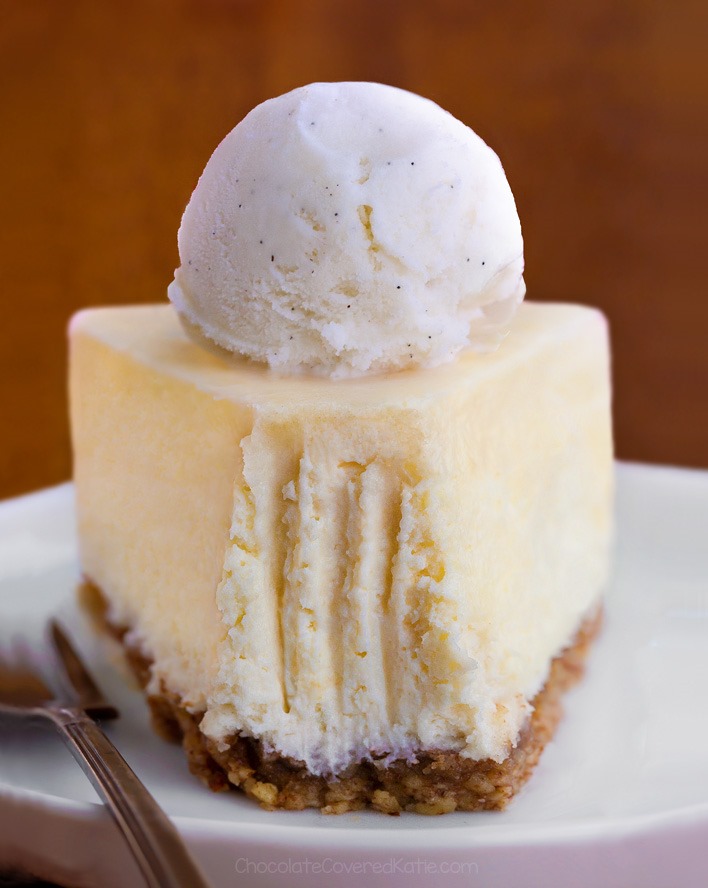 Vegan Cheesecake or Keto Cheesecake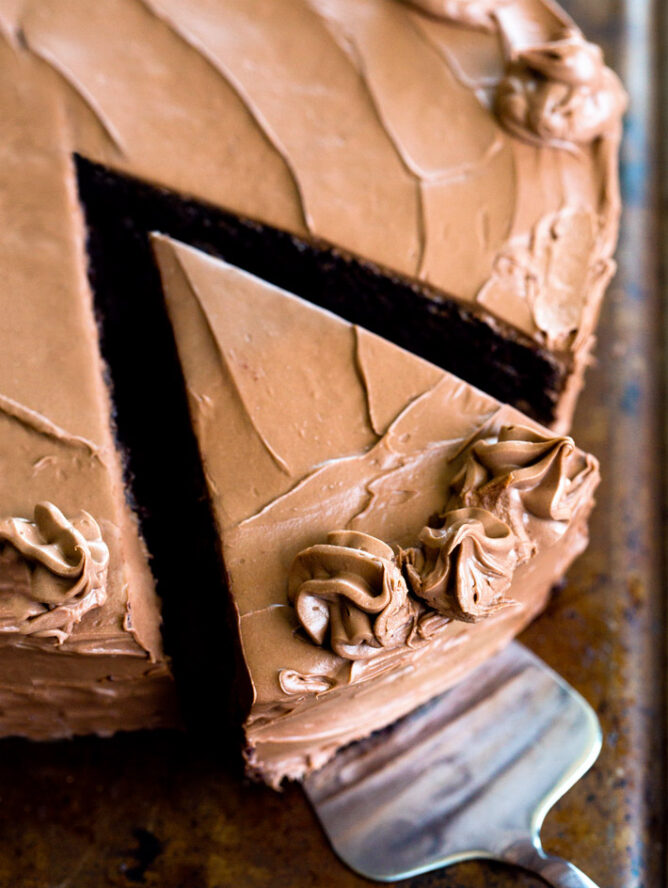 (Or this almond flour Keto Cake)