Here is the famous recipe for vegan cinnamon rolls that can absolutely hold their own against any non vegan version. People are always asking me for the recipe!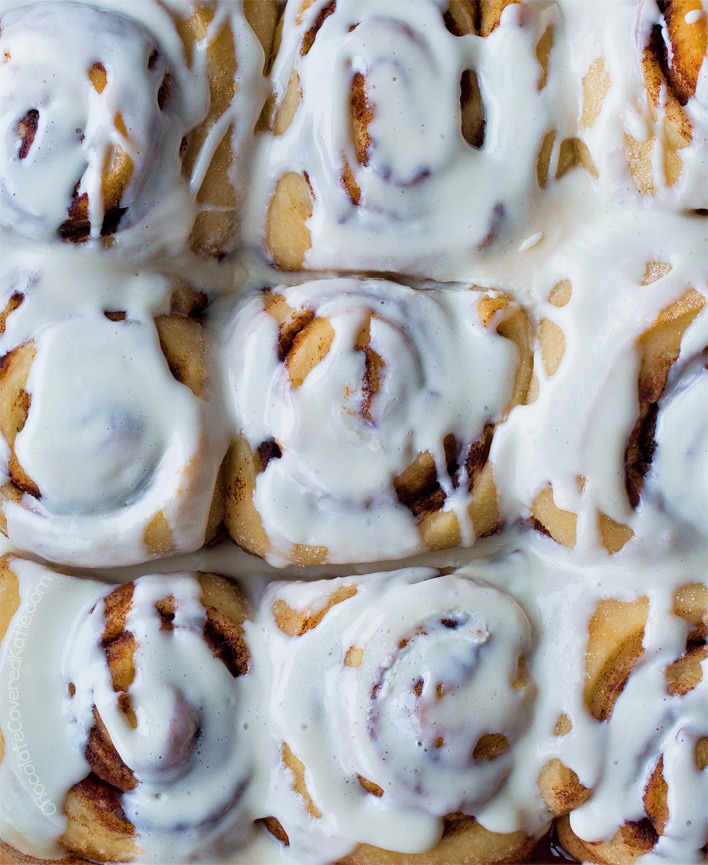 Easy Vegan Cinnamon Rolls
These sweet cinnamon pastries are soft, fluffy, unbelievably gooey and delicious.
Trust me, you will absolutely not regret making this vegan cinnamon roll recipe, even if you have no interest in ever becoming a vegan.
They are the perfect recipe to make any time you have guests staying over, or for potlucks, brunches, birthdays, or simply for a leisurely family Sunday breakfast.
I've served the cinnamon buns so many times over the years to both vegans and non vegans. People always go crazy for them!
Plus, they make your entire home smell like you are walking through the aisles of IKEA.
As long as you're good with that (Who wouldn't be good with that?), let's proceed.
You may also like: Overnight Oats– 15 NEW Flavors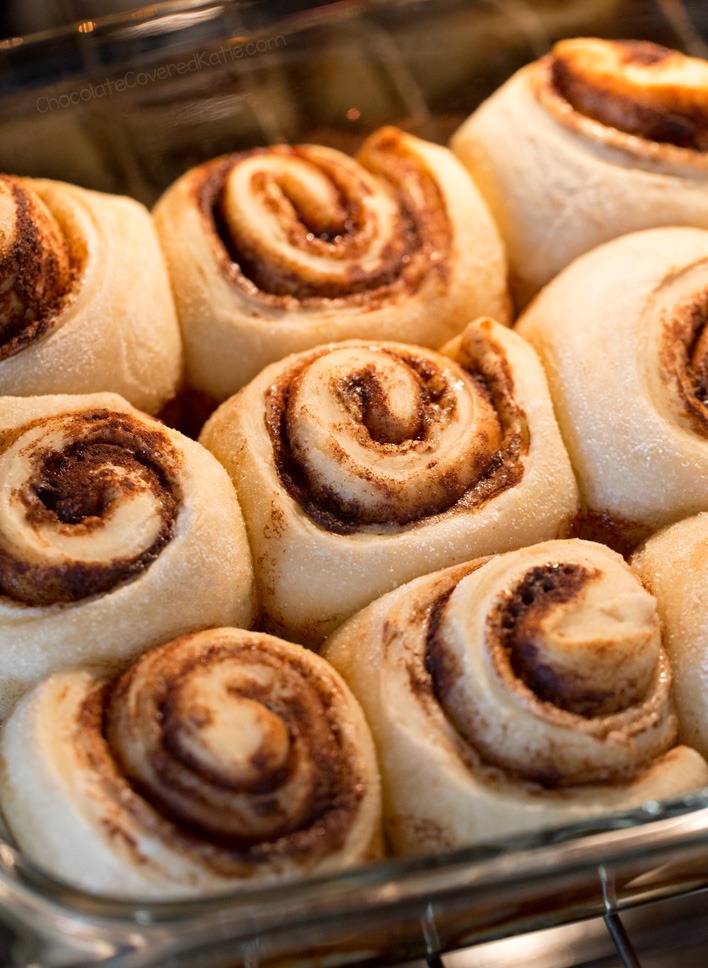 Vegan Cinnabon Recipe
You can definitely serve these rolls to a crowd without worrying. They are made with traditional ingredients just like regular cinnamon buns, nothing crazy.
(I see you, Avocado Chocolate Mousse.)
In fact, many big brands of packaged cinnamon rolls are accidentally vegan already, including Annie's, Immaculate Baking, and Trader Joes (both their regular and pumpkin rolls are actually vegan!).
Even Pillsbury and Kroger cinnamon rolls don't contain eggs. The Pillsbury cinnamon rolls are not vegan because they do contain milk products, but their original crescent rolls are vegan and could easily be turned into cinnamon rolls.
However, with both hydrogenated oils and food dyes, they're not exactly healthy.
So I still think it's better to make your own cinnamon breakfast pastries from scratch. Homemade baked goods taste better anyway.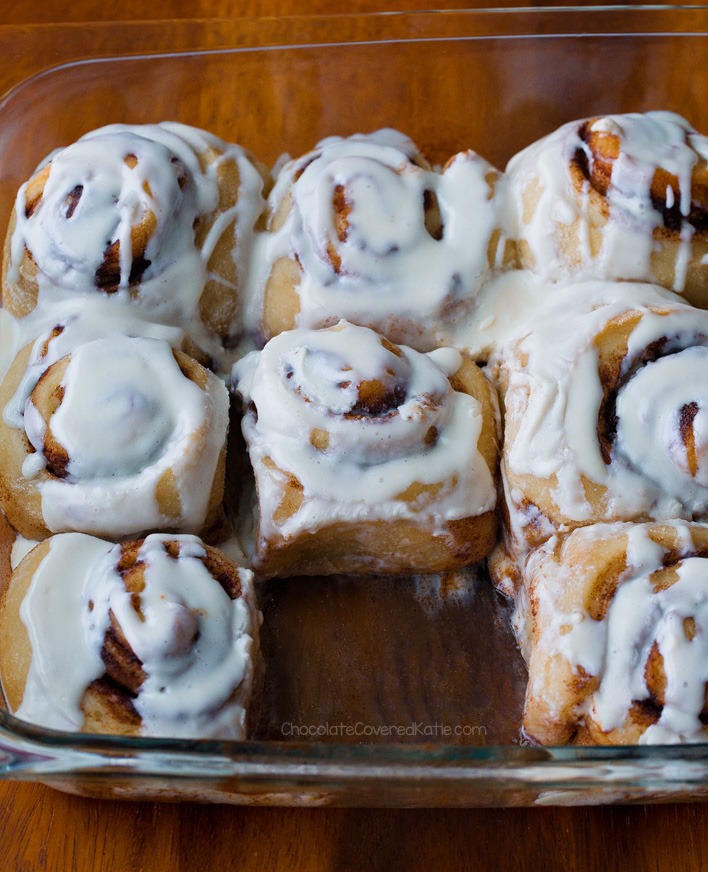 No Butter, No Eggs, No Corn Syrup
The vegan cinnamon roll recipe can also be made without vegan butter or coconut oil.
Low carb recipes are great and all (seriously, this Keto Cheesecake is amazing), but there's just something about a hot-from-the-oven soft and fluffy homemade cinnamon roll, covered in cream cheese frosting, in all its carb filled glory.
Don't worry, these are still much healthier than Cinnabon and yet completely satisfy even the most fervent cinnamon roll cravings.
There is also no need for a stand mixer or bread machine. While most of my recipes do include gluten free options, I haven't yet tried these rolls with a gluten free flour such as oat flour, almond flour, or gluten free all purpose flour (gluten feeds yeast).
I would love to know if anyone experiments, and I am also working on a cinnamon roll recipe without yeast. So hopefully that one will be ready to publish soon.
Trending recipe: Applesauce Muffins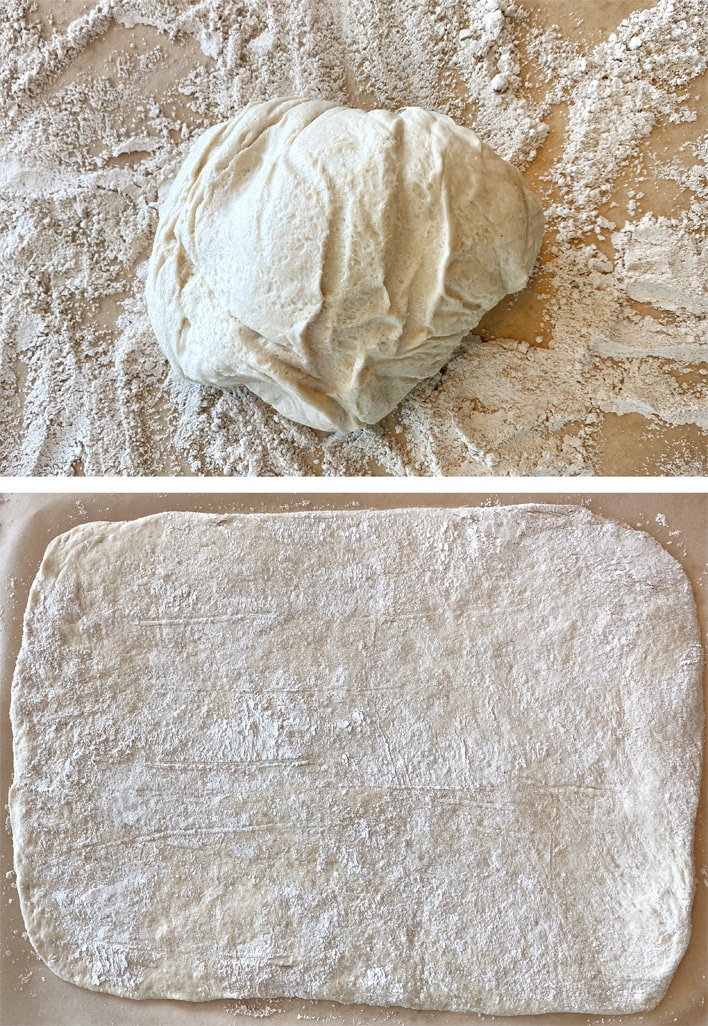 How to Make the Best Cinnamon Rolls
Trick 1: Make the dough super thin
If you can get the cinnamon roll dough just under 1/4-inch thick, that's perfect. Thinner dough is better because it will rise and expand more than you might think in the oven, and starting with super thin dough ensures you will get sweet cinnamon sugar filling in each and every bite.
Trick 2: Roll them up as tightly as you can
The reason for this is the same as above: it distributes the filling more evenly and prevents large expanses of plain dough in the finished product.
Trick 3: Cut slices before rolling = NO messy filling!
My mom taught me this trick, and it forever changed the way I make cinnamon rolls. Once all the filling is spread on the dough, cut slices before rolling up and you won't have to worry about filling oozing out.
It seems like such an obvious trick that I'm surprised so many recipes—including my own in the past—still call for rolling the dough first and then cutting with a knife, thread, or floss. This way is so much easier!
Also try these: Easy Cinnamon Rolls – Just 4 Ingredients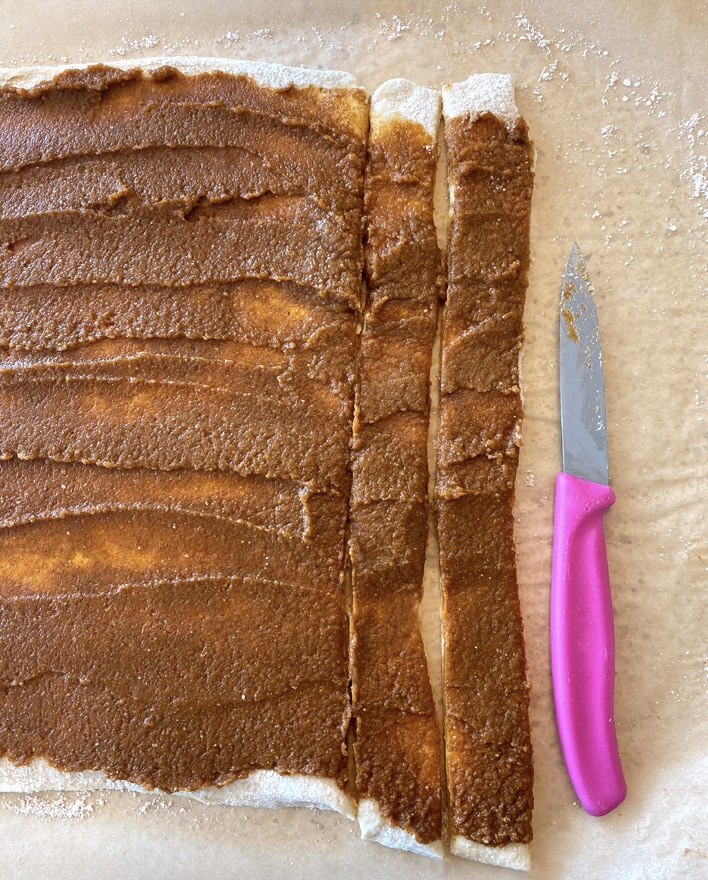 Overnight Cinnamon Rolls
If you want hot cinnamon rolls first thing in the morning, just assemble the day before, then cover and refrigerate overnight.
The next morning, simply put the pan into the oven and bake 20 minutes. Frost as desired, and serve hot.
Leftovers can be covered and refrigerated for two to three days or frozen to reheat in the microwave or oven any time you are craving cinnamon rolls.
The recipe was inspired by this Cinnamon Roll Baked Oatmeal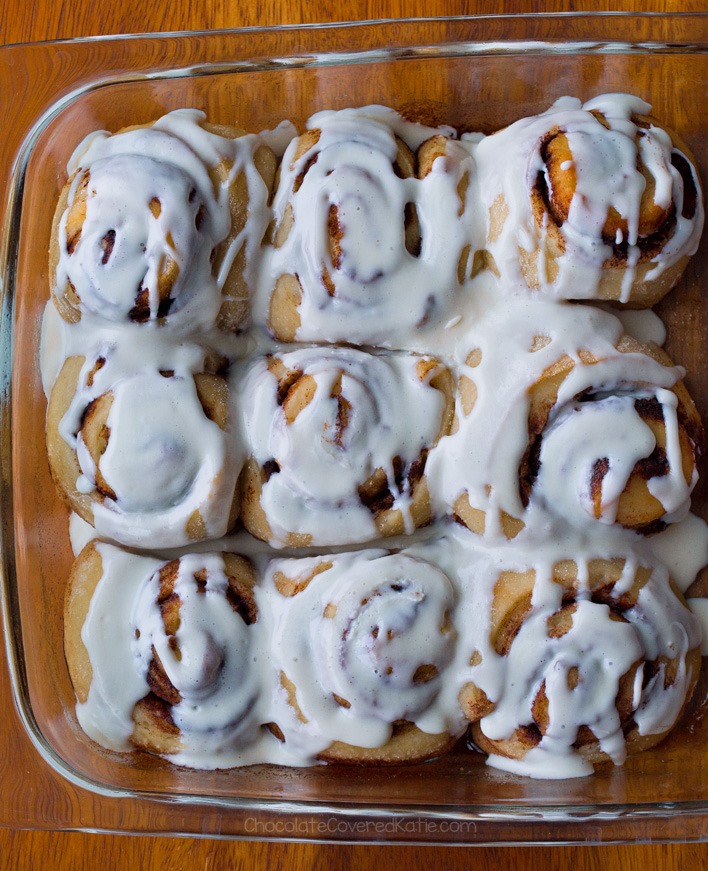 Vegan Cinnamon Roll Frosting Options
1. Melted Coconut Butter – add sweetener of choice if desired.
2. Vegan Cream Cheese Frosting: combine 8 oz store bought or homemade Vegan Cream Cheese with 4 oz plant based butter, 2 cups powdered sugar, and 1 tsp pure vanilla extract. Slowly add a little milk of choice to thin if needed.
3. Easy Glaze Icing: mix 1 1/2 cups powdered sugar or sugar free powdered sugar with 2-4 tbsp milk of choice. Whisk ingredients together to form a glaze. Using a spoon, drizzle the sticky glaze evenly over the rolls.
4. For a less sweet version, feel free to leave them unfrosted, and the healthy cinnamon rolls will have a sweetness similar to a muffin, great for a healthy breakfast. The unfrosted version is especially good if you add raisins and walnuts to the filling.
5. And if you are feeling adventurous, you can turn them into Cookie Dough Cinnamon Rolls by filling the vegan cinnamon buns with Chickpea Cookie Dough Dip.
Above, watch the step-by-step vegan cinnamon roll recipe video

Vegan Cinnamon Rolls
The famous recipe for vegan cinnamon rolls that can absolutely hold their own against any non vegan recipe!
Ingredients
1

cup

milk of choice

2

tbsp

sweetener of choice

1

tbsp

active dry yeast

2 1/2

cups

flour

(see note)

2

tbsp

baking powder

1/2

cup

sugar of choice

3/4

tsp

salt

2

tsp

cinnamon

4

tbsp

oil,

butter spread, or applesauce

2

tsp

pure vanilla extract

5

tbsp

flour

(see note)

1/4

cup

sugar of choice

1 1/2

tbsp

cinnamon

optional

1/2 cup raisins

2/3

cup

butter spread or applesauce
Instructions
Notes: The recipe works with regular all purpose, spelt, or whole wheat pastry flour. I haven't tried others, but be sure to report back if you experiment! For the first 2 tbsp sweetener, you can use sugar, pure maple syrup, agave, etc. – don't use a sugar-free sub because it will not feed the yeast. The butter/oil version is much more decadent (and still just 230 calories each!), but applesauce or almond butter work if you prefer a healthier-tasting version that's oil-free.

Warm milk in a bowl (not boiling – 110 F if you have a candy thermometer). Stir in the sweetener, sprinkle yeast on top, and set aside 5 minutes. (If it doesn't bubble up, either your yeast is no good or milk was too hot or cold.) In a new bowl, combine 2 1/2 cups flour, baking powder, 1/2 cup sugar, the salt, and 2 tsp cinnamon. Stir oil/butter and vanilla into the milk mixture, then stir into the dry-ingredient bowl to form a dough. If needed (depending on flour used), add more flour until it's dry enough to form into a ball. Place ball in a greased bowl, cover loosely, and set in a warm place for 1 hour, during which time it should double in size.

After the dough has risen, punch to deflate. Knead with your hands for 5 minutes, adding the 5 tbsp flour as you knead so the dough isn't sticking to your hands. On a floured surface, roll dough into a very thin rectangle (just under 1/4in). Stir together all remaining ingredients, and spread over the dough. Cut long strips, then roll each up as tightly as possible. Place in a greased 9×13 pan. Loosely cover 30 minutes OR cover and refrigerate overnight. Preheat oven to 325 F. Bake rolls 20 minutes. Serve hot – Frosting options are listed above in this post. If you make them, be sure to leave a review or rate the recipe. I hope you love them!

View Nutrition Facts
More Popular Vegan Recipes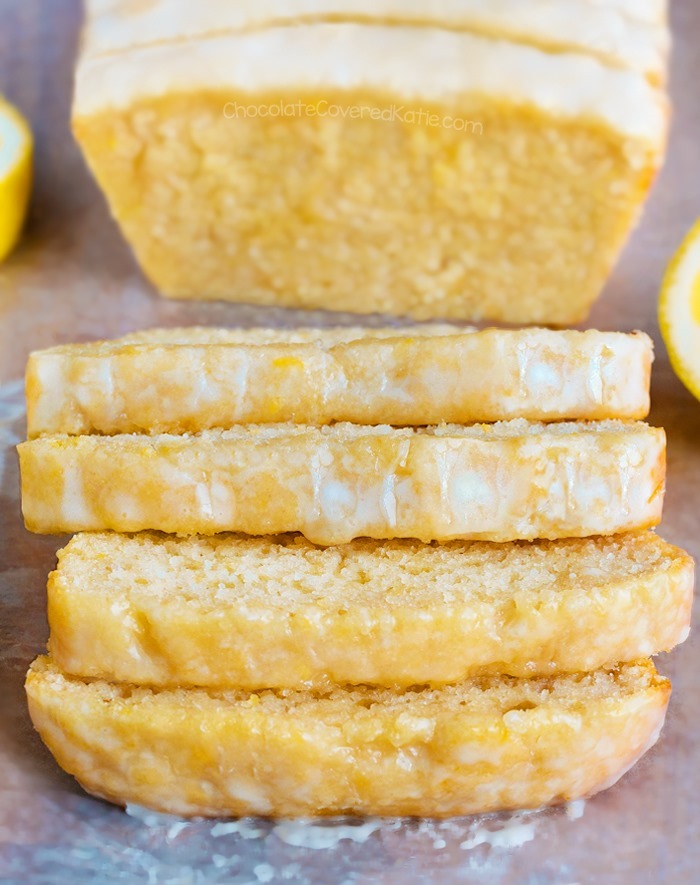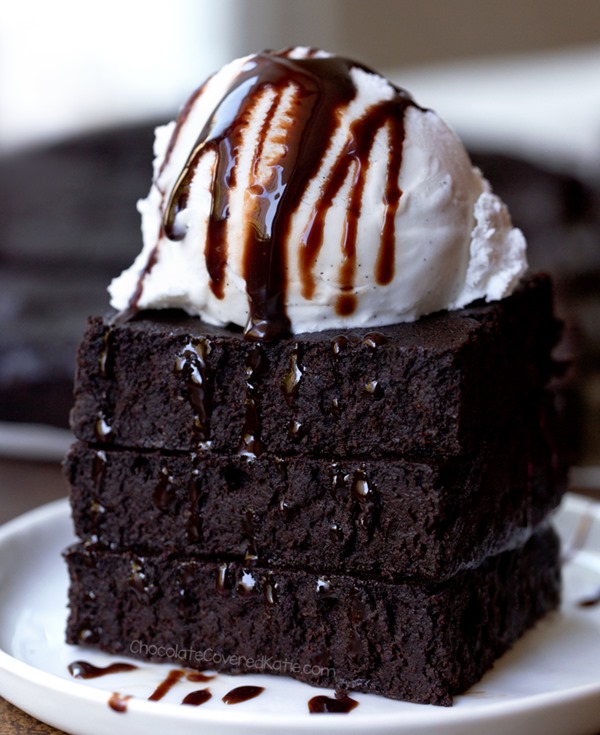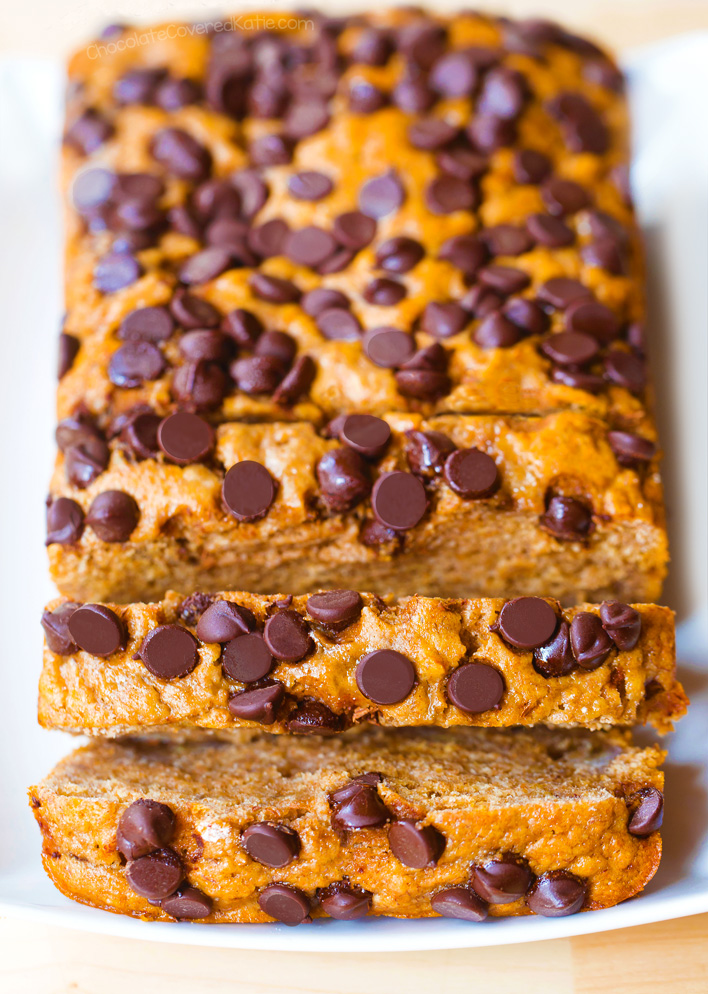 (With an oil free option)