Breakfast just got 1,000 times more fun.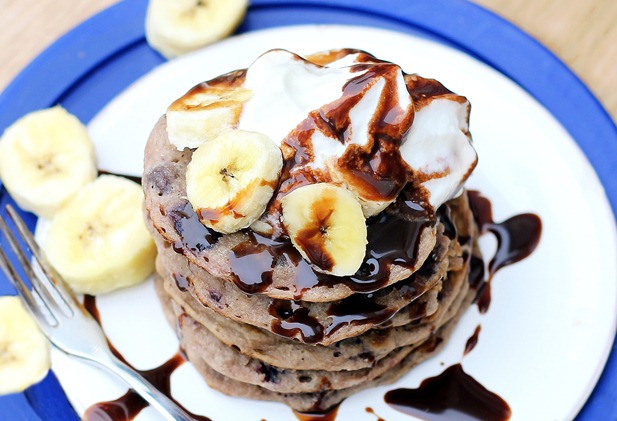 Make that a million times more fun.
In elementary school, my sister and I looked forward to every "report card" day when our mom treated us to ice cream sundaes at Friendly's (not for getting a specific letter grade, but just for working hard in general).
Sometimes I'd order the Monster sundae: mint-chocolate-chip ice cream with a cone head and M&M eyes. Sometimes I'd get two scoops of black raspberry ice cream with gummy worms. And sometimes I'd get… the most gargantuan sundae on the menu: the banana split.
Stuffed with juicy strawberries, caramelized banana, and sweet chocolate chips, the following recipe is like the breakfast version of a banana-split sundae. All that's missing is the ice cream!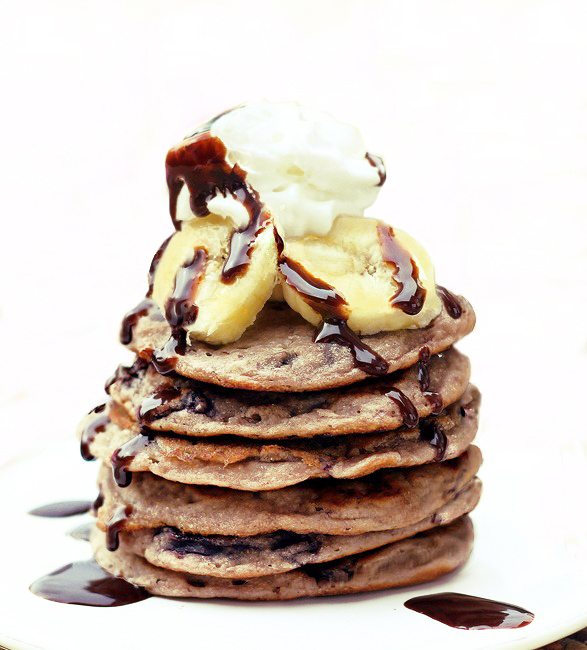 Banana Split Pancakes
Inspired by Strawberry Shortcake Pancakes and Single Serving Banana Pancakes.
1/3 cup flour (spelt, white, or Arrowhead Mills gf mix all work)
3/4 tsp baking powder
1/8 plus 1/16 tsp salt
1 packet stevia or 1 tbsp sugar (you can omit if you're planning to top with syrup and don't want the actual pancakes to taste sweet.)
handful chocolate chips
4 cherries or strawberries, chopped
1/2 a medium banana
1/2 tsp pure vanilla extract
1/4 cup milk of choice
1 tbsp coconut or veg oil, or 1 more tbsp milk of choice (Personally, I use oil because I don't like the texture of fat-free pancakes. But I know a lot of you don't mind, so feel free to use the second option if you'd prefer!)
In a bowl, mash the banana and combine it with wet ingredients (including berries). In a separate bowl, combine all dry ingredients and stir very well. Preheat a greased or oiled pan to medium, then pour wet ingredients into dry and stir to combine. Drop 5-6 dollops onto pan once it's hot (I did it in two batches), and cook on medium-low. Flip once per pancake.
View Banana Split Pancakes Nutrition Facts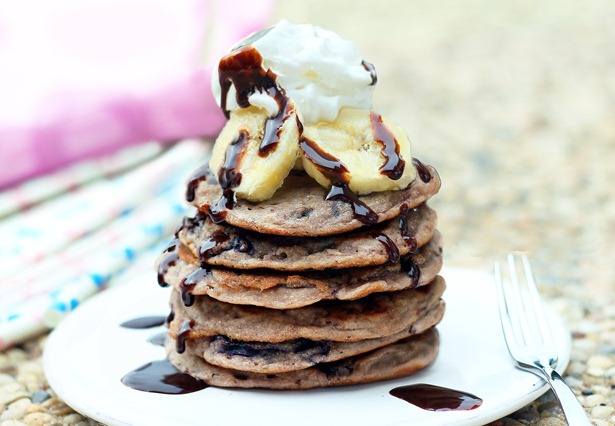 Other Dessert Pancakes: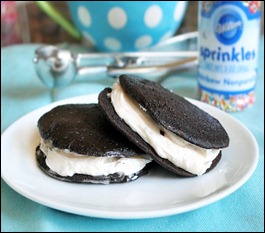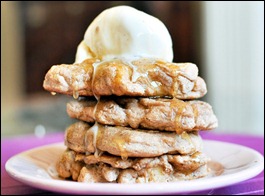 What do you think about the idea of rewarding kids for getting all As?
I think it's important to acknowledge kids' hard work, as opposed to rewarding all As. A struggled-for C should be applauded, not condemned, as it's more meaningful than an A in a blow-off class. Then again, I can't say I never wished to be like some of my friends who got $5 for every A they earned!
Edited to add: That's Barleans' chocolate syrup in the photos.