These healthy vegan meatballs are completely delicious and easy to make, with just 5 ingredients and NO eggs required!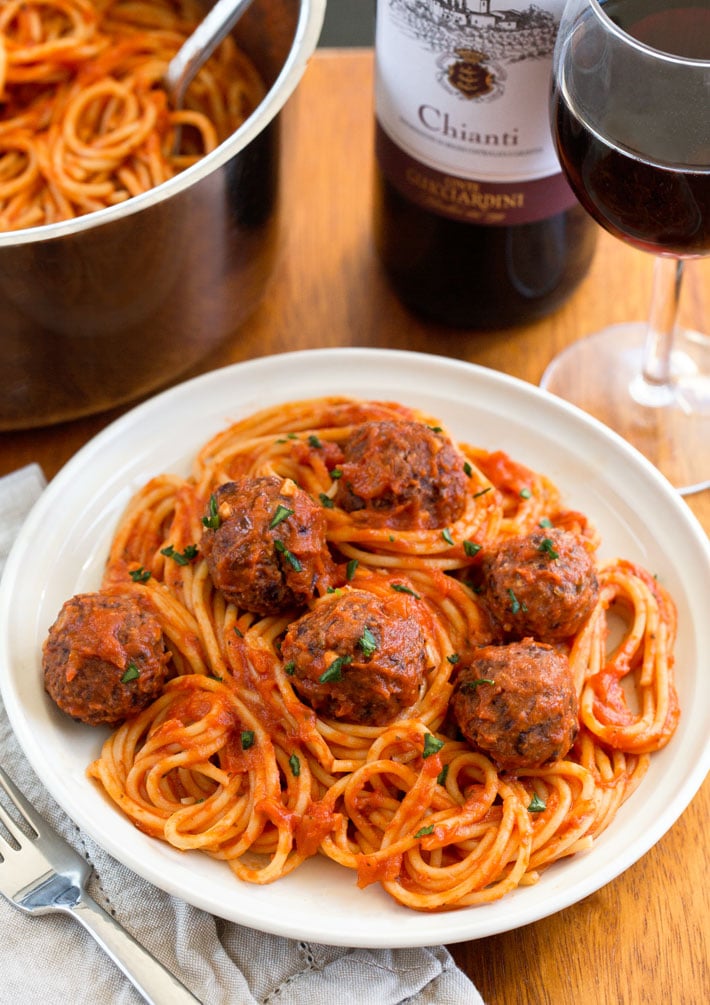 The best vegan meatball recipe
Both kids and adults love the hearty texture and savory flavor of the homemade vegan meatballs, packed with more than seven grams of protein per serving.
Make up a batch for a quick weeknight dinner or your next vegan pasta night.
The best part of the recipe? Unlike many other vegan meatball recipes, this one needs no oil, no mushrooms or flax eggs, no flour, soy, or nuts, and no meat substitutes!
Also try this Vegan Chocolate Cake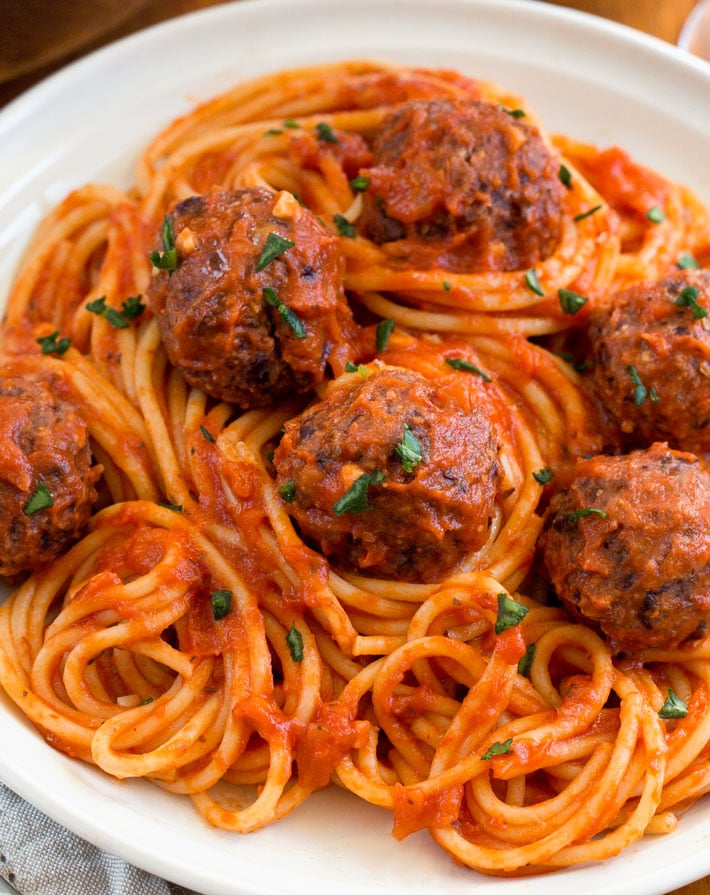 Vegan meatball flavors
Italian meatballs: For an Italian style version, add up to a teaspoon each of dried oregano and parsley flakes. You can also add a sprinkle of dried basil and substitute the oats with an equal amount of toasted or panko breadcrumbs.
Cheese meatballs: Add one or two tablespoons of vegan Parmesan or Romano cheese before blending the ingredients. Or press a small piece from a block of vegan cheese into the center of each ball after rolling.
Teriyaki meatballs: Add a fourth of a teaspoon of powdered ginger to the dry ingredients. After baking or frying, cover the vegan black bean balls with your favorite teriyaki sauce. Garnish with sesame seeds and chopped green onions.
Vegan sausage meatballs: Before blending the meatball ingredients, add a teaspoon of fennel seeds, a half teaspoon of dried basil, and a shake of black pepper.
Vegan sweet and sour meatballs: As with the teriyaki version above, add a fourth of a teaspoon of powdered ginger. Cover the finished balls in bottled or homemade sweet and sour sauce. Stir in diced pineapple and cooked bell peppers if desired.
Trending recipe this week: Buffalo Cauliflower Wings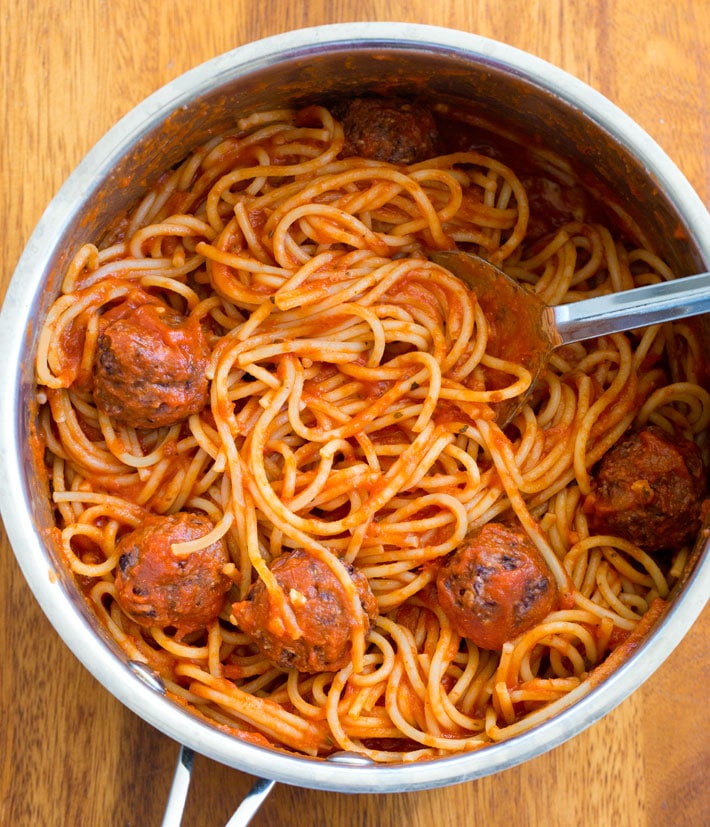 Vegan spaghetti and meatballs
For classic vegan pasta and meatballs, put a pot of water on to boil while the bean balls are in the oven. I like to salt the water, but it's not required.
Once boiling, throw in your pasta of choice and cook according to the package directions, draining when the noodles are al dente. For best results, do not rinse.
Heat up either jarred or homemade tomato sauce, and stir it with the pasta. Either stir in the vegan meatballs (my preferred method so they get coated with marinara sauce) or add them individually on top of each plate before serving.
Not a tomato fan? Use Vegan Alfredo Sauce or this Cauliflower Alfredo Sauce instead.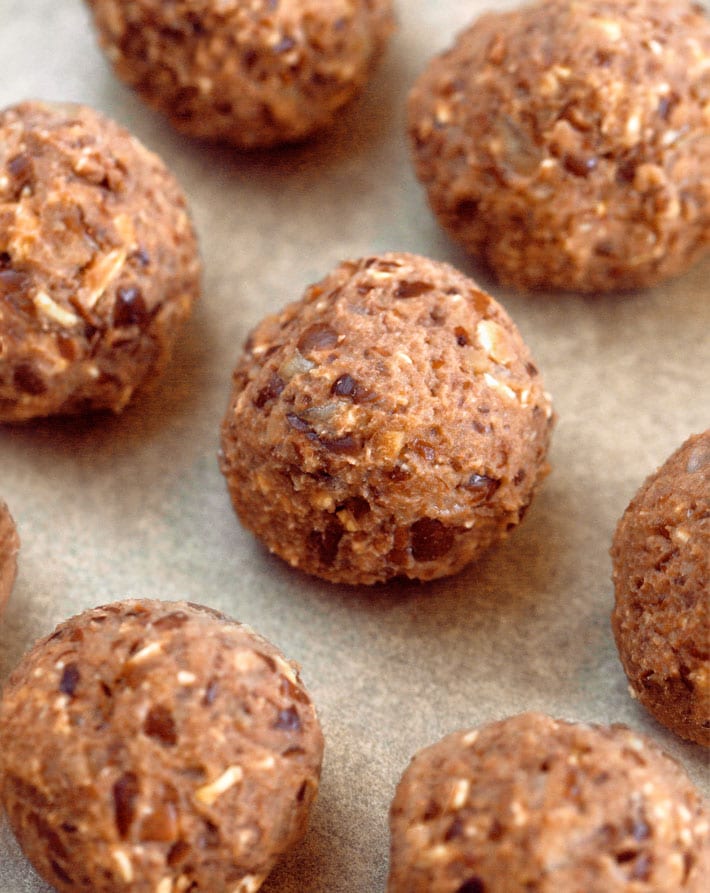 Ways to use vegan meatballs
Serve the meatless balls on top of spaghetti.
Turn them into a vegan sub sandwich, hero, or hoagie.
Serve with rice, mashed potatoes, quinoa, or Vegan Mac and Cheese.
Add the black bean balls to stir fries or curry recipes.
Mix with Tofu Scramble for a high protein breakfast.
You can even make vegan meatball sliders or add a pinch of nutmeg for vegan Swedish meatballs and cover them with homemade Mushroom Gravy.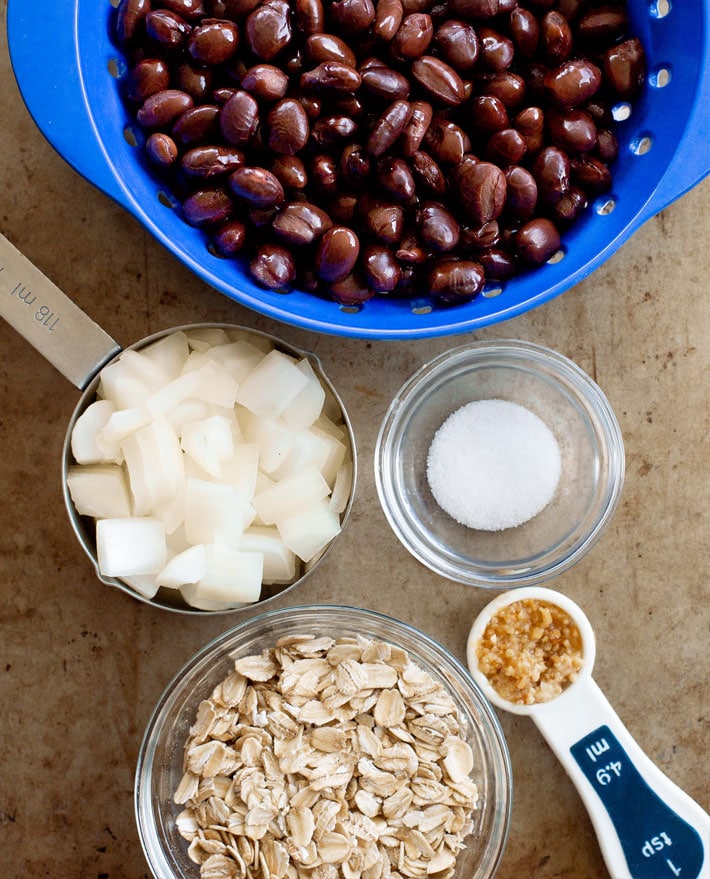 Ingredients for the black bean meatballs
You will need the following five ingredients: cooked or canned beans, quick oats or almond flour, chopped onion, salt, and minced garlic or garlic powder.
Is it okay to substitute a different bean? These can be made with black beans, white beans (such as cannellini or great northern beans), or pinto beans. Kidney beans technically work but I found the taste to be a bit earthy. If you experiment with chickpeas or lentils, be sure to report back with results!
Are these grain free or gluten free meatballs? The recipe calls for either almond flour (or almond meal) or quick oats. If using almond flour, they are grain free and gluten free. Quick oats are naturally gluten free but often share factory equipment with wheat products. If you or someone you are serving the bean balls to has a gluten allergy, you can buy "certified gluten free" oats to avoid any cross contamination.
Can I substitute rolled oats or white flour? To make the meatballs with rolled oats, pulse the oats a few times in the food processor before adding all of the other ingredients. No other changes are needed. If substituting flour for the oats, start with one fourth cup of flour and only add more if the mixture is too soft.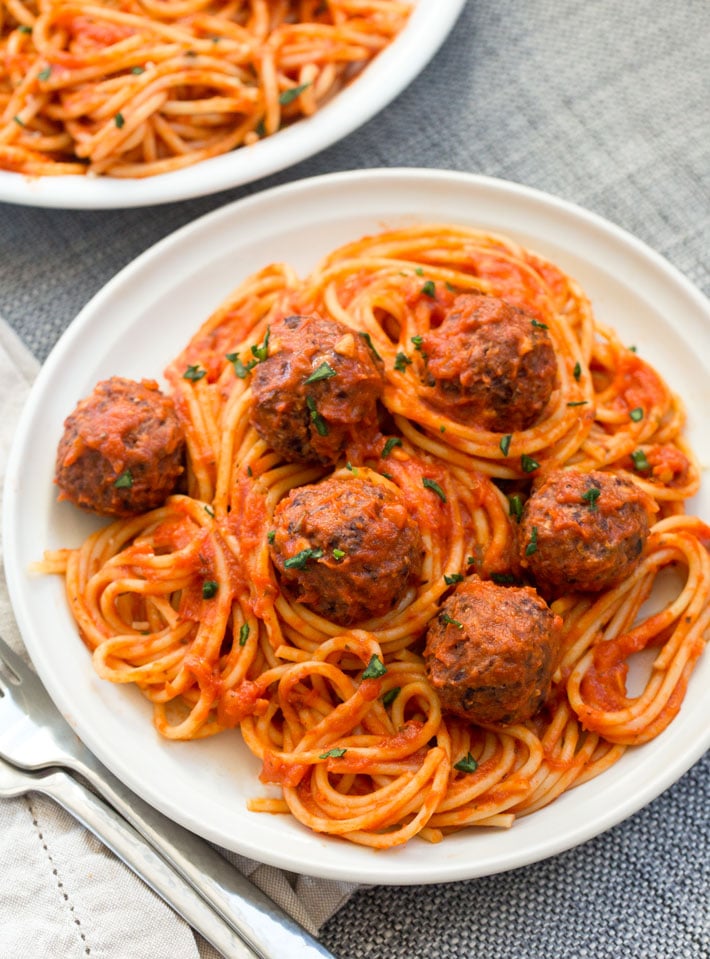 Plant based meatballs FAQ
Can I use dried beans instead of canned? If you would rather cook your own beans to save money or skip the can, use about one and a half cups of cooked beans. This will equal the amount of beans in one standard 15 ounce can of beans.
Can you freeze vegan meatballs? You can. Let the bean balls cool before transferring leftovers to an airtight covered container. Store in the refrigerator for four or five days or the freezer for up to three months. When ready to eat, just thaw and reheat the frozen meatballs on the stovetop or in the microwave or oven.
Do they taste exactly like traditional meatballs? The balls are actually not supposed to taste like meaty non vegan meat balls at all. The recipe is delicious in its own right, not as an inferior stand in for the real thing. Just like Trader Joes Meatless Meatballs and IKEA plant balls have their own distinct texture and flavor, so do these.
Don't want to call them meatballs since there is no meat? Simply name them black bean balls or bites, vegan meatless balls, or veggie balls instead.
Where can I buy vegan meatballs? If you are looking for a vegan version that does taste like ground beef meatballs, I have heard good things from both vegetarians and omnivores about Impossible, Gardein, Beyond, and Morningstar Farms Meatless Meatballs.
Look for vegan meatball brands at Whole Foods, Target, Costco, and many regular grocery stores. Beyond Meatballs and Impossible Meatballs are also available at some restaurants, including select Starbucks and Subway locations.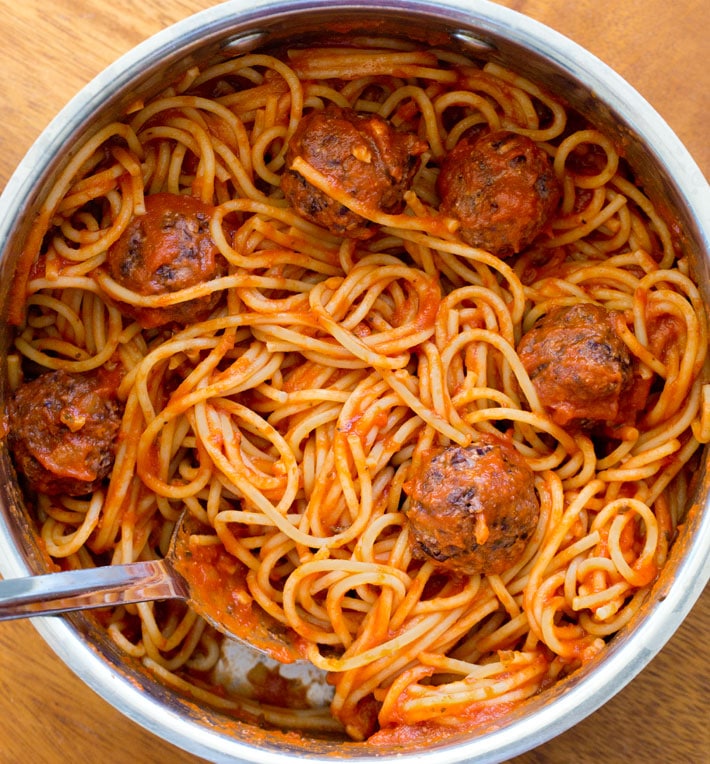 How to make vegan meatballs
Gather all of your ingredients, and drain and rinse the beans very well.
If you're making baked meatballs instead of fried, preheat the oven to 350 degrees Fahrenheit and line a baking tray with parchment paper for easy clean up.
Combine everything in a food processor, scraping down the sides as needed. Stop processing when the mixture still has some texture but no large pieces remain.
Roll into balls. I like smaller meatballs, because they cook more evenly.
Either pan fry in a little oil, or place the balls on the prepared baking tray and cook on the oven's center rack for 10 minutes, then turn each vegetarian meatball and bake for an additional 10 minutes or until the desired texture is reached.
Readers also love this plant based Coconut Curry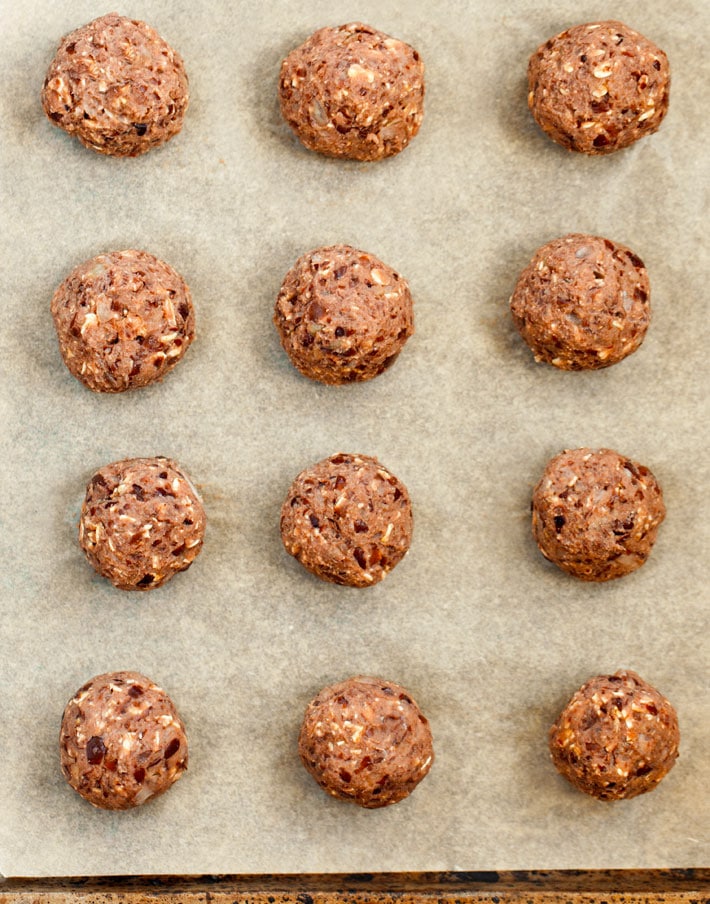 Nutrition facts for vegetarian meatballs
This healthy vegan recipe is high protein, low calorie, high fiber, and cholesterol free.
The bean balls are also high in iron and potassium, low in fat and saturated fat, and they have no added sugar.
Full nutrition facts and Weight Watchers points are included below.
The meatballs were adapted from this Veggie Burger Recipe.
Above, watch the vegan meatball recipe video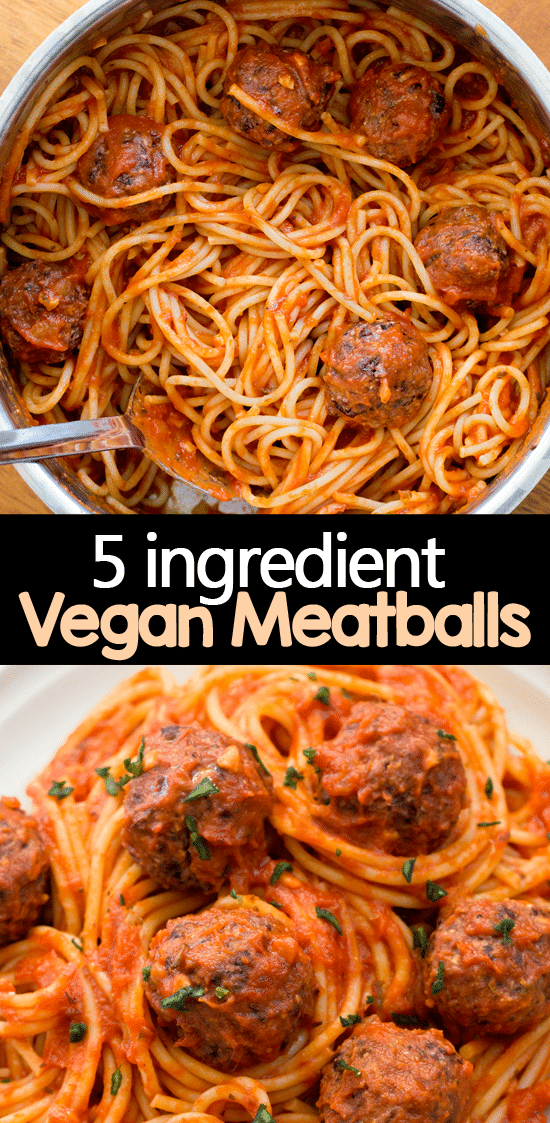 Vegan Meatballs
This healthy recipe for vegan meatballs is great for lunch or dinner. Eat them covered in gravy or on top of spaghetti.
Ingredients
1

can

pinto or black beans

1/2

tsp

salt

1/3

cup

quick oats or almond flour

1

tsp

minced garlic or 1/4 tsp garlic powder

1/2

cup

chopped onion

see the flavor options listed above
Instructions
Preheat the oven to 350 F if baking instead of frying. Drain and rinse the beans very well. Combine everything in a food processor until evenly blended – stop while it still has some texture but no large pieces remain. Roll into balls (small meatballs cook much more evenly), and either pan fry in a little oil, or place on a parchment-lined baking tray and cook on the center rack for 10 minutes, then turn each ball and bake an additional 10 minutes or until desired texture is reached.

View Nutrition Facts
Savory Vegan Recipes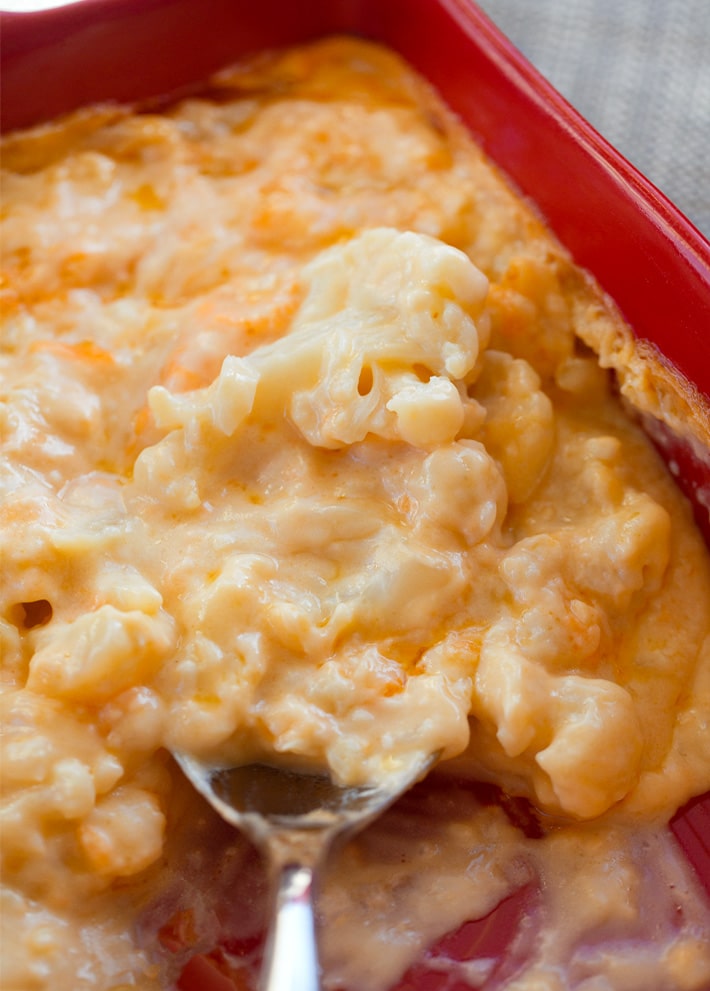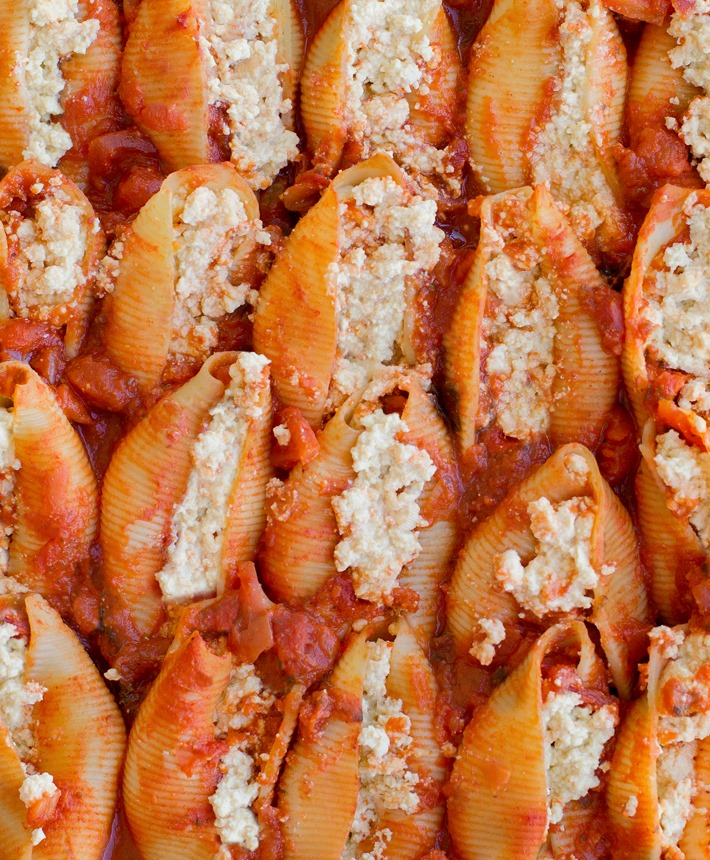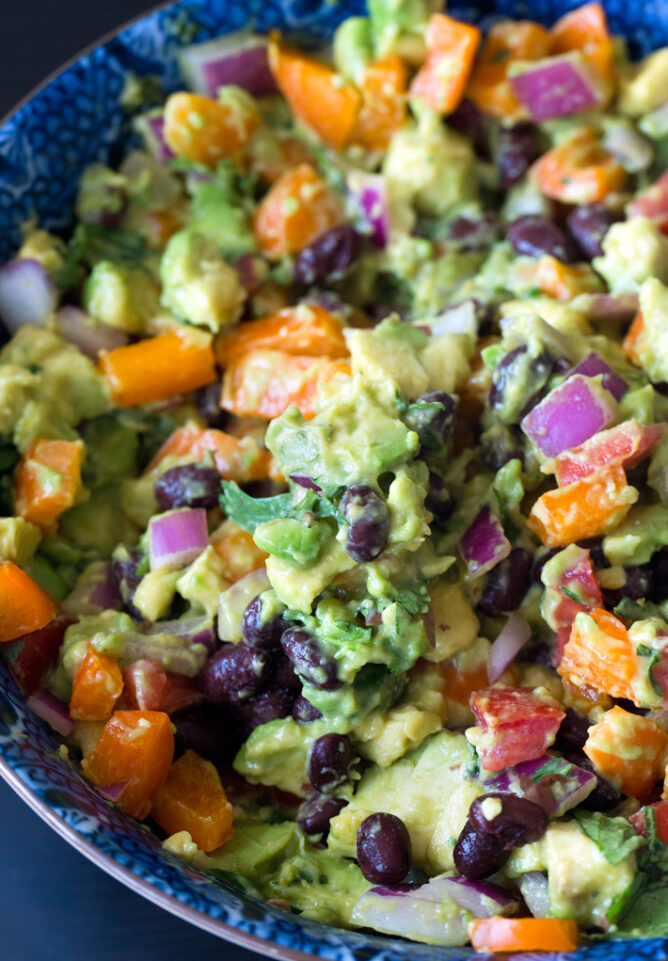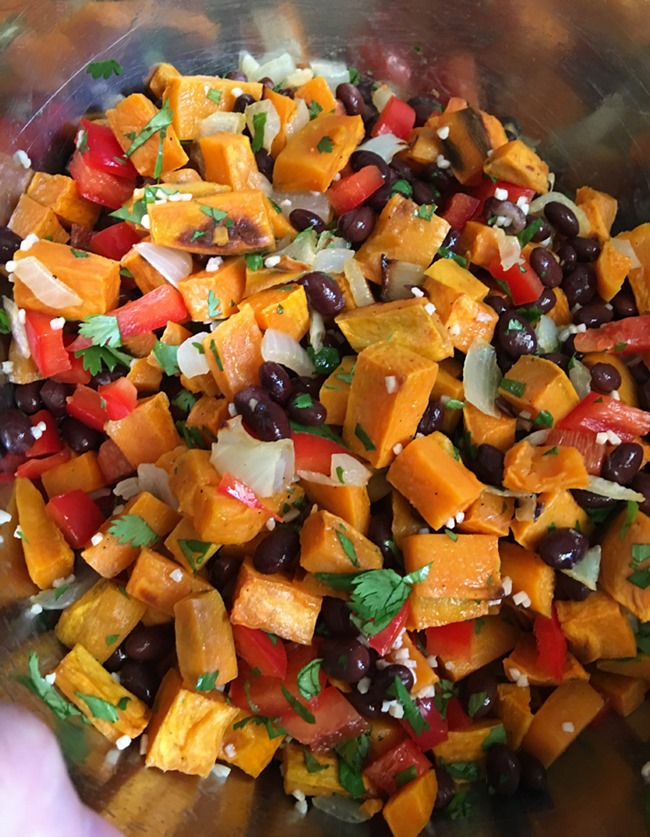 Cauliflower Fried Rice
Vegan Pizza
Vegan Tacos
Lentil Soup
Vegan Cheese Sauce