You will fall in love with this classic apple bread recipe, with sweet apple cinnamon flavor packed into each soft and delicious bite!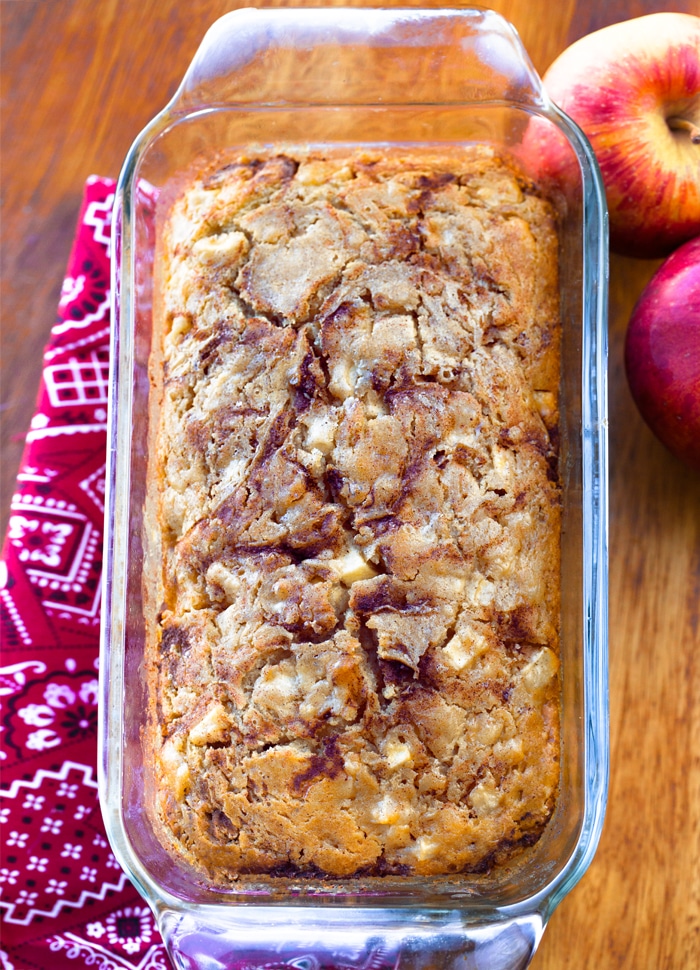 Frosted apple cinnamon bread
This moist apple quick bread is a perfect cozy Fall breakfast or snack.
It makes a wonderful holiday or thank you gift for friends and family, with a taste that reminds you of hot apple fritters, sweet apple cake, and a gooey frosted cinnamon roll, all at the same time.
In other words, this amazing recipe is pretty much impossible to resist!
There is no yeast required for the spiced cinnamon sugar apple loaf. And leftovers can be frozen for a rainy day or for Sunday meal prep to enjoy all week long.
The best part is that your entire kitchen will smell like classic Cinnabon and homemade apple pie, straight out of the oven.
You may also like Easy Cinnamon Rolls – 4 ingredients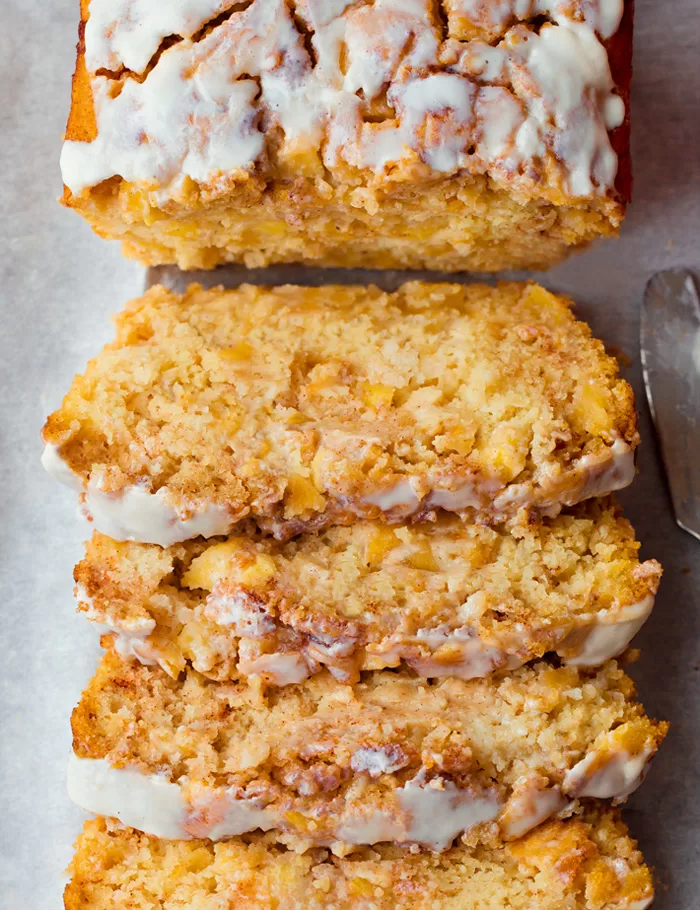 Grandma's apple bread
The recipe below is adapted from my grandmother's famous Dutch apple bread.
Her homemade apple loaf cake was a family favorite when I was growing up. She served it at all of our holiday gatherings, because we would always beg her to make it!
Years later, it is still the best apple bread recipe I've ever found, with a full two cups of chopped apples packed into the batter and a cinnamon sugar swirl that makes this traditional apple treat completely irresistible.
Readers also love these Snowball Cookies
Above, watch the apple bread recipe video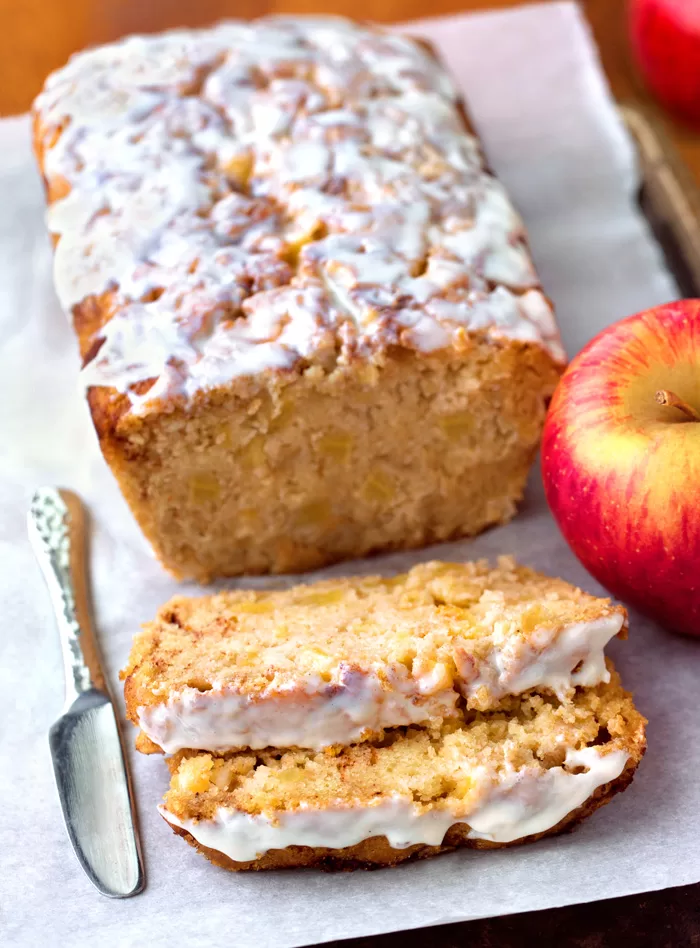 Homemade apple loaf ingredients
The recipe calls for just a few basic ingredients you might already have at home.
You will need ground cinnamon, pure vanilla extract, flour, baking powder, baking soda, salt, sugar, milk of choice, oil or applesauce, and finely diced apples.
I used Braeburn apples for the bread in the photos. Other varieties, such as Granny Smith, Honeycrisp, Pink Lady, or Fuji, are also fine to use.
Two cups of diced apple is equal to about two medium apples. You can either peel the apples or leave them unpeeled. It is entirely up to you.
Flours that work in this recipe include white (all purpose), spelt flour, or oat flour for a gluten free version. We have not tried almond flour or coconut flour here.
You can use regular sugar, brown sugar or coconut sugar, unrefined date sugar, or granulated erythritol or xylitol for a sugar free apple bread.
The naturally vegan apple bread is already pretty healthy, but for an oil free version you can substitute mashed banana, sour cream, or additional applesauce. It also works with softened almond butter in place of the oil.
*If you prefer an apple cake, try this easy Applesauce Cake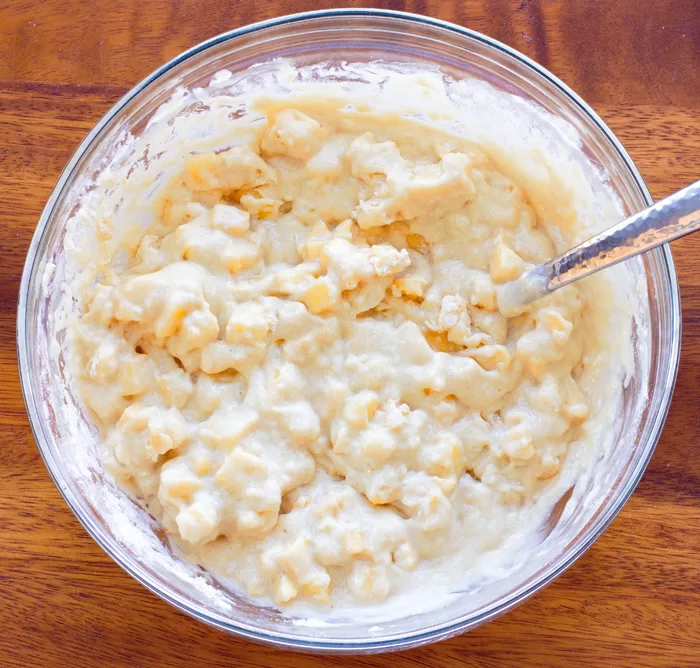 How to make apple bread
If you wish to make a cinnamon swirl topping, whisk the ground cinnamon into two tablespoons of the milk in a small dish, and set this dish aside.
Preheat your oven to 350 degrees Fahrenheit, and grease a standard 9×5 inch loaf pan. I often also cover the bottom of the pan with a piece of parchment paper, because this enables you to easily pop the loaf out after baking.
In a large mixing bowl, stir together the flour, sugar of choice, baking soda, baking powder, salt, and ground cinnamon if you are not opting for the swirl.
Add remaining ingredients, except for the reserved small dish. Stir until just evenly mixed. Smooth this apple bread batter into the prepared loaf pan.
Use a spoon to swirl in the optional cinnamon topping. Then bake on the oven's center rack for fifty minutes or until a toothpick inserted into the center of the bread comes out mostly clean.
Let the apple pastry cool. Once fully cooled, I like to cover the loaf pan loosely with a cloth and let it sit overnight on the counter or in the refrigerator.
The flavor and fluffy texture are even better the next day, after excess moisture escapes. If you go this route, be sure to leave a small opening when covering the loaf so it does not turn soggy and dense from the trapped moisture.
Refrigerate leftovers in a covered container after a day. The light and healthy apple bread should stay fresh for up to four days.
Or slice and freeze leftover bread in an airtight covered container for up to three months. Thaw before serving, and reheat in a microwave or toasted oven if desired.
While the cinnamon is out, make Healthy Blueberry Muffins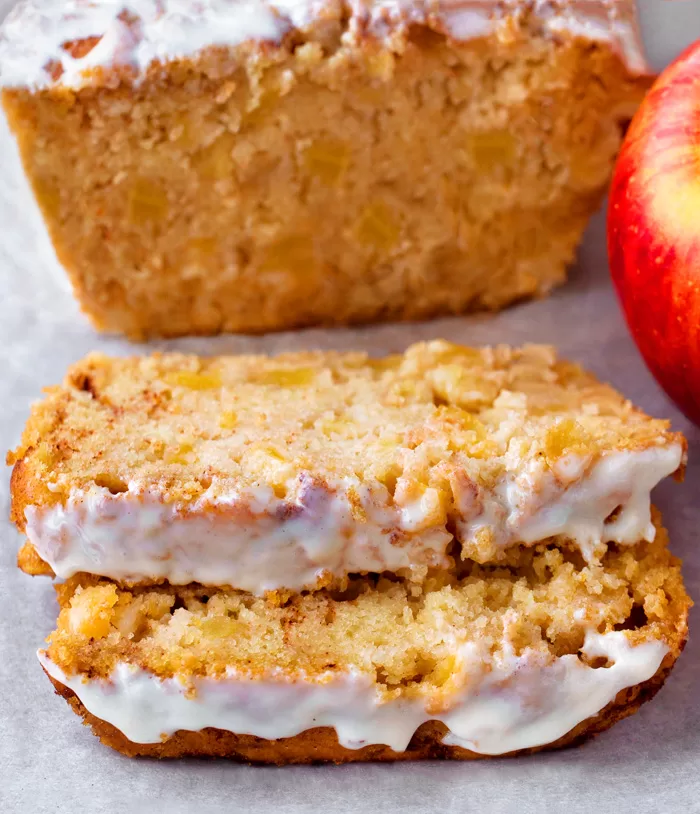 How do you serve the recipe?
The bread is good on its own. Or top it with almond butter, cream cheese, peanut butter, pumpkin butter, melted Coconut Butter, or your favorite vanilla frosting.
For Dutch or Amish apple bread: make a glaze by combining 1/2 cup powdered sugar with 1-2 tbsp milk of choice and optional 1 tbsp melted butter or coconut oil.
Feel free to change up the flavor by stirring in a handful of raisins or shredded coconut. Or try replacing some of the apples with diced pineapple instead.
Leftover apples? Make Apple Crisp Recipe or Apple Cinnamon Oatmeal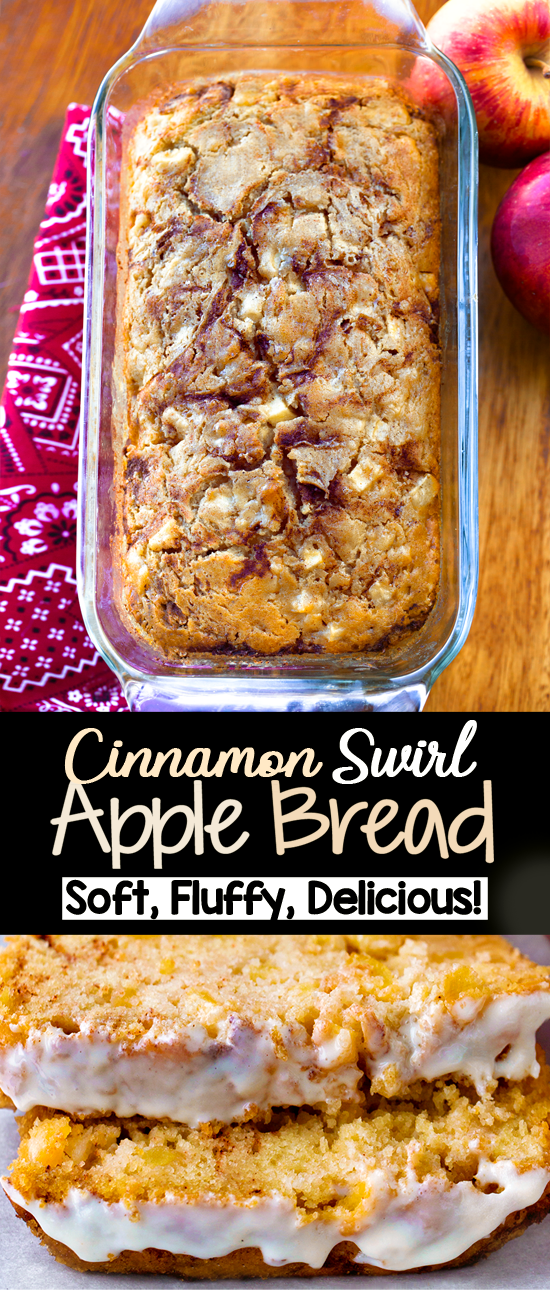 Apple Bread
This classic homemade apple bread recipe is loaded with sweet apple cinnamon flavor, and leftovers freeze well too.
Ingredients
2

cups

finely diced apple

2

cups

white, spelt, or oat flour

2

tsp

baking powder

3/4

tsp

salt

1/2

tsp

baking soda

1/2

tsp

cinnamon

3/4

cup

sugar, unrefined if desired

1

cup

milk of choice

3 1/2

tbsp

oil, or applesauce for low fat

2

tsp

pure vanilla extract
Instructions
You can either just add the cinnamon with the dry ingredients, or mix it into 2 tbsp of the milk and swirl that into the loaf right before baking (for a visual, see the recipe video above).

Preheat oven to 350 F. Stir dry ingredients very well. Add remaining ingredients to form a batter, smooth into a greased 9×5 pan, and bake 50 minutes or until a toothpick inserted into the center of the apple bread comes out mostly clean. Let cool. I like to cover with a cloth overnight and serve the next day, because the flavor and texture are even better. Leftovers can also be sliced and frozen. If desired, frost with your favorite icing or the simple glaze recipe written out earlier in this post.

View Nutrition Facts
Sweet Quick Bread Recipes