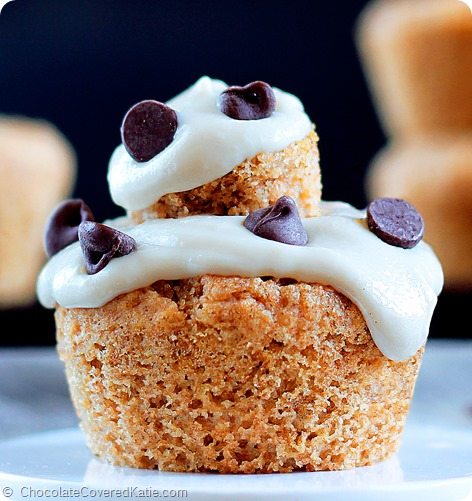 Maybe I was a strange child…
Whenever a classmate brought cupcakes to school for his or her birthday, I'd devour the frosting but leave the actual cupcake, proclaiming it to be "boring."
Too bad no one ever brought in a batch of these cookie dough cupcakes. You think they are ordinary vanilla cupcakes until you take a bite. Suddenly it's no longer a cupcake you're eating, it's unbaked chocolate chip cookie dough!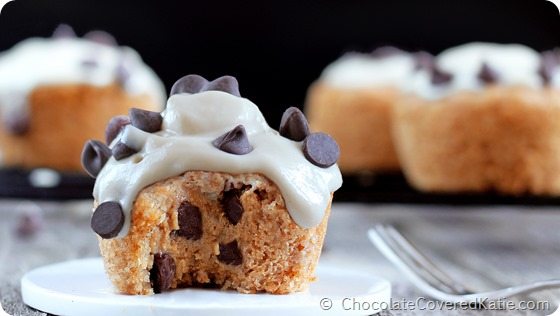 I was generous with the cookie dough in these cupcakes – there's not just a tiny amount. They are completely STUFFED with cookie dough!
And the process is much easier than it may seem. As proof: I made the entire recipe with one hand. (Or maybe I'm just getting better at navigating my broken arm.) In any case, I've included some of the unedited in-process photos below: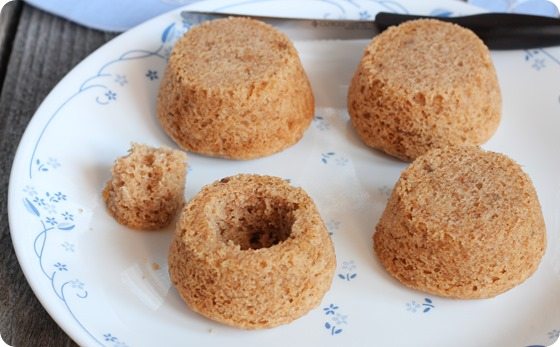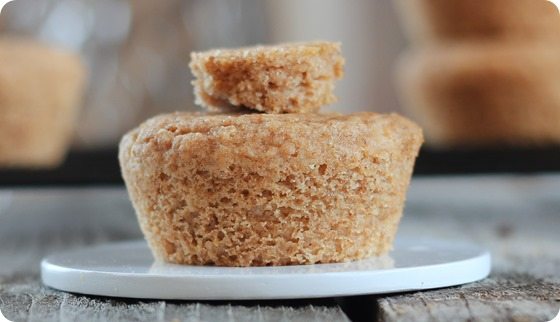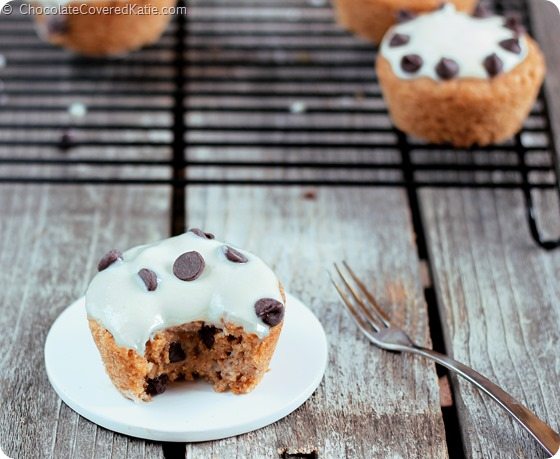 On to the recipe!!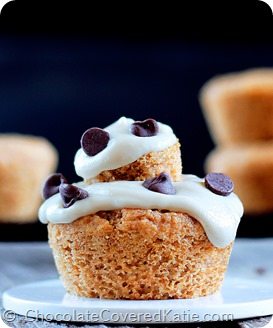 Cookie Dough Stuffed Cupcakes
For the Cupcakes (adapted from my Gluten Free Cupcakes)
1 1/2 cups flour (white, spelt, or Bob's gf) (180g)
1/2 tsp baking soda
1/2 tsp salt
1 cup xylitol or sugar of choice (180g)
only if using Bob's gf, add 1/2 tsp xantham gum
1/2 cup mayonnaise (such as Vegenaise, Mindful Mayo, or homemade cashew mayo) (120g)
1 tsp pure vanilla extract
2/3 cup plus 2 tbsp water (190g)
Preheat your oven to 350F. Place 12-14 liners inside a cupcake pan. In a large bowl, combine all dry ingredients and stir well. In a separate bowl, combine remaining ingredients and whisk until the mayo spread is completely smooth. Pour wet ingredients into dry and stir until just evenly combined.  Immediately divide among the liners (these cupcakes rise a lot), and bake 20 minutes or until cupcakes have domed and a toothpick inserted into the center of a cupcake comes out clean. Remove cupcakes from the oven and let sit at least 20 minutes before trying to peel away the liners.
For the Cookie Dough (adapted from my Chickpea Cookie Pie, and if a sugar-free version is preferred, you can use my Sugar-Free Cookie Dough Dip instead.)
1 can white beans or garbanzos (drained and rinsed) (250g total, once drained)
1/2 cup quick oats (40g)
2 tbsp unsweetened applesauce (30g)
1 1/2 tbsp oil (or peanut butter) (20g)
1 tsp pure vanilla extract
1/4 tsp baking soda
1/4 tsp salt
3/4 cup brown sugar or xylitol (135g)
1/2 cup chocolate chips (120g)
Blend everything except the chocolate chips very well in a good food processor. Stir in the chocolate chips. (Some commenters have had success with a blender, but I did not. Try that at your own risk, and know the results will be better in a high-quality food processor such as a Cuisinart.) Cut out the center of each cupcake with a knife or spoon, fill the holes with cookie dough, then place the cut-out portion back on top. Frost with more cookie dough OR your favorite frosting OR any of my Healthy Frosting Recipes.
—–> View Cookie Dough Cupcake Nutrition Information <—–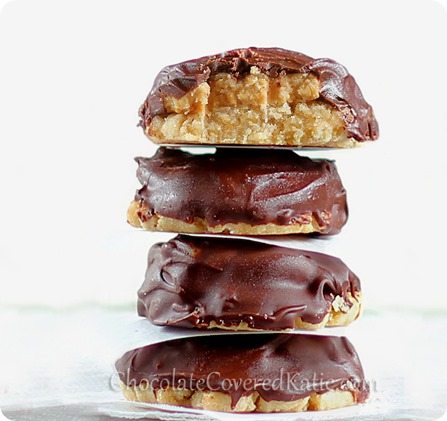 Link of the Day: Healthy Girl Scout Cookie Peanut Butter Tagalongs – no flour required!