Opposite Day.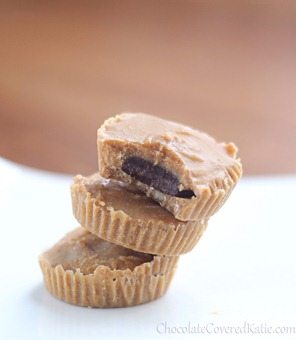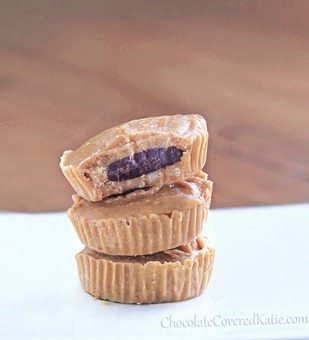 A day when no means yes, naptime is play time, and dessert comes before dinner.
We celebrated Opposite Day once every year when I was in preschool: we wore our pajamas to class, greeted each other by saying goodbye, and circle time became square time. We tried to sing the ABCs backwards, and then all of the students got a chance to be the teachers (yikes). Why the day has such an indelible impression on me that I can remember so vividly all the way back to preschool, I really don't know. Must've been the dessert-before-dinner thing.
Who could forget that?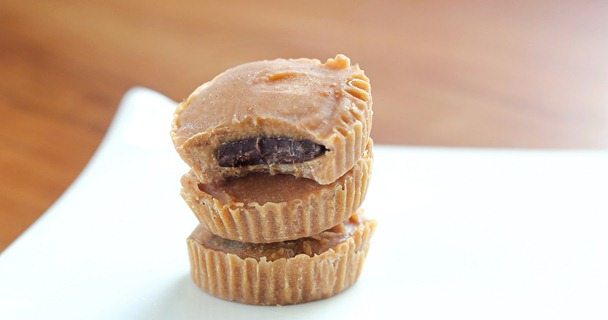 What's the opposite of a chocolate peanut butter cup? That would be a peanut butter chocolate cup: a thick coat of peanut butter surrounding a chocolate center.
Best eaten before dinner.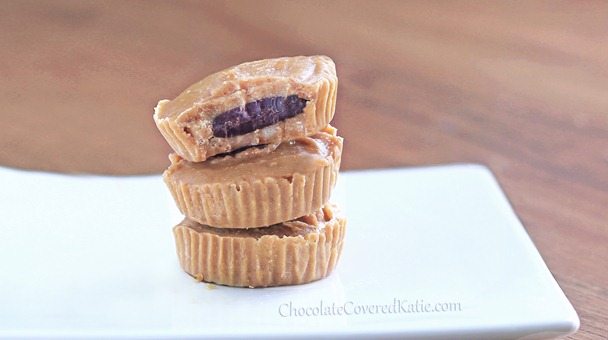 Inside Out Chocolate Peanut Butter Cups
Adapted from Homemade Peanut Butter Chips
Level 1/2 cup powdered peanut butter or PB2 (48g)
1/4 cup virgin coconut oil or cacao butter, melted (40g)
4 tsp pure maple syrup (20g)
heaping 2 tbsp melted semi-sweet chocolate of choice, or Sugar-Free Chocolate (32g)
mini cupcake liners or candy molds
Combine first three ingredients in a bowl, and stir well to form a paste. Smooth a little under 1 tsp into each of ten mini cupcake liners, going up the sides just a bit. (I put the cupcake liners into a mini muffin tin.) Freeze 10 minutes. Then divide the chocolate evenly among the liners and freeze again. Finally, top with remaining peanut butter paste. Freeze again until solid. If using coconut oil, keep these peanut butter cups refrigerated or frozen. With cacao butter, the candies can stay out at room temp. (I much prefer coconut version, but cacao butter works if you have an allergy.)
Click for: Peanut Butter Cup Nutrition Facts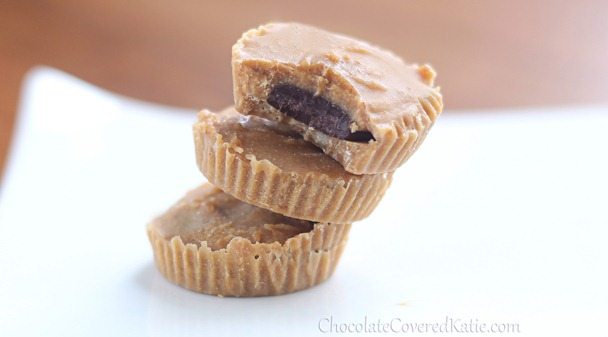 Question of the day:
Do you remember preschool or kindergarten?
I think one of my favorite preschool activities was making junk art out of cereal boxes, milk cartons, and toilet paper rolls. But I also really liked the scented markers… I would get the markers a little too close, and they often sent me home with a rainbow nose. Not sure my mom was all too happy about that.
Link of the Day: 8 Healthy Fathers Day Recipes.