If a chocolate fudge brownie fell in love with a Mounds candy bar, you'd get this: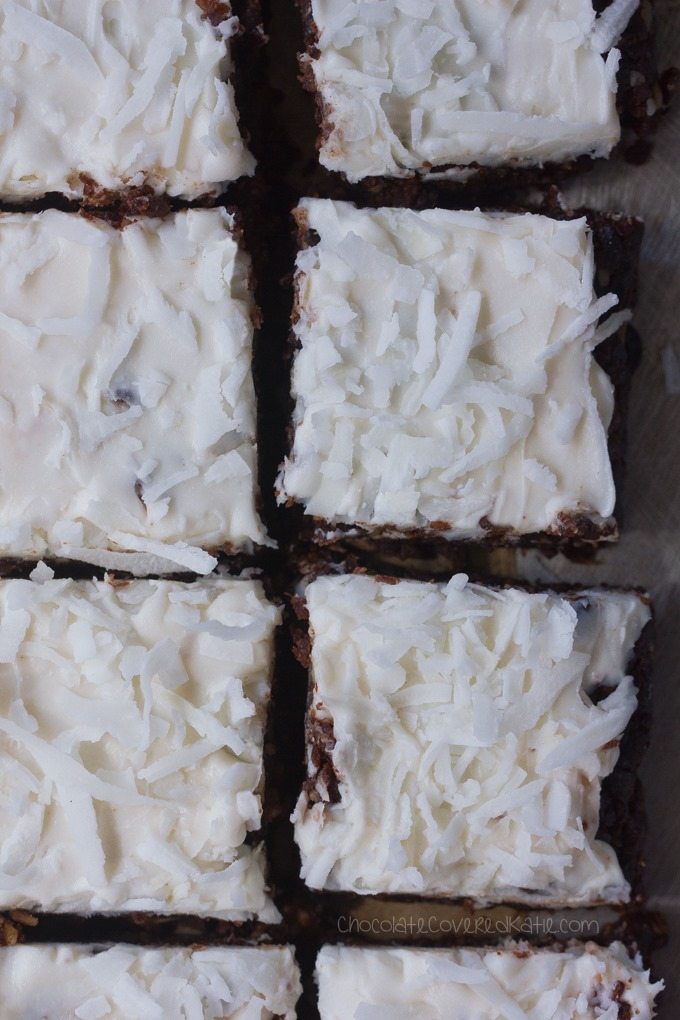 Ultra fudgy unbaked chocolate brownie bars, with an easy "2 ingredient" coconut frosting.
● Vegan
● Gluten-Free
● Soy-Free
● Raw & Paleo
● No Added Sugar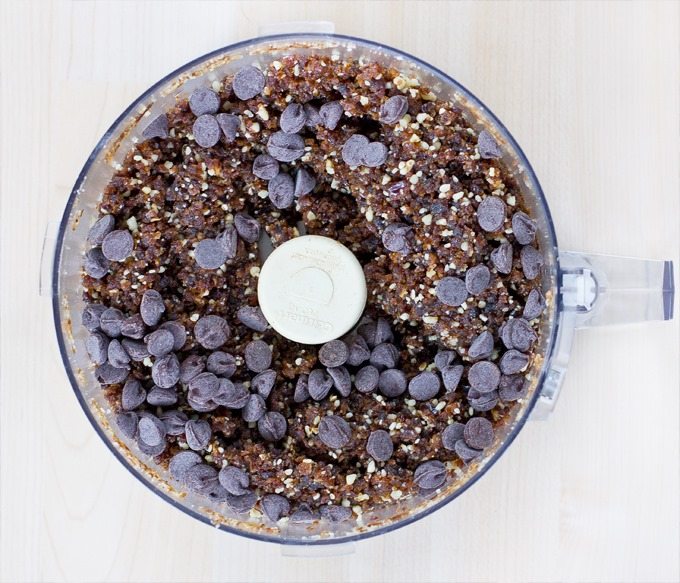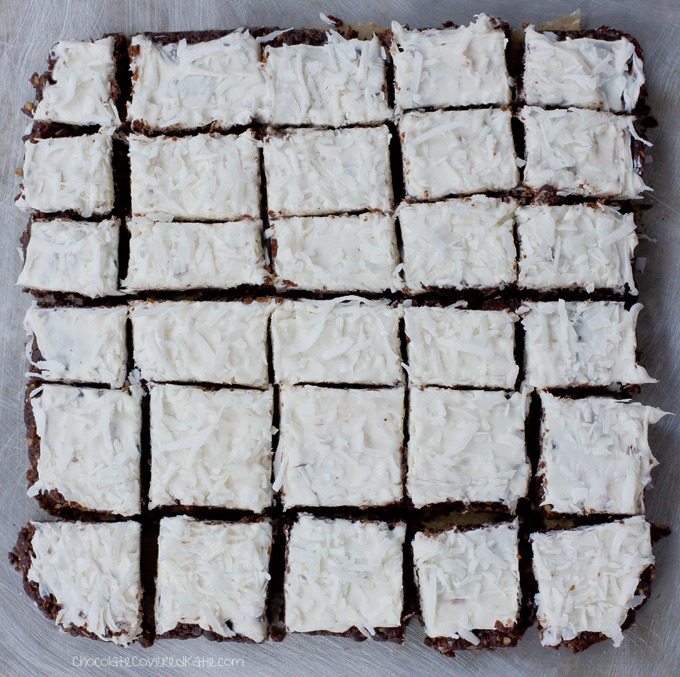 Just throw all of the ingredients into a food processor and turn it on high. Press the resulting crumbly dough into a pan lined with parchment paper, cover with the coconut frosting, and refrigerate to set.
The recipe is adapted from my popular No-Bake Peanut Butter Brownie Bars, and just like with the peanut butter version, these wholesome brownie snack bars can be made without an oven.
The finished brownie bars need no refrigeration and are great for packing into a lunchbox!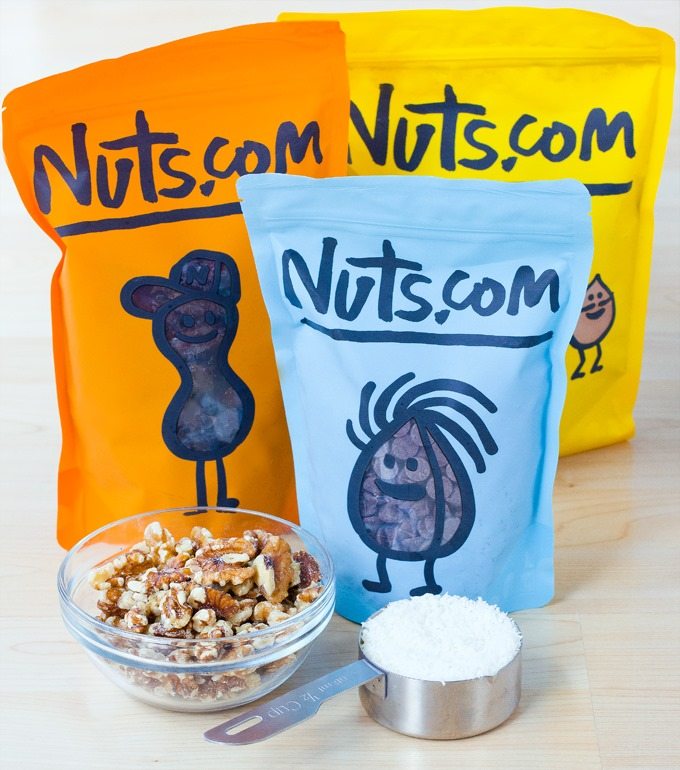 Aside from the salt and vanilla extract, I got every single ingredient in the recipe from nuts.com.
Their website is kind of awesome, with over 250 options of organic nuts and nut butters, seeds, and every type of dried fruit you can imagine. They also have an incredible variety of flours (Cashew flour? Chestnut flour? Banana flour?!), baking supplies, chocolates, and snacks. With such a dazzling array of unusual and intriguing products, it's pretty easy to spend the $59 to earn free shipping.
I love supporting environmentally-friendly, family-owned businesses and so was happy to spread the word when the company—which uses 100% post-consumer recycled boxes, biodegradable packing peanuts, and motion-sensitive lighting in their warehouse—reached out with a fun and generous offer for all Chocolate Covered Katie readers:
If you spend $25 or more, they will send you FOUR free foodie gifts of your choice: Shop nuts.com here for the offer
Nuts.com partnered with me on this post, but the link above is not an affiliate link – i.e. I don't make any money if you click it… I just wanted to pass it along to you all because it's a fun offer from a website filled with a treasure trove of fun-and-often-hard-to-find healthy baking products!


If you make the brownie bars, please feel free to post your pictures on facebook or tag @chocolatecoveredkatie on instagram. One of my favorite parts of running this website is knowing so many of you are trying the recipes!
Chocolate Coconut Brownie Bars
Coconut Chocolate Chip Brownie Bars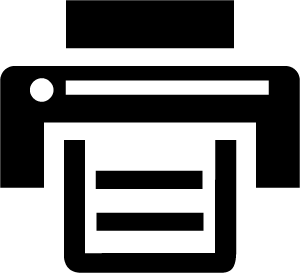 Print This Recipe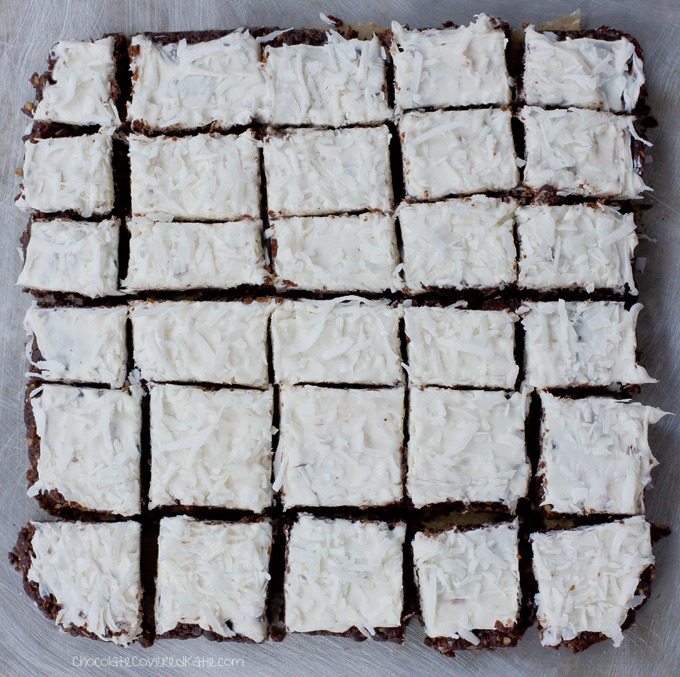 Ingredients
6 tbsp cocoa or cacao powder
2 1/2 cups pitted dates
1 1/2 cup raw walnuts
1/2 cup shredded coconut
1/4 tsp + 1/8 tsp salt
1 1/4 tsp pure vanilla extract
1/3 cup chocolate chips
Instructions
Process all ingredients—either with or without the chocolate chips—in a high-quality food processor until fine crumbles form. Stir in chocolate chips if you didn't add them earlier. Grease an 8-inch pan or line with parchment or wax paper. Transfer the dough to the pan, and press down as firmly as you can to evenly distribute.
Coconut Frosting:
Stir 1/2 cup softened coconut butter with stevia or powdered sugar to taste. (Very gently heat your coconut butter to get it soft – If it's still not softening, stir in some melted virgin coconut oil.) Spread on top of the bars, then sprinkle on 3-4 tbsp shredded coconut if desired, and press down. Refrigerate 10 minutes or so to harden the frosting. The brownies can either be refrigerated (or frozen) or left out at room temperature. If you live in a super-hot climate, I'd recommend refrigerating so the frosting doesn't get melty.
Link Of The Day: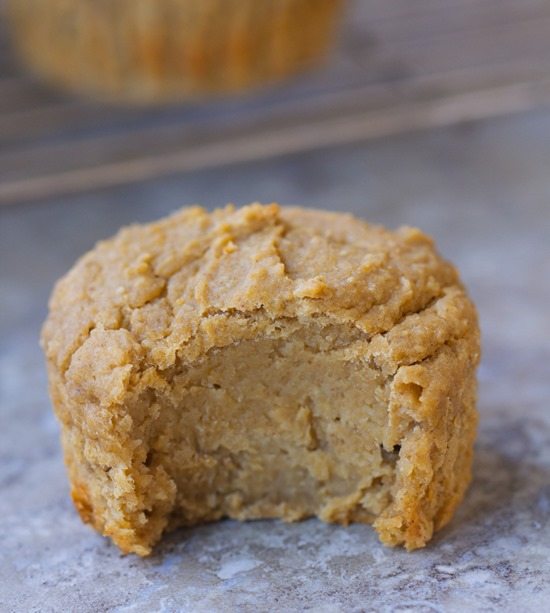 Flourless Banana Blender Muffins