How to make soft, fluffy, gooey, easy sticky buns at home – with just 5 ingredients!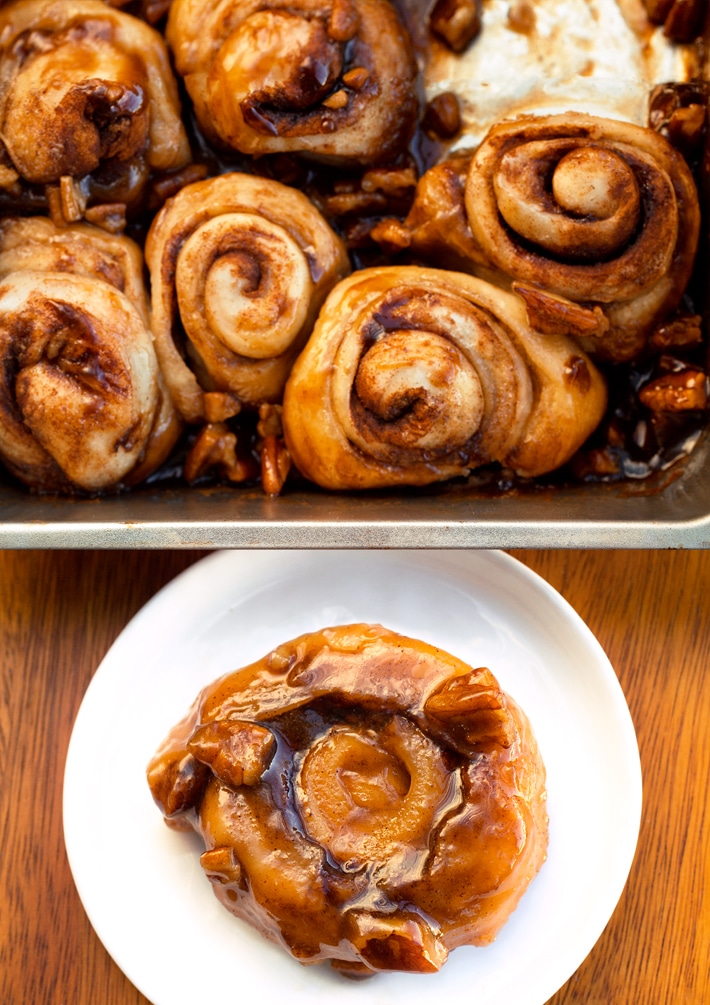 Homemade sticky buns are the ultimate comfort food.
And today's version is so easy, these delicious breakfast pastries almost make themselves!
They're perfect for brunch, holidays, or a comforting dessert, with thick and gooey pecan filling packed into each melt-in-your-mouth bite.
You may also like: Healthy Banana Bread – Oil free recipe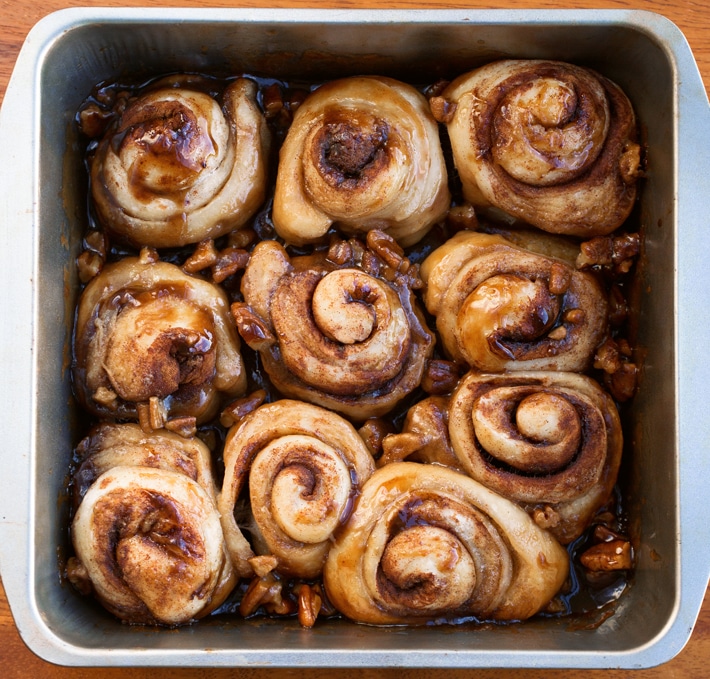 What is a sticky bun?
If you've never tried sticky buns before, they are an amazing culinary invention.
Imagine combining a batch of hot-from-the-oven cinnamon rolls with homemade pecan pie, then you'll start to understand the magical buttery texture and flavor of these popular breakfast sweet rolls.
And while pecan sticky buns are usually loaded with calories, sugar, and more than a day's worth of saturated fat and cholesterol, this version has been lightened up considerably without sacrificing any of the taste.
Serving suggestions: Whipped Coffee or Frappuccino Recipe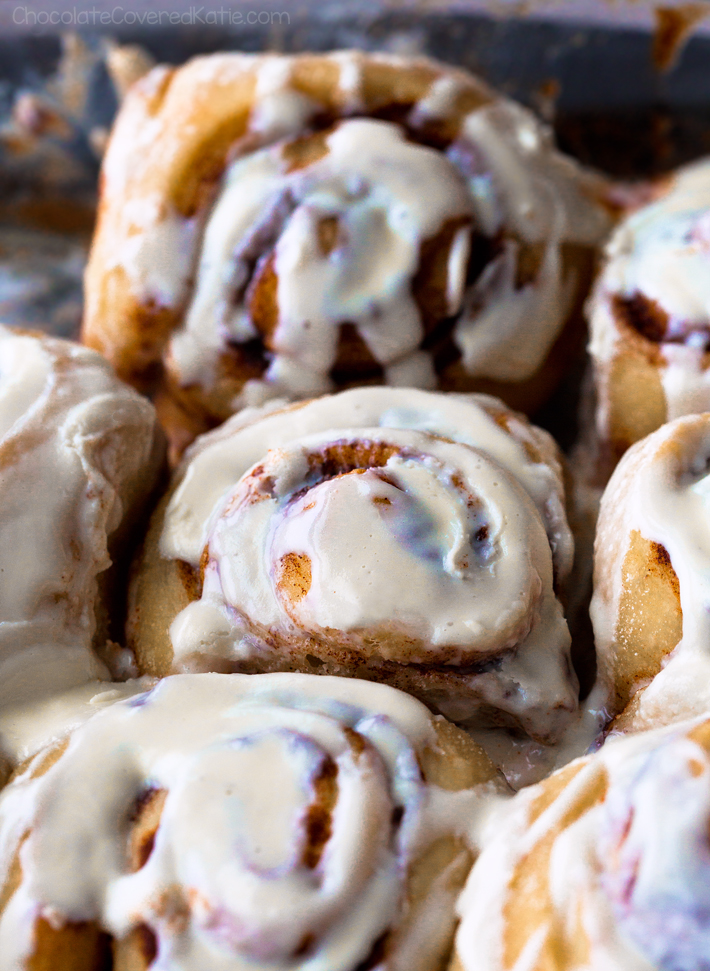 Also try these Easy Cinnamon Rolls
The difference between cinnamon rolls and sticky buns
The two recipes are similar in that they both consist of a soft and doughy base, made with flour and yeast and rolled up with cinnamon sugar filling.
But sticky buns also have a sweet caramel or brown sugar glaze, which is layered into the pan before the rolls. They also traditionally include pecans. After baking, the sticky rolls are then inverted onto a plate.
Cinnamon buns do not include the bottom layer of syrup. Instead, they are covered with a powdered sugar glaze or cream cheese frosting after baking.
(A third variation is the honey bun. Honey buns are basically sticky buns made with a honey syrup instead of brown sugar.)
Leftover pecans? Make Vegan Pecan Pie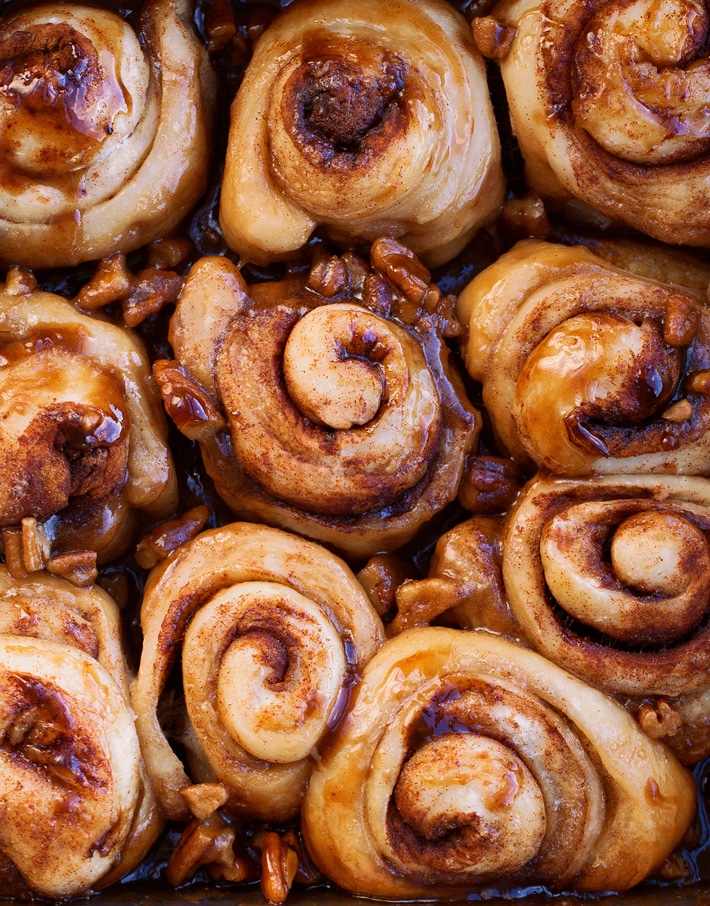 How to make sticky buns at home
Today's recipe is easier than most other sticky bun recipes, thanks to one simple trick.
Instead of playing around with yeast and waiting for the rolls to rise multiple times, you can actually skip all of that by using pizza dough.
(It really does work!)
Just spread the dough into a very thin rectangle, sprinkle with cinnamon sugar, cut into strips and roll them up tightly.
No yeast, no stand mixers, and there's no need to wait.
Where can I find pizza dough?
I've gotten pizza dough in the refrigerated prepared food section at grocery stores including Trader Joes, Whole Foods, and Wegmans (which even carries gluten free pizza dough).
Or ask at your local pizza place, because many restaurants are happy to sell you pizza dough. Readers have also written in to say that Target, Walmart, Safeway, and Costco all carry it.
If you're ambitious, you can make your own – I like this Vegan Pizza recipe.


Easy Sticky Buns
How to make soft, fluffy, gooey, easy sticky buns from scratch.
Ingredients
1/2

cup

brown sugar, date sugar, or coconut sugar

1/4

cup

butter of choice, or applesauce for fat-free

16

oz

pizza dough

1/3

cup

chopped pecans or walnuts (omit for nut-free)

1 1/2

tsp

cinnamon
Instructions
Preheat oven to 350 F. Either on the stove or in the microwave, gently heat butter, nuts, and all but two tablespoons of the sugar until smooth and slightly thick. Roll dough on a floured surface. If too sticky, add more flour of choice a little at a time. Roll very thin (just under 1/8-inch is perfect). Sprinkle the cinnamon and remaining sugar evenly on top. Cut long strips, then roll each up as tightly as possible. Spread half of the liquid mixture into the bottom of an 8×8 baking pan, place the rolls into the pan, then spread remaining liquid on top. Bake 25 minutes. For that classic sticky bun look, invert rolls before serving.

View Nutrition Facts
More Breakfast & Brunch Ideas