These rich and chocolatey baked healthy breakfast donuts are a delicious choice for breakfast or snack, with NO eggs or dairy!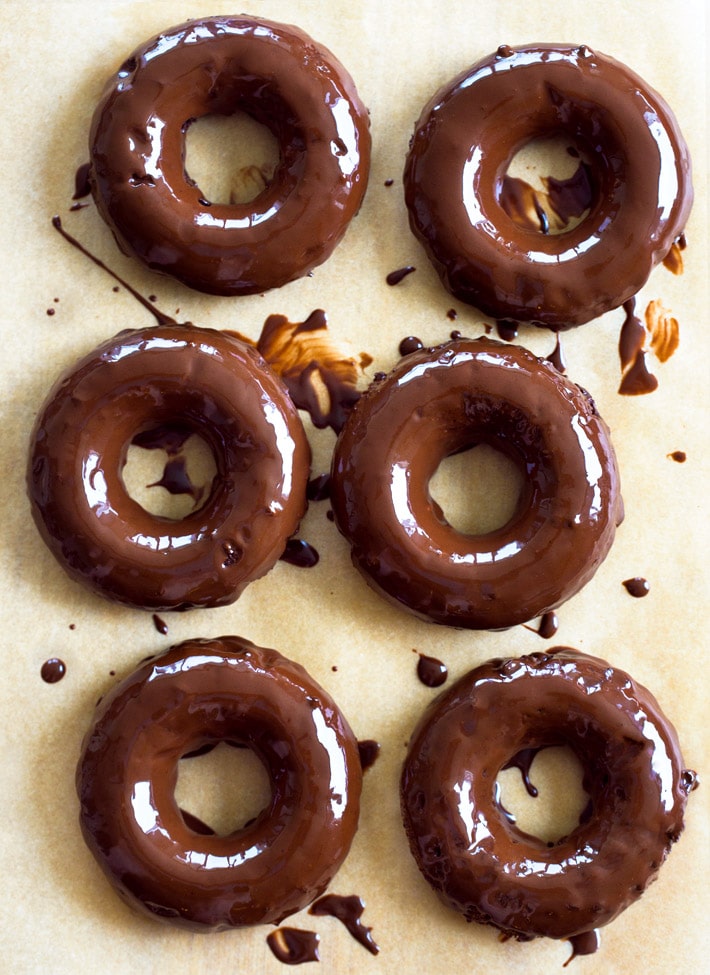 Love Dunkin Donuts, but want to be healthy at the same time?
Then these homemade baked chocolate donuts are the perfect option for you.
With over 6 grams of protein and just 130 calories each, the light and fluffy donut recipe will immediately satisfy any chocolate craving in a healthy way.
No refined sugar, no yeast, and no frying required.
Also try these Healthy Chocolate Chip Cookies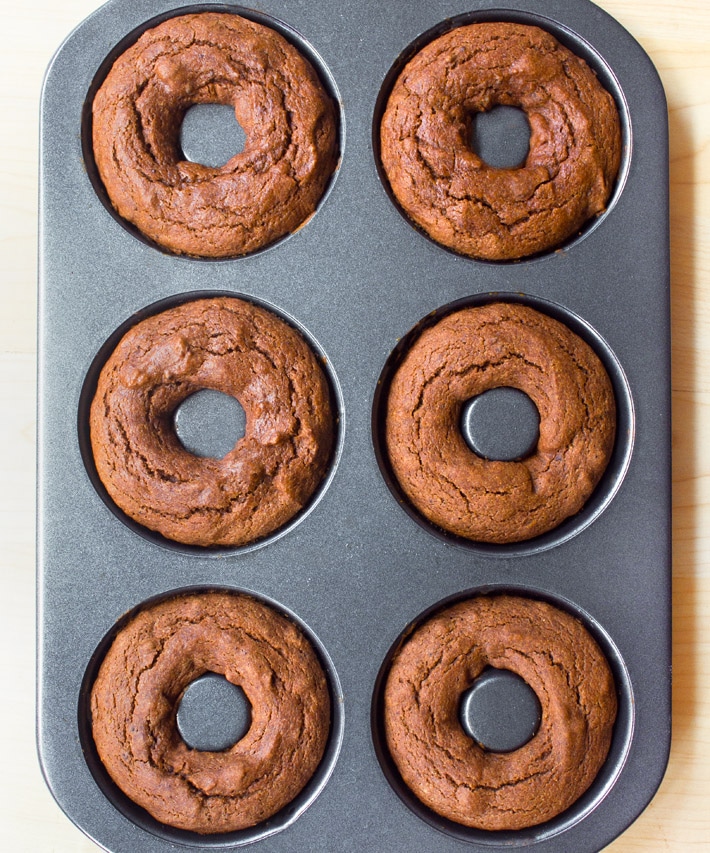 Chocolate donuts for breakfast were a huge treat when I was growing up.
Every so often, my mom would pick up a variety box of Entenmann's cake donuts at the grocery store, and I'd quickly devour all of the chocolate ones, leaving the buttermilk and powdered donuts for everyone else.
Even as a child, I was all about the chocolate for breakfast.
And unlike many packaged breakfast pastries you can find at the store, these healthy donuts are made up of whole grains, fiber, antioxidant rich cocoa powder, and fruit for added sweetness instead of extra sugar.
Want more chocolate for breakfast? Make Chocolate Overnight Oats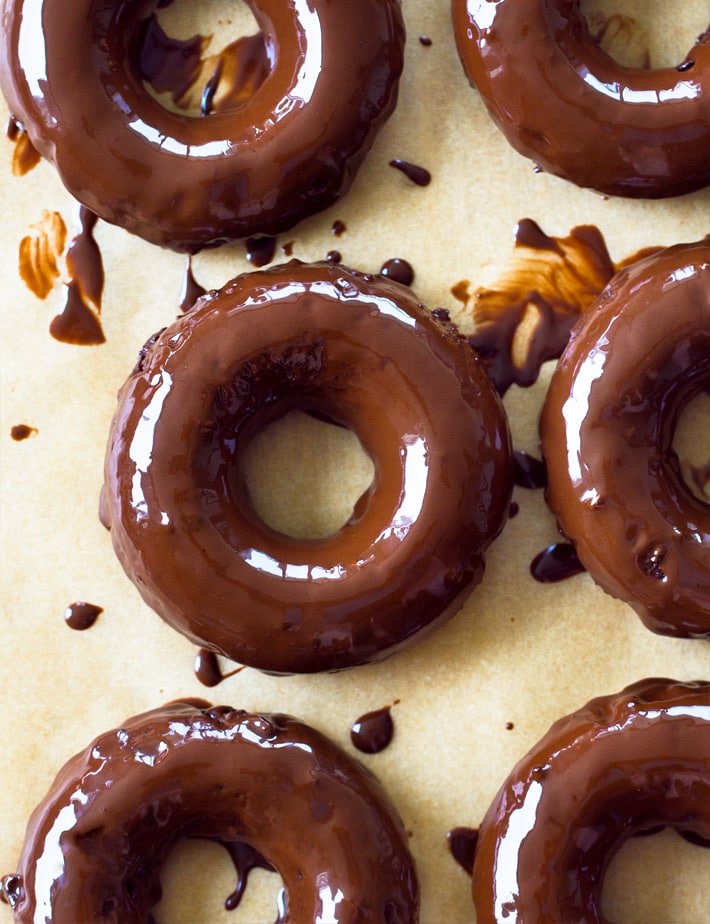 How to make the breakfast donuts
Start by greasing a donut pan, or a mini muffin pan if it's all you have.
Preheat the oven to 350 degrees Fahrenheit. In a large bowl, mix the water, vinegar, oil or nut butter, banana, and sweetener. Then stir in the flour, cocoa, optional protein powder, salt, and baking powder.
Stir until just evenly combined, because over-stirring baked goods can result in overly tough or chewy final results.
Bake the chocolate donuts on the oven's center rack for 8 minutes or until soft and fluffy. Then let them cool before going around the sides with a knife and popping out of the pan. Frost or glaze as desired.
The recipe was adapted from my Vegan Chocolate Cake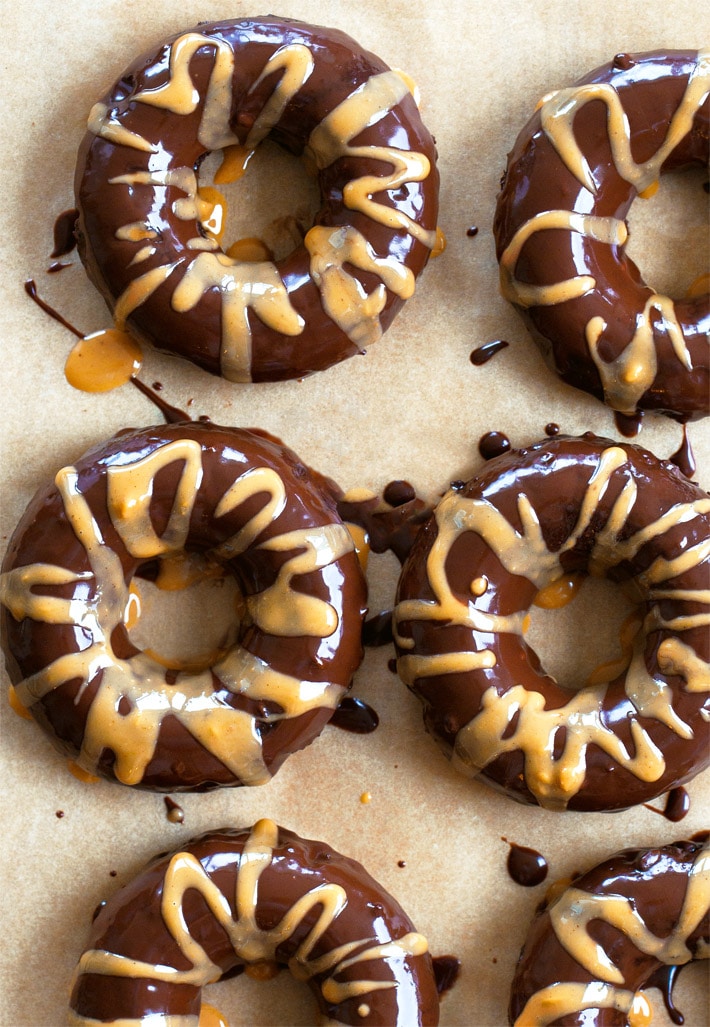 Chocolate donut frosting
To glaze the batch of donuts in the photos, I simply melted two ounces of dark chocolate. Either chocolate chips or broken-up chocolate bars work.
It's not required, but I like to then stir the melted chocolate with two teaspoons of oil (or pure maple syrup for an oil free option) because this will yield a thinner and much smoother chocolate sauce that makes dipping easier.
For the peanut butter version, I used a spoon to swirl the top of each donut with softened peanut butter that had been mixed with a tiny bit of oil to thin it out (maple syrup could also be used for this).
If you'd prefer, the donuts can also be topped with almond butter, powdered sugar, mashed banana, Healthy Nutella, or your favorite chocolate donut glaze. They can also be eaten plain and unfrosted, as a fun alternative to a breakfast muffin.
A note about fat free donuts: I did try a version of the recipe with an equal amount of additional banana in place of the oil. Some of my taste testers loved them, while others hated them. So please feel free to make this substitution, at your own risk.
Above, watch the chocolate breakfast donut recipe video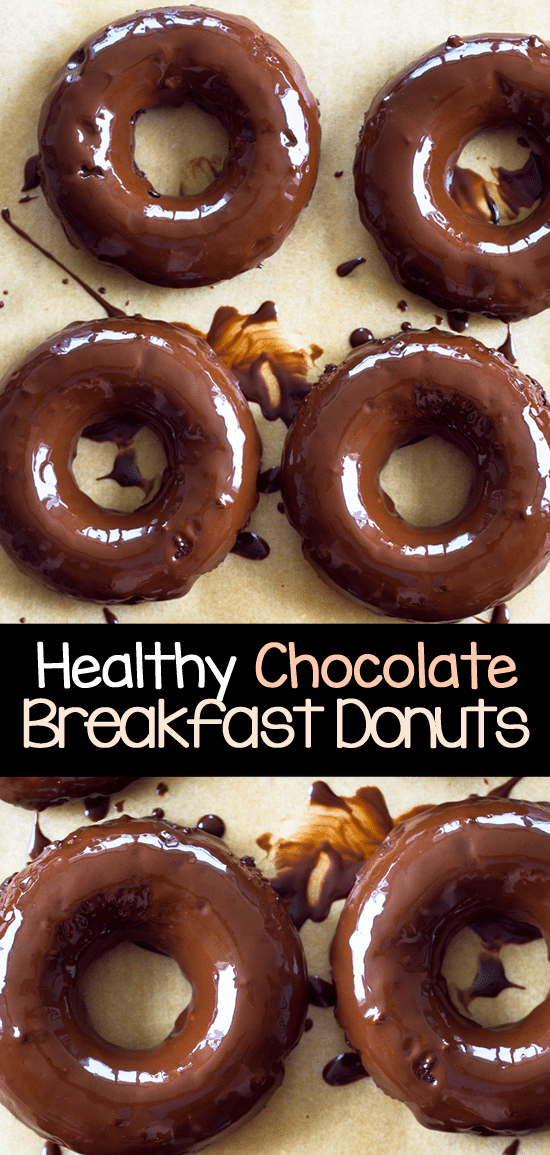 Healthy Chocolate Breakfast Donuts
These rich and chocolatey baked healthy breakfast donuts are a delicious choice for breakfast or snack.
Ingredients
3/4

cup

white, spelt, or oat flour

3

tbsp

cocoa powder

2

tbsp

additional cocoa powder, or chocolate protein powder

1

tsp

baking powder

1/4

tsp

salt

1/2

cup

mashed banana (for banana-free, try these Vegan Donuts)

1/4

cup

oil, or 1/3 cup nut butter of choice (see note above for fat free)

3

tbsp

pure maple syrup, honey, or agave

2

tbsp

water

1/2

tbsp

white or cider vinegar

Optional 2 oz melted chocolate (I like to combine it with 2 tsp oil or pure maple syrup for a thinner sauce that makes dipping easier)
Instructions
Grease a donut pan or a mini muffin pan. Preheat the oven to 350 F. Whisk wet ingredients (except melted chocolate) in a mixing bowl. Stir in dry ingredients until evenly mixed (don't over-mix). Bake on the oven's center rack for 8 minutes or until donuts are cooked through and fluffy. Let cool at least 5 minutes before going around the sides with a knife and removing from the pan. If desired, dip in the melted chocolate or frost with your favorite donut glaze recipe. View Nutrition Facts
More Healthy Chocolate Ideas