Pumpkin lovers of all ages will instantly fall in LOVE with these easy-to-make pumpkin cheesecake bars. They are like the lovechild of cheesecake and pumpkin pie!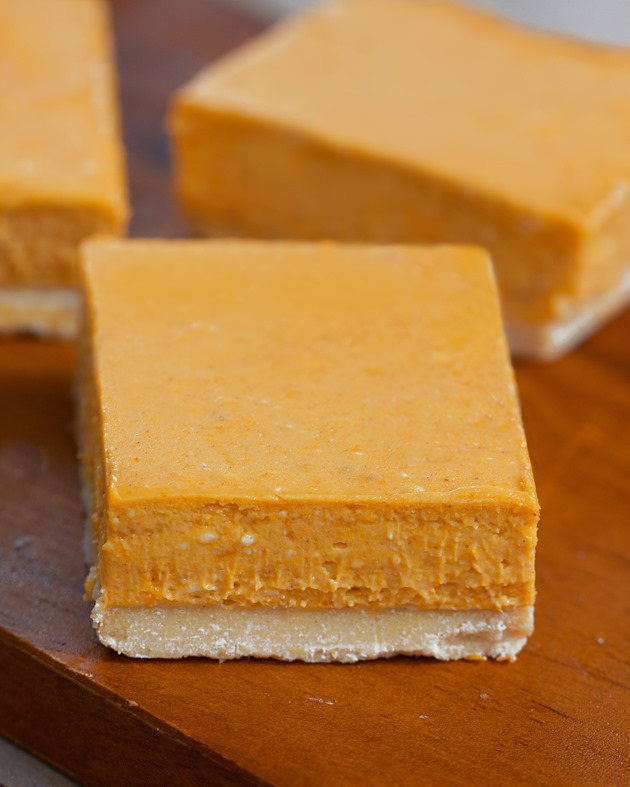 It is finally Pumpkin season again!
The return of Fall means colorful leaves and cooler air, hot apple cider and wrapping yourself in flannel sheets, big comfy sweaters and spicy cinnamon candles…
But let's be honest; the return of Fall mostly means eating as much pumpkin as you possibly can – Pumpkin pie, pumpkin oatmeal, pumpkin spice lattes, Pumpkin Mac & Cheese…
It's the time of year to stock up on as much canned pumpkin as you can fit in your cart, before everyone else beats you to it!
Could there possibly be a better way to welcome the return of Fall than by making up your own batch of homemade pumpkin cheesecake bars???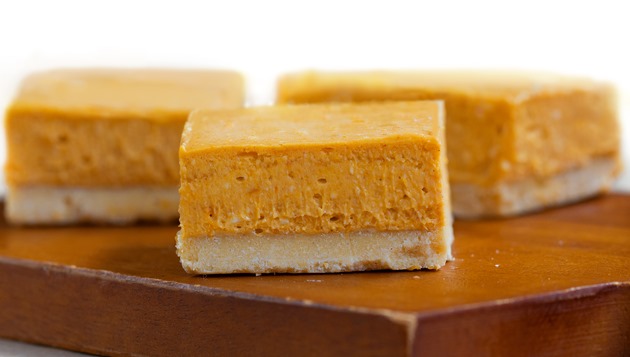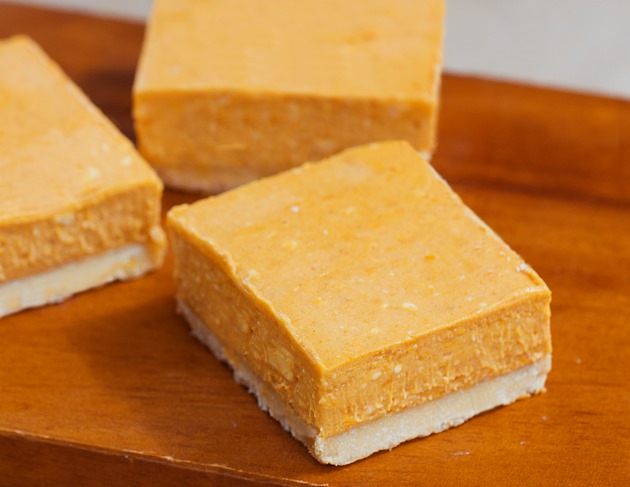 The bars can be gluten-free, sugar-free, & vegan.
You can also make them crustless if you want, or you can even use a half recipe of my Gluten Free Pie Crust recipe, as shown.
Another crust option is to go the easy route: pulverize 10 graham cracker sheets in a food processor with 1-2 tbsp oil or buttery spread, then press the crumbs down into a parchment-lined pan before smoothing the filling on top.
If you want to replace the pumpkin with mashed sweet potato, that's okay too!


Pumpkin Cheesecake Bars
Adapted from my Healthy Cheesecake Recipe
Pumpkin Cheesecake Bars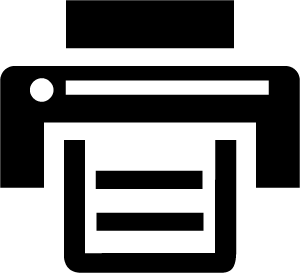 Print This Recipe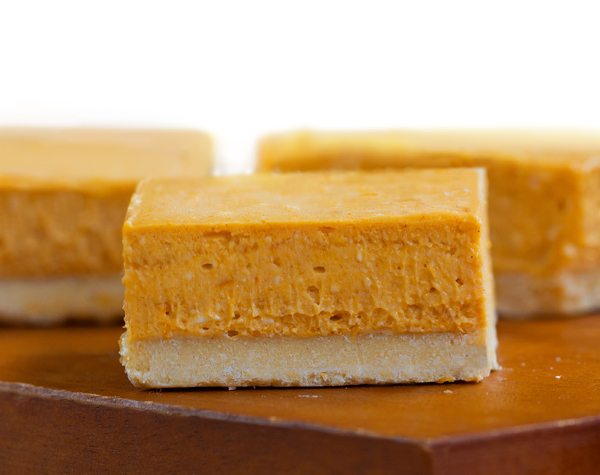 Ingredients
Pumpkin Cheesecake Dream Bars
12 oz cream cheese - such as Trader Joes vegan
1 cup pumpkin puree
1/4 cup sugar, xylitol, or pure maple syrup
pinch uncut stevia OR 1 additional tbsp sugar
1/4 tsp cinnamon
1/4 tsp pumpkin pie spice or additional cinnamon
1 1/4 tsp pure vanilla extract
2 tsp cornstarch - such as Rapunzel non-GMO
Instructions
Line an 8×8 pan with parchment paper and your crust of choice unless you'd prefer crustless bars. (I included two crust options earlier in this post.) Set aside. Bring your cream cheese to room temperature or gently warm until easily stir-able. Preheat oven to 350 F. If you have an extra baking pan of any size to spare, fill it halfway with water and place on the lower rack of your oven. (This step can be skipped; it just helps prevent cracking.) Blend together all ingredients until just blended—don't overblend, which would introduce air into the bars and cause cracking later on. Pour the batter into the first prepared 8×8 pan, smooth out evenly, and place on the middle rack of your oven. Bake 25 minutes, then leave the oven door closed but turn off the oven and let the bars sit in the turned-off oven for another 5 minutes. Take out the still-underbaked bars and let them sit at room temperature for an hour. (Don't skip this, as putting them straight from the oven to the fridge would cause—you guessed it!—cracking.) Then refrigerate at least 4 hours, during which time they will firm up quite a bit. Slice into bars, and store leftovers in the fridge or even in the freezer if you want to thaw them another day.
Chocolate-Covered Katie Update: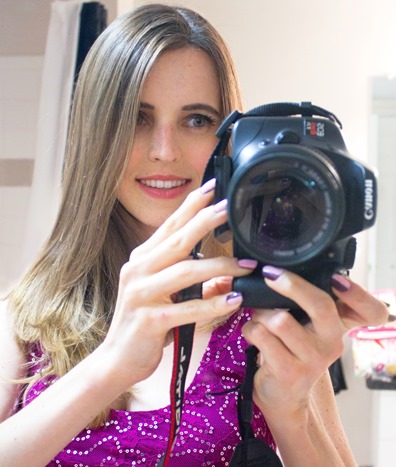 I'm admittedly not good at writing about myself, which is why–as some of you pointed out last week–the "about me" page link we included in the new design was more of an "about the blog" page than one about me. But since the page does say it should be about Katie, I finally updated it over the weekend. Please feel free to let me know what you think!
(P.S. I live alone. I do not own a selfie stick and don't really like selfies. I am too lazy for remote control timer things. And thus, the mirror selfie. Silly, but it works!)