Pumpkin lovers of all ages will fall instantly in love with these easy pumpkin cheesecake bars. They are like the lovechild of an ultra creamy cheesecake and a slice of homemade pumpkin pie!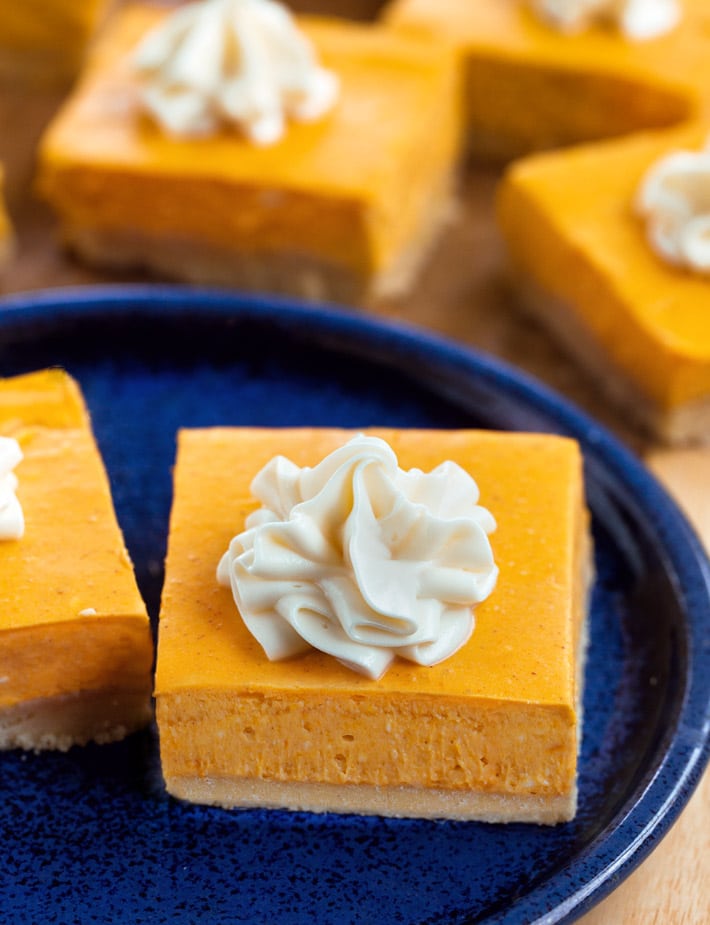 It is finally pumpkin season again.
The return of Fall means colorful leaves and cooler air, hot apple cider and wrapping yourself in flannel sheets, big comfy sweaters and spicy cinnamon candles…
But let's be honest; the best part about the return of the autumn season is getting to eat as many pumpkin recipes as you possibly can – Pumpkin pie, pumpkin oatmeal, pumpkin rolls, pumpkin spice lattes…
It's the time of year to pile your grocery cart high with canned pumpkin, before everyone else beats you to it and there's none left!
Readers also love these Sweet Potato Brownies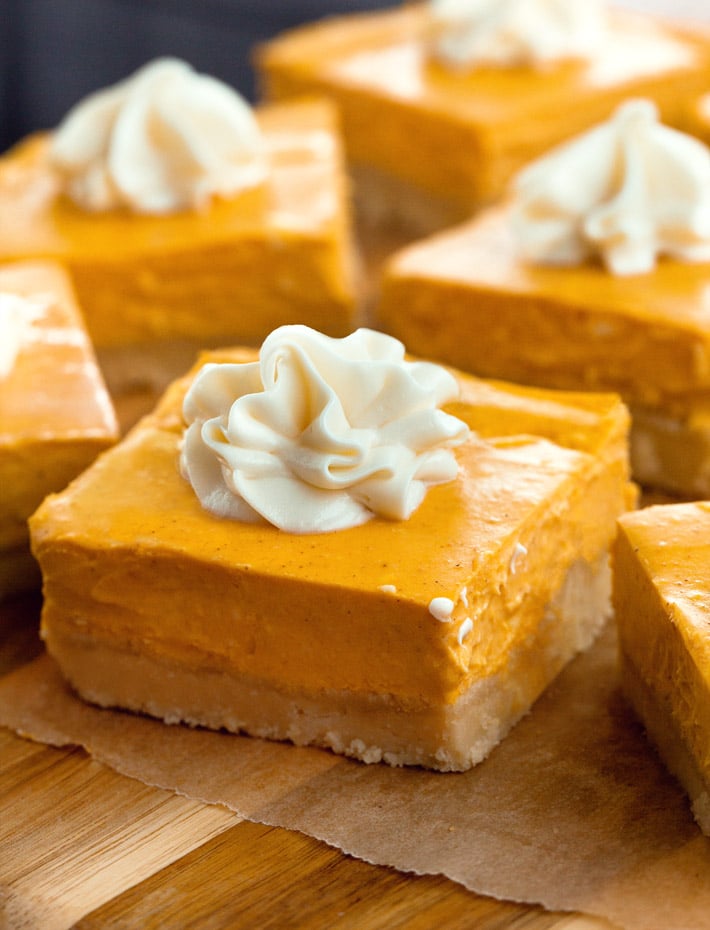 These soft and creamy pumpkin cheesecake bars are a huge crowd pleaser, and the recipe can be vegan, gluten free, sugar free, and keto, with no eggs required.
If you want to replace the pumpkin with mashed sweet potato, that works too!
For the sweetener, feel free to use any of the following: granulated regular or brown sugar, powdered sugar, pure maple syrup or agave, coconut sugar or date sugar, or erythritol or xylitol for sugar free cheesecake bars.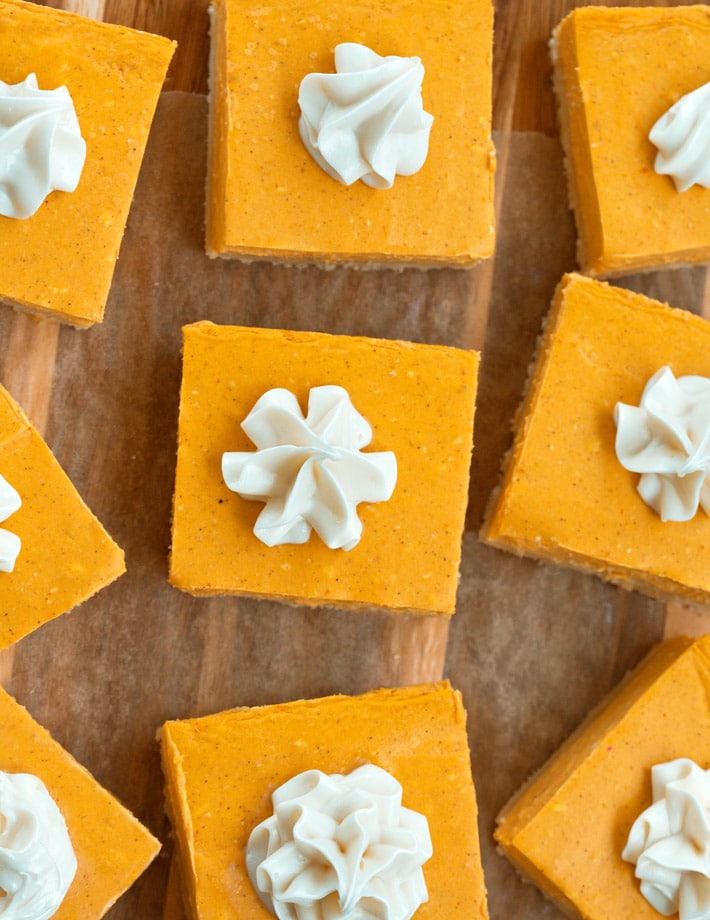 Pumpkin Bar Crust Recipes
Easy Pumpkin Bars: pulverize 10 graham cracker sheets in a food processor with 3 tbsp oil or butter, then press the crumbs down into a parchment-lined pan before spreading the filling on top.
Keto Pumpkin Bars: stir 1 1/2 cup almond flour with 5 tbsp melted coconut oil or butter and 1 tbsp liquid sweetener of choice or water, then press into a parchment-lined pan and spread the pumpkin filling on top.
Other Crust Options: feel free to use your favorite store bought or homemade pie crust, sub gingersnaps or sugar cookies for the graham crackers, or omit the crust entirely for crustless cheesecake bars.
If desired, top the bars with frosting or Coconut Whipped Cream.
How to make the pumpkin cheesecake bars
Line an 8×8 pan with parchment paper going halfway up the sides.
Press your crust of choice, if using, into the pan, then set this pan aside.
Bring the cream cheese to room temperature, because softer cream cheese means you won't have to blend it as long later and risk introducing air into the batter, which can cause cracking during the baking process when the air bubbles burst.
Preheat the oven to 350 degrees Fahrenheit. If you have an extra baking pan on hand (any size), fill it half way with water and place it on the oven's lower rack. This optional step is another trick to avoid cracked tops on the cheesecake bars, because it adds moisture to the oven environment.
Blend all cheesecake bar ingredients just until smooth, making sure not to over-blend. Smooth the pumpkin cheesecake batter evenly into the first prepared pan, and place the pan on the center rack of the oven (the rack above the one with the water pan).
Bake for 25 minutes. Now leave the door completely closed, but turn off the oven's heat and let the bars sit for 10 minutes in the turned-off oven. Then remove and let them cool completely on the counter. By gradually cooling the bars, you avoid shocking them with sudden temperature changes. It's yet another trick to keep the tops super smooth!
For firmer bars, I recommend refrigerating a few hours or overnight (very loosely covered with a cloth towel), because they firm up considerably.
Slice into bars, and enjoy. Leftovers can be covered and refrigerated for 3-4 days or frozen in an airtight container for a few months.
Leftover pumpkin? Make Pumpkin Mac and Cheese
Watch the pumpkin cheesecake bar recipe video above.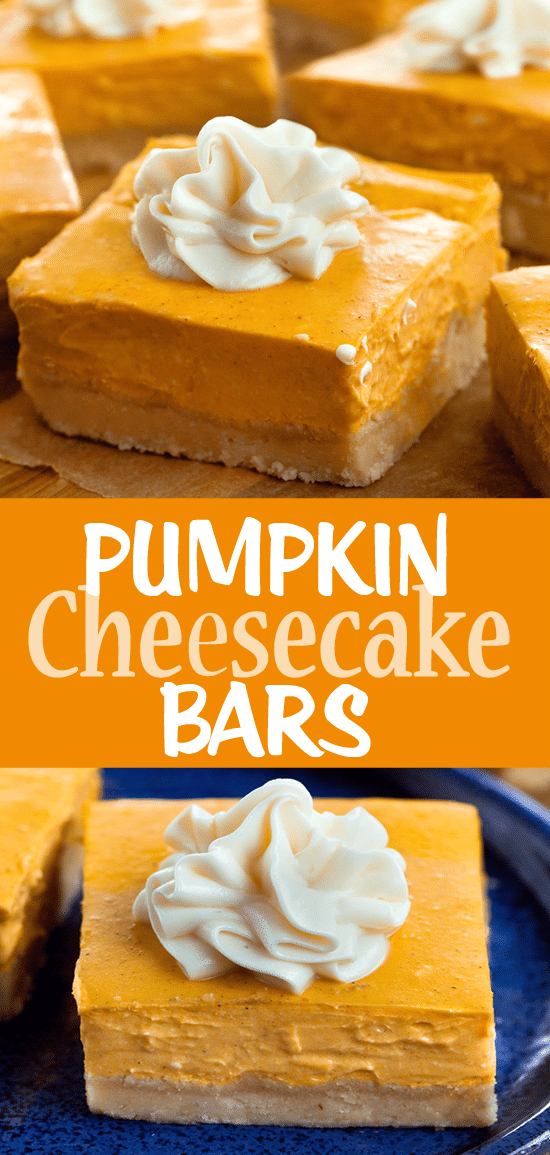 The recipe was adapted from my Vegan Cheesecake and this Keto Cheesecake.
Pumpkin Cheesecake Bars
Pumpkin lovers of all ages will love these easy-to-make pumpkin cheesecake bars.
Ingredients
12

oz

cream cheese

or vegan cream cheese

1

cup

pumpkin puree

1/2

cup

sweetener of choice

(see above for options)

1/2

tsp

cinnamon, and 1/4 tsp pumpkin pie spice or additional cinnamon

1 1/2

tsp

pure vanilla extract

1

tbsp

cornstarch (or 4 tbsp almond flour)

optional crust

(two options are listed above)
Instructions
Line an 8-inch pan with parchment. Add your crust of choice (or you can make crustless bars). Set aside. Bring cream cheese to room temperature. Preheat oven to 350 F. If you have an extra baking pan of any size, fill it halfway with water and place on the lower rack of your oven. (This step can be skipped; it just helps prevent cracking.) Blend all ingredients – don't over-blend, which can introduce air into the bars and cause cracking later. Smooth the batter evenly into the prepared 8-inch pan, and place on the oven's middle rack. Bake 25 minutes, then leave the oven door completely closed but turn off the oven and let the bars sit in the turned-off oven for another 10 minutes. Take out, and let them cool completely. (Don't skip, as putting them straight from the oven to the fridge would cause—you guessed it!—cracking.) I recommend refrigerating a few hours or overnight (very loosely covered with a cloth towel), during which time they firm up quite a bit. Slice into bars, and store leftovers in the fridge or freezer.

View Nutrition Facts
More Easy Pumpkin Desserts