These healthy and vegan Oreos give you the same deliciousness of the original, without all the high fructose corn syrup or trans fat!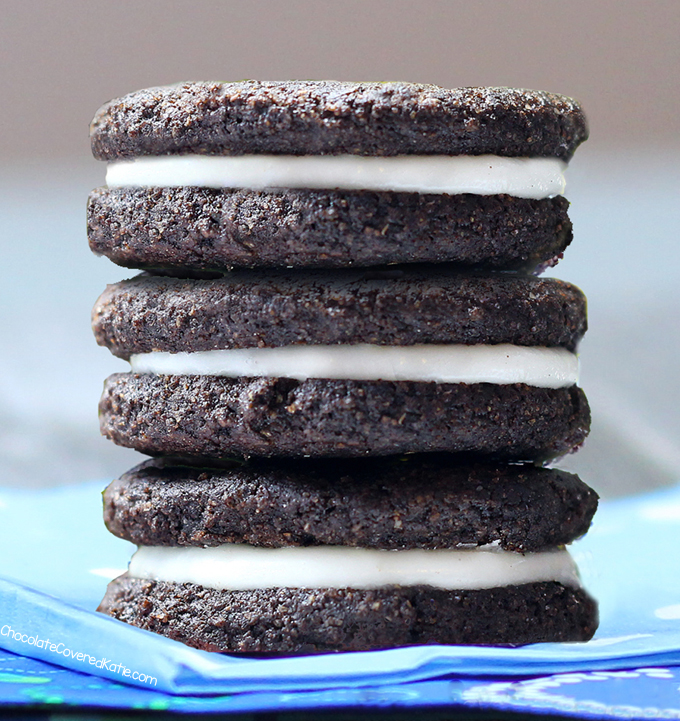 America's favorite cookie gets a healthy makeover –
Unlike Oreos, the cookies above can be whole-grain, with no soy, corn syrup, or artificial flavors.
They are also much lower in sugar than packaged Oreos, and they just so happen to be vegan as well!
And just in case you were wondering…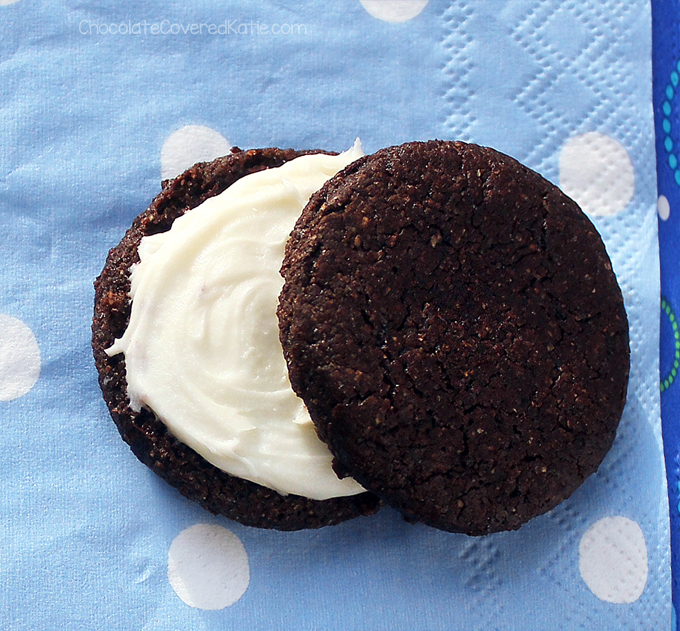 Yes, they really do taste like Oreos.
Maybe better. Homemade always tastes better.
Healthy Cookies Recipes – Over 100 Recipes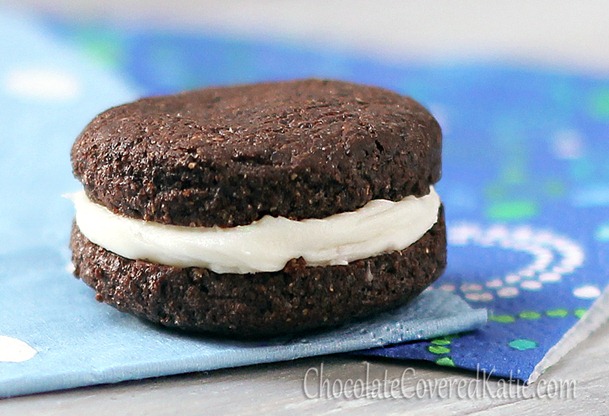 Do you know any Oreo lovers?
Oreos are known as America's favorite cookie, with over 70 million Oreos sold each day!
Who is eating all those Oreos???


Healthy Vegan Oreos
Also Try These Vegan Chocolate Chip Cookies
Healthy Vegan Oreos
Yield:
20-24 sandwich cookies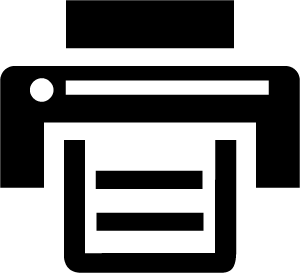 Print This Recipe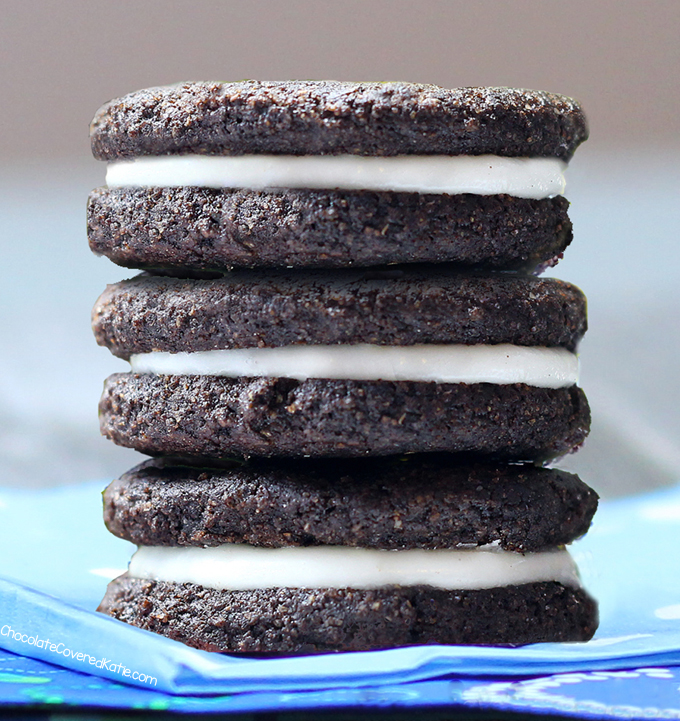 Ingredients
3/4 cup spelt, white, or oat flour
1/4 cup + 2 tbsp dutch cocoa powder - regular cocoa is fine; they just won't taste as authentic
1/4 cup + 2 tbsp unrefined or regular sugar, or xylitol for sugar-free
1/4 tsp salt
1/4 tsp baking soda
1 tsp pure vanilla extract
1/4 cup vegetable or coconut oil
3 tbsp milk of choice
2 tbsp pure maple syrup, honey, or agave
Instructions
*For the Oreo filling, beat together 1/2 cup powdered sugar or sugar free powdered sugar, 1/2 tsp pure vanilla extract, and 1/4 cup melted coconut butter OR non-hydrogenated shortening (such as Spectrum) or Earth Balance spread, either with beaters or a food processor, or patiently by hand, until completely smooth.
For the Oreos, combine first 5 cookie ingredients, and stir very well. In a separate bowl, combine remaining ingredients for the cookies. Mix wet into dry to form a dough, then refrigerate 30 minutes before baking. Preheat oven to 300 F. Put dough in a plastic bag, and smush into one big ball. Remove from bag, roll into a thin dough, and cut flat circles using a circle cutter or a circle-shaped lid. Bake on a greased cookie tray for 10 minutes; they'll still look a little underdone when they come out of the oven, but that's okay. It's important to allow them to cool 10 minutes before removing from the tray, as they firm up during this time. Put about a teaspoon on half of the cookie discs, then top each with remaining cookie discs and refrigerate to set. Store in the fridge so the filling stays hard.
Trending Recipes Right Now: