I am so in love with this healthy sweet potato pie, with a light and flaky pie crust that melts in your mouth!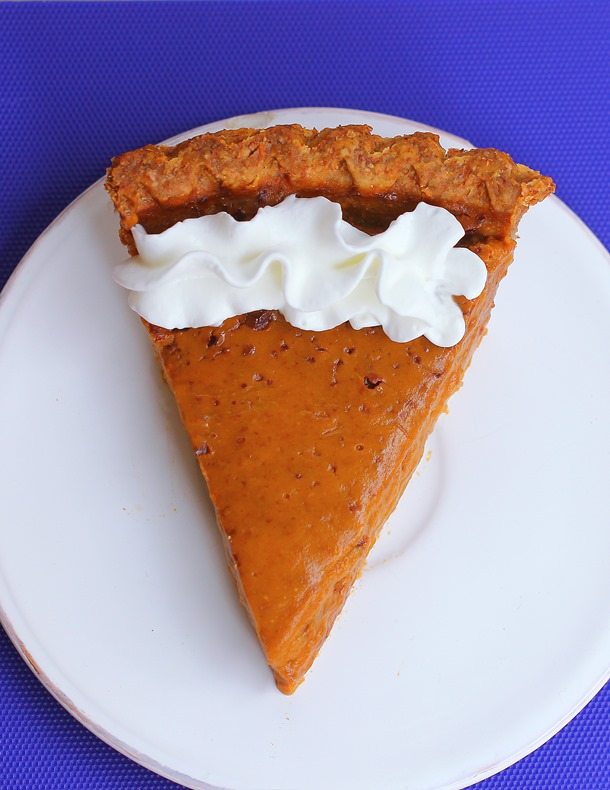 With a thick and ultra smooth filling, it's everything you could wish for in a traditional homemade sweet potato pie.
If you grew up in the South, chances are high you've been to at least one family gathering in your lifetime where sweet potato pie made an appearance.
But while pumpkin traditionally reigns king in the rest of the United States, the under-appreciated sweet potato too often goes overlooked or is relegated to that ubiquitous sticky-sweet marshmallow casserole on every Thanksgiving table.
Readers also like this Vegan Pumpkin Bread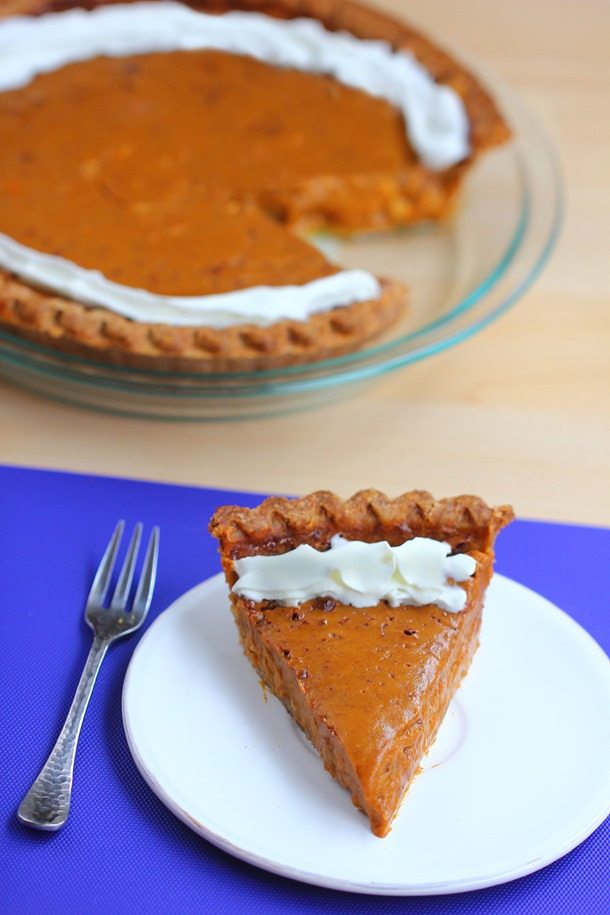 Vegan Sweet Potato Pie
I'd argue that this healthy sweet potato pie is actually even better than pumpkin pie!
Just one bite of the sumptuously smooth sweet potato filling, and you will be converted for life.
It's no secret how much I love sweet potatoes.
On the blog, I've used them in cupcakes, chili, roasted slow cooker vegetables, and in one of my site's most popular recipes: the Crispy Sweet Potato Fries.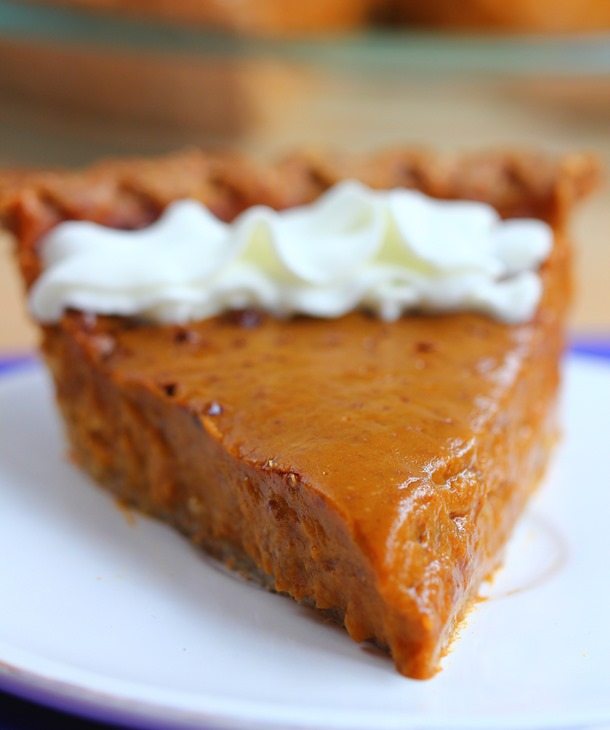 More Sweet Potato Recipes
Sweet Potato Brownies (Reader Favorite)
Many grocery stores will carry already-canned sweet potato puree, but it's easy enough to make your own by roasting sweet potatoes in the oven and then blending the flesh until smooth.
Want to know the easiest way to add more sweet potatoes to your life?
Healthy Sweet Potato Recipes – Over 100 Recipes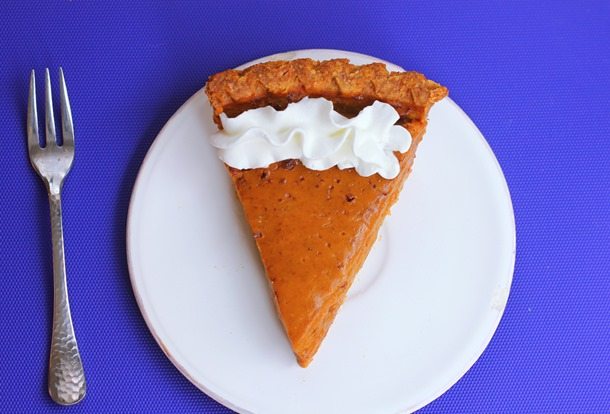 Just take your favorite pumpkin recipe and switch out the pumpkin puree for sweet potato!
Really, it's that easy.

The recipe was adapted from my Healthy Pumpkin Pie.
Healthy Sweet Potato Pie
This healthy sweet potato pie recipe is thick and smooth, with a light and flaky pie crust.
Ingredients
15

oz

sweet potato puree

1 3/4

cup

milk of choice

(really good with canned coconut milk)

2

tsp

pure vanilla extract

2

tbsp

oil OR more milk of choice

1/4

cup

sugar or xylitol – Or you can decrease the milk by 1/4 cup and use pure maple syrup

pinch

uncut stevia OR 2 additional tbsp sugar

2

tsp

cinnamon

1/8

tsp

cloves

1 1/2

tbsp

almond flour or oat flour

1 1/2

tbsp

ground flax

1/4

tsp

+ 1/8 tsp salt
Instructions
Preheat oven to 400 F, and prepare a pie crust in a 9-inch pan (I list a crust recipe below that you can use if desired). Blend or stir all pie ingredients until completely smooth. Pour the filling into the crust, then bake 30 minutes on the center rack. Don't open the oven door, but turn off the heat and leave in the closed oven another 30 minutes. Take out the still-underbaked pie, and let it cool. Then transfer the pie uncovered or very loosely covered to the fridge, where it will firm up after 5-8 hours or overnight.

Optional Crust Recipe

(Or you can use your favorite pie crust instead of the one below)

1 1/2 cups whole wheat pastry or all-purpose flour (Many readers have said gf all-purpose flour also works), 1 tsp salt, 1/3 cup sugar of choice or xylitol, 1/2 cup canola or vegetable oil, 2-4 tbsp water (I used 3)

Preheat oven to 200 F. In a large mixing bowl, combine dry ingredients. Add the oil, and stir. Add water as needed until it just sticks together but is not yet gummy. Press evenly into a 9-inch pie pan. Put the crust in the oven and immediately increase the temperature to 350 F. The crust will rise, so either use pie weights during baking or just press the pie crust back down after baking. Bake 15 minutes. Let cool. Then use in the above sweet potato pie recipe.

View Nutrition Facts 
Popular Recipes Right Now: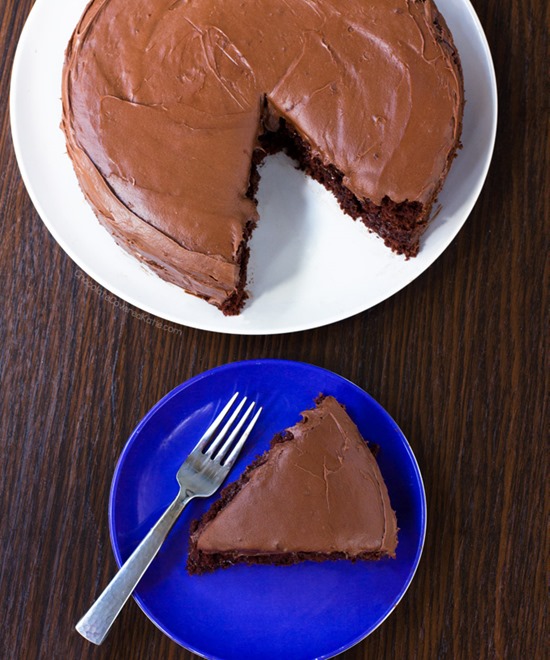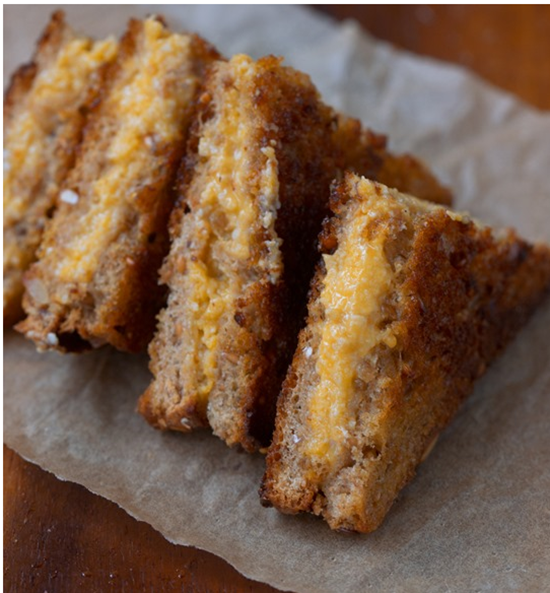 Twelve healthy and super delicious ways to eat pumpkin at breakfast, including pancakes, cinnamon rolls, and pumpkin grilled cheese!