Homemade vegan sweet potato casserole, just in time for Thanksgiving dinner!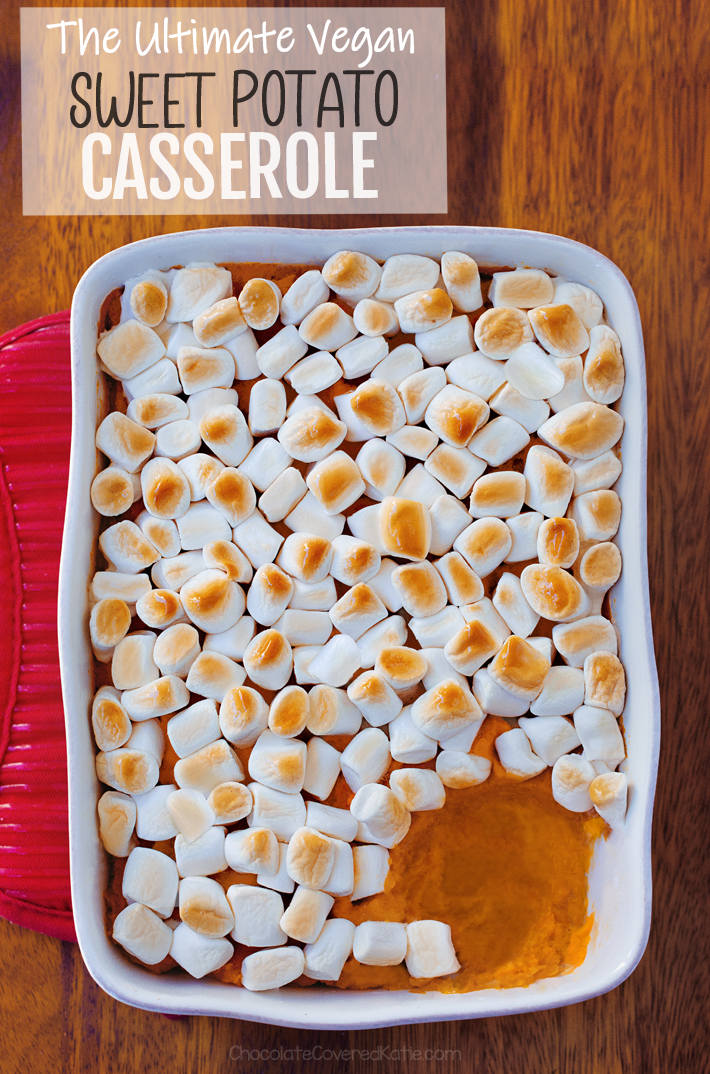 Vegan Sweet Potato Casserole
Both vegans and non vegans will love this version of the classic Thanksgiving dish – and there's one secret baking trick that makes all the difference.
Also Try This Vegan Cornbread Recipe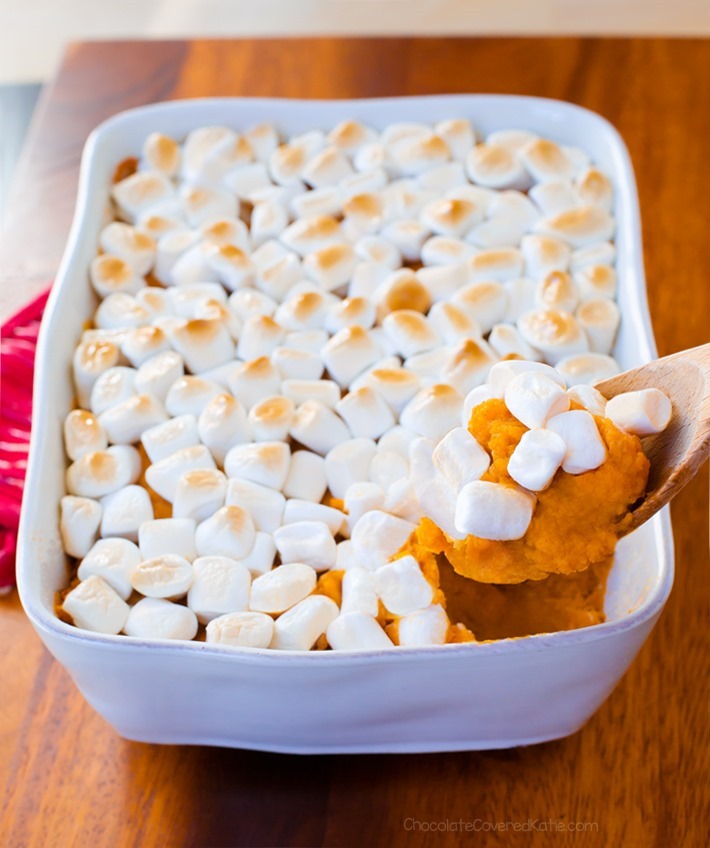 So What's The Secret Baking Trick?
Most traditional sweet potato casserole recipes call for steaming the sweet potatoes separately, then piling on a ridiculous amount of butter and sugar—shockingly up to a full cup of sugar in some recipes—and baking the casserole in the oven.
I think this is a huge mistake not only because it's disgustingly unhealthy, but because it completely wastes the natural sweetness and flavor of the actual sweet potatoes.
The problem with leaning on fat and sugar as a crutch in baking is something I've mentioned before in my Pumpkin Cupcakes Recipe.
It's not challenging to make anything taste good if you use enough sugar, oil, or butter; but at the same time, the flavor will be disappointingly nondescript.
This is especially unfortunate with something like sweet potato casserole because you have such an opportunity to take advantage of the vegetable's ability to sweeten dishes naturally if cooked correctly. So that's where the secret baking trick comes in:
DO NOT steam your sweet potatoes.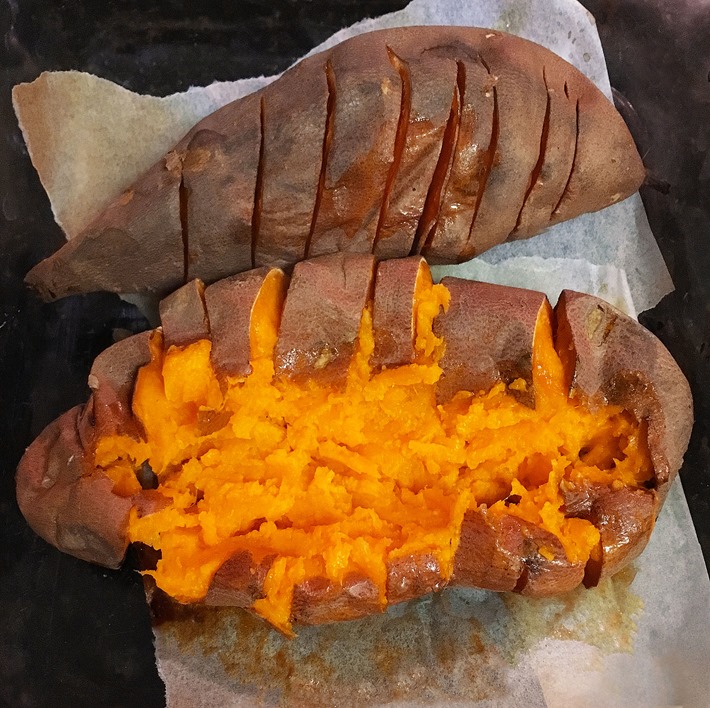 Seriously, don't steam them.
Instead, you want to bake them in the oven at high heat, bringing out their natural sugar as they magically caramelize into an irresistible candy-like indulgence.
Yes, when cooked correctly, sweet potatoes can taste like candy. I beg of you, don't waste that opportunity by steaming them!
You Might Also Like: Mushroom Gravy – 6 Ingredients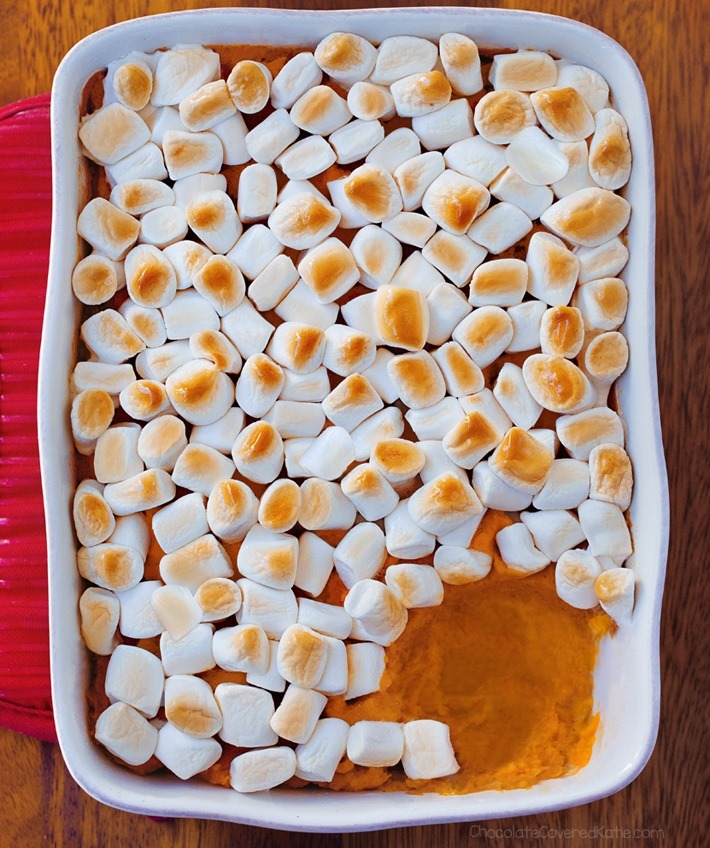 Healthy Sweet Potato Casserole
This healthier take on traditional sweet potato casserole is the perfect plant-based side dish for any Thanksgiving dinner.
I made the recipe a few weeks ago for a Friendsgiving brunch and went home with an empty casserole dish.
Other dishes at the Friendsgiving included homemade cornbread, roasted brussels sprouts, Chocolate Chip Pumpkin Bars, seitan roast with mushroom gravy, vegan stuffing, lentil dahl, baked nut loaf, pumpkin cookie dough dip, Butternut Squash Soup, and a three layer spice cake with vegan cream cheese frosting.
Pretty safe to say, no one missed the turkey one bit!

Vegan Sweet Potato Casserole
Also see: How To Cook Sweet Potatoes
Vegan Sweet Potato Casserole
Print This Recipe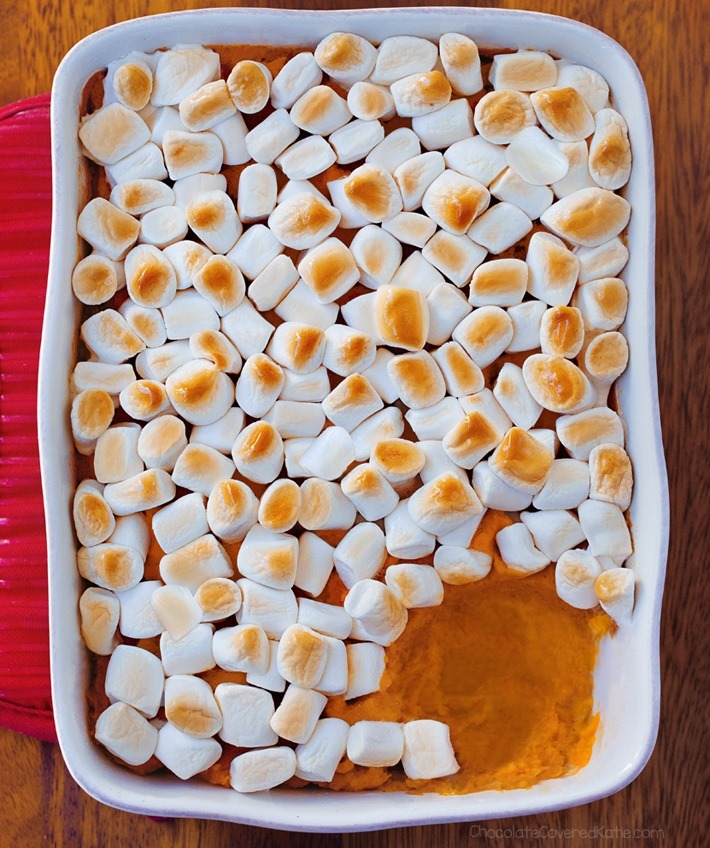 Ingredients
3 large or 5 medium sweet potatoes
2/3 cup milk of choice or coconut milk
2 tbsp sweetener of choice
2 tbsp your choice: almond butter, tahini, oil, buttery spread, or omit for fat-free version
3/4 tsp salt
1/2 tsp cinnamon
1/4 tsp powdered ginger
optional pinch nutmeg
2-3 cups vegan marshmallows, or top with vegan marshmallow fluff
Instructions
*To save time, you can bake the sweet potatoes the night before. Or bake them weeks in advance and freeze 3 1/2 cups mashed sweet potato to use in this recipe.
Line a large pan with parchment. Make cuts with a knife into each sweet potato 8-10 times, going about a third of the way down with each cut. (If you're curious, I explain more about why this is the best cooking method in the "how to cook sweet potatoes" link above.) Place potatoes on the pan, and place on the oven center rack. Only now, turn the oven to 480 F. Bake 30 minutes, then turn and continue to bake (10-40 more minutes, depending on size) until you can see some of the natural sugars spreading onto the paper, which means they are nice and caramelized. Measure a packed 3 1/2 cups of the sweet potato (skin removed) into a large bowl. Mash with remaining ingredients except marshmallows. Preheat oven to 350 F. Grease an 8×8 pan, and spread the potato filling into the pan. Top with marshmallows. (If using fluff, add it after baking instead.) Bake 20 minutes, or until filling is hot and marshmallows have browned. Serve hot. Leftovers can be covered and refrigerated 3-4 days.
Popular Healthy Party Recipes: