Sweet, buttery, and deliciously filling, this peach breakfast bake is a healthy breakfast recipe that tastes like homemade peach crumble!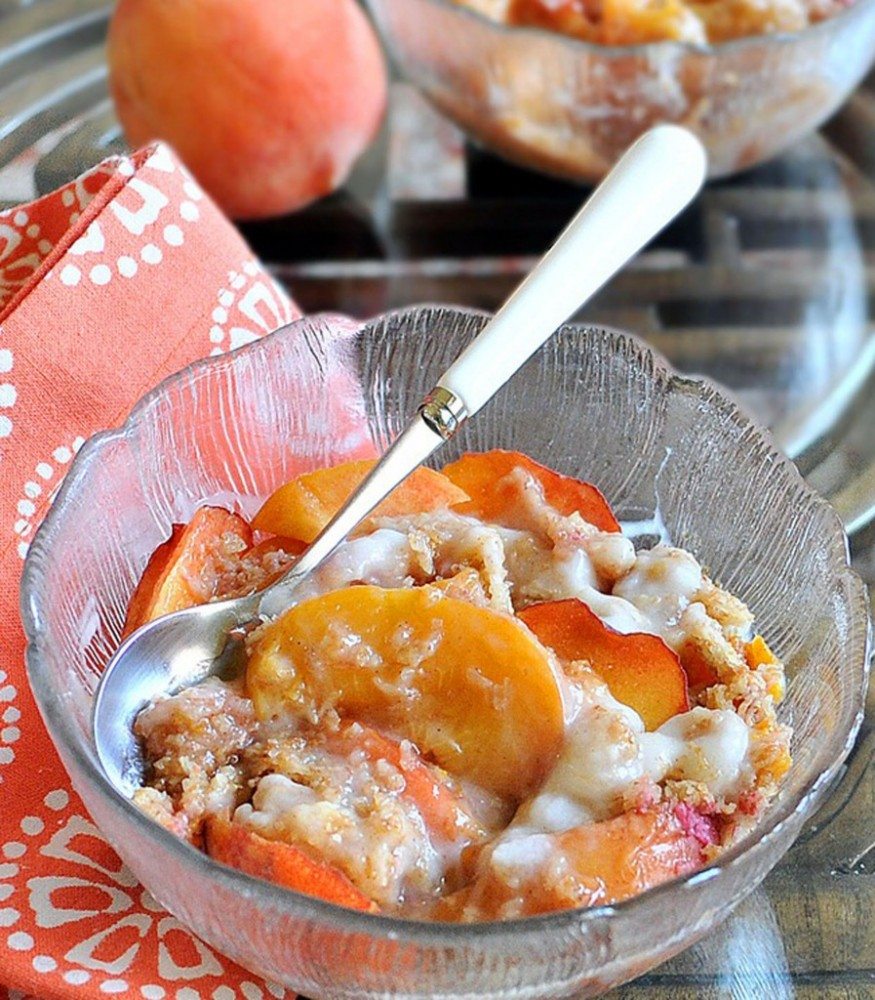 Someday, I am going to be a very good grandma.
By the time I'm old, I will have had lots of practice. I often sit down for dinner at 5, constantly nag people to eat more vegetables, and living in Florida sounds like a dream!
But every now and then, I like to stay out late. Unfortunately, my body doesn't care if I'm up at 2am; it'll still be wide-eyed and ready to go by 6 the next morning! For example, on Friday night I went out dancing and had two friends spend the night afterward. I woke up at 5:30 yesterday morning, while they proceeded to sleep until noon.
That's okay; I actually enjoy my time alone in the mornings. It's peaceful when no one else is awake. Yesterday, when I got back from running and found my friends still asleep, I figured I'd surprise them with breakfast. Little did I know I'd be eating lunch by the time they got up…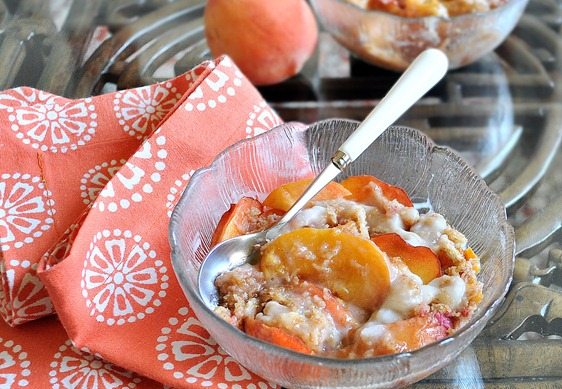 What to make?
First, I thought about baking a Chocolate Banana Bread.
But my friends aren't the biggest banana fans. So I decided to try something new on them. A few months ago, I'd pulled a recipe for apple crisp out of People magazine. It caught my eye due to its simplicity. I very loosely used this apple-crisp recipe as a guide for yesterday's breakfast: peach breakfast bake. My friends loved it… when they finally woke up!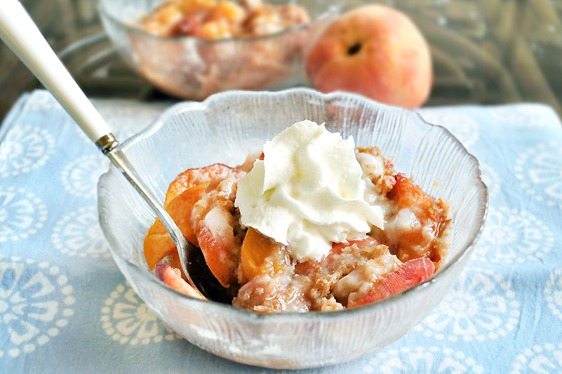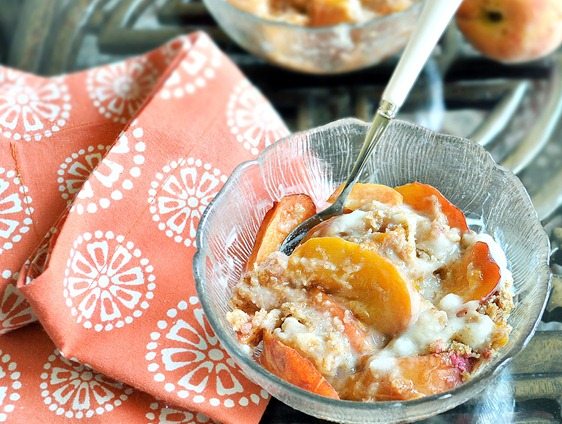 Peach Breakfast Bake
A delicious and healthy breakfast recipe that tastes like homemade peach crumble!
Ingredients
5

cups

sliced peaches

1

tbsp

lemon juice

1

tbsp

cornstarch or arrowroot

1/2

tsp

cinnamon

1

1/2 cups

crushed cereal of choice

(I used shredded wheat)

1/2

cup

sweetener of choice, or 1/4 tsp uncut stevia

4

tbsp

melted butter, coconut oil, or applesauce or banana for low fat

1/2

tsp

salt

(decrease to 1/4 tsp if using salted butter spread)

optional yogurt or nondairy creamer for serving
Instructions
Preheat the oven to 350 F. If desired, peel the peaches. Mix them with the lemon, arrowroot, cinnamon, half of the salt, and half of the sweetener. Let sit for ten minutes. Meanwhile, stir the crushed cereal, remaining sweetener and salt, and melted butter or oil in a separate bowl until well-blended. Spread the peach mixture in an 8-inch baking pan. Top with the cereal mixture. Bake for 45 minutes. To serve, I like to mix each portion with yogurt or nondairy creamer.

View Nutrition Facts
More Healthy Fruit Breakfast Ideas